10 Things to Do in Krakow in February
In February, the days get longer and the winter starts to get milder - two good reasons to visit Kraków. Read on to find out what you can expect once you've landed.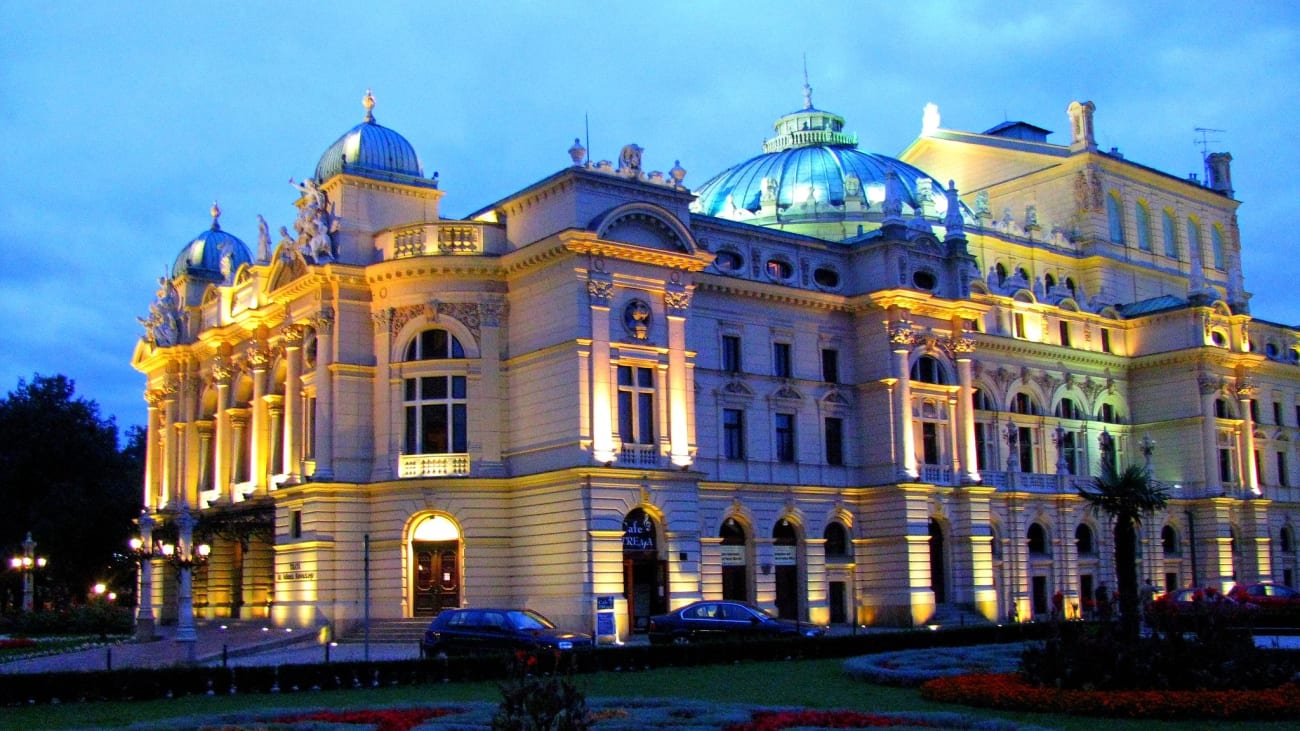 Buying a flight to the capital of Lower Silesia will give you the chance to discover a charming city without spending an arm and a leg. And when the temperature drops, you can warm up with Polish comfort food or a cup of mulled wine.
1. Taste the local delicacies
With an average temperature of 3 degrees Celsius, February is on the podium of the coldest months. Fortunately, you can warm up with the generous dishes of Polish cuisine. The local food has many influences from neighbouring countries (especially Lithuania, Hungary, Russia and Germany) as well as from further afield. For example, the Italian influence dates back to the 13th and 14th centuries when there were important trade links with Genoa, Florence and Venice.
Another culture that has left its mark is Turkish, as spices and coffee came to Poland through contacts with the Ottoman Empire. The result is a varied, tasty cuisine that is perfect to combat the cold. Below is a short list of dishes that you absolutely must try:
Pierogi, the comfort food par excellence. These are thin dumplings with different fillings: meat, mushrooms, seasonal fruit (blueberries, strawberries and cherries), buckwheat, cottage cheese or potatoes with fried onions.
Golabki, minced pork with rice, onions and mushrooms wrapped in a white cabbage leaf.
Oscypek, a semi-hard cheese made from a mixture of cow's and sheep's milk. It is served warm and is often accompanied by red fruit jam.
Bigos, the hunters' dish. The traditional recipe calls for sour cabbage, various types of fresh meat, sausages, mushrooms and dried plums.
Czernina, a soup of duck or goose blood. In the Polish countryside of the 19th century, receiving this dish meant that your marriage proposal had been discarded. Today, however, it is a much-loved recipe.
If you want to know more about the local gastronomy, I advise you to read the article about the best restaurants in Kraków.
2. Head to Krzysztofory Palace
Christmas scenes are very common in the Christian tradition. The first nativity scene dates back to 1223 and is linked to the figure of St. Francis of Assisi. However, this custom took root in Europe and upon its arrival in Poland, it acquired peculiar characteristics.
Szopki are original nativity scenes, resembling colourful castles or elaborate doll's houses. The common thread is the typical architecture of Kraków, so you will see spires and pinnacles reminiscent of St. Mary's Basilica. They often include figures of historical figures, saints, artists and characters from legends.
Although they take place in the last month of the year, the best ones are displayed in the Krzysztofory Palace, a Baroque building on Kraków's main square which now houses the city's Historical Museum. The exhibition runs until February and I recommend a visit both to discover a facet of local culture and to take shelter from the cold.
3. Glide on the ice
From mid-December to the end of February, Kraków hosts an ice skating rink. The structure is erected in Jordan Park and in the nearby Błonia Meadow (both located in Al. 3 Maja). This area has playgrounds, basketball and volleyball courts, making it a favourite place for children and families. In the winter months, these places become popular destinations for sports.
The skating rink consists of three areas: a large 1,200 square metre square, a ring and a 400 square metre area for children to practice their skills. The rinks are open every day of the week from 9:00 to 21:00. On Fridays and Sundays they close at 22:00. You can rent all the equipment on site. In this part of Krakow you can also go tobogganing.
4. Discover the sweet side of Krakow
When the temperatures drop, there's nothing better than warming up with a hot cup of coffee and a chocolate bonbon on the side. If you like the plan, we have the activity for you. Every year, the Chemobudowa Shopping Centre (ul. Klimeckiego 14) hosts the Chocolate and Coffee Festival, which is not limited to cocoa derivatives, but also includes doughnuts, ice cream and other sweet treats.
In addition, visitors will have the opportunity to admire an exhibition of chocolate figures and other decorations. This activity tends to appeal to the little ones; if you are looking for other ideas, I recommend you read the post 10 things to do in Krakow with children.
5. Learn how to cook pierogi
Pierogi are delicious dumplings halfway between Japanese gyozas and Italian ravioli. These delicacies arrived in Poland in the 13th century. They most likely come from Kievan Rus, a federation of Slavic tribes that had trade links with the Far East. Pierogi is the most famous Polish dish in the world. This activity can be a good idea to escape the cold temperatures - you will be very warm near ovens and frying pans!
In Krakow you will find dozens of courses that teach you how to prepare the dough (the most complicated aspect) and the filling. Most of them start with a brief introduction to the local cuisine followed by tips on how to knead the mixture. Once the explanation is over, you'll sprinkle some flour on the surface and get down to work! Below you will find a short list of some recipes that you can prepare with your own hands:
Ruskie, one of the most popular in the country. The dough is wrapped in a delicious filling of cottage cheese, potato and onion. It is usually accompanied by sour cream (smietana) and pork crackling.
Pierogi Lubelskie, a surprising mixture of buckwheat, mint, bacon and onion. This recipe originates from Lublin, a trading town just a few kilometres from the Ukrainian border.
Pierogi z miesem, dumplings with beef that has been used to make a broth.
Pierogi z kapustą i grzybami, a Christmas classic. The filling is made by amalgamating sauerkraut, onions and mushrooms.
6. Take the kids to Nowa Huta
If you are passionate about Soviet history, Kraków is a must-see attraction: Nowa Huta, a city designed and built according to the dictates of socialist realism.
The architects planned everything down to the smallest detail: the blocks of buildings had central heating and running water, citizens could leave their cars in underground car parks, the wide streets were designed to prevent the spread of fire, and the extensive system of underground bunkers and tunnels could have accommodated the entire population in the event of a nuclear attack.
Nowa Huta was a showcase for the Soviet regime, which with the construction of this city tried to demonstrate the superiority of socialism. In February, you'll have one more reason to visit this unique neighbourhood: the Children's Theatre Festival, a series of theatrical performances designed specifically for young audiences.
The kermesse is held in the Nowa Huta Cultural Centre. To get here, you can take the tram from Teatr Slowackiego (near the train station). Lines 4 and 70 will take you to Nowa Huta in about 20 minutes. If you are interested in other day trips, I recommend reading the post What to see and do around Krakow.
7. End your day of sightseeing with a warm beer
To combat the cold, there's nothing better than a hot drink. If you're fed up with coffee and tea, you can opt for a hot beer. Yes, you got that right. In Poland, the amber-coloured elixir is often consumed warm with a few spices to enhance its flavour.
Locals usually add ginger (imbirowy) or raspberry (malinowy), but there is also a version that uses oranges, a touch of honey and an egg yolk. The hot beer is usually drunk in the mid-afternoon or in the evening when temperatures start to plummet. If you fancy a taste of this Polish speciality, I recommend the following options:
Eszeweria (ul. Józefa 9)
KORBA Piwo Kawiarnia (plac Jana Matejki 6)
Arkady Cafe & Cocktail Bar (Sukiennice, Rynek Główny 1)
C.K. Browar (Podwale 7)
Ambasada Śledzia (Stolarska 8/10)
Pierwszy Lokal na Stolarskiej (Stolarska 6)
8. Take a romantic Valentine's Day walk
When strolling in the Market Square (Sukiennice), you will see carriages pulled by beautiful horses. The drivers usually take a route through the Old Town that ends at the foot of the castle. In any case, you can ask for a change of route for a small extra fee. It can be an unusual way to explore the streets of the centre and enjoy the charm of Krakow. These carriage rides usually cost around 200-250 zloty. An alternative is a river cruise on the Vistula.
9. Take a relaxing day at the spa
With an average temperature of -2°, February is one of the coldest months in Krakow. Fortunately, there are several ways to avoid freezing, for example, by opting for a morning or afternoon at a spa. Some hotels in the Old Town are known for their facilities. Just 300 metres from St. Mary's Basilica is the Unicus Palace, a five-star hotel with an indoor pool, hammam and whirlpool.
Another noteworthy hostel is the Hotel Copernicus in a Renaissance building on Kanonicza, one of the city's oldest streets. If you are fascinated by the Orient, you can opt for the Farmona Wellness & SPA, which offers an exclusive programme designed by Bali's best therapists. In the latter case, you will have to go a little further out of town, but I assure you that the experience is well worth it.
If you are travelling as a couple, this is an ideal option. After an invigorating massage you can round off the day with dinner at a romantic restaurant. One of the most elegant establishments is Pod Nosem, which occupies the ground floor of a residence at 22 Kanoniczna Street. Its menu changes every month to adapt to the seasonality of the ingredients.
10. Admire one of Leonardo's most famous paintings
A museum is always a good option to keep out the cold. In Kraków, one of the most interesting cultural institutions is the Czartoryski Museum, which houses antique pieces including furniture, porcelain and weapons. However, the flagship is Leonardo da Vinci's The Lady with the Ermine.
The painting was acquired by the Polish nobleman Adam Jerzy Czartoryski during a trip to Italy together with a portrait of a young man painted by Raphael. The Lady with the Ermine portrays Cecilia Gallerani, the young mistress of the Duke of Milan Ludovico Sforza, nicknamed 'the Moor'. The ermine symbolises the girl's purity and also alludes to her surname, since in Greek this animal is called "galle". This is one of Leonardo's best preserved paintings.
Alternative plans to keep out the cold in February
If you like tea, I recommend you to take a break at Herbaciarnia Czajownia, a tea shop famous for its exquisite infusions and cosy atmosphere. This place is highly recommended for digital nomads who can find a place where they can work in peace and quiet.
Another place worth a visit is the Rynek Underground, a museum located a few metres below the Market Square. This cultural institution traces more than a thousand years of Kraków's history, from its foundation in the 4th century to the Middle Ages. If you like history, you can visit the Collegium Maius, the Jagiellonian University Museum which houses the Jagiellonian Globe, the world's first globe representing America.
Prices in Krakow in February
Spring and autumn coincide with the high season. Most tourists visit Krakow at this time of year, while in winter the number is undoubtedly lower. Therefore, in February you will find affordable prices and a relatively tourist-free city.
In general, Krakow is not expensive, especially when it comes to gastronomy. A meal in a budget restaurant costs around €5 per person while a three-course meal in a mid-range restaurant costs around €15. If you want to travel on a budget, I recommend reading the post 10 things to do in Krakow in November.