Places to Visit near Krakow
On your next trip to Krakow you can't miss the amazing tourist destinations located around the city: underground museums, historical sites and vibrant nature - there is something for everyone!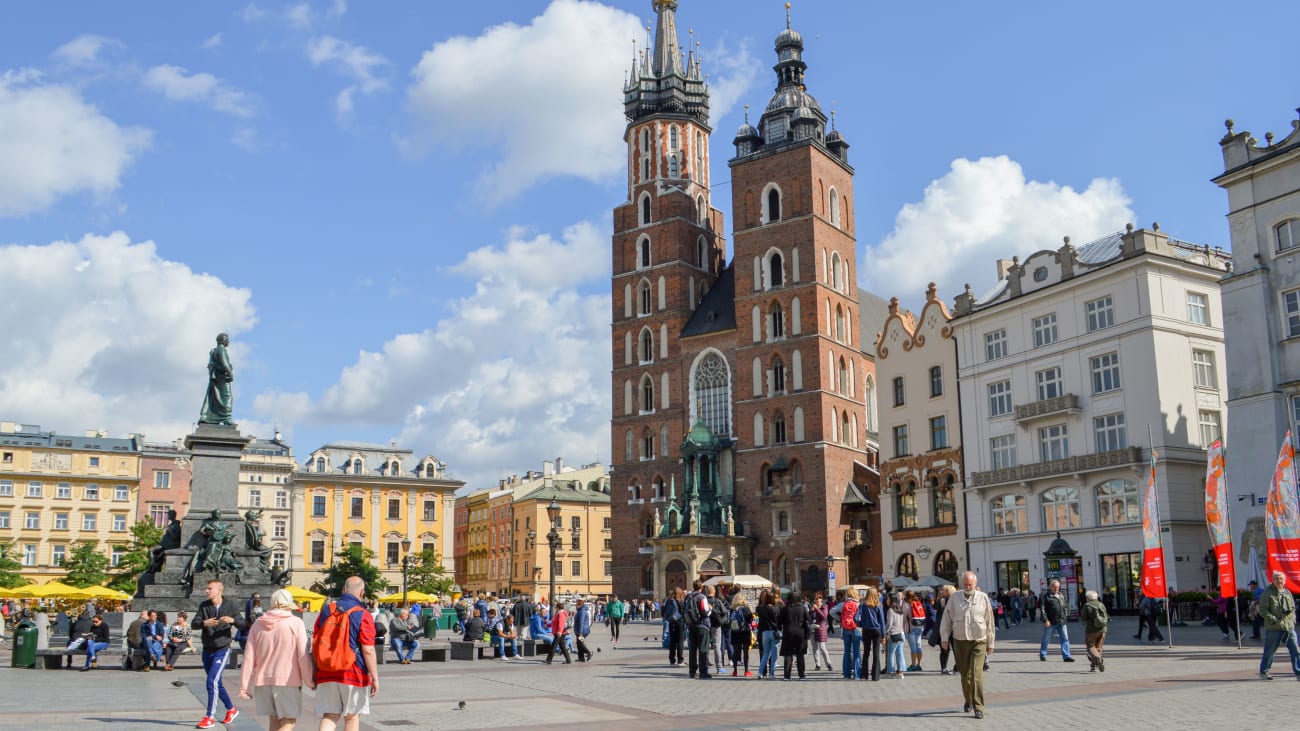 The Polish city of Krakow is one of Europe's most sought-after destinations; its fairy-tale charm, rich Polish food served in elegant restaurants, captivating bars, beautiful Krakow churches and charming Krakow Market Square have made it an ideal place to holiday with friends and family, or to embark on a solo adventure.
As you may have gathered, there is plenty to see and do in Poland's second largest city, but Krakow's surroundings also offer all kinds of adventures. Here are a few of my favourites to help you find inspiration and have a spectacular trip.
1. Take an excursion to the Auschwitz - Birkenau Memorial and Museum.
The Holocaust is one of the darkest episodes in human history, and Auschwitz was in the middle of it all. Here, 1.3 million people were imprisoned for no good reason; 1.1 million of them were murdered. The prisoners were mostly Jews from all corners of Europe.
Although visiting the Auschwitz concentration camps from Cracovianois a pleasant experience, I consider it an extremely necessary one, especially for younger generations whose view of the tragic events of the 20th century may be limited by distance and time.
All the facilities are in perfect condition because, although the Nazi army tried to destroy the evidence of their atrocities as the Russian troops advanced on their way to liberate Poland, they did not have time to get rid of everything. The barracks, crematoria and gas chambers remain in almost perfect condition.
What is included in this experience
Transfer to and from Poland to visit the Auschwitz complex consisting of several areas: the original camp known as Auschwitz I and the extension known as Auschwitz II. Also included is a guide in your language who accompanies the group of travellers at all times.
Please note that the Auschwitz facilities include a lot of sensitive material. More than you will find in any other museum about the war and the holocaust. I recommend before the visit to read the rules for visiting Auschwitz from Krakow posted on their website. And note that the museum itself does not recommend this visit for children under the age of 14.
2. Explore the Wieliczka Salt Mines
Another key visit on any trip to Krakow is a tour ofthe Wieliczka Salt Mines; located just a 20-minute drive from Krakow this fantastic underground museum showcases different historical stages and mining techniques developed in Europe. These mines have been explored since the 13th century; the mines are around 327 metres deep, with 300 kilometres of galleries filled with sculptures and amazing creations.
Declared a UNESCO World Heritage Site in 1978, the best time to visit the Wieliczka Salt Mines is in the morning; be aware that the mines can only be visited as part of a guided tour. My recommendation is to book as early as possible as tours in English sell out quickly.
What's included in this experience
It includes a return trip from Krakow to the salt mines and back; a meeting point is usually arranged and you'll need to be there 15 minutes in advance. There is much to see in the salt mines, but pay special attention to St. Kinga's Cathedral, which is made entirely of salt including the design of the floor, the chandeliers and the entire altar area.
Price: Salt mine tours are available from €46 per person.
Duration of tour: This tour lasts a minimum of 4.5 hours, so you should reserve at least half a day of your travel itinerary to Krakow.
3. Take a tour to see the breathtaking Warsaw
A day trip to the Polish capital is a favourite activity for travellers visiting Kraków. Popular as the Polish city that put up the most resistance to the Nazi regime, its beautiful buildings were completely devastated by bombing in 1939. After the fall of the regime, the city was rebuilt in an incredible way, sticking as closely as possible to the original designs and materials.
You'll find several alternatives for visiting Warsaw from Krakow, the most popular of which include high-speed train transfer and bus transfer. You can book a guided tour that will give you a detailed insight into the intricate history of this fantastic city.
What's included in this experience
Warsaw's Old Town has been declared a UNESCO World Heritage Site, and this type of experience usually includes a guide who takes the tour group on a walking tour of the city centre's most impressive historical sites. You can admire all kinds of medieval and renaissance monuments.
Price: It can vary a lot depending on the experience you choose and the facilities included. Group tours with guide included are usually available from €180, while private tours with hotel transfer in Krakow usually cost around €400.
Duration of tour: You will need to book a full day for this experience. They usually leave Krakow early in the morning and return to the city at the end of the day.
4. Get to know Wroclaw, the intellectual heart of Poland
Wroclaw is the name by which the Polish city of Wroclaw is known. Located just over three hours by train from Krakow, it's a much less popular destination but one I'd recommend visiting on a tour of Poland. Due to the proximity you have several transport options to get to Wroclaw from Krakow and back to your hotel in Krakow all in one day.
What's included in this experience
A visit to Wroclaw is one of Poland's hidden gems; described as the cultural and intellectual centre of the country, the main academic centres and major universities are located in this city.
The most interesting aspect of a visit to Wroclaw is the beauty of its old town. It is an area that is very easy to walk around, so you'll be well prepared to explore it on foot. It is full of vibrantly coloured buildings, towers and churches. The aerial views of the old buildings built around the Oder River are truly breathtaking.
Price: A tour to Wroclaw can cost approximately €100 which includes transfer to and from Krakow and an expert guide for the whole experience. If you are on your own, a one-way ticket to Wroclaw using PKP Intercity will cost on average €17; budget for a return ticket and additional money for food and transport within the city.
Travel time: The trip from Krakow city centre will take you at least 3.5 hours to get there and another 3.5 hours to get back. My recommendation is to set aside a full day in your itinerary to see this beautiful city.
5. Villa Zalipie
Known throughout Poland as "the painted village", this pretty and picturesque village is an interesting destination to visit if you are visiting Krakow with children. Take half a day out of your itinerary to see the colourful architecture of Zalipie, where the facades of houses and buildings have been painted with colourful patterns allegorical to Polish folk art. This destination offers spectacular photography so don't forget to pack your camera!
What is included in this experience
The organised tours include transport to and from the colourful town from your hotel in Krakow. Ideal if you don't know the local language and find it difficult to communicate in languages other than English. Once you arrive in the village you will have free time to wander around at your leisure before the return journey.
Price: This type of experience is available from €58 per person.
Duration of tour: The village of Zalipie is located just 1.5 hours drive from Krakow. Organised excursions take about 5 to 6 hours in total. If you leave Krakow in the morning you will be back by the end of the afternoon.
6. Tour to Zakopane and the Tatra Mountains
The town of Zakopone and the Tatra National Park is located only two hours drive from the centre of Krakow; it is a fantastic destination to visit if you are in Krakow for four or five days and want to enjoy the beauty of Polish nature.
Considered the most popular national park in Poland, it is one of Krakow's favourite destinations for locals and you'll find many excursions and tours in different languages to explore the area.
What is included in this experience
The most interesting thing about visiting the Tatra National Park is the many excursions available, which can change depending on the time of year. If you visit Krakow in summer you can enjoy the wonderful lakes, while if you visit Krakow in winter you can enjoy activities such as skiing in the mountains or the wonderful thermal springs.
Price: There are different types of excursions from Krakow with different itineraries, but the average cost is around €60.
Duration of the excursion: Although the distance from the Tatra National Park is only two hours, there is so much to see and do within the park. Because of this the tour itinerary usually requires about 8 hours of your time so I recommend booking a full day for this adventure.
7. Get to know a hidden gem of Krakow - Ojcow National Park
Located in the Pradnik Valley just 37 minutes' drive from Kraków is the nation's smallest national park. For city dwellers, Ojcow is one of their favourite places to enjoy a weekend getaway or plan a camping trip with friends.
You can get to the park on your own using the services of a local company called Unibus; their buses leave every 2 to 3 hours from Nowy Kleparz. However, if you are visiting Poland for the first time, my recommendation is to book a tour from Krakow.
What's included in this experience
When booking this type of service, companies will include transfer from Krakow; some companies will propose a common meeting point in a central area while others include pick-up from your hotel.
In addition to transport you will receive an assisted tour of Ojcow Park and its beautiful attractions, including: Pieskowa Skala Castle, a visit to the largest caves in Poland called Jaskinia Łokietka and a chance to see St. Florian's Gate and the famous Church on the Water.
Price: A guided tour from Krakow costs about €50 on average. Included are transfer, escort and a guide in your own language or in English.
Duration of the tour: It may vary slightly depending on the company you hire, however the minimum tour time is usually 5 hours and the maximum is 7 hours.
8. Sign up for a rafting lesson in Pieniny National Park.
Another popular but under-explored alternative in Kraków is to do some ecotourism in Pieniny National Park.
The Pieniny National Park is a two-hour drive from the city centre. If you visit Krakow in spring or summer, don't miss the opportunity to visit this beautiful natural site and do one of Krakow's favourite activities: rafting in the gorge of the Dunajec River.
What is included in this experience
All excursions generally include transfer from your hotel or a central location in Krakow to your final destination in the Park, as well as a guide in your language or an English-speaking guide. Safety equipment necessary for the activities on the tour is also included.
Price: This type of experience is available from €90 per person. This fee includes transfer to and from Krakow and all equipment and charges associated with rafting.
Duration of the tour: The average duration of this tour is approximately 7 hours, including travel time to and from Krakow. You should reserve at least one day for your itinerary.