10 Food and Pub Tours in Krakow
Krakow is a place where you can discover the richness and variety of Polish gastronomy. I'll show you the best routes and places to do it.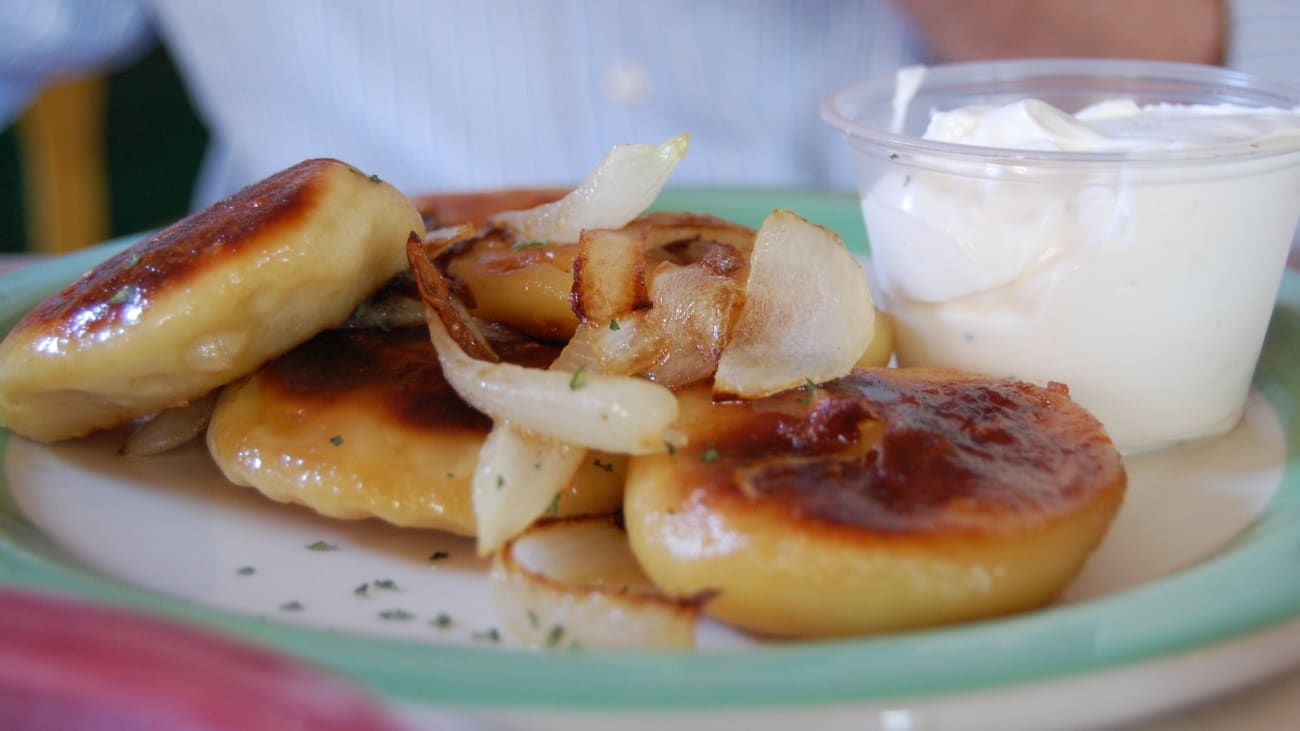 Kraków is, above all, art, architecture and history. But it is also an interesting destination in terms of gastronomy. Poland is a country with good agricultural products and, although its cuisine can be described as totally European, it has elements that are curious and unexpected for anyone more accustomed to Spanish cuisine.
Visiting Krakow can be an unbeatable way of getting to know Polish gastronomy. If this is one of your plans, this article will be useful. I have analysed all the city's gastronomic options to bring you the most interesting and representative ones. I wanted them not only to fill your stomach, but also to give you the chance to get to know the country better.
1. Gastronomic route through Kraków's markets
There are two exceptional markets in Kraków: the one located on the Market Square and the Stary Keplarz. The former is very tourist-oriented, although it has interesting Polish gastronomic and handicraft products; the latter has a more local focus. Here's what you'll find in each...
Market Square
Let's start at the beginning: the Cloth Market. It is located on the Market Square and, with its 40,000 square metres, it is one of the hubs of city life in Kraków. It is, in fact, a must-see and must-do in Kraków.
Inside the Cloth Market you will find a wide variety of stalls with typical Polish products. However, it has a strong tourist orientation, so you will find the most typical products, such as vodka, sweets like gingerbread biscuits and the famous Wedel chocolate. Nevertheless, it is well worth it.
It is also an opportunity to broaden your sightseeing experience, especially as there are many things to see and do at the Krakow Market. For a more traditional experience I suggest a hop over to the next market.
Stary Keplarz Market
Stary Keplarz Market is an open-air market. It is just 700 metres from the centre, so it can be a great option to extend your gastronomic route. In this market, as I said, with a focus on typical products, you can find:
Typical cheeses
Fruit
Vegetables
Mushrooms
In addition, there is also a place for handicrafts and it is also an opportunity to eat in Krakow, since there is a wide variety of restaurants. If you want more dining options, here is more information about the best places to eat in Krakow. If your plan is to eat at Stary Keplarz, perfect; just remember that it's open on Wednesdays from 06:00 to 18:00.
Just a tip: these markets are especially active and plentiful at Christmas, when food and craft stalls also proliferate in the surrounding area. There's nothing better than dropping by if you're visiting Kraków at this time of year. For other things to do at this time of year, here are more details on what to do in Kraków at Christmas.
Practical information about the tours
If you are up for this activity, there are several tours available. Each one may have specific variations, but in essence they offer the following:
Guided tour of the markets
Information about the different products
Anecdotes and stories about Polish gastronomy and culture
Tastings of Polish products
Prices start at 30 €.
Duration: 2 to 4 hours
The meeting point can vary, but is usually the same as the Market Square. There are also tours that can pick you up from your hotel, but you will have to confirm this point in the specific activity you are interested in booking.
2. A tour of Polish and Hebrew cuisine in Kazimierz
Kraków has historically been one of the cities with the largest Jewish population in Europe. This, of course, has been reflected in its gastronomic offer. Although there are restaurants to suit all tastes in this dynamic neighbourhood. There are tours that will give you an insight into what Kazimierz has to offer in terms of cuisine.
Practical information about this activity
The following are the general characteristics of the tours that will give you an insight into the gastronomy of Kazimierz:
They are structured in the form of visits and tastings
They have a specialised guide
The number of tastings varies between 10 and 15 (depending on the tour).
Available from 70 €.
Duration: between 3 and 5 hours
The good thing is that most of these tours allow free cancellation. And while you're in the Jewish Quarter, I suggest you make the most of it and take a walk around. Need some ideas? Here's all the information on what to see and do in Krakow's Jewish Quarter.
3. Polish Home Cooking Tour
Are you interested in getting a taste of Polish cuisine from a homemade perspective? Poland has a number of very traditional and tasty dishes. Perhaps the most famous are Polish goulash, makrela (smoked mackerel) and pierogi (a kind of dumpling stuffed with potato and cottage cheese). Try your hand at some of the many tours available.
Practical information on these tours
There are tours that will introduce you to the country's traditional cuisine. The best thing is that they have a strong explanatory component, as they are designed so that you can learn more about Polish culture through its food. They often offer the following:
A tour of the centre of Kraków
Stopping to taste representative Polish dishes
Accompaniment by a specialised guide
Dishes, liqueurs and also desserts are included.
Prices start at 80 €.
Duration: 2 to 4 hours
I advise you to check each of them carefully, as some of them offer a pick-up service from the hotel or at predefined points.
4. An original option: gastronomic bike tour
If you fancy a dynamic and immersive alternative, there's nothing better than to take a peck around Krakow by bike. These original tours will take you to different places all over the city, not just the centre, to sample the best Polish specialities.
However, I recommend that you book this tour especially if you visit Krakow in good weather. In winter you might be surprised by snowfall or freezing temperatures, which could ruin your experience. However, it's all about seasonal plans! Here you can find out what to see and do in Krakow in winter.
Practical information on gastronomic bike tours
gastronomic bike tours
If you are interested in experiencing this kind of activity, here are the services they usually offer:
English-speaking guide (other languages on request)
Tour of Krakow: from the city centre to more distant neighbourhoods
Tastings of up to 10 dishes
Drinks
Available from 50 €.
Duration: about 3 hours
This is a very interesting tour. The best thing about it is that you can explore off-the-beaten-path areas of Kraków, as the bike will give you more mobility. However, the bike is not included in the tour.
5. Wine tasting at the Kresy Winery
Kresy is the name of a traditional winery located 20 km from Krakow. A perfect place to learn about the preparation of wines and visit beautiful vineyards. In addition, the scenic experience is of the highest order. Despite the fact that Poland is basically a flat country, the vegetal and floral charm of its landscapes is very remarkable.
Practical information
If you dare to experience this gastronomic, scenic and cultural activity, the tours available will reveal the following:
Tasting and sampling of typical products.
Explanations about Polish culture and gastronomy
Transport from Krakow (almost always included in the price)
Available from 90 €.
Duration: about 3 hours
I do recommend that you check if the tour you book includes an English speaking guide. They will explain the wine making process, as well as different aspects of Polish culture and gastronomy. If you are not fluent in English, you should make sure that it is available in Spanish so that you don't miss anything.
It can also be a good idea to explore the city's surroundings further. Here are some ideas on what to see and do around Krakow.
6. Wieliczka vineyards tour
If you are planning to leave Kraków, I recommend a visit to the Wieliczka vineyards. There you can enjoy a wine tasting tour, as well as have the opportunity to contemplate the landscape of the country. It's a great complement to one of the many excursions to the Wieliczka Salt Mines. In fact, planning both activities on the same day can be optimal in terms of time.
Practical information
Want to visit these vineyards? Here is all the relevant information you need to know to determine what your experience will be like. The tours that will take you into this area offer the following:
Tastings of local wines
Explanations on how the wines are made
Transport from Krakow (very common)
Available from 90 €.
Duration: about 3 hours
7. Beer tour
Poland is a very beer-loving country. In fact, they have several types of beer that you can try almost anywhere. The most famous are:
Zywiec
Okocim
Tyskie
Warka
Kasztelan
As you can see, a repertoire of beers that is well worth a thorough tasting of the best places where they are served.
Practical information
about these tours
There are of course tours to get to know Polish beers better. They usually offer the following:
Selected brewery tours
Selection of popular, regional and craft beers
English-speaking guide
Possible pick-up from the hotel or predefined meeting points (depending on the tour)
Available from 80 €.
Duration: between 2 and 4 hours
What I do advise you to do is to check carefully whether the tour you are most interested in has Spanish-speaking guides. This is usually the norm but it's worth making sure before you book.
8. Vodka Tour
We continue with the drinks, this time with an option suitable for the most hardened: vodka. Although it is usually thought to be a drink almost exclusively from Russia, the truth is that Poland stands out for being a great producer of this alcohol. So why not try it for a total immersion in Polish culture? There are several tours available that will show you the best brands.
Practical information
First of all, despite their name, these are not tours that are all about drinking vodka. In fact, they usually include snacks, tastings and water. Not everyone has the same resistance to the high alcohol content of this drink. In short, this is what this type of tour offers you:
Tour around the city tasting various types of vodka.
Specialised guide
Information about Polish traditions and folklore
Snacks
Available from 60 €.
Duration: about 2 hours
Depending on which one you choose, you can be picked up from your hotel or from meeting points in the centre of Krakow. If you are visiting Krakow with children, this plan may not suit your situation very well. However, don't worry, there are plenty of things to do. You can discover them in this article on what to see in Krakow with kids.
9. Milk pubs
Funny name, isn't it? Well, it's a type of place that can offer you one of the most authentic gastronomic experiences. Basically because they are old canteens from the communist era, which offered cheap meals to the workers. These dishes were heavily based on vegetables and dairy products (hence the curious name).
Just two things to note. There are authentic milk bars, still run and frequented by full-blooded Poles. A perfect choice if you opt for the real thing, but consider the language barrier. Then there are other milk bars with a more touristy approach. You'll be able to understand each other and read the menu in English, but the experience may be marred by a certain 'cool' atmosphere.
Practical information
If you feel like delving into the Kraków of milk bars, first of all I advise you to take into account some basic information that may condition your visit:
They usually close between 15:00 and 19:00, so they are not so suitable for dinner.
They are characterised by their low prices, although in tourist restaurants they can be higher.
The average price of the menu starts at 6 €.
In traditional restaurants you will find a 100% Polish environment (i.e. menus may not be in English).
So that you can make a visit according to what you are looking for (something more Polish or more touristy), I show you some types of milk bars that suit each typology:
Bar Mleczny Centralny: If you want something really authentic, this is your place. You'll have to go to the Nowa Huta district, a communist-era district. In short: total immersion. But it closes at 19:00, so it won't be a viable option for dinner.
Milkbar Tomasza: As you can tell from its name, this is a milk bar clearly geared towards tourists, so you'll be served in perfect English. It is located in the historic centre and closes at 20:00.
10. And for dessert... a little bit of sweets
Polish cuisine is not all about meat, soup and beetroot. As you can see, Poland is also a very sweet country. If you want to try its sweetest specialities, you can do so in one of the many patisseries you'll come across, especially in the city centre. However, I recommend you visit one of its cafés or shops specialising in sweets and desserts. Their selection is impressive and you can try all kinds of sweets, not just Polish.
Practical information
Here is some information you should know if you have decided to go on a sweet tour of Kraków.
Most of the establishments are located in the city centre
They are often cafés, which makes them ideal for lunch or a snack.
They are usually open from 07:00 in the morning until 16:00 or 17:00.
Prices are usually affordable: a coffee and sweet can be enjoyed from €4.
If you are attracted to the option but don't know where to start, here are some of the most popular places to try Polish pastries. They are as follows:
Cukiernia: A place to try not only Polish sweets but many others - even profiteroles!
Lajkonik Piekarnia: Especially suitable for tasting the typical Polish doughnuts and the famous pretzel, also very common in Krakow.
Chimney Cake Bakery: I recommend it if you want to try the so-called "chimney cake". A sweet originally from Hungary but which, like other gastronomic elements from that part of Europe, is made in several countries with their own variations.
With this delicious dessert I end this article. Now you are ready to make the most of Kraków's gastronomic delights. Just choose your menu, route and... enjoy!