Krakow's Castle: a practical guide to discovering it
Wawel Castle is located on the hill of the same name and for centuries has been the residence of Polish monarchs. What began as a small stone building would later become this majestic gothic castle - get to know it!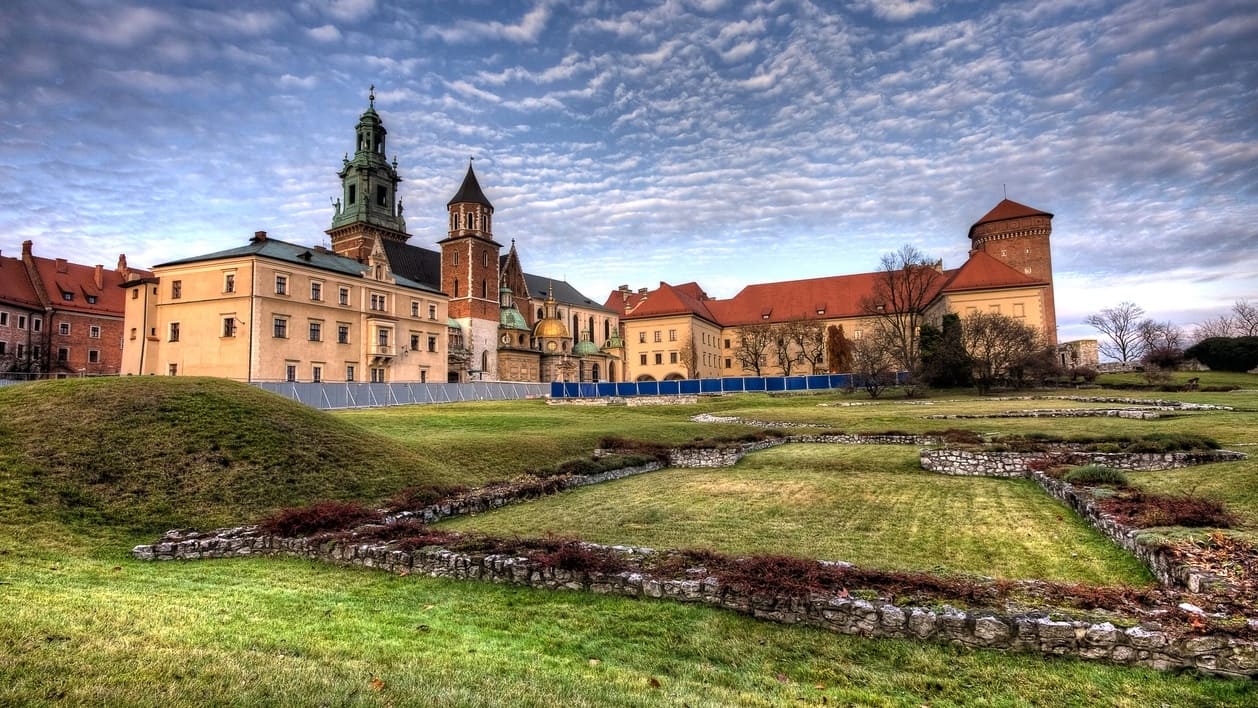 If you are passionate about history and intrigued by what lies behind these classical and royal buildings, Kraków Castle is a must-see during your visit to Kraków. Learn about the history of its construction from when it all began during the reign of Casimir the Great to its latest restoration by Bartolomeo Berrecci.
If this place is on your list of things to see and do in Krakow, and you want to know how to visit it, read on because I will tell you all about how to get there, what guided tours are available and how to get your tickets easily to make this one of the best experiences of your visit to Krakow.
The most complete option
Discover Kraków Castle and Cathedral
On this guided tour you will get to know the Wawel Castle and Wawel Cathedral, the Old Town and the Market Square of Krakow in detail with a professional guide.
With this guided tour of Krakow Castle, you will visit in depth the Wawel Castle and Wawel Cathedral, as well as its surroundings. In addition, you will have priority access so you will avoid the queues at the entrance.
On this tour you will be accompanied by a professional expert guide who will tell you all about the history and architecture of these two iconic UNESCO World Heritage Sites. You will also walk through the Old Town and Krakow's Market Square, which is connected to Wawel Castle by the so-called Royal Way.
Recommended if... You will only be in Krakow for a short time but you don't want to miss anything.
---
How to get tickets for the Krakow Castle at the box office
There are several ways to buy your tickets to Krakow Castle, as well as the possibility to buy them online and prepare your visit in advance. My recommendation will always be to buy your guided tour tickets online as it will ensure you don't waste time and secure your entry for the day and time you have planned. These official venues sell tickets at the box office with a limited number per day, so it is best not to take any chances.
At the Visitor Centre, which is open Mondays from 9am to 12 noon and Tuesdays to Sundays from 9am to 4.20pm.
At the Herbowa Gate, the most popular entrance to Wawel Hill. It is open from April to October from 9am to 12 noon (Mondays) and from 9am to 4pm (Tuesdays to Sundays).
Through the Castle 's official website you can make your purchase online, with the possibility to make your purchase up to a week in advance or even on the day of your visit.
Information to bear in mind:
Tickets are time-ticketed and you will see the time printed on your ticket.
The number of tickets available is limited per day and the ticket is for the day of the visit only.
The Castle does not accept payment in foreign currencies (Euro or other). Payment must be made in zloty (PLN).
Are there guided tours of Krakow Castle - is it worth it?
Yes, there are guided tours and my recommendation is that you don't hesitate to take one, otherwise you will miss out on many interesting details. My favourite option is this guided tour of Krakow Castle, as it includes both Wawel Castle and Wawel Cathedral and you will also walk around Krakow's Old Town and Market Square. Without a doubt, it is the most complete option.
In addition, Krakow Castle also offers the possibility to purchase an audio guide at the Visitor Centre (at an additional cost) or to book your own expert guide service. The maximum number of people in a group is 15 people.
Cost of the guide service for groups of maximum 15 people:
1 exhibition: 90 zloty (PLN) or 19 euros approx.
2 exhibitions: 140 zloty (PLN) or 30 euro approx.
3 exhibitions: 190 zloty (PLN) or 40 euro approx.
4 exhibitions: 240 zloty (PLN) or 50 euro approx.
5 exhibitions: 290 zloty (PLN) or 62 € approx.
6 exhibitions: 340 zloty (PLN) or 73 € approx.
7 exhibitions: 390 zloty (PLN) or 83 € approx.
Opening hours of the Krakow Castle
Krakow Castle is open every day:
Monday: 9:30 am to 1 pm.
Tuesday to Sunday: 9.30am to 5pm.
Please note, however, that the entrance time to certain areas is between 30 minutes and one hour earlier.
How much do tickets to Krakow Castle cost?
Krakow Castle does not offer a group ticket to see everything. Tickets are sold separately for each individual exhibition. Depending on which exhibition you choose to visit, tickets range from €2,50 to €6,50. You can include several exhibitions in your visit if you have enough time and interest.
The categories of tickets at the Royal Wawel Castle are: regular, reduced and complimentary. On the official website of the Royal Wawel Castle you will find all the details of who applies for reduced and complimentary tickets.
During your visit you will be able to see permanent exhibitions which I will tell you more about later. In addition, the Castle also holds temporary exhibitions throughout the year. Please note that ticket prices and opening times may change according to the season.
Are tickets to Krakow Castle included in any of the city's sightseeing passes?
There is a Krakow Tourist Card or Krakow Tourist Card which includes free entry to a variety of museums and tourist attractions in the city. Unfortunately, Krakow Castle is not on this list. Some of the places you can visit with the Krakow Tourist Card are:
St. Mary's Basilica
Oskar Schindler's Factory.
Old Synagogue (Stara).
Museum of Contemporary Art in Krakow.
Some of these places are located in the interesting Jewish quarter of Krakow. A place where you have a lot to see and do.
How to get to the Krakow Castle
The Royal Wawel Castle is located on the hill of the same name. It is only a 10-minute walk from the Market Square and a 20-minute walk from the Kraków train and bus station.
Public transport: Wawel and Stradom tram stops and Jubilat and Stradom bus stops.
Bicycle: You will find places to park your bicycle at the entrance gate to the Castle, as bicycles are not allowed on Wawel Hill.
Ask about available parking near the Castle
Many travellers, especially Europeans, travel by car. If this is your case, you will find car parks available very close by. The closest one is on Plac na Groblach, just a 5-minute walk from the Castle. You can also find one next to the National Museum, which is a 20-minute walk from the Castle or with the Muzeum-Narowowe bus route.
Is it advisable to go to Krakow Castle with children?
Children are always welcome in places like this. There is nothing better than instilling a love of history, culture and art at a young age. Although Krakow Castle does not offer discounted family tickets, children under the age of 7 are admitted free of charge regardless of the time of year.
The Castle also organises special activities for children throughout the year. I recommend that you check the calendar at the time of your trip to see what options you have. And if you're looking for more activities for the little ones at home, here are 10 things to do in Krakow with children.
How much time you need to visit Krakow Castle
The length of your visit to Krakow Castle or Wawel Castle depends on how many exhibitions you choose to see. Remember that for each exhibition you must purchase a separate ticket which is valid only for the day and time indicated on the ticket.
The longest exhibitions are the State Rooms which last up to 1 hour, and the visit to the outer gardens, courtyards and St. Gereon's Church which lasts 70 minutes. Then there are others lasting between 20 and 40 minutes, with the shortest being the visit to the Dragon's Cave or Dragon's Lair which only takes about 10 minutes.
Best time of the year to visit Krakow Castle
It will obviously depend on your availability. As it is an enclosed site, the weather matters little, in my opinion. But the season does influence the number of people you will meet. If you decide to visit the Castle in summer, it is likely to feel a bit crowded or you may have more difficulty getting tickets.
My recommendation is to visit between April and June when the weather is pleasant and the chaos of summer is not yet felt.
What not to miss at Krakow Castle? Permanent exhibitions
You have a variety of possibilities when visiting Krakow Castle. Which confirms that this is one of the best tours and excursions from Krakow. Let me tell you a little bit more about the permanent exhibits you can't miss:
State Rooms
The State Rooms at Wawel Castle are my favourite. This entrance is ideal for those who want to connect with history, appreciate architectural details, art and learn a little more about the history of Polish royalty.
This is also one of the most complete and ideal entrance options, as it gives you access to several of the rooms and flats used by the monarchy to receive their guests. Here you can see a complete collection of Gothic art, portraits of the monarchy, exquisite Italian Renaissance furniture and much more.
Useful information
This ticket includes direct access to the permanent and temporary exhibitions in each royal salon. There are 4 salons on the first floor and 14 rooms on the first floor of the Castle.
Last admission for this exhibition is at 4pm from Tuesday to Sunday.
The tour of the Royal Halls lasts approximately 1 hour.
The regular entrance fee for this exhibition is 30 zloty (PLN), approximately €6,50.
Art of the East: Turkish Ottoman Tents
This exhibition on Art of the East is located on the first floor of the Castle and features carpets, silks, tapestries, arms and armour and much more. Highlights include a collection of trophies taken during the Battle of Vienna, and a collection of East Asian porcelain, which reflects 18th century Europe 's fascination with Chinese and Japanese cultures.
Useful Information
Last admission to this exhibition is at 16:20 hours from Tuesday to Sunday.
The tour lasts approximately 40 minutes.
The regular entrance fee for this exhibition is 20 zloty (PLN), approximately €4,30.
The Lost Wawel
This exhibition officially opened in 1975 and aims to take visitors on a tour of the complete history of Kraków Castle. It includes a multimedia video area to make the visit more interactive. I definitely recommend it for those who appreciate the architectural and engineering theme. There is a station on the tour devoted exclusively to the Castle's extensive collection of Renaissance tiles.
Useful Information
This exhibition is open on Mondays from 9.30am to 1pm. From Tuesday to Sunday it is open until 5pm, with the last admission at 4:30pm.
The approximate duration of the tour is 30 minutes.
The regular entrance fee for this exhibition is 15 zloty (PLN), approximately €3,20.
Wawel Recovered or Wawel Restored
This is also highly recommended, as it is an interactive exhibition that uses state-of-the-art technology to show you traditional works, architectural models and large-scale illuminated reproductions of the historical archive of the Wawel Hill from the late 18th to the 20th century.
Useful Information
The exhibition is also open on Mondays from 9:30 am to 1 pm. From Tuesday to Sunday it is open until 5 pm with the last admission at 4:30 pm.
The tour lasts approximately 30 minutes.
The regular entrance fee for this exhibition is 10 zloty (PLN), approximately €2,15.
Tips for visiting Krakow Castle
First of all, try to plan your visit in advance. Above all, because you can take advantage and on the same day visit other places of interest very close to the Krakow Castle such as:
Wawel Cathedral.
Archdiocesan Museum.
St. Andrew's Church.
Krakow Archaeological Museum.
If you are planning your visit and you know which exhibits to visit at the Castle, I recommend you to buy your tickets online to avoid queues and to be able to do your tour in the most comfortable way.
I hope you can enjoy this charming and historical place that you have to include in your visit. Krakow is a city to be enjoyed little by little, and it is always a good idea to come back. If you have at least a week to spend in Krakow, you can visit this and many other places such as the Krakow Salt Mines or enjoy the best gastronomic tours in Krakow.