Auschwitz Day Trips from Krakow
If you are ready to take a journey into the darkest past of Europe's recent history, you will learn all about this fateful episode in Auschwitz.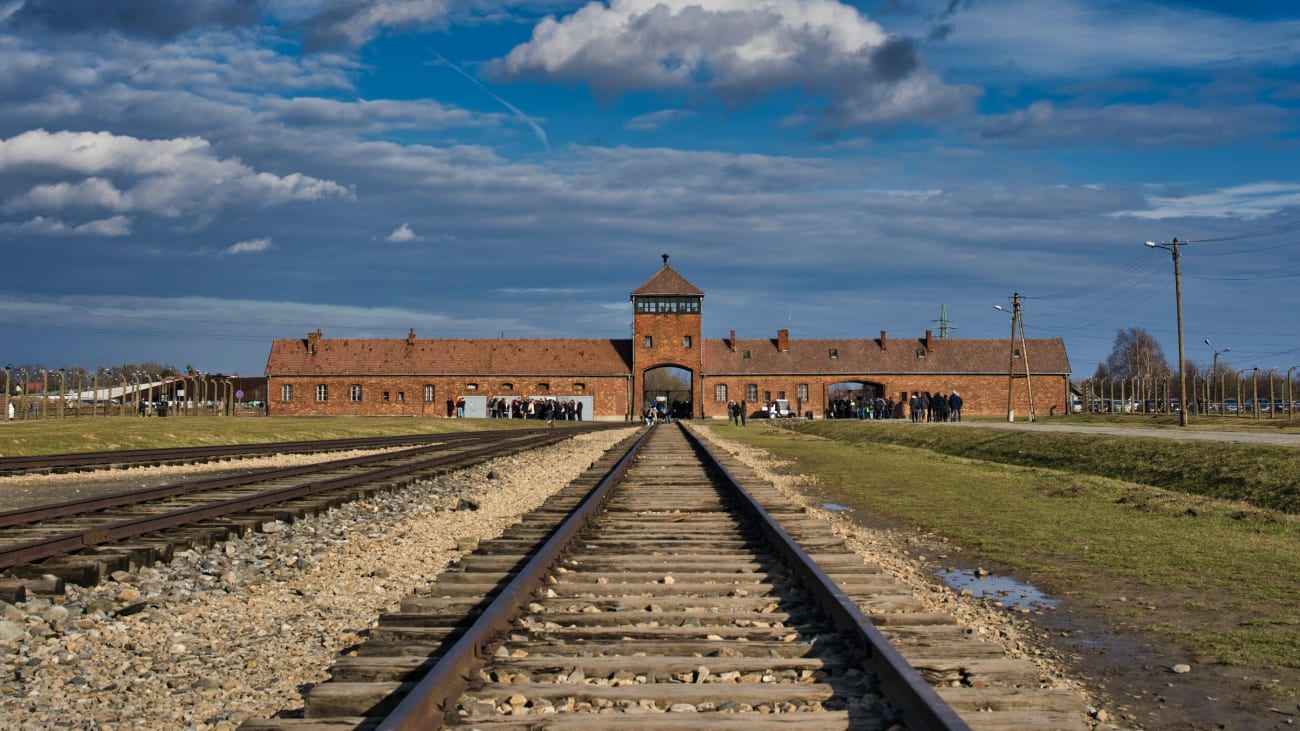 Unfortunately, a place like this needs no introduction. What was a torture camp decades ago is now a historical museum that seeks to explain the mistakes of the past to new generations and to prevent the memory of the victims from being lost.
Auschwitz refers to not one but three different camps: an administrative centre (Auschwitz I), an extermination camp (Auschwitz-Birkenau) and a labour camp (Auschwitz III). They are about an hour and a quarter from Krakow and there are different options for visiting them. I've analysed them all for you to make it easier to choose the one that's right for you.
My favourite
All inclusive at the best price
This is the most complete option you will find if you want to visit the Auschwitz-Birkenau Concentration Camps accompanied by an expert guide. It also includes return transport from Krakow at the best price I have found on the internet.
Duration: 7 hours
The three concentration camps at Auschwitz Birkenau are part of a very large complex, full of historical details that are well worth a visit. Visiting Auschwitz is something you will probably do only once in your life and having an expert guide is essential for me: they will give you the most relevant details of this harsh moment in history, but they will also help you understand what life was like in the concentration camps, how the hard work took place there and, above all, you will listen to everything with the utmost respect.
This option also includes transport to and from Krakow, so you don't have to worry about anything when organising your day in Auschwitz, and the guide will give you the tour in English, which is essential to understand all the details. Early risers can choose to take the tour at 6.30am and then have more time during the day to explore Krakow. There is also the option of doing the tour at 9am.
Why I like this option: Of all the ways to visit Auschwitz, this is the most comprehensive and the most comfortable, with the lowest price and the English-speaking guide.
Recommended if... you want to visit Auschwitz with a specialised guide to get the most out of the experience.
---
Self-guided tour
Visit Auschwitz at your own pace with a printed guidebook
If you don't like guided tours, you can always tour the Auschwitz concentration camps on your own, following a printed guide or an audio guide. This option includes transport from Krakow and entrance to the camp, but you will not have a specialised guide.
Duration: 6 to 7 hours
There are two ways to visit the Auschwitz camps: individually or with a guided tour. A self-guided tour of Auschwitz with transfer from Krakow allows you to go at your own pace without the need to follow a guided group. This option costs £16 and includes transfer to the camps and a printed guidebook to help you find your way around.
When you make your booking, you will receive a confirmation email with the meeting point to board the bus that will take you to Auschwitz. Once you arrive at the camps, you will have plenty of time to visit them at your own pace (about three and a half hours) and then the driver will take you back to Krakow. Tip! When choosing a date, if possible, avoid weekends and public holidays to avoid crowds.
Why I like this option: This option allows you to take the hassle out of organising your visit to Auschwitz, as it includes transport from Krakow and entry to the camp, but gives you the freedom to visit at your own pace, visiting the parts you find most interesting. It is also a good option for the more sensitive among you, as you will avoid hearing the more painful details narrated in the guided tours.
Recommended if... you don't like guided tours but want to visit the Auschwitz Birkenau concentration camps at your own pace, deciding where and how long to stop.
---
The savings pack
Two of Kraków's best day trips at the best prices
Save by booking Kraków's two best sightseeing tours|description=Perfecto si tienes pensado hacer las dos visitas más demandadas de Cracovia y quieres ahorrar al contratar ambas experiencias juntas.
Duration: 9 to 11 hours
If you want to make the most of your time, this is the best option as it combines a tour of the Auschwitz concentration camps with an excursion to the Wieliczka salt mines, the two most popular and relevant visits you can make during your trip to Krakow.
You will spend a full day on both excursions. You will be accompanied at all times by an expert English-speaking guide and the price includes the services of the guide, entrance fees to both monuments and transfers to and from your hotel in Krakow and between the different points of interest. Food and drink are not included so you can pack a picnic in your backpack or buy some food in between the two tours.
The first stop will be Auschwitz where the guided tour will last about three hours. Then during the afternoon you will visit the famous salt mines of Wieliczka, which is ideal to relax a bit after the concentration camp experience.
Why I like this option: If you are planning a trip to Krakow, you will have read that the guided tour of Auschwitz and the visit to the Wieliczka Salt Mines are the two most requested experiences by travellers. With this combination you have the opportunity to do both in one day, saving time and money and freeing up the rest of your trip to explore the city at your leisure.
Recommended if... you are planning to do both tours and want to save money by booking both guided tours.
---
In summary, we compare the three options
Auschwitz-Birkenau Tour from Krakow
All inclusive at the best price
The best price on the market if you want to visit Auschwitz with a specialist guide to get the most out of the experience.
Duration: 7 hours
Auschwitz Birkenau Tour from Krakow
Visit Auschwitz at your own pace with a printed guidebook
The best option if you don't like guided tours but want to visit the Auschwitz Birkenau concentration camps at your own pace, deciding where and how much to stop.
Duration: 6 to 7 hours
---
How much does it cost to visit Auschwitz: entrance fees and guided tours?
If you're wondering how much it costs to visit Auschwitz, you should know that prices can vary depending on which option you choose: a standard ticket without guide and audio guide costs €10 per adult at the box office, while if you join an organised tour with guide and transport from Krakow in English you will pay €25 at Hellotickets.
For me, this is the most convenient option, as for the small difference in price you can get to the gate of the concentration camp by private bus and after the visit you will be dropped off back in the centre of Krakow, without worrying about waiting times and most importantly, accompanied by an expert guide. Here is an article with all the information about entrance tickets to Auschwitz.
Buy the combined ticket or tour to Auschwitz and the Salt Mines
Excursions to the Salt Mines from Kraków are, along with a visit to Auschwitz, the most popular attractions in the country. If you don't want to leave Krakow without visiting both, a convenient option is to buy the Auschwitz and Salt Mines excursion together.
With this option you will save money and time, as you won't have to queue at either site and you will be accompanied at all times by a guide who will explain everything you see, both in the concentration camp and in the salt mines.
How to get to Auschwitz
The most practical way to get to Auschwitz concentration camp is to take a guided tour from Krakow, so you don't have to worry about finding your own method of transport. Tours often use a private bus or minivan to take you to and from Auschwitz-Birkenau from the centre of Krakow.
But if you prefer, you can also go by train, by bus or even by car, if you have decided to rent a car during your trip. Full details on each option can be found here: how to get to Auschwitz from Kraków.
Auschwitz opening hours
The Auschwitz-Birkenau concentration camp is open every day of the week, every day of the year (except Christmas, New Year's Day and Easter Sunday).
In general, Auschwitz opening hours vary depending on the season from winter to summer, but usually open between 8am and 3pm in winter and until 5 or 6pm in summer.
Duration of tours and visits to Auschwitz
Depending on which option you choose (whether you take a guided tour or do it on your own) you will need more or less time, but you should expect to need between half a day and a full day to organise a return trip from Krakow and a tour of the interior of the complex.
For example, the Hellotickets excursion to Auschwitz from Krakow takes about 7 hours and you can choose to do it early in the morning or leave later in the day, the latter option being at midday. About 6 or 7 hours later you will be back at your hotel.
If you opt for the combined visit to Auschtwitz and the Salt Mines, the tour time will inevitably be longer, but it will allow you to do both visits in one day. Expect the total duration to be between 11 and 12 hours.
See my article on Auschwitz Tour Duration and Auschwitz Tours to help you organise your day.
What you will see in Auschwitz
During your visit to Auschwitz you will see its two main camps: Auschwitz I and Auschwitz II. The tour begins with the first camp, built in 1940 by the Nazi regime to house 15,000 to 20,000 prisoners. Later Auschwitz II Birkenau was built, increasing the number of prisoners to 90,000. The latter is where the gas chambers were located, which were destroyed at the end of the war by Nazi officials in an attempt to hide their crimes.
The first thing you will see on arrival is a 15-minute documentary in the visitor centre that will orient you contextually through the history associated with the site. In between the scenes, you will see the moments when, in 1945, the camp was liberated by the Soviet army.
Next you will pass through the iron gate of Auschwitz I on which you can read in German the macabre phrase "Work will set you free". From there the tour continues through the various prisoner barracks, which have been converted into a museum. You will also see the firing wall, the watchtowers of Auschwitz Birkenau, the main building leading to the gas chambers, the chimneys and the barbed wire. If you want to know more about what to expect during your visit, here is my article on what to see in Auschwitz.
Practical tips for your visit to Auschwitz
In any other excursion, the recommendations that can be given before leaving are usually more practical: what to take in your backpack, what kind of shoes you need, where to eat, where to take the best photos... In this case, however, I think the first recommendation should be of an emotional nature. I'll leave you here a step ahead, but you can also consult this article with 10 tips for visiting Auschwitz from Krakow.
The most emotional part
There are many who question the visit to the Auschwitz camps as morbid. However, if done with due respect, it is a valuable history lesson in preserving the memory and remembrance of the victims.
By this I want you to bear in mind that Auschwitz is not an amusement park or a place to take pictures; always try to conduct yourself with the utmost respect. Also, the tour of Auschwitz may be hard for the more sensitive and is not recommended for children.
Printed guide
The printed guidebook, which you can buy at the entrance in different languages for less than 3 euros, is essential for orientation during your visit. As for how to get there, if you don't have a private transfer, you can take a train from Krakow's main station, which takes about two and a half hours.
Frequently asked questions
How much time do I need to visit Auschwitz?

Normally the day trip with a guided tour and transfer from Krakow lasts between half a day and a full day.

Is it possible to take photos in Auschwitz?

Yes, in general there are no restrictions (except at some specific points) but it is always recommended to do so with respect for what this place represents.

Can I visit Auschwitz on my own?

Yes, you can buy just the entrance ticket and you can even hire just the transfer from Krakow city and then visit Auschwitz on your own.

Can I visit Auschwitz with children?

This is not recommended, as the visit focuses on a very harsh historical period and the details can be very unpleasant for children.