Niagara Falls in Winter
Although many tourists are put off by the big freezes of winter, the truth is that a visit to Niagara Falls at this time of year is no less enjoyable than at any other time of year. Here's why and how to make the most of your winter visit.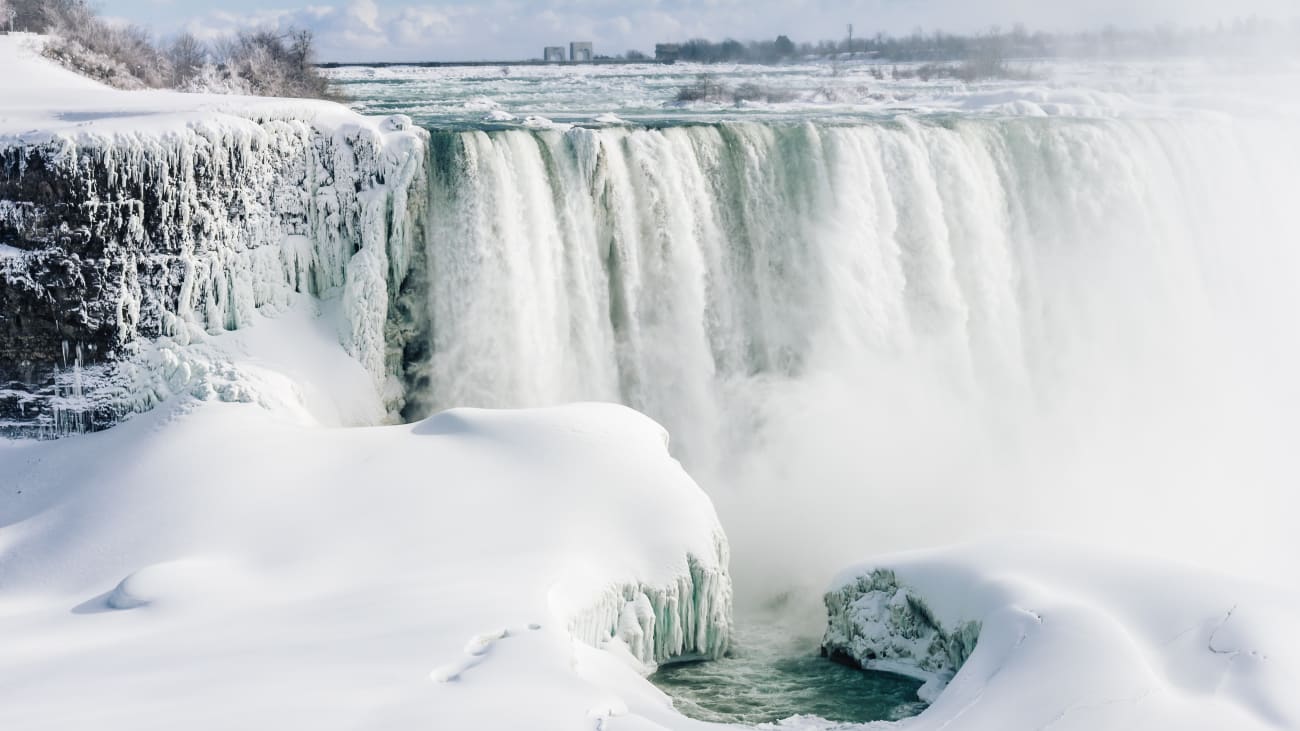 A visit to Niagara Falls in winter may not seem like the best decision. After all, who hasn't seen images on the news of the great northern freezes that freeze everything?
However, have you ever thought about how amazing it would be to experience this landscape first hand? And more importantly, to do it without so many people around you! Today I have a guide of things you can do if you decide to visit Niagara Falls in winter.
1. Photograph the spectacle caused by the frost
While the ice covers everything it touches, it is impressive to visit Niagara Falls in winter. The reflection of the light on the glass sparkles beauty in a unique landscape that allows you to photograph a myriad of perspectives.
The water loses its strength and changes state, solidifying with every step. Also, unlike the summer season there is much less tourism in the area, so you may be able to enjoy these amazing sights almost to yourself, if you get up early. What if you can get to see the falls completely frozen over? Unlikely, but not impossible.
Here's a tip! Climb the observation tower, which is open all year round and free during the winter, for a panoramic view of the three waterfalls.
2. Attend the Festival of Lights
Niagara Falls is a natural spectacle in its own right, but for the past few years it's been stunning at night, thanks to a revamped lighting system with LED lights that work when the sun goes down to create a spectacular sight not to be missed.
Colours inspired by nature are themed according to the charity event of the day or time of year. Put on a warm coat and get ready to enjoy the magic of light, colour and a fairytale frozen landscape from 9.30pm onwards.
The annual OPG Winter Festival of Lights trail features more than 75 dazzling displays decorating the Niagara Parkway, Dufferin Islands and the streets of the tourist districts. Bundle up and grab a car for the 5-mile drive to park and enjoy the atmosphere.
3. Enjoy the Christmas Concert Series
This winter, Ravine Vineyard Estate Winery and Noisemaker are teaming up to bring you indoor concerts featuring some of Canada's finest talent, an intimate live music experience that will thrill you in a relaxed atmosphere. It's one concert a month, but don't miss the Christmas special, featuring the soundtrack of the band's Christmas tunes and Skydiggers classics.
4. See the Falls frozen from the top of a helicopter
What do you say I treat you to an incredible bird's eye view of this natural gem? The Falls are a spectacle in themselves to admire from any perspective you choose, but to do so from above is beyond anything you can imagine.The frozen landscape in the winter months only enhances their beauty.
In addition, you can see the setting of monumental waterfalls mixed with huge blocks of ice and snow*, in this region famous for its vineyards.
From Niagara District Airport, you can begin your adventure to see Niagara Falls from the air, available every day of the year, weather permitting. A short flight where you can enjoy taking the best snapshots to take away from this trip.
5. Take shelter in the warmth of the casinos
The attractions of Niagara Falls extend far beyond the natural park. For a cool, relaxing moment of fun, head to one of the casinos on the Canadian side of Niagara Falls. In the commercial area of Niagara Falls, you will find all the fun of Las Vegas.
I recommend you to visit Fallsview Casino Resort with its incredible viewpoint of the Falls. In this casino you can also see world class shows, a spa centre and night clubs. Or spend some quality time at the Seneca Niagara Resort & Casino, where you can gamble, dine and see a world-class theatre show.
6. Climb Skylon Tower
After Niagara Falls, the most visited place in the area is Skylon Tower. An observation centre with surprises, where you can admire the frozen landscape not only of the falls but also the skylines of Buffalo, New York and Toronto, and all without getting cold.
And what are these surprises? Well, it's not just an observation deck, it's also home to a children's play area with interactive games, an exhibition showing dinosaurs of all species, a 3D/4D cinema where you can experience the power of the falls with special effects and a wide selection of international boutique shops. Are you going to miss it?
7. Enjoy the Canadian Christmas atmosphere
If you want to enjoy the best Christmas atmosphere, come and visit the beautiful village of Niagara on the lake. Here, elegantly decorated shops with all the Christmas spirit await you in a very cool atmosphere. During the first weekend in December you can take a candlelit stroll on Friday.
You can also take a tour of six seasonal houses organised by the Rotary Club, beautifully decorated and furnished, where you can enjoy a glass of wine and a local sweet. Everything is decked out to bring a Christmas story to life for locals and travellers alike to have a warm and welcoming experience with all the charm of the people, the streets and the carefully decorated.
8. Shop for the best winter clothing at the outlets
If you're missing some clothes, have forgotten them or just want to take a souvenir home with you, visit Outlet Collection. It is located in Niagara on the lake with a fresh new outlet concept. Here you can find over 100 irresistible brands such as The North Face, Nike Factory Store, Tommy Hilfiger and many others.
It is Canada's largest outdoor mall with a play area for the little ones, a dedicated food court called The Eatery and an event area with a farmers' market and social gathering place.
On the American side, closer to the Falls, you will find Fashion Outlets Niagara Falls. This is an indoor shopping mall and outdoor area with over 200 designer shops where you can shop for clothing, but also other items such as beauty, electronics, health and much more. Get the most sought-after discounts on your favourite brands to be the king or queen of the ice.
9. Taste the best ice wine of the season
You shouldn't leave Niagara without trying one of the region's culinary delights, icewine. Wine has been produced in the region surrounding the Falls for decades. Niagara's vineyards have become an attraction for travellers who visit for a wine tasting and sample the region's best dishes.
Due to the harsh winter weather, this wine is made from semi-frozen grapes, harvested by hand and pressed immediately to produce a yellowish, almost golden grape juice that is sweet and ideal for desserts. It also pairs well with cheeses and pâtés, and can be a great accompaniment to spicy cuisines such as Thai or Indian.
The famous Niagara Icewine Festival is held in Niagara on the Lake in January. This festival takes place once a year for three weeks and is dedicated to Ontario's icewine. During these days the whole Niagara region turns into one big wine festival. Due to the large influx of wine lovers, I recommend that you plan your holidays in advance to enjoy these dates.
If wine gives you an appetite, I leave you this post about where to eat in Niagara Falls. However, in winter, check the opening hours in case you find any restaurant closed.
10. Go ice skating outdoors
During the Festival of Lights there is a place for fun and outdoor ice skating at the TD RINK rink at the Brink. Don't hesitate and practice your favourite sport in a dreamlike setting with the waterfalls in the background and background music. Be part of the visitors from all over the world who have been able to enjoy this experience under the open sky and on the edge of the abyss.
Afterwards, stay to enjoy the surroundings with the illumination of Niagara Falls, one of the most beautiful natural attractions in the world. What more could you ask for?
Prices at Niagara Falls during the winter season
Any time of year is the perfect time to visit this natural monument. If you choose to travel in the off-season months of December to February, prices will be more affordable than at any other time of the year. However, beware that during the Christmas holidays, prices go up again due to celebrations and events in the Falls area and in the surrounding villages and towns. January and February are the cheapest months to enjoy this region.
Winter temperatures in Niagara Falls
We don't know if winter is the best time of year to visit Niagara Falls, but as you can see it's a season when you'll see things you won't see in any other. However, temperatures in this area can reach -8ºC, so if you travel during this time of year I recommend that you take special clothing for sub-zero weather.
During this time of year, you will see a unique spectacle, giant chunks of ice sliding down the waters of the falls forming a spectacle for the senses like no other. The mist over the overlooks or seeing Niagara Falls completely frozen over is one of the attractions of winter viewing that only a lucky few have the pleasure of experiencing at least once in their lifetime. Don't forget to bring the right clothes for this time of year. Do you dare to experience it too?