10 places to eat in New York City
Eating well in New York and not going broke trying is possible, but you'll have to choose wisely to avoid the tourist traps. Here's a list of my 10 favourite places to try.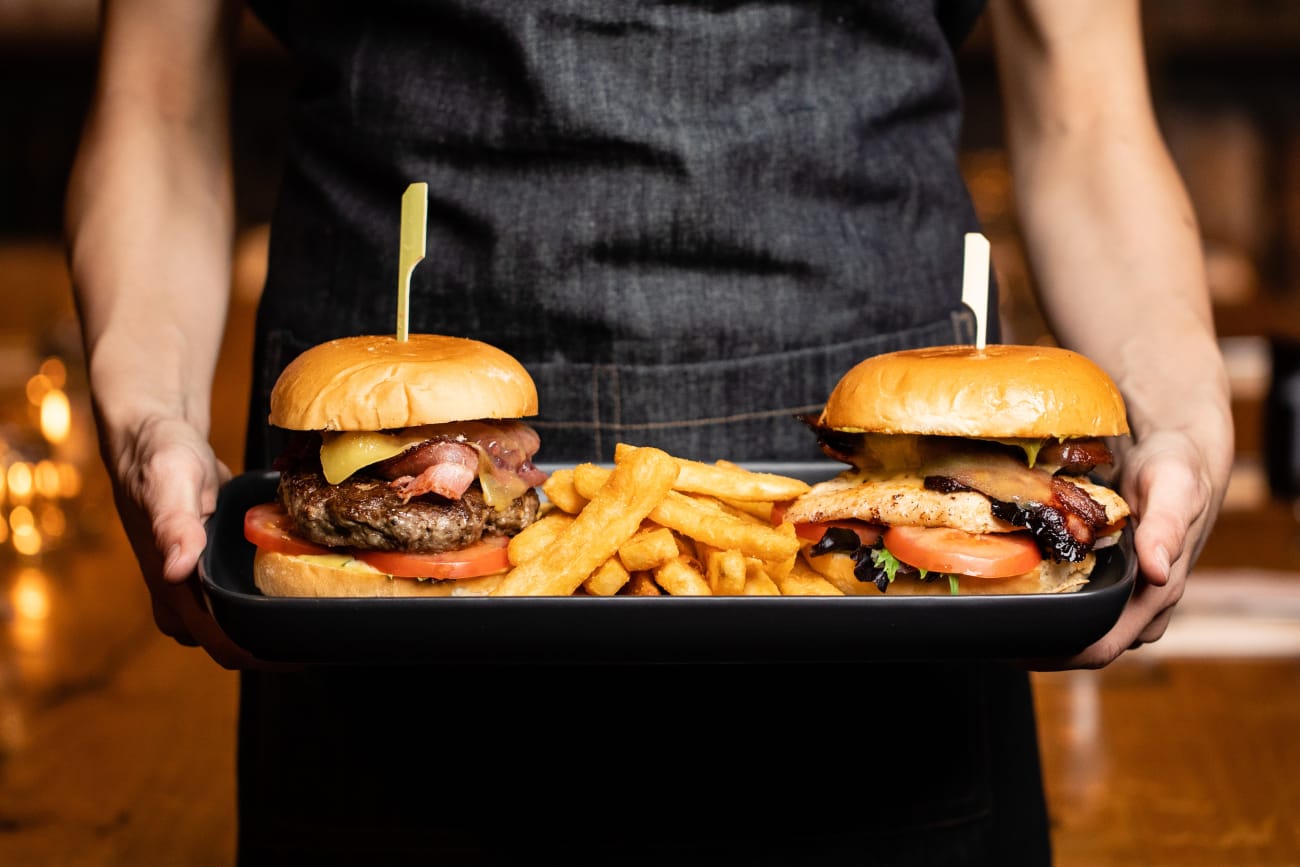 Drinking and eating are two of the favourite activities for travellers visiting New York, especially in a city like New York because of its endless gastronomic possibilities. The most typical places to eat in New York are hamburger joints or typical American cafés serving breakfast or brunch. They are easy to find and come in different price ranges and levels, but that's not all.
Where to eat like a king? Here is a list of 10 great places to eat in New York.
1. The best pizza at Rizzo's Pizza
Pizza is a very popular dish in New York. You can find it on practically every street corner, from street stalls and fast food joints to high-end restaurants. But where can you get a slice that will transport you to seventh heaven?
After trying their pizzas, I can say that Rizzo's Pizza 's reputation as one of the best in New York is, without a doubt, well deserved. The Yelp ranking and the New York Times reviews were not exaggerating when they included this Manhattan restaurant in their lists of the city's must-try restaurants. After all, they are true specialists: they have been in business since 1959.
What should you try?
The pizzas are a delight. They come in the classic round shape as well as square ones with a super crispy edge. Their secret is in the dough: perfectly baked, thin and light but firm, not soft at all.
I recommend ordering the americana (chicken, red onion, bacon, BBQ sauce and mozzarella), the diavola (chicken, red onion, bacon, BBQ sauce, hot sauce, parmigiano aioli and mozzarella) and the aumma aumma (sausage, meatball, ricotta, sauce and mozzarella), the most popular at Rizzo's Pizza. They also have vegan and gluten-free options, which is a plus. For dessert, the famous cannoli, a typical Sicilian sweet made with ricotta cheese. Yummy!
Where is it? Rizzo's Pizza has two locations in New York. One on the Lower East Side of Manhattan (17 Clinton St. New York, NY 10002) and one in Queens (3013 Steinway St. Astoria, NY 11103).
Hours The Manhattan location is open Monday through Thursday from 4 PM - 11 PM; Fridays and Saturdays from 12 PM - 12 AM and Sundays from 12 PM - 11 PM.
2. The hot dogs at Gray's Papaya
Starting the morning with energy is essential to make it through a full day of sightseeing in New York without fainting. But where can you get a hearty American-style breakfast for cheap? Gray's Papaya, of course! The temple of hot dogs in the Big Apple.
They're so popular that Barack Obama himself had his picture taken here eating one for his 2008 election campaign. As with Rizzo's Pizza, the New York Times also praised it as one of the best hot dog places in New York. Plus, the prices are dirt cheap: a single hot dog costs $1 and each extra topping of chili, cheese or relish costs $0.50.
With these credentials, Gray's Papaya is almost a must-visit on the iconic Broadway, very close to Central Park and Lincoln Center. I can assure you that I was not disappointed.
What should you try?
The queues at the entrance live up to the establishment's reputation but they go pretty fast. I recommend you order one of the special breakfasts with coffee. They have an omelette sandwich with cheese & ham, bacon or sausage for less than $4. Who can afford more?
Gray's Papaya is also a good option to cap off a night out or at the theatre on Broadway, as they are open 24 hours a day. With a hot dog and their famous papaya juice, you'll go back to the hotel to sleep with a smile from ear to ear.
Where is it? 2090 Broadway, New York, NY 10023.
Hours Open 24 hours.
3. Burger Joint's Secret Burger
Oh, the burgers! The dish that best defines American cuisine at home and abroad. Deciding which is the best burger in New York is no easy task. The ingredients are important, but so is the ambience of the place.
One of the most unique restaurants in the city for a great burger is Burger Joint, the secret burger joint near Fifth Avenue and Central Park. But what's so special about this place?
After a quick Google Maps search you'll see that the address corresponds to a luxury hotel called Le Parker Meridien. You're in the right place, don't turn back when you get there because the burger bar is hidden inside. But the funny thing is that it has nothing to do with the hotel. So how did such an underground-looking place end up inside such a lavish hotel, you might ask?
It turns out that when the hotel wanted to build the building on this site, there were several venues occupying this location. They all came to an agreement with the hotel except for the Burger Joint who did not want to sell their premises. After some lobbying and court cases, the burger joint got its way, so Le Parker Meridien had to build its hotel around the burger joint.
The result is a striking contrast between the elegance of the hotel and the grunge style of the Burger Joint, which is precisely the charm of the place. That and the entrance seems to be hidden behind mysterious red curtains.
What to try?
On the menu you'll find the burger basics: a regular or cheeseburger, fries, drinks and milkshakes, and for dessert, ice cream and brownies. In 2012 it received the title of the third best burger in the world at the World Burger Competition. That's nothing!
Where is it? 119 W 56th St, New York, NY 10019
Hours Open daily 11AM to 11:20 PM; Friday and Saturday 11 AM to midnight.
4. Amy Ruth's Brunch
A great place to grab brunch after touring Harlem or attending a Sunday Gospel service is Amy Ruth's located in the heart of this New York neighbourhood.
If you're looking for some of the best southern cooking, you've come to the right place - it's all good here! They are famous for serving one of the tastiest Chicken & Waffles in the United States. A combination of waffles and maple syrup fried chicken that may sound a little strange but surprisingly works and is considered a New York legend.
What should you try?
Other dishes I recommend from the Amy Ruth's menu are the barbecued ribs with barbecue sauce and a side of sweet potato, the hot chicken sandwich or the battered prawns. To drink, a glass of lemonade and sweet tea called Half and Half - super refreshing!
The corn muffin with a little butter that they serve as an appetizer while you wait for your food is delicious. Although there is sometimes a bit of a queue to get a table, they are usually pretty quick with orders even if the place is crowded.
Where is it? 113 West 116th Street, New York, NY 10026
Hours Open Monday to Sunday 11 AM to 10 PM.
5. The best Indian food is at Tikka Indian Grill
If you've decided to take a tour of Williamsburg, a good option for tasty food at reasonable prices is Tikka Indian Grill. Whether you're an Indian food connoisseur or a beginner, you'll love the menu they've tailored to suit every palate by drawing inspiration from the best of every region of India.
What should you try?
I'm a real fan of this bright Brooklyn restaurant for lunch. They have a lunch special that includes naan, samosas and a main course for only $10. However, if you want to consider other options, I advise you to take a look at their menu because it is quite extensive. Two of my favourites are the lamb vindaloo and the extra spicy black pepper chicken that comes with various sauces that you'll want to soak up with bread.
Tikka Indian Grill is a very nice restaurant to enjoy a good meal in New York. The place is spacious, nicely decorated with large photographs of Indian scenes and as for the dishes, the secret to their success is that they use fresh ingredients from local suppliers combined with spices brought directly from Asia. You'll want to come back for more!
Where is it? Located at 185 Grand Street Brooklyn, NY - 11211
Hours Open Monday - Thursday 12:00 PM - 11:00 PM; Friday and Saturday 12:00 PM - midnight; Sunday 12:00 PM - 10:00 PM.
6. The ultimate foodie market: Chelsea Market
Before its resurrection as a trendy neighbourhood, the Meatpacking District was an industrial area filled with slaughterhouses and packing plants that supplied New York with meat. After its successful redevelopment, this area is one of the trendiest in the city and is full of trendy boutiques, art galleries and amazing restaurants.
One of these places was the former Nabisco biscuit factory, the creator of the famous Oreo, which was transformed into a spectacular food market called Chelsea Market that has managed to preserve the industrial charm of the original building with the latest gourmet trends.
What to try?
Literally everything! If you're in the vicinity visiting High Line Park or the Whitney Museum and you've worked up an appetite, don't hesitate, head to Chelsea Market because you'll love the fast food stalls. They've got it all! Pizza, tacos, sushi, pasta, noodles, seafood... It 's the best option if you're travelling to New York in a group and there's no consensus on where to eat. Everyone orders what they want and then shares at any of the tables scattered around the market.
If you go during the day, you can complete your visit to Chelsea Market with a stroll around the building to see other cool places like Posman Books and the Artists & Fleas flea market. If you visit in the evening, after dinner head to Chelsea Music Hall in the basement of the market. A place where you can enjoy the New York night with good music, delicious cocktails and a great atmosphere.
Where is it? Located at 75 9th Ave, NY 10011
Chelsea Market is open Monday to Saturday from 7AM to 10PM and Sunday from 8AM to 9PM.
7. A taste of Spanish food at Little Spain Market
And from one food hall to another. If you get a hankering for Mediterranean cuisine during your trip to New York, Hudson Yards, the trendy new neighbourhood in Midtown along the Hudson River, is home to Little Spain Market, a food hall dedicated to the flavours of traditional Spanish cuisine by renowned chef José Andrés in collaboration with the brothers Ferrán and Albert Adriá.
Walking through its doors is like stepping into the temple of Spanish cuisine. The delicious aroma of the different stalls guides you through the market and through the different regions of Spain without leaving New York - a marvel!
What should you try?
The Little Spain Market has a dozen kiosks where you can sample great classics of Spanish cuisine such as tapas, cocas, ham, sandwiches, bravas, Spanish omelette and, of course, Spanish sausages, cheeses and wines.
One of the most popular kiosks in the Little Spain Market is the churros kiosk, perfect for rounding off the meal with a coffee. Although I recommend you do it at the market's bar, toasting your stay in the Big Apple with an excellent glass of cava or demonstrating your expertise by drinking a typical Spanish porrón. Long live wine and olé!
Where is it? Located at 10 Hudson Yards, New York, NY 10001.
Open Monday to Sunday from 12 PM to 21 PM.
8. The best Arab specialties are at The Halal Guys
Walking the streets of New York you will come across many types of food trucks but when it comes to Arabic food, you won't find any like The Halal Guys.
The owners started with a little hot dog stand on the streets of the city back in 1990 and soon made the leap to offering halal food to Muslim taxi drivers who at the time had few options for authentic halal food in New York. Thus were born their famous beef and gyro platters over rice, falafel sandwiches and tasty dips to go with them. Word soon spread and long lines of people began to form, eager to sample the exotic flavours and textures on the menu.
The Halal Guys carts are open all day, making them the perfect choice for a quick meal during a break on your city tour or as the finishing touch to a night out. Just order what you want for dinner and they'll prepare it for you so you can eat it in your hotel room.
What should you try?
The portions are hearty so if you're going as a couple and you're not too hungry you can order a combo and share it. My favourite is the falafel platter and the chicken sandwich although they have a wide variety on the menu. For dessert, baklava of course!
Where is it? One of their stalls is on 53rd St and 6th Avenue although you can see all the locations of their carts on their official website.
Hours Monday to Friday 10 AM to 4 AM; Saturday and Sunday 10 AM to 5:30 AM.
9. Katz's Sandwiches
Want to eat the best pastrami sandwich in New York? Then you have to go to Katz's. There must be something special about the recipe when the restaurant has been around since 1888 and has become a classic in the city. The long lines of people waiting to get in attest to its success.
This Lower East Side deli is not only famous for its sandwich but also for being the setting for the most iconic scene in the film "When Harry Met Sally". In fact, if you notice when you walk in there is a sign indicating the place where Billy Crystal and Meg Ryan sat and it says: "Where Harry met Sally... hope you have what she had!
What should you try?
But back to the food, what to order at Katz's? Without a doubt, their famous pastrami sandwich is a must, although I also recommend the corn beef sandwich and a portion of potato latkes, delicious potato pancakes with applesauce or sour sauce. To drink, a glass of homemade lemonade.
I recommend going late on a Friday or Saturday after a night out in the lively East Village or Lower East Side because they don't close and a pastrami sandwich will recharge your batteries to keep on partying.
Where is it? 205 East Houston Street, corner of Ludlow Street.
Hours Monday through Wednesday from 8 AM to 10:45 PM; Thursday from 8 AM to 2:45 AM; Friday they open at 8 AM and don't close until Sunday at 10:45 PM.
10. Typical Shake Shack Menus
This list can't be without a tasty fast food to end it all. Have you ever heard of Shake Shack? It started as a hot dog cart in Madison Square Park and became a success. In 2004 it opened its first location and since then they have made thousands of people happy with their hot dogs, hamburgers, wavy fries and milkshakes - me among them!
Shake Shack has establishments all over New York, even in the most touristy areas, so it is a very popular option if you want to eat luxury food for little money.
Which Shake Shack to go to? The one I like best is the one in Madison Square Park because of the beautiful setting surrounded by trees. It also has an outdoor terrace, ideal for enjoying the sunny days.
What should you try?
As for their menu, I have to say that it is quite varied and they have vegetarian options. The burgers are to die for and the hot dogs are also very good. As with any self-respecting burger, you have to accompany them with a portion of fries and ketchup, and to drink I recommend you try a glass (or two) of freshly brewed iced tea.
If you still have room for dessert, order a tub of frozen custard, which has nothing to do with traditional ice cream. It's made from milk, cream and egg yolks and is super creamy.
Where is it? The Madison Square Park Shake Shack is on the southeast corner of the park near Madison Avenue and E.23rd Street. You can check out the rest of the locations on their official website.
Madison Square Park Shake Shack isopen daily from 11AM - 9PM. You can check other opening hours on their website.
---
How much does it cost to eat in New York
New York has many dining options and a wide range of prices.
Eating at a fast-food restaurant costs about €10.
If you want to take your meal up a notch you can opt for a small restaurant, usually pizza or carnet, which is usually around €20-30 per person.
Higher-end restaurants can be very expensive but you can find options from €40-60 per person.
Lunch, dinner and restaurant opening times in New York City
Meal times in New York are very different to those in Spain and it's something you should get used to as soon as your plane lands.
Breakfast: Breakfast establishments open around 7am.
Lunch: Lunch is usually lighter and takes place between 11am and 12:30pm.
Dinner: Dinner, like all other meals, is early, between 17:00 and 19:00.
How tipping works in New York
How tipping works in New York is one of the main questions visitors have. From our perspective, it is a complex issue. To understand this service, first of all, we must know that waiters' salaries are very low and that they supplement their wages with their own tips.
The tip has to be between 15 and 20% of the bill. 15% when the service is good, 18% when the service is good, and 20% or more when the service is excellent. Even so, the minimum recommended tip in New York is currently 18%.
And if you don't tip, it is considered very rude and the waiter may even say something to you about it, especially if he or she thinks the service was good.
In fast food places where you order at a counter before you eat, you don't have to leave a tip. These establishments usually have a tip jar for you to leave a tip, but it is not compulsory. Even so, many will leave change.
How to tip in a restaurant
Paying in cash: This is more common and convenient. To do this, you have to calculate what you want to leave extra on the bill and pay it all together. If you don't have the exact amount, the waiter will ask you if you want change, you say yes and leave him the tip of the change he has brought you.
Payment by card: When you pay by card you first pay the bill and then they give you the card with two tickets, one for you and one for the restaurant. On the restaurant's ticket you have to write down the amount you want to tip (Tip) and the total amount (Total) of what they have to charge you for the meal, the taxes and the service. Leave this ticket on the table and you can leave. The restaurant will add this amount to the charge that will come to your bank account.
Where to eat in New York (area restaurant guide)
As you may already know, New York is huge and you won't always get hungry near one of these 10 places. That's why you can take a look at these restaurant guides by neighbourhood, area and around New York's top attractions.
No matter what, no matter where you are, you'll find a good option for you!
Guide to the best restaurants by area
Guides to restaurants near major attractions