How to Visit Yankee Stadium in New York
A must-see in New York is the legendary Yankee Stadium, and even better if you can see the Yankees play live! I'll tell you about all the options you have to visit this "temple" of American baseball.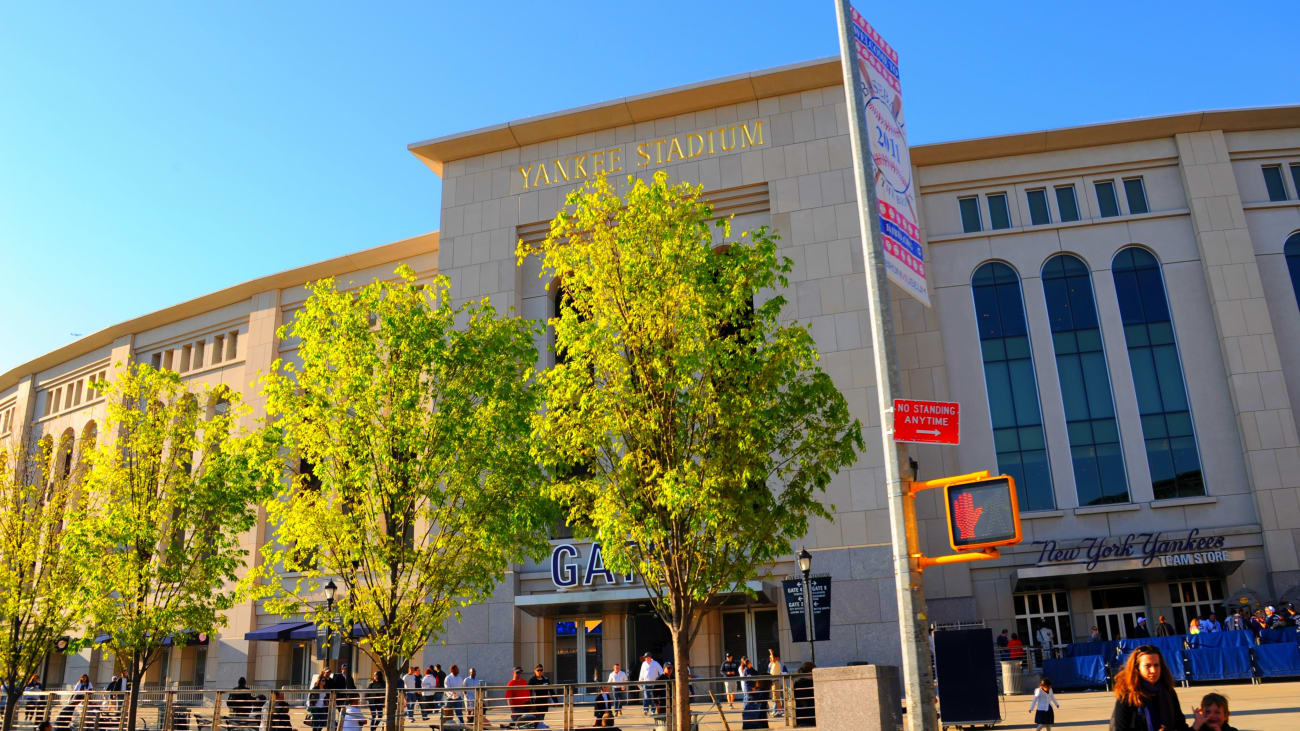 Baseball is culture and religion for Americans. And the Yankees are an icon of the sport and one of the most popular teams in the Major Baseball League (MLB). Founded in 1901, they have won the World Series 27 times! and every game they play draws passionate crowds.
Yankee Stadium, located in the Bronx, is where the magic happens. I recommend you to visit it either by watching a game if it coincides with the season or with a guided tour. You'll be able to feel first-hand and for a little while the excitement of being a New York fan.
See Yankee Stadium at its best with an MLB Yankees game
Yankee Stadium seats more than 47,000 spectators and is the most expensive stadium ever built in baseball history. In addition to Yankees games, it is also home to the New York City Football Club, which competes in Major League Soccer**(MLS**).
But it is true that the main protagonists are the Yankees, as baseball is historically the quintessential American sport.
When MLB is on so you can watch the Yankees
You can only see world-class baseball if you travel to New York between April and October. I recommend that you check the teams' schedules before you travel, as they often play friendly games during the rest of the year. The baseball season has three main phases:
Regular season: April to early October. During this time you can watch the Yankees play and, if you're lucky, catch the derby with the Mets (their arch-rival New York team) or the Boston Red Sox, another great classic.
The playoffs (postseason games): late September to late October.
The finals: late October to early November. This is where the MLB champion will emerge.
What you need to know about baseball if you're going to Yankee Stadium
Getting tickets at a good price is usually not difficult if you plan ahead, but there are a few things to consider, such as the best place to choose your seat, the schedule and what to expect on the day of the game. Here is a guide on how to go to a baseball game in New York to answer all your questions.
Stadium occupancy is usually very high, so I recommend buying your ticket in advance. It's also a good idea to get to the stadium at least an hour before the game starts so you can find your seat without rushing and enjoy watching the stadium fill up and get excited. Take some drinks and food or snacks with you, as buying food at the stadium itself is often expensive.
How much do Yankees tickets cost?
If you are lucky enough to be in New York during the league baseball season, there is a good chance you will be able to see the Yankees. There are a lot of games played during the league and every few days, so it is usually easy to get tickets (much easier than for the NBA, for example).
How do I get tickets?
You can secure your Yankees tickets in advance online at Hellotickets. You can also buy them at the box office directly on the day of the game, but the stadium is quite far from the centre and you run the risk of not getting in. So my recommendation, without hesitation, is to buy your ticket in advance.
Prices
Ticket prices to see the Yankees tend to vary greatly depending on the date and the team they are playing, as well as the location of your seat and how close you are to the pitcher.
To give you an idea, the cheapest ticket at the top of the stadium for any given game can cost around €15. But for the same game, a ticket closer to the pitch can cost around €85 and one in the VIP areas, from €250 to €450. If the game you want to see is a classic against the Boston Red Sox, the cheapest tickets start at around €130.
Children under 3 years old or under 76 cm tall get in free.
Take a tour to see the ins and outs of Yankee Stadium from the inside
If you want the full Yankees fan experience, in addition to seeing a live game, you can get an in-depth tour of the stadium with a guided tour.
There are several options for a tour of Yankee Stadium:
Classic" tour to get to know Yankee Stadium from the inside: This is the most typical tour you can take to get to know Yankee Stadium. You can take a guided tour of the stadium's facilities and the two museums it houses: the Yankee Museum and Monument Park.
Classic Tour with lunch at the Hard Rock Café: This option includes as part of the tour a meal at the Hard Rock Café Yankee Stadium. You will be given a voucher to redeem at the restaurant before or after your visit.
Pre-game tour to watch the Yankees practice before the game: This option is great for fans who already have a ticket to the game, because it includes exclusive access to batting practice before the game. You'll also get to see the Yankees Museum and Monument Park, but you'll finish the tour in Section 105 of the stadium to watch the players take their pregame practice.
Hands on History Tour to get your hands on the Yankees: This tour is designed especially for baseball and Yankees fans. It is an exclusive access to the Yankees Museum where you will be able to touch historical items and artifacts of the team. Bats, balls, gloves, jerseys, World Series rings and memorabilia.
Free tour of Yankee Stadium with the New York Pass: One of the most recommended options for getting around New York is to buy a tourist card. If you want to visit Yankee Stadium, I recommend you get the New York Pass, which also includes the "Classic" tour of Yankee Stadium, with access to the Yankee Museum and Monument Park.
Tour the outside of Yankee Stadium and learn about its history with the New York Contrasts tour
The Contrasts tour is one of the most popular tours of New York and gives you a glimpse of what's beyond Manhattan and Central Park.
This tour is usually done by bus, accompanied by a professional guide and takes you through four of New York's five boroughs: Manhattan, the Bronx, Queens and Brooklyn (Staten Island is left out).
One of the first stops is in the **Bronx **and that's where Yankee Stadium is located. You can see it from the outside and take pictures, but you won't be able to get in. However, it's a good option if you're still on the fence about whether to book a tour or go to a baseball game.
What you should know about the Contrasts tour:
Duration: Approximately 5 hours.
Departure time: 8 AM.
Departure and return points: Hotel Pennsylvania (401 7th Ave), Hotel Millennium Broadway (145 W 44th St), Hotel Manhattan (Times Square, 790 7th Ave).
Price: from 101 €.
A bird's eye view of Yankee Stadium on a helicopter tour
If you want a different, fun and adrenaline-pumping experience, you can also see Yankee Stadium from the air!
You can book a helicopter tour of New York City, where you'll see all the city's sights from an impressive vantage point.
With state-of-the-art Bell 407 helicopters, if you don't have vertigo, you'll fly over the Hudson River and from there you'll be able to appreciate the magnitude of the Big Apple from a bird's eye view.
Visit Yankee Stadium from the outside arriving on your own
If you want to visit this temple of New York sports and get your photo taken, you can also do it on your own. It's very easy, as you can take the underground or a taxi. And while you're at it, you can explore the Bronx and the area around the stadium.
By underground
Lines 4 B and D.
Stadium stop: 161st Street Yankee Stadium (about 100m from the entrance).
From downtown Manhattan it takes about 30 minutes.
Single ticket price: €2.60 or one-week Metrocard for €28.50.
By taxi
Another option, more comfortable and door-to-door, but you should expect a fare of approximately 30 euros one way and 30 euros return.
Grab a good burger at the Hard Rock Café at Yankee Stadium
If there's one thing New York is not short of, it's good burgers. And one of the most typical American places to enjoy them is the Hard Rock Café. And of course, at Gate 6 of Yankee Stadium there is one, where sport and food make a perfect duo. So another way to get to know the stadium a little closer if you don't want to pay for a ticket is to enjoy a meal at the Hard Rock Café.
You can go there whether or not you have a ticket to the stadium, 365 days a year, from 11:00 to 17:00 hours. And, of course, if it happens to be Yankees or New York City Football game day, you can watch it on one of their 15 huge screens.
Got hungry, right? Here's their menu, so you can start to feel the excitement of baseball, football and a good American burger.