10 Tips to enjoy a Cruise in NYC
Realistically, enjoying a cruise in New York won't take much work. But if you want to get the most out of the experience, follow these tips to make it all go swimmingly!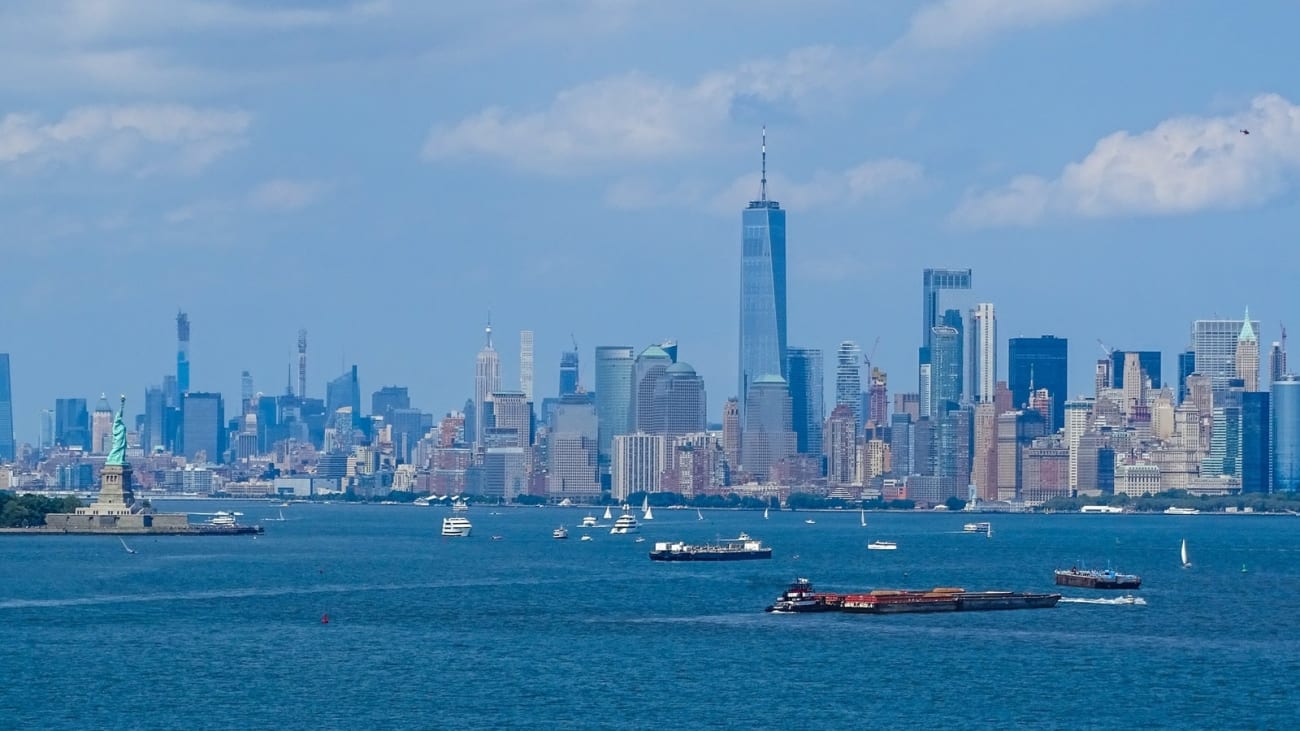 You've probably been looking forward to getting to the city that never sleeps for a long time and as the date approaches you want to get everything organised so that the trip goes smoothly.
If you've decided to take a Manhattan cruise, which I 100% recommend, follow these recommendations and everything will go smoothly.
1. Compare prices, routes and duration
The first thing you should know is that there is a wide variety of cruises that ply the waters of the Hudson, each one with different duration, route, departure time... The best way to compare them all is to do an online search to find out which are the best cruises in Manhattan, how much a cruise on the Hudson costs and which one best suits your trip.
You can get the cheapest one for just over 30 Euros and you'll cruise around the south of Manhattan reaching the Statue of Liberty or invest around 180 Euros if you want to treat yourself to a luxurious boat sailing the waters of New York while enjoying a gourmet dinner.
Either way, there is also a middle ground: two-hour cruises that take you as close as Midtown, night cruises to discover New York lit up? Here you can compare the length of New York cruises to make choosing your cruise easier.
2. Book in advance
This may seem like an obvious tip but keep in mind that millions of travellers visit New York every year and taking a cruise on the Hudson is one of the most popular experiences for visitors to the city. Especially if you are travelling in high season (summer, Christmas, Easter holidays...) demand can be very high and some places are sold out.
If you are clear about your travel dates and the specific day you would like to embark on this experience, book as soon as possible to ensure you get a place on the boat that suits you best.
Otherwise, you run the risk of being sold out or you may end up having to book a more expensive option and this will make it difficult to organise other activities.
3. Arrive at embarkation in plenty of time
Boarding one of the cruise ships that sail the waters of New York doesn't require the same checks as an airport (fortunately!) but the truth is that departures are usually very punctual and the ships don't wait for anyone.
It's best to arrive in plenty of time, relax while waiting for the ship and bear in mind that the pier is not always next to an underground stop, so you may have to walk for a while. The boarding area is usually pleasant, with good views and close to the water, so you won't mind spending some time there while you take some photos.
Another thing to bear in mind is the luggage or backpack you carry. The lighter the better (space on the boat is not infinite) but if you are planning to bring a bulky backpack for whatever reason, check beforehand if there are lockers on the pier where you can leave your bag before boarding.
For evening cruises with dinner included, I do recommend that you go at least 30 minutes in advance, as boarding is usually more leisurely and may take longer. Plus, you won't want to miss a second of it on board!
4. Choose a dinner cruise to give yourself the ultimate treat!
If there's one thing that really sets some cruises apart from others, it's that there are some premium cruises where the experience is truly VIP. Dinners take place inside the lounges of a truly luxurious vessel, whether it's a sizable yacht or a glass-enclosed vessel that allows you to enjoy the starry skies over New York.
The best dinner cruises in New York are a real treat and although the price is higher than standard cruises (they can cost between 140 and 180 Euros), they are the best way to celebrate an anniversary, a special event or simply to treat yourself to a visit to the capital of the world.
They usually last about three hours because they go all the way around Manhattan, you can enjoy the illuminated skyline of the island and the evening is enlivened with live music. It's also a real dream for film lovers, who will feel like they're the stars of a Hollywood film for a few hours.
5. Take a stroll around the waterfront
Since it's recommended to arrive early for cruise ship embarkation, a good way to organise your sightseeing day in New York is to plan a stroll around the pier from which you'll be boarding.
For example, Circle Line daytime cruises depart from the Pier at 42nd Street on Manhattan's West Shore at Times Square and City Sightseeing cruises depart from Hudson Yards. You can take the opportunity to walk the High Line before or after the cruise, go up to the Edge or stroll around Hell's Kitchen. If you're planning to go up to the Empire State Building or Top of the Rock, they're not too far away either, so you can arrange a visit on the day of your cruise.
One of the evening dinner cruises departs from Pier 61, right next to Hudson River Park, so it's a good opportunity to stroll through this relaxing green area of Manhattan overlooking the river.
Ferries to the Statue of Liberty, for example, depart from Battery Park, next to the Financial District. Take the opportunity to visit the 9/11 Memorial and Museum or go up to the One World Observatory.
6. How to save on a cruise in New York
It's clear that you don't always have the budget to choose the most premium experience and the price of some cruises can be a little high, but in this case you're in luck because the range of cruises in New York is such that there are options for all budgets.
If you want to spend little money or time on the experience itself, there are a few tricks to avoid spending too much. For example, if you plan to visit the Statue of Liberty, you'll have to get there by ferry, as it's located on Ellis Island, which is only accessible by boat.
So while the experience of crossing the river by ferry may not be the same as embarking on a scenic cruise, the views of the Statue and the Manhattan skyline are truly incredible. You could call it a 2-for-1 experience.
On the other hand, since the Hudson runs through New York City, the New York ferry is just another mode of transport for its citizens, so you can use it to get from one side of the river to the other without having to spend a lot of money on tickets.
Finally, if you've bought one of the New York sightseeing cards (there are several, so here's a comparison of New York Passes), a ticket to one of the city's scenic cruises may also be included - check it out because you may already have a free ride on one!
7. You'll get some great shots, but don't get camera-obsessed!
Everything, absolutely everything in this city is photogenic and the views from the water are no less so. You'll cross the Brooklyn Bridge from below, you'll get close to the Statue of Liberty, you'll have a great view of Manhattan Island and the Brooklyn skyline...).
By day and night the views are a spectacle and you'll be tempted to spend the whole tour with your camera in your hand. Don't make the mistake of seeing New York through the lens of your camera and try to take just enough photos to be more aware of your surroundings.
Cruising the waters of the Hudson and marvelling at this view is something you probably won't do many times in your life, so the best memories will be in your retina. The same goes for your mobile phone- you'll have reception, but consider whether you really want to be on the move for anything other than enjoying the experience.
8. Follow these basic dress code rules
If you're going on a daytime sightseeing cruise, you don't have to worry about anything - whatever you're wearing, you'll be able to enjoy the experience . In fact, I recommend you check the weather forecast the day before so you can check the temperature or wind and wrap up warm according to the thermometers.
The boats are equipped with indoor and outdoor seating, which will allow you to participate in the activity despite bad weather. (In the event that the cruise has to be cancelled in extreme weather conditions, you will be offered either a change of date or a full refund).
In any case, bear in mind that you'll want to enjoy the views from the open-air part of the boat, so bring a warm coat or windbreaker in winter and a hat and sun cream in summer to make the most of the tour.
On the other hand, if you've chosen an evening cruise with dinner included, it's best to leave the 'tourist look' at the hotel and go for something a little more dressed up. There's no need to dress up, but bear in mind that you'll be on a luxury vessel, the dining is upscale and the ambience is more elegant than on a daytime cruise.
9. If you're going with children, choose the most appropriate cruise for them
The kids are going to enjoy this great plan like nobody's business, but the best recommendation if you're considering a cruise with kids in New York is to choose a daytime cruise. Some of the more premium options that offer gourmet dining in the evening either don't allow children under the age of 6 or don't offer reduced prices for children.
This means that, if they are able to board, they have to pay the same as an adult and there is no children's menu option. You will really have to analyse whether it is worth taking the little ones to dinner, because in addition to the fact that they would not enjoy it as much as adults, the cost could be too high.
On the other hand, and going back to day cruises, they are a great option for them: they will love sailing aboard a boat, the views are spectacular and it will help them to rest for a while from the long walks around the city. The best ones should always be accompanied by an adult and babies should sit on your lap. Also check before booking whether pushchairs are allowed on board (in most cases they are).
10. Choose the best time of day for boarding
Depending on your preferences and budget, you can choose between different departure times for your cruise. If you want to enjoy New York in broad daylight, when the skyscrapers, bridges and Hudson River are in full splendour, a good recommendation is to choose the 12 noon departure time.
This time will allow you to take a relaxing break during your morning, with the sun shining at its brightest, and your photos will be perfect. Also, if you're cruising in winter, this is probably the time with the mildest temperatures so you can spend more time on deck.
If you're a fan of sunsets and want to experience New York at its most vibrant, a late afternoon cruise will allow you to watch the sun go down as the lights of the world's most fascinating city come on. Night time photos require a little more skill, but will be equally stunning and the atmosphere is more intimate.
In any case, there are cruises that depart at almost any time of the day and just because you choose a night cruise, you don't have to choose one of the premium dinner cruises, so there's no excuse: choose and book the one you fancy the most!