12 Things to Do in Williamsburg
The Williamsburg neighbourhood in Brooklyn is one of the trendiest areas of the city. Here's a list of must-sees so you don't miss a thing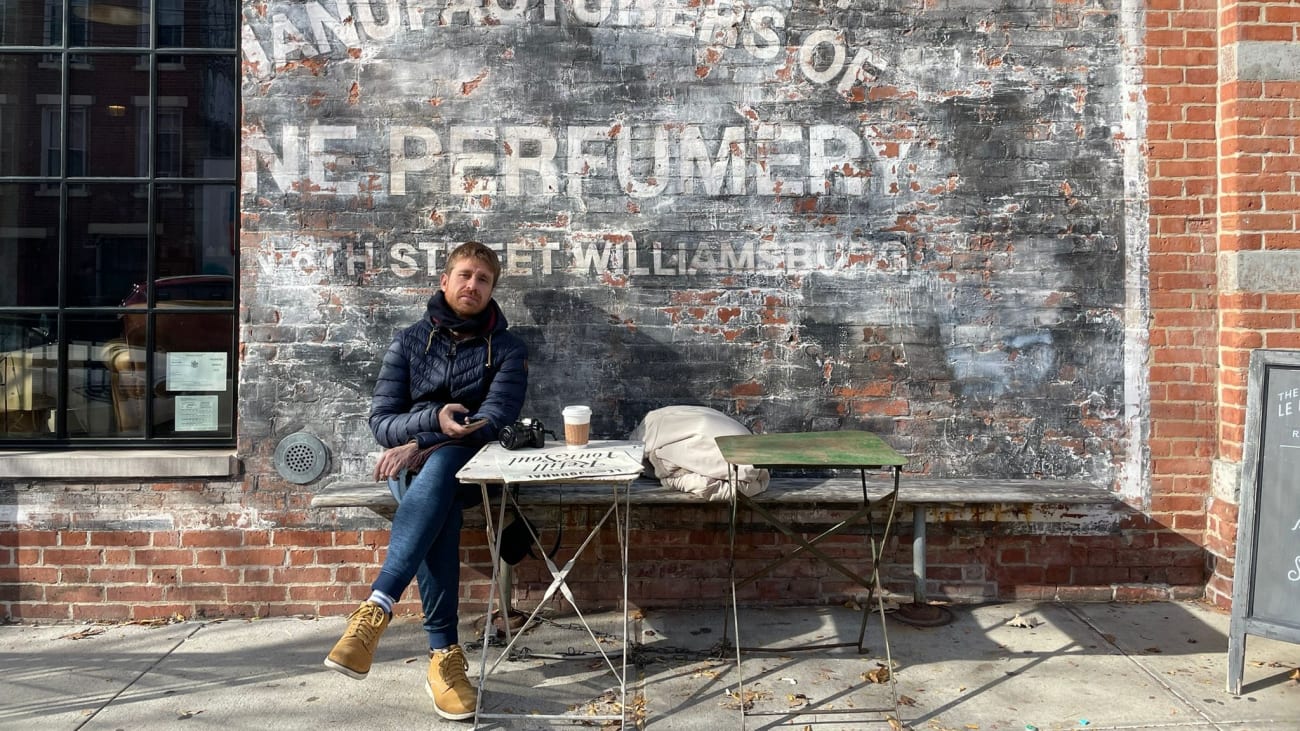 Williamsburg is a neighbourhood of contrasts. In this area north of Brooklyn, hipsters and orthodox Jews live side by side. In just a few streets, the atmosphere changes radically: from the most striking street art and the old factories converted into restaurants to the austerity of the Jewish quarter.
Brooklyn is a 'must' on any trip to the city of skyscrapers and within Brooklyn, for me, Williamsburg is one of those authentic areas full of contrasts that is worth visiting. You can visit on your own or take a tour of Williamsburg. Here's what not to miss.
The most recommended option
Discover New York's trendiest neighbourhood
Tour Williamsburg with a local guide who will give you all the details about this popular neighbourhood, its street art and local culture.
On this tour of Williamsburg in Brooklyn you'll wander through one of New York's most unique neighbourhoods with a local guide. The tour lasts approximately two hours and takes you past such highlights as the famous flea markets, East River State Park, the Smorgasburg flea market and the Williamsburg Bridge.
You'll also explore street art and learn about the importance of beer at the Brooklyn Brewery- a highly recommended option!
Recommended if... You don't want to miss a single detail of this popular neighbourhood.
1. Don't miss out on Williamsburg Bridge
This is one of the sites you will visit on the tour of Williamsburg in Brooklyn. Lesser known than its brother the Brooklyn Bridge, this bridge linking Williamsburg to Manhattan is worth a stroll around (and I'm sure more than one photo). Plus, you should know that when it was built in 1903, it became the longest suspension bridge in the world.
Best of all, you can still walk or cycle across it today, so there's no excuse not to venture over it.
2. Admire the urban art of Eduardo Kobra
Williamsburg is a hipster neighbourhood with a very personal and alternative character. Despite the proliferation of fast food chains and luxurious residences (especially for Wall Street workers) over the last few years, its authentic works of art continue to adorn walls and walls, and on the Williamsburg tour in Brooklyn you'll see many of them.
And speaking of Street Art, we can't fail to mention Eduardo Kobra, a Brazilian artist who creates some of the most spectacular murals you'll see in the neighbourhood. What's more, he has a very personal style, so I'm sure that after seeing a couple of his works, you'll know him when you come across another of his murals.
Specifically, "Fight for Street art" is probably his most recognisable work (it's a tribute to Andy Warhol and Basquiat). I'm sure you've seen it in a thousand photos. You'll find it at 147 Bedford Avenue.
3. Taste an authentic craft beer Made in Brooklyn
In North Williamsburg you can enjoy a delicious beer at the Brooklyn Brewery craft brewery. I recommend you take advice from the experts and try the different types of beer they have to offer. The place couldn't be more authentic, so for me, it was the perfect place to take a break from the tourist life and feel like a New Yorker for an afternoon.
On the Williamsburg tour you will learn about the importance of this beer.
4. Take a tour of contrasts
Yes, New York' s very famous Contrasts Tour passes through here (of course) and it's a great way to get a feel for the historical and cultural context of the neighbourhood. Although it doesn't spend too much time in this part of the city, I can assure you that it's a good introduction to the area and will give you the necessary insight to enjoy it on your own.
If you're thinking about doing the contrasts tour, you can read more about the tour in my article on the New York Contrasts tour: how to book and prices, but I can tell you that there are many tours of New York in Spanish that are worth considering if you want to see the city with an expert guide.
5. Visit the Jewish Quarter, one of the city's main attractions
Probably one of the main areas of the neighbourhood that attracts the most curiosity is the Jewish Quarter. Within the Williamsburg neighbourhood, the orthodox Jewish community lives mainly in the South Williamsburg area, which is reached by crossing under the Williamsburg Bridge. Where the community's life is concentrated is on Lee Avenue, the main artery of the neighbourhood. This is where most of the temples and businesses are located.
I encourage you to wander the streets and browse or buy local products in the shops, but if you want to read more about this particular area, I've written an article on what to do and see in New York's Jewish Quarter to help you get around the key parts of the neighbourhood.
6. Don't miss the huge mural The Chronicles of New York
By now you've probably realised that street art is more than just a hobby in this area. And the tour of Williamsburg in Brooklyn will give you all the details. Along its streets you'll come across murals, graffiti and authentic works of art that you'll want to keep in your memory.
Specifically, this spectacular mural is by the French artist JR. You'll find it near Domino Park and you'll be amazed by the combination of photographs of more than 1,000 New Yorkers and how he pins them together with some of the city's most emblematic buildings in black and white. You'll want to take a thousand photos, and the challenge will be to get the whole thing (the size is more than considerable) into your lens!
7. A music lover's paradise in Rough Trade
If you love music, I don't need to explain it any further. You have to go to Rough Trade, the music paradise where you'll find thousands of CDs, vinyls, books and posters of the most legendary artists in history, but also of alternative bands and groups that you'll love to discover. I warn you that you may lose track of time in there, but I assure you it will be worth it. You'll find it at 64 N 9th Street.
8. Stroll through Domino Park
New York is the city that has best redefined its former industrial spaces, and this park is a good example. What was once a sugar refinery is now a park and promenade that stretches along the river. The brick building with the huge chimney that guards the park gives an authentic touch to this area and its lounger area is perfect for a rest if the weather is nice.
If you are a lover of green spaces, you should know that in the middle of the concrete jungle of New York you will find spectacular parks with views of the river, the Skyline, mythical buildings... Check out the best parks in New York here to help you choose where to have your next picnic.
9. Have an authentic Colombian coffee at "Devoción"
I loved Devoción Café with a Colombian soul and one of the best coffees I've tasted in New York to date. The place is super open, with lots of light and green details. Try to get the table next to the mythical Chester sofas to rest from your walk around the neighbourhood!
The most 'foodies' will find in this area a paradise where to have the best coffees, brunches and menus of the city. If you want to organise your gastronomic route on the safe side, take into account this list of places to eat in Brooklyn.
10. Recharge your batteries with a delicious meal
If there's one thing that stands out in Williamsburg, it's the authenticity of the locals. A stroll through the streets will be enough to identify cafés and restaurants where you can have a good coffee or take out your computer to work in a relaxed atmosphere.
In addition, I highly recommend you book a food tour of Brooklyn and try some of the delicious dishes that will give you the energy to continue your tour of Williamsburg.
11. Treat yourself to a designer souvenir from Home Coming
I warned you that you'd find authentic places here, didn't I? Well, at Home Coming you'll find not only a super-quiet place to have a good coffee (beware, the coffee menu is huge and you won't know which one to choose) but also a place to buy flowers or even decorative and design items.
Instead of taking home the usual keyring, I'm sure you'll find more than one original and authentic souvenir to give yourself or others. Plus, the place is beautiful, so it doesn't cost anything to pop in and have a look around, right?
12. Go vintage hunting in Williamsburg's best shops
Another great thing to do in Williamsburg is to go shopping. I'm sure you'll find more than one little stall on the street as you walk through the neighbourhood, or even see some clothing or antique shops taking part of their windows out onto the street (literally) to attract the attention of passers-by.
But if you want to visit the quintessential Williamsburg shopping spot, visit Artists & Fleas, where you'll find vintage fashion and art from emerging and established designers, second-hand goods, decorative pieces, and more. It's definitely a great place to get an authentic souvenir of your trip to New York.
And before you just go shopping, organise your budget and find the best shops and flea markets. Here's a list of the best things to buy in New York, but if you're looking for luxury items at bargain prices, visit Woodbury Commons, one of New York's best outlets.
---
How to organise your visit if you're on your own
Spending an afternoon on your own in Williamsburg, or even a whole day if you have enough time, will give you a very complete view of New York. You can wander through the more touristy part of the neighbourhood to the north, but you can also immerse yourself in its Jewish Quarter further south. The best way to get there is by ferry (here's a practical guide to using the New York ferry) or directly by underground. You can also take the opportunity to get to know Brooklyn in detail. Here's my :::link|text=Guide on what to see and do in Brooklyn|element=sc-1-747 so you'll be as prepared as possible.
What to see in Williamsburg
In this area you'll find alternative places to enjoy a good brunch or a really authentic coffee. You can also book a table for lunch or dinner at one of its hipster restaurants or stroll along one of its streets, which are completely different from those of Manhattan, where industrial buildings with exposed brick and luxury and design hotels and houses are the norm.
Last but not least, you can get up close and personal with the Jewish Quarter, home to one of the largest Orthodox Jewish communities in the United States. Walking through its streets you can get an idea of how they live and what their customs are, as well as buy or eat delicious typical Jewish products.
Is Williamsburg safe?
Before you wonder if it is a safe area, let me tell you that it is. As the industrial area it once was, it has seen worse times, especially around the 1960s, when crime was much more common in the area.
But when you get there, you'll find that, overall, it's a lively neighbourhood, with many New Yorkers bustling about (perhaps in less of a hurry than in Manhattan) and full of quirky cafes and shops that give the area a unique personality.
Is it worth a visit with children?
Absolutely! Williamsburg has plenty of walkable areas, green spaces and outdoor terraces where you can sit and relax or grab a bite to eat with the little ones.
If you're travelling to New York with children they might not appreciate the architecture or the hipster vibe, but the parks, the huge street art murals and the tranquillity of the area in contrast to the chaos of Manhattan will win them over.
What if I go at Christmas?
The best thing about the New York winter is the lights and the Christmas atmosphere. Take advantage of your visit to Williamsburg to visit the best of Brooklyn at Christmas: Dyker Heights. Starting in November and of course in December, this Brooklyn neighbourhood is decked out in all-American style with millions of colourful lights and Christmas decorations that are well worth a visit.
Frequently asked questions
Why is Williamsburg worth a visit?

Outside of Manhattan, it's one of the trendiest boroughs in New York: it's full of hipster cafés, vintage shops, quiet streets and quirky architecture that's worth a visit as a contrast to the hustle and bustle of Manhattan's skyscrapers.

What to see in Williamsburg?

Both its parks and its famous street art are a must-see in the area. As well as having lunch or brunch in one of its many cafés, take the opportunity to discover its Jewish quarter.

Is Williamsburg the Jewish Quarter of New York?

The Orthodox Jewish community lives mainly in the South Williamsburg area. You'll find it around Lee Avenue, which you can access by crossing under the Williamsburg Bridge.

Which is better, Brooklyn or Williamsburg?

Williamsburg is actually part of northern Brooklyn, one of New York's 5 boroughs. That's why I recommend you take a full day to get out of Manhattan and discover Brooklyn in its entirety, visiting DUMBO, Williamsburg and its Jewish Quarter.