10 Things to do in New York City in Summer
New York in summer is wonderful. The heat may take its toll in the middle of the day, but for the rest of the day you can enjoy the city and its parks.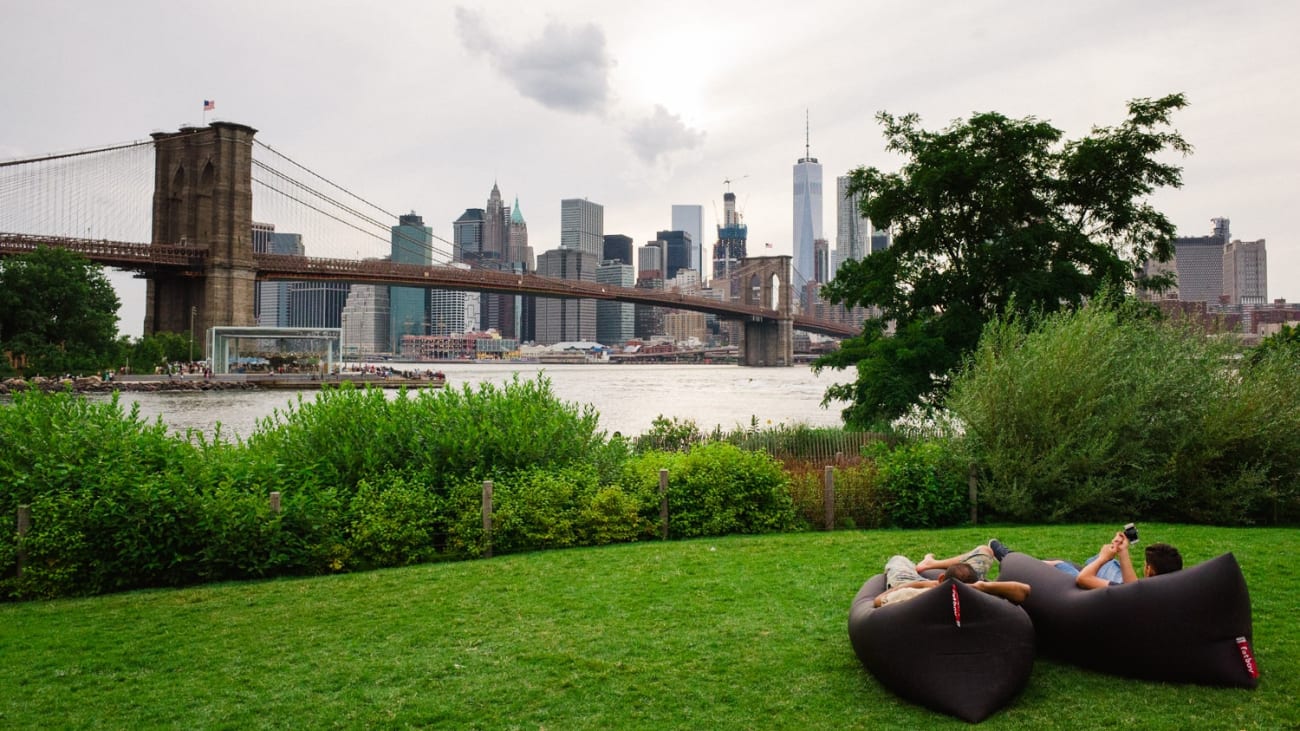 Summer in the Big Apple is a very hot season but don't let the heatwave get you down as the city has plenty of outdoor events and activities to cool off and enjoy the sunny days.
Check out my top 10 ideas for things to do in New York in the summer!
1. Experience the passion for baseball in New York City!
One of the most exciting experiences you can have in New York in the summer is to go to an MLB game. Whether it's because you love baseball or because you want to enjoy the atmosphere that the sport brings to the city.
Plus, MLB is a very family-friendly show, so it's not uncommon to see parents bringing their kids to the games. Put this idea on your list of things to do in New York with kids.
If you want to include a baseball game during your summer holiday, the regular season runs from April to early October and during those months you can watch the New York Yankees or the New York Mets play in their respective stadiums.
What is a baseball game like?
The atmosphere is lively and even if you don't know the rules of the sport in detail, it's easy to get into the swing of things. The games are long - they can last 3-4 hours- and most of the game is quiet for the most part, but suddenly there are some thrilling plays that get the fans going. So keep an eye out!
In the meantime you can take selfies in the stadium, take videos of yourself at the event and commentate on the plays while munching on tacos or hot dogs. In my experience, going to the baseball is entertaining and you will spend a day doing something different during your trip. It's worth it!
Don't hesitate, get your cap and your hot dog ready and experience one of the most fun moments of your trip to the Big Apple.
How to buy MLB tickets in New York?
There are a lot of games in the MLB, in fact, teams play every few days and even every day for weeks at a time. So baseball tickets are usually easy to get, especially compared to NBA tickets.
To buy baseball tickets you have two options: at the stadium box office or online. In my experience, I recommend buying tickets online before you travel.
The demand to go to a baseball game in New York is high so it is normal for tickets to sell out quickly. If you want to know more about this sport, in my article how to buy tickets for a baseball game in New York I tell you everything you need to know to get them at the best price, which place to choose in the stadium, how the league works and much more. Don't miss it!
2. Sail and sail the Hudson River
The summer heat in New York can be sweltering but fortunately there are plenty of activities to cool off outdoors - one of my favourites is zodiacing or kayaking the Hudson River!
Plus, you can enjoy the sea breeze on a fantastic sunset or sunset cruise.
How to zodiac the Hudson River?
If you want to do something different during your summer trip to New York, my favourite option is to book a Zodiac ride on the Hudson River from where you'll have the best panoramic views of the city, as well as some of its landmarks such as the Empire State Building and the Chrysler Building.
You'll also be able to get within metres of New York's main monuments such as the Statue of Liberty, the Brooklyn Bridge, Ellis Island and Governor's Island, and take some unforgettable photos of your trip.
Throughout the tour, which lasts approximately 1 hour, you will be guided by a US Coast Guard Captain.
Isabel's Traveller Tip

Wear summer clothes, even a swimming costume if you have one. If you want to bring a change of clothes, there are usually changing rooms.
How to kayak the Hudson River?
From late May to October you can kayak without spending a penny - just like that! The company offering this free activity is Manhattan Community Boathouse.
To participate in this activity is very simple. You don't have to make a reservation, just go to Pier 96 on the Hudson River near the Intrepid Air and Space Museum where the company operates and sign a waiver stating that you know how to swim. Kayak tours of the Hudson River last 20 minutes.
Enjoy the ocean breeze on a cruise
If you're looking to enjoy the Hudson River at your leisure, the best option is to take a cruise. There is a wide range of options, from sunset cruises to sunset cruises.
3. Feel the magic of Broadway!
Escape the scorching sun and immerse yourself for a few hours in the magic of Broadway. Sit back in your seats and get ready for a unique experience you won't find anywhere else. Its musical numbers are legendary and its majestic staging and talented actors transport you to a dream world where anything is possible.
With hundreds of performances a year, Broadway is the mecca of New York theatre. Here you can see such prestigious and popular plays as The Lion King, Moulin Rouge, Wicked, The Phantom of the Opera, Chicago, Aladdin or Frozen, among many others.
Dare to let your imagination fly into a world of fantasy and daydream about Broadway musicals!
How to get your Broadway tickets?
Broadway musicals are one of the most popular shows in New York and tickets sell out very quickly.
If you want to know how to buy tickets for a Broadway musical, I recommend you to read the article Top 10 Broadway musicals, where I tell you how to get your tickets and which are the best musicals that are playing this season.
What other cultural events are there in New York in the summer?
If you're looking forward to more cultural events in the Big Apple during your stay, take a look at these suggestions!
Shakespeare in the Park: Every summer night in Central Park, Shakespeare plays are performed for free at the Delacorte Theatre. It is a New York tradition. More information on the website.
Lincoln Center Out of Doors: Dance, music, dance and theatre performances are held in Damrosch Park at Lincoln Center. You don't need a ticket, just arrive early to get a seat. There are also food stalls for snacks. More information on the website.
SummerStage: This famous festival organises a multitude of concerts throughout the summer in Central Park, most of which are free. There are seating areas, food stalls and a great atmosphere. More information on the website.
4. Be in awe of the immensity of Niagara Falls
When you were planning your New York trip agenda at first you may not have thought to add an excursion outside the city to see other parts of the United States, as there is so much to see and do in the Big Apple.
However, taking a day trip to Niagara Falls is a great idea, as you will have the opportunity to experience this natural wonder and feel the mist of the falls on your face, which is a very refreshing experience in the intense summer heat.
Also, during this season, temperatures rarely rise above 30ºC and rarely drop below 20ºC, so the weather is ideal for hiking and enjoying all the attractions to the fullest, getting wet in those places where you can almost touch the water.
What is the Niagara Falls day trip like?
The great thing about this organised tour to Niagara Falls is that it gets you to and from central New York in the same day, so you don't have to worry about how to get there, which can be a bit of an ordeal considering that summer is the peak season to see the falls.
Once at the falls, you'll be sure not to miss a single detail with a professional bilingual guide. Seeing the beautiful rainbow and hearing the roar of the water is an unforgettable experience - I was speechless! Also, as this tour explores the New York side of the falls, no visa is required.
And remember, if one day is too short you can also opt for:
Get to the Niagara Wine Festival
Niagara's New Vintage Festival is held at the end of June, where winemakers present the season's new wines and showcase the area's wineries, as well as tastings of their wines. If you like the world of wine, make a note of this event in your diary.
5. Tour New York's best museums al fresco
During the summer, the heat in New York can be oppressive at times. To escape the heat, a good idea is to take refuge in places where there is air conditioning.
For example, in the Big Apple's museums, where there is also plenty of culture to soak up. There are many and varied museums: history, art, photography, espionage, wax figures...
New York is a city that has become one of the great cultural centres of the planet thanks to its museums, many of which are of great international importance. Here are some of the most outstanding:
If you want to know more about New York museums, don't miss the article the 10 best museums in New York where I explain why they are the best and I tell you in detail everything you can see in them.
6. Take a trip to Coney Island
If you're travelling to New York in the summer, whether you're travelling as a couple, with friends or with kids, one of the best things to do in Brooklyn is to book a trip to Coney Island, the borough where New Yorkers flock to enjoy the beach in good weather and relax in the fresh air.
Visit the boardwalk
Walking along the boardwalk with the Atlantic breeze on your face and the smell of the ocean is one of my favourite things about Coney Island - it's an incredible feeling! The other is Luna Park, a mix between an amusement park and an old fair that retains that special vintage charm and many of its original attractions such as the Cyclone roller coaster or the Wonder Wheel.
Coney Island rides and attractions
Nearby there is a show that attracts a lot of attention from visitors, a freak show that became very popular in the 1920s and 30s by presenting the public with amazing numbers or exhibiting oddities of nature.
The freak show is different every season and, although some of the tricks are repeated, you'll feel like you're reliving times gone by among giants, bearded women, dwarves and other typical characters.
Another fun attraction to see at Coney Island, especially for families, is the New York Aquarium, New York's only aquarium located on the boardwalk. Its aim is to show the public the importance of preserving aquatic ecosystems.
Here you can see sharks, penguins and sea otters, among many other species. When you enter the New York Aquarium check the feeding times and don't miss it if it coincides with your visit - the kids will love it!
7. Explore New York's other islands in the summer
Many are easily reached by underground, ferry or cable car and are a true oasis in a city of skyscrapers.
City Island: Less well known than Governors Island, this is a seaside spot with dozens of seafood restaurants, ideal for a good meal and a pleasant stroll.
Randall's Island: Located in the East River, this is the site of major outdoor music and film festivals during the summer months. There are also waterfront trails for biking and walking, as well as several sports centres for golf, tennis and more.
Roosevelt Island: A quiet island to take a stroll to get away from the hustle and bustle of Manhattan. There are several small parks and viewpoints by the water, perfect for taking some nice pictures of your trip and letting the kids play outdoors for a while. You can get there by cable car. In my article how to ride the Roosevelt Island cable car I tell you more about this excursion.
Liberty Island and Ellis Island: Take advantage of the summer to take a ferry tour to Liberty Island and Ellis Island and learn about the history behind the Statue of Liberty, along with the Liberty Island Museum and a guided tour of the Liberty Island grounds.
8. Enjoy the best summer cinema in New York!
When the weather gets warmer, you want to spend more time outdoors doing outdoor activities. When summer temperatures get hotter, the city's parks and gardens become a haven for New Yorkers to beat the intense heat.
What better plan than to relax under the shade of the lush trees and enjoy a summer movie night? It's one of the experiences I had the most fun with during my stay in New York.
If you love movies, you're in for a treat as there are several film festivals in the Big Apple every week during the summer and you'll be spoilt for choice. Here are some of the highlights:
Bryant Park Film Festival: Held on Monday nights, the BryantPark Film Festival features classic films. You can bring some snacks for a picnic, although if you arrive early around 5 PM you can get a free popcorn cone. Curtain opens at 8 PM.
Central Park Film Festival: Takes place one week in August and is held near Sheep Meadow on the esplanade between the meadow and 72nd Street. Doors open at 6:30 PM and there's a DJ spinning until the film starts at 8PM.
Movies with a View: Held in Brooklyn Bridge Park on Thursdays in the park under the Brooklyn Bridge. Classic and modern films are shown on a giant screen with the Brooklyn Bridge as a backdrop. There are also food and drink stalls.
Roosevelt Island Outdoor Summer Movie Series: South of the cable car is a movie screen in Southpoint Park where you can watch the movies after watching the sunset. Accessible from 7PM.
Hudson Riverflicks: At Pier 63 in Chelsea, just off 23rd Street along the Hudson River, every Wednesday in the summer, this festival features recent blockbusters. Screenings start around 8:30 PM and free popcorn is handed out to attendees.
9. Duck in New York's pools!
The best way to combat the high summer temperatures in New York is to cool off by taking a dip in the cold water at one of the public pools scattered throughout the city. Cool, right?
From late June through September, New York's public pools open their doors for New Yorkers and tourists alike to spend a great summer day sunbathing, relaxing and splashing in the water without paying a penny.
Make a note in your diary of these three public pools because you won't want to miss out on this summer experience:
Pop-Up Pool: Located in Brooklyn Bridge Park, this pool has killer views of Manhattan. It also has an artificial beach to get a tan. On the way out you can take a stroll through Brooklyn Bridge Park, one of the most beautiful gardens in the city. It is at 150 Furman St.
Astoria Pool: Located in Queens, it is the largest pool in New York. It has beautiful views of the Triborough Bridge, Hell Gate Bridge and Manhattan. It also has sports facilities for tennis and a restaurant area. It is located at 19th Street & 23rd Drive.
Lasker Pool: Located in the heart of Central Park, this pool is a great place to take a quick dip if the heat gets too much during your stroll through the park. If you don't know how to swim, there are free lessons for both children and adults. In winter, it turns into an ice rink. You'll find it in the Mid-Park between 106th and 108th streets.
Other ways to cool off in New York
If you're still in the mood for a dip when you get out of the pool, you can also visit one of the beaches in Queens, Staten Island, Brooklyn or the Bronx. You can even ride a jet ski along New York's coastline on the Hudson River out of New Jersey.
10. Visit Governors Island in summer
Manhattan is an enticing island full of great tourist attractions for travellers and a great list of things to see and do, but in summer too. It's hard to leave, but it's worth the trip away from the epicentre of New York to explore its small satellite islands which are a hive of activity during the summer and a real oasis of calm in the asphalt jungle.
What to do on this island?
One of the best known is Governors Island, which is only open in summer with a wide range of gastronomic offerings and an interesting catalogue of festivals. It also has a new attraction called The Hills, an elevated park that offers a new perspective of the Statue of Liberty, the Manhattan skyline, Brooklyn and Jersey City.
Another attraction of visiting Governors Islands is the opportunity to spend a quiet day in nature, taking advantage of the good weather to hike or ride a bike. Bicycles can be rented from Blazing Saddles in the Colonels Row area. However, thanks to Bike and Roll, on Fridays in summer you can ride a bike for free for an hour to explore the island.
Free kayaking is also available here from June to mid-September. The Downtown Boathouse organises kayaking sessions for both adults and children, a plan that's sure to thrill them. Head to Pier 101, strap on your life jacket and get paddling!
Speaking of kids, if you're going to Governors Island as a family, take them to Slide Hill, New York's largest waterslide on a 17-metre long hill. They'll be thrilled!
Culturally, there's plenty to do on Governors Island. There are often workshops, festivals and concerts. For example, the famous Jazz Age Lawn Party inspired by the 1920s during Prohibition where you can sip cocktails and dance the Charleston in a very original evening.