17 things to do in Central Park
The lung of the Big Apple is a great place to stroll, picnic, rent a boat or ride a bike.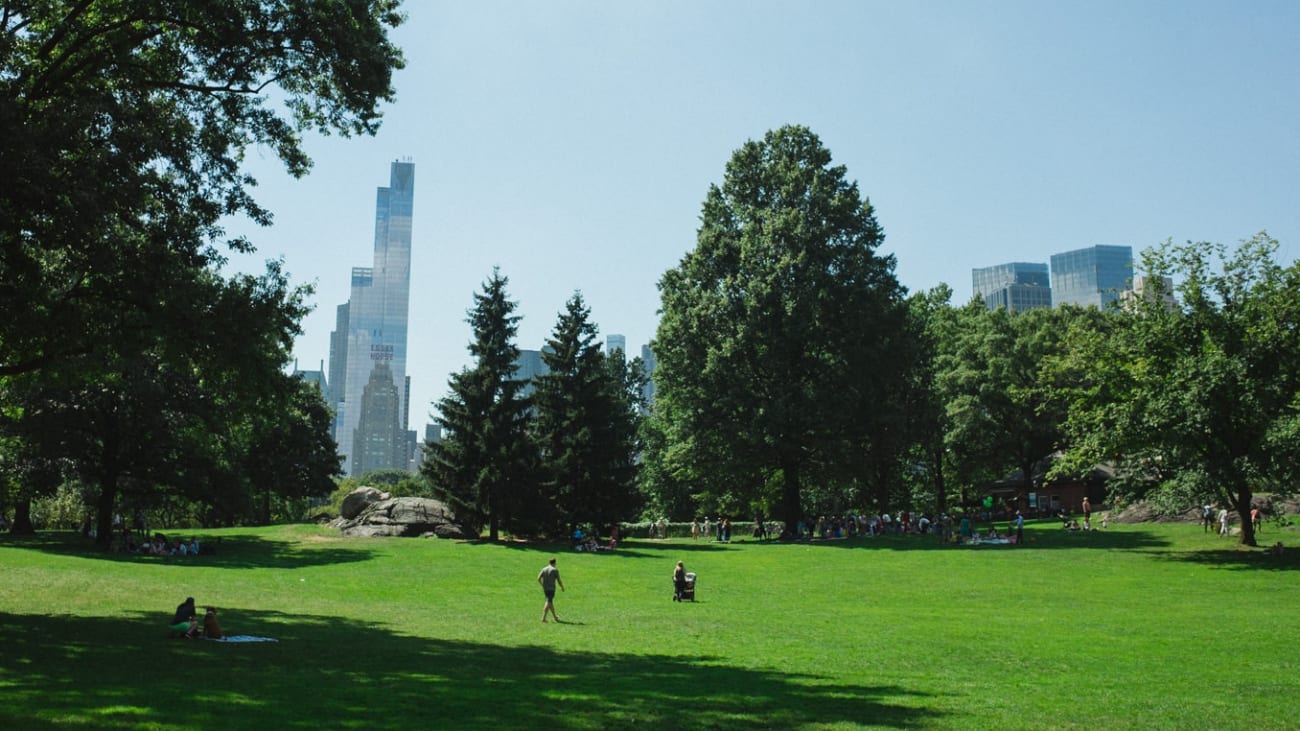 With its 341 hectares, Central Park is New York's largest urban park and its green lung, a beautiful place where New Yorkers gather to take a pleasant stroll, sunbathe or play sports and disconnect from the bustle of the city.
It tops the list of the best parks in New York and you will surely have seen it countless times as a scene in many films. It's worth remembering that it's over 800 metres wide and over 4 kilometres long. With this in mind, it would be exhausting to walk the entire length of Central Park. To get an overview, you can join a guided tour or see it on your own, for which I have compiled this list of must-sees:
1. Cycle through the park
There are many ways to get around Central Park, but your time may not be infinite and you may be afraid you'll miss some things. The truth is that cycling through the park is a very good option, as it will allow you to cycle through the park in much less time and see its main points of interest. Besides, you have several options:
2. Visit Central Park Zoo
It was the first zoo in New York (1860) and specialises in certain species such as lemurs, grizzly bears, white leopards, red pandas and sea lions, but children will be familiar with its famous penguins, which inspired the blockbuster "Madagascar" films.
You need to buy your ticket in advance, but fortunately the prices are not excessive. An adult ticket costs around €14 and children pay less at around €10, making it an affordable plan (considering standard Manhattan prices). Another option is to take this tour of New York with a visit to the Central Park Zoo.
And if you prefer to see the flora?
Visit the Conservatory Gardens: this is a huge garden divided into three different styles (English, French and Italian) with beautiful seasonal plants and flowers. The atmosphere here is very relaxed, as there are no cyclists or joggers, so you can take a leisurely stroll and enjoy the scenery.
3. Take a horse-drawn carriage ride through Central Park
If you want to feel like a movie star, there's no better plan than a horse-drawn carriage ride through Central Park. A tour of approximately 20 minutes in which you will discover the most interesting points of the park and, in addition, you will have the option to personalise the tour thanks to the recommendations and guidance of the professional driver-guide.
This trip is private for you and a maximum of four people can ride in the carriage. An ideal option if you want to get to know the park but have little time or if you want to have a special evening out. It also has a wide variety of departure times. My recommendation: take your ride at sunset to appreciate the beauty of the sky.
4. Immerse yourself in cinema with a tour of legendary film locations
And if you're a movie buff, don't hesitate to book a Central Park movie location tour, where you'll visit up to 30 film sets. Breakfast at Tiffany's*, Sex and the City*, Taxi Driver, The Avengers, Ghostbusters and Ghostbusters are just some of the films that chose Central Park for their scenes. You'll be amazed!
Plus, you won't miss a single detail of all the historic sites in the park, as you'll be accompanied at all times by a professional guide on this two-hour walking tour.
5. Visit the museums and landmark buildings surrounding Central Park
Apart from all the sites I've already mentioned to see in Central Park, you have to include in your route some museums and buildings that are on the edge of the park. The most important ones from north to south are the following:
6. Walk around The Pond
Most of the park's attractions are located in the southern half of the park, between 59th and 86th. The Pond, at 1.4 hectares, is Central Park's fourth largest lake and a haven for migratory birds. The Pond sits in a sort of valley, making it surprisingly quiet and a haven of peace, ideal for watching the sunset.
Other lakes or reservoirs in the park:
Harlem Meer: Another of the lakes that exist in Central Park and a jewel that not many know about. It is common to see fishermen here on the condition that they return the fish to the water and people having a picnic. Surrounded by large trees, it gives the feeling of being isolated from urban New York for a moment. In spring it is impressive to see the roses invade this part of Central Park.
Jacqueline Kennedy Onassis Reservoir: At 43 hectares it is the largest lake in Central Park. Until the 1990s it was a drinking water reservoir for New York, but nowadays it only supplies the other lakes in the park.
7. Rent a boat on The Lake
The Lake is the second largest lake in the park after Reservoir. It is spanned by the Bow Bridge, where you can rent small boats or gondola rides during the summer. A boat ride at any time of day is a peaceful and relaxing experience, but weather permitting, I recommend you do it at sunset, when the colours of the park and the surrounding buildings take on a magical hue.
If you fancy renting a boat on The Lake, it can hold up to four people and costs from €15 per hour, although you'll have to pay an extra €5 for every additional 15 minutes it takes to return the boat. You'll usually be asked for a **deposit of around €20 ** which is refunded on your return when they check that the boat is in perfect condition.
Opening hours are from 10am until sunset from April to November, so make sure you take advantage of this plan if you're travelling to New York in spring, summer or autumn.
8. Ice skate at Wollman Rink, their winter rink
One of the most popular things to do in New York during the winter (and even more so around Christmas) is to go ice skating in Central Park. Just around the south corner of the park you'll find Wollman Rink, a spectacular ice rink where you can glide across the ice from 10am to 10pm every day of the week (be warned, they close around 2:30pm on Mondays).
Adults pay around €12.50 and children from around €6-7, and skate hire is available at the entrance to the rink for an extra ten euros. Remember to bring cash as they don't accept credit cards. Once you're there, they'll ask you for your foot size so they can give you a pair of skates to suit you. This is a great plan that awaits you in New York from November onwards.
If you are dreaming of a postcard city because you are lucky enough to visit New York at Christmas, here are some other plans like this that you can't miss during the most magical time of the year: 15 Christmas things to do in New York City.
9. Take a ride on the mythical Central Park Carousel
This carousel is an icon of the park that has been in operation since 1871. It is one of the largest carousels in the country and has been enjoyed by generations. A three-and-a-half minute ride costs $3 (about €2.80). Nearby you'll see an outdoor sports area.
Although it may seem like a bit of a kiddie ride, you'd be surprised how many adults come along and try it out without kids. Maybe it has something to do with the photos that many people think of uploading to their Instagram, but the truth is that the location of the merry-go-round gives the whole family a lot of fun.
10. Refuel at Tavern on the Green
Open since 1934, Tavern on the Green is Central Park's most famous restaurant. It specialises in American cuisine and is a great place to enjoy its terrace in spring, with its flower-filled garden and wonderful views of the park.
It's probably not the best restaurant you'll try during your trip, but the location and setting make it a very pleasant place to stop for a break (or to warm up) before or after your walk in the park.
The menu ranges from salads to sandwiches and burgers, but my favourite was the soup of the day, which I can assure you is perfect for warming up after an ice skating session on a winter's day in New York.
11. Go for a run on the beautiful The Mall promenade
If you go to Central Park you have to walk at least part of this wonderful promenade. The Mall is the main promenade in the park, running from 66th Street to 72nd Street, leading to the beautiful Bethesda Terrace, which I'll tell you about in a moment.
I like to imagine the city's upper class arriving at the park in their carriages decades ago and coming down for a pleasant stroll here - a real trip back in time!
Today it's a popular gathering place for street performers, skateboarders and others. (By the way, you'll be amazed at the level of many of the skateboarders who hang out on the Mall!) Live music is also quite common along the route. At the southern end of The Mall is The Literary Walk, a promenade with statues of famous writers such as Shakespeare, Robert Burns and Sir William Scott.
12. Take photos from Bethesda Terrace
Bethesda Terrace is considered the heart of Central Park. The ensemble is dominated by the Bethesda Fountain (1873), one of its most photographed attractions, but the upper terrace and the beautifully tiled and arched walkway below deserve a lot of attention as well.
Live musicians often perform around the fountain and many New Yorkers use it as a meeting place to catch up with friends (and first dates). You'll also see groups of teenagers strolling here after school and it's a place where more than one has proposed to their partner (I'll leave it at that!).
13. Pay tribute to John Lennon at Strawberry Fields
Strawberry Fields is the name of the John Lennon memorial located between 71st and 74th Streets and named after a song by The Beatles: "Strawberry Fields Forever".
Lennon lived very close to here, in the famous Dakota Building, and as a tribute a large mosaic was set in the ground with the word "Imagine", referring to one of his most famous songs. Today, this circular mosaic has become a centre of pilgrimage for his fans.
You'll spot it straight away because there are usually musicians playing live Lennon songs around it, as well as a group of tourists waiting to have their picture taken with the mosaic.
14. Go in search of Alice in Wonderland
One of Central Park's most famous statues in honour of Lewis Caroll's characters. It was specially designed for children to climb on and take a fun photo with Alice, the White Rabbit and the Mad Hatter. Not far away is the statue of Hans Christian Andersen, author of "The Little Mermaid".
Other statues in Central Park
Most of the statues in Central Park have been donated by private individuals and organisations, while a few have been donated by the city itself. There are statues of animals, writers, fictional characters, historical figures, scientists and even a World War I regiment.
Writers: William Shakespeare, Lewis Caroll, Hans Christian Andersen, Sir Walter Scott and Fitz-Greene Halleck.
Fictional characters: Alice in Wonderland, Romeo and Juliet and Burnett Memorial Fountain.
Historical figures: Christopher Columbus, Simon Bolivar, King Władysław II Jagiełłło and Secretary of State Daniel Webster.
Scientists: naturalist Alexander von Humboldt.
War memorial: to the 107th New York Infantry Regiment, which participated in World War I.
Animals: Eagles and Prey, Still Hunt and Balto (the latter in honour of sled dogs who rode through a snowstorm to deliver medicine to stop a diphtheria epidemic in Alaska).
15. Visit Belvedere Castle
This is a Victorian-style fortification designed in 1865. There is now a weather observatory here, but you can visit the castle and enjoy panoramic views of the Delacorte Theatre, Great Lawn, Turtle Pond and Ramble Forest.
16. Have a picnic on the Great Lawn
Central Park's largest meadow, where New Yorkers gather to sunbathe or picnic when the weather is nice. If you visit the park in the summer, it hosts a number of free events such as concerts by the New York Philharmonic Orchestra.
Where to buy take-away food
If the weather is fine and it's a sunny day, don't hesitate and go for a picnic in Central Park. But where to buy food for a picnic?
Whole Foods Market: Located at 10 Columbus Circle, this supermarket has a large buffet of salads, ready meals, sandwiches, burgers, organic products and juices.
The Plaza Food Hall: This is a food market in the underground level of the Plaza Hotel with a bakery, pastry shop and bar/restaurant where you can buy a variety of products. You can eat here at one of the tables or bars or order a take away to go to Central Park. The Plaza Food Hall is located at 1 W 59th St.
Street stalls: Scattered throughout Central Park there are several food stalls where you can buy hot dogs, waffles, ice cream, sandwiches and drinks.
Café Express: This is the cheap option of The Loeb Boathouse where they offer hamburgers, sandwiches and salads on their menu. It has a very pleasant garden where you can eat when the weather is nice, although they also have a take-away service that allows you to enjoy your meal with a picnic in the park.
Le Pain Quotidien: This is a simple cafeteria with affordable prices for lunch or a snack. They have a healthy menu, coffee, pastries and a delicious lemonade, which you can enjoy on their cute terrace overlooking the park. They also have free WiFi.
17. For lunch, The Loeb Boathouse
On the shores of The Lake is this elegant restaurant that has been the setting for popular films and series such as "When Harry Met Sally", "27 Dresses" and "Sex and the City" during its more than six decades of history.
---
Plan your visit to Central Park
How to get to Central Park
Bus: lines M1, M2, M3, M4 and M10.
Underground: lines 5, 6, 7, A, B, C and D.
Location and opening hours
Between Fifth and Eighth Avenues and 59th and 110th Streets. The park is open from 6am to 1am.
What is the most popular entrance?
The Fifth Avenue entrance to the Plaza Hotel. It's the most frequented, although if you're looking to start your visit with less hustle and bustle and more peace and quiet, you can head north towards Harlem.
How much time to spend
Depending on the length of your stay in New York, you can plan your visit to Central Park in different ways:
If it's a short visit, you can spend a morning or an afternoon there. You'll have to plan your itinerary according to the time you have available, as you won't be able to see everything, as it's a huge park. If you only have a couple of hours, rent a bike to make sure you cover the main sights.
If you're in New York for a week, you can spend a whole day there and have a picnic or a meal at a restaurant such as Tavern on the Green.
Another option is to explore Central Park over several days, combining different parts of the park each day with one of the nearby museums.
If you're short on time, consider taking an electric scooter tour of Central Park- the quickest way to make sure you don't miss a thing!
How to find your way around Central Park?
Central Park has many different entrances and once you get there you can get disoriented due to the sheer size of the park. In order to avoid this, I advise you to look at the lampposts because they are numbered. The first two digits correspond to the street number that is closest to you while the last digit indicates whether you are more on the west or east side of the park.
In addition, the even digits mean you are closer to the east side of Manhattan while the odd digits mean you are on the west side.
Information points in Central Park
In case you feel lost or want to find the best route to get somewhere in Central Park, you can go to any of the four information points in the park.
Dairy Visitor Center: Located in the centre of the park at 65th Street. It is open Monday to Sunday from 9am to 5pm.
Information Kiosk: In Central Park there are three information kiosks to go to if you have any questions during your visit: West 60th Street, West 72nd Street and East 72nd Street.
Public restrooms in Central Park
If you feel the call of nature during your visit to Central Park, don't worry, there are public restrooms! Here are the ones that are open all year round:
Heckscher Playground.
Delacorte Theater Restrooms.
Charles A. Dana Discovery Center.
Ramble Shed.
Ancient Playground.
Conservatory Garden.
North Meadow Recreation Center.
When to visit Central Park?
Central Park is, without a doubt, one of the must-see things to do in Manhattan. The best time to visit the park is spring or autumn, two times when the beauty of Central Park's flora is at its peak with the flowering of the vegetation or the changing of the leaves of the trees, which is a beautiful spectacle of colour for the eyes.
However, winter also has its charms with the iconic Wollman Rink ice rink and in summer Central Park is a cool oasis to relax in when New York's temperatures are at their hottest.
What day of the week is the best day to explore Central Park?
Central Park tops the list of New York's best parks and any time is a good time to take a pleasant stroll through this Manhattan park, but it's true that Sundays have a special magic as it's a public holiday and many New Yorkers take the opportunity to go to Central Park for a picnic in the meadows, a photo tour, sports, etc.
What are the best views of Central Park?
Central Park is best seen on foot or by bike, as we have seen. It is full of hidden hills, bridges, lakes and viewpoints that will give you incredible postcards.
But as with most things in New York, Central Park is best seen from a bird's eye view. If you want to see Central Park from above, the best views are from the Top of the Rock or from the terrace of the MET Museum.
Another option is to join a helicopter ride over Manhattan and enjoy the immensity of the park in its entirety. There are several tours that comb the entire park, from south to north, and I assure you that they will leave you open-mouthed.
Frequently asked questions
Is it dangerous to cycle in New York?

New York has improved greatly in recent years for the average cyclist, thanks to the many bicycle lanes available for use.

Can you ride a bike on the pavements in New York?

It is, in fact, illegal to cycle on the pavement, however, it is a law that is rarely enforced. If you ride on the pavement, the most important thing is to respect pedestrians, pedal slowly and get off the bike when necessary.

Should I wear a helmet when cycling in New York?

Most bike tours and rental agencies will ask you to wear a helmet for your safety, and although it is not required by law we strongly recommend that you wear one, especially in a busy city like New York.