10 things to do in Bryant Park NYC
In the heart of Manhattan, this park is a green gem that allows you to relax while still enjoying the hustle and bustle of the city.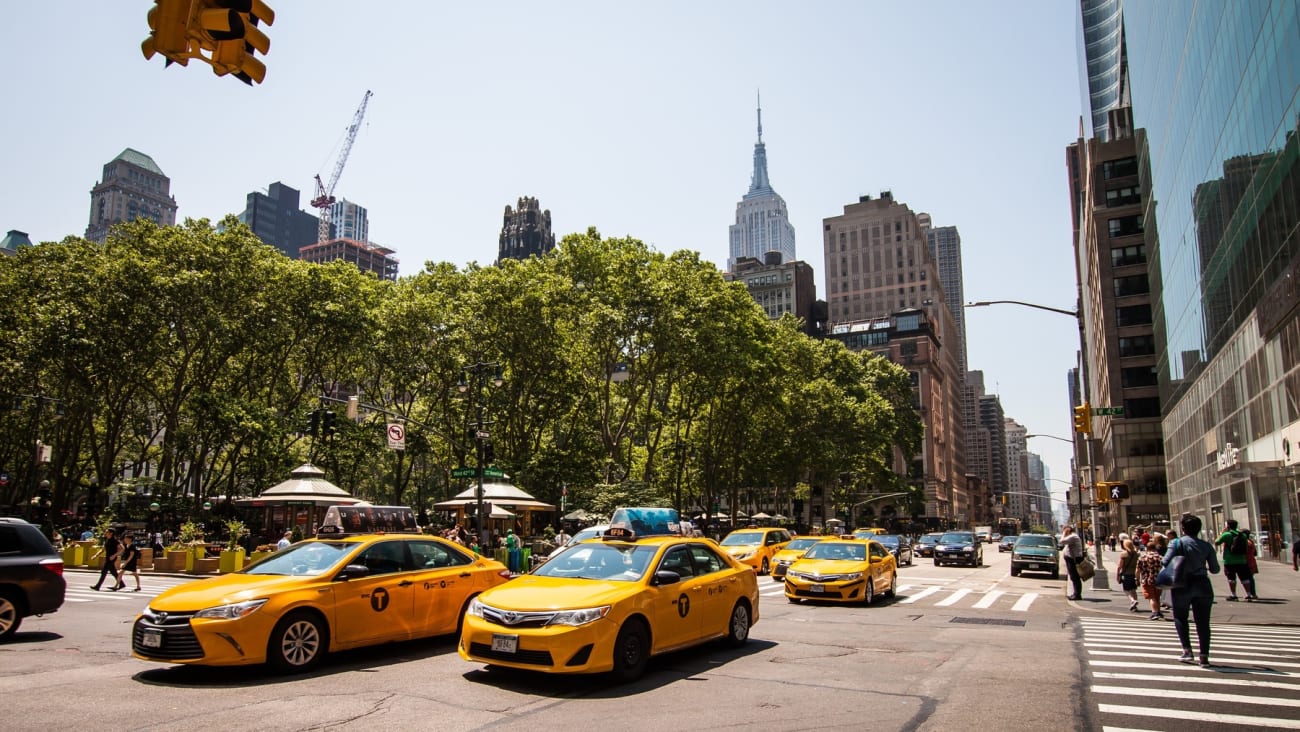 In the middle of bustling Midtown Manhattan lies a little haven of peace known as Bryant Park, one of the smallest parks in the city but one of the most beloved by New Yorkers. A nice place to take a break during your visit to the Big Apple.
If you feel like discovering one of the best parks in New York, take note and make the most of its cultural agenda and everything it has to offer:
1. Ice skating at Christmas
A typical postcard of Christmas in New York is the ice skaters. From late October to early January you can be one of them in Bryant Park, which for a few weeks becomes the Bank of America Winter Village .
Here you'll find The Rink, a large, free ice-skating rink and an iconic Christmas market filled with souvenirs and gourmet treats. Like Rockefeller Center at Christmas, Bryant Park also has a tree-lit Christmas tree, although it's not as high-profile.
Christmas tree lighting ceremony
There are no celebrities to liven up the evening, but it is also very special: a group of skateboarders dance and perform acrobatics to live music as a storyline that concludes with the lighting of the tree lights. Afterwards, the ice rink is reopened to the public while musicians from Lincoln Center play jazz. If you're in town for Christmas, you can read my article on 15 Christmas things to do in New York City.
The ice rink remains open until April, when it is dismantled for the spring and work is done so that the Bryant Park lawn can recover for the summer.
2. Join one of their summer activities
At the end of May Bryant Park hosts a multitude of activities that attract many onlookers: free yoga, tai-chi and dance classes, a reading corner, spaces to entertain with board games and my personal favourite, the legendary outdoor classic film festival on Monday nights during the summer months - there's free popcorn at the entrance if you arrive early!
If you're up for it and you're travelling to New York in the summer, I recommend you check the official Bryant Park website to keep an eye on their schedule and find out about times, events, etc. well in advance.
3. Photograph Bryant Park's legendary fountain
The first thing you'll see on Sixth Avenue is the popular Bryant Park Fountain, although its real name is the Josephine Shaw Lowell Memorial Fountain, which was erected in 1912 in honour of a social worker who fought to improve working conditions for women. It was the city's first public monument dedicated to a woman.
If you visit Bryant Park in winter, this fountain is one of the most photographed places in the park, as the cold freezes the water and creates curious shapes.
4. Make the most of a cultural Bryant Park
In its reading room
During the warmer months of the year, the Bryant Park Reading Room is a lovely space under the trees with benches and tables where you can spend some quality time reading the paper or a book for free. No need for IDs or cards.
In addition, the Reading Room organises lunchtime and after-work reading programmes for those who work in nearby offices and want to unwind for a while. There are also reading clubs, spelling contests, meetings with writers, film discussions and activities for children.
With its concerts
In September in New York, the American Symphony Orchestra offers several intimate concerts that fill up quickly. Since seating for these events is limited, I advise you to arrive early as they are first-come, first-served. All performances start at 5:30 PM.
If you like piano concerts, there are also ragtime, stride and jazz recitals every Monday, Tuesday and Thursday between June and October.
Picnic Performances
One of Bryant Park's coolest cultural activities for a fun evening out is the Picnic Performances, where audiences can attend short opera, dance, music and theatre performances for free with no lines, no tickets and no dress code.
In addition, blankets are distributed at the entrance to make the evening more relaxed, so you can lie back and enjoy the picnic while watching the show - there are even jugglers and giant games to keep the audience entertained!
Take part in its writing workshops
Did you know that Bryant Park offers free writing workshops with teachers to hone your writing skills? If you're interested in the subject, I highly recommend you check out these workshops as it's a great opportunity to increase your creativity with writing and meet people in New York with the same interests.
5. Ride the Bryant Park Carousel
Bryant Park also has a small vintage merry-go-round that was designed in harmony with the French style of the park and in homage to the European and American tradition of carousels. Its decorations and animals are handmade. If you're visiting New York with kids, and this park in particular, they'll love it. The ride costs $3.
Other activities in Bryant Park for kids
If you're travelling to New York with children, it's important to include in your agenda plans where they can also enjoy the getaway. Bryant Park is one of those places where the little ones can play outdoors and have fun with the scheduled children's activities: the merry-go-round, story-time, bubble show, magic and much more.
6. Take the opportunity to visit the New York Public Library
The part of Bryant Park that borders Fifth Avenue is occupied by the New York Public Library, a beautiful neoclassical building accessed by a marble staircase decorated at the entrance with two fountains and two lions nicknamed Patience and Fortress that guard the greatest treasure of this space: its more than three million books.
I recommend you visit it after a stroll through Bryant Park because it contains treasures of literature and history such as a letter from Christopher Columbus, a draft of the United States Declaration of Independence, a copy of the Gutenberg Bible and some manuscripts by William Shakespeare.
Climb to the third floor
The majesty of its reading rooms is such that it has been used as the setting for several films, but the most famous of all is the Rose Reading Room, the main reading room on the third floor. Not only for its football pitch dimensions, but also for its ostentatious decoration with hanging lamps, massive oak tables and frescoed ceilings.
As a curiosity, on the same floor you can see the library with original furniture owned by Mary Shelley, the author of "Frankenstein or the modern Prometheus". One of the most unknown corners for most visitors to the New York Public Library.
7. Join one of the tours that run through the park
Bird watching
Who knew that in a park as small as Bryant Park there could be such a diversity of birds? If you like birdwatching, between September and October the NYC Audubon platform for the protection of these animals and their habitat organises guided tours to observe the wildlife of Bryant Park.
Guided tours
Weather permitting, every other Wednesday there is a guided walking tour of Bryant Park to learn about the origins of the park, its history and how for a few years it became a haven for crime and drugs in Manhattan's Town Square.
The tour starts every morning at 11AM from the Bryant Park Fountain, near Sixth Avenue and 41st Street, and lasts 45 minutes.
8. Attend the Film Festival in Bryant Park
A good plan for Monday nights in New York during the summer is to head to Bryant Park for its outdoor film festival. In front of the park's famous fountain, a giant screen plays classic films while the audience picnics on the lawn.
The viewing area opens at 5PM to allow people to take their seats, but the film starts between 8PM and 9PM.
9. Stop by Nikola Tesla Corner
The corner of Sixth Avenue and 40th Street is dedicated to inventor Nikola Tesla as it is said that he spent a lot of time here feeding the birds. In fact, there is a sign on the street that reads "Nikola Tesla Corner" to mark the spot.
Other sculptures or tributes
William Earl Dodge Memorial: On the north side of the park is a bronze statue dedicated to philanthropist and entrepreneur William Earl Dodge.
The William Cullen Bryant Memorial: Bryant Park is also home to a memorial statue to the poet and journalist William Cullen Bryant, after whom the park has been named since 1884. When the New York Public Library was completed, this monument was installed in 1911.
10. Take the opportunity to see the surrounding buildings
If there's one thing we travellers love about New York, it's its eclectic architecture. From Bryant Park we can enjoy views of some very special buildings that surround the park and give a unique personality to the environment.
42nd Street
500 Fifth Avenue: On the northwest corner of Fifth Avenue and 42nd Street stands this 212-metre tall Art Deco skyscraper designed by the architects of the Empire State Building.
Bryant Park Building: On the northwest corner of Avenue of the Americas and 42nd Street is this building that was remodelled in 1985 to house the Home Box Office Building (HBO).
Salmon Tower Building: This beautiful 1920s building is notable for the tile vaults in its lobby and the bas-reliefs around its entrance, which represent the months of the year. New York University occupies part of the building.
Avenue of the Americas
Bank of America Tower: One of the most modern skyscrapers surrounding Bryan Park. It was completed in 2010 with a sustainable design in connection with nature and is the eighth tallest in the city. You'll know it for its sloping roof and glass structure to let in light.
1095 Avenue of the Americas: A 192-metre tall skyscraper that was built in the 1970s as the headquarters of New York Telephone.
40th Street
American Radiator Building: One of the most beautiful buildings surrounding Bryant Park. Art Deco and neo-Gothic in style, it is characterised by black brick with gold trim to symbolise fire - you'll spot it in no time!
Fifth Avenue
Knox Hat Building: This is one of the most beautiful commercial buildings in the city. It was built at the turn of the 20th century and housed the offices of a major hat manufacturer that was worn by the likes of Franklin Delano Roosevelt and John D. Rockefeller.
New York Public Library: One of the most impressive buildings in New York, both inside and out. Opened in 1911.
Other nearby buildings
Chrysler Building: The favourite skyscraper of many New Yorkers and tourists for its striking Art Deco architecture.
Grand Central Terminal: A marvel of art and engineering that opened in the 19th century and is now one of New York's most prominent architectural gems.
Where is Bryant Park and how to get there
Bryant Park is located on 42nd Street between Fifth and Sixth Avenues, very close to Times Square. The park can be reached by underground on the following lines:
B, D, F and M lines (42nd St/Bryant Park Stop)
Line 7 (5th Ave stop)
Where to eat in Bryant Park?
Bryant Park is the ideal place in Midtown Manhattan to take a break and have a relaxed meal. There's a little bit of everything from upscale restaurants to cosy cafés and small kiosks.
The Lodge Deck
During the winter, next to the ice rink, The Lodge Deck offers a seasonal menu and hot drinks in a space overlooking the ice rink. There are different types of sausage with sides and sauces as well as various cheese, spicy or bacon fries. Open daily between October and March from 10 AM to 10 PM.
Fever-Tree Porch
When the weather is nice, a good place to grab a bite to eat while you recharge your batteries is Fever Tree Porch. Their salads are delicious but there are also other options such as burgers and sandwiches.
There are also power outlets available at Fever Tree Porch to charge your phone or computer, which comes in handy after a day out on the town. With free Wi-Fi at Bryant Park, you can upload all your photos to social media or make a video call home to tell people how much fun you're having on your trip. Open Monday to Wednesday from noon to 6 PM and Thursday to Sunday from noon to 8 PM.
Bryant Park Grill
The Bryant Park Grill is a sophisticated Parisian-style restaurant perfect for a romantic evening if you are travelling to New York as a couple. Depending on the time of year, the terrace adapts to the weather and the menu is extensive and delicious - ask for their desserts and cocktails, they are exquisite! Open weekends from 12 PM to 8:30 PM.
Bryant Park Café
The Bryant Park Café is run by the Bryant Park Grill but has a more casual feel. You don't need a reservation to eat here and the menu is American style. Its terrace is a popular spot, especially during the summer. It is open from Wednesday to Friday from 3:30 PM to 9 PM and on weekends from 11:30 AM to 7 PM.