The Book of Mormon on Broadway NYC; all about the musical
Enjoy the funny story of the musical The Book of Mormon on Broadway, the biggest musical theatre reference there is. I tell you everything you need to know to enjoy this play.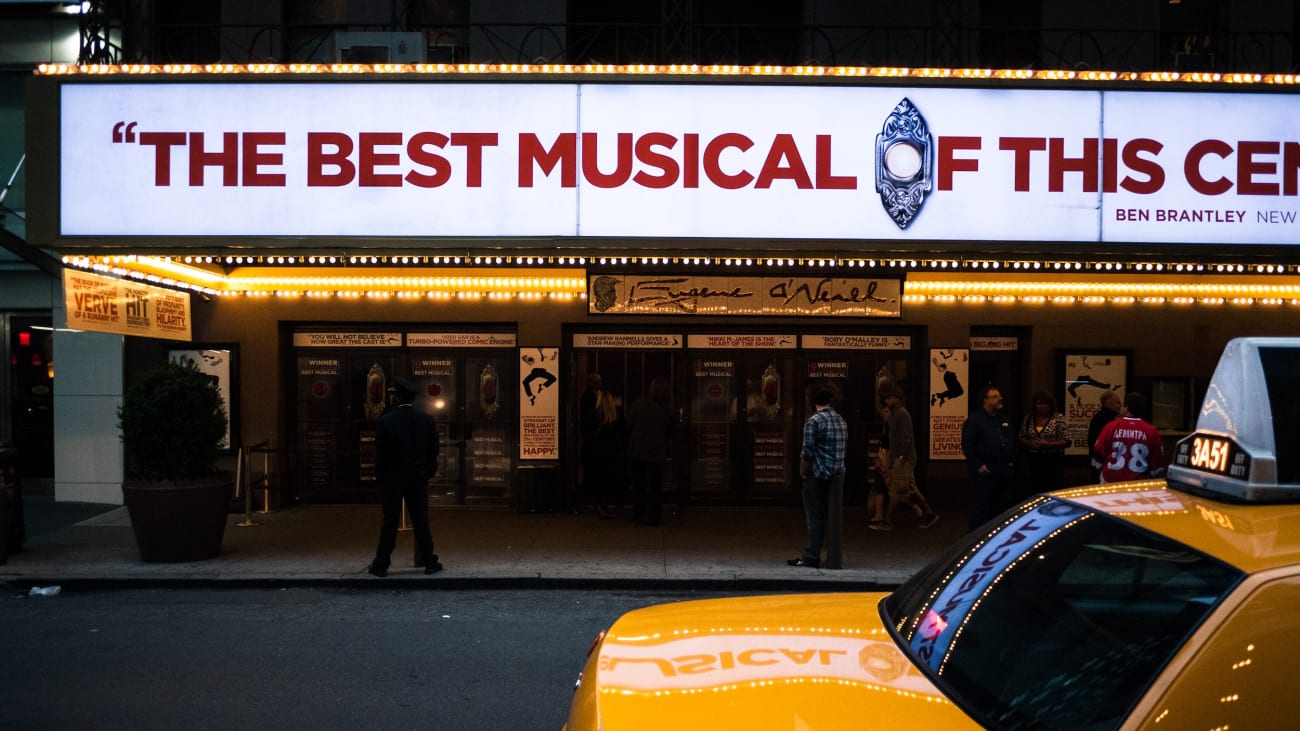 This musical was created by Trey Parker and Matt Stone, the geniuses who created South Park. Robert Lopez, writer of the songs for Coco and Frozen, was also involved. This super talented trio brought this wonderful play to life.
It's a satire of organised religions, but in the end it gives a pretty good message about human empathy and how powerful faith in self-improvement is. Its songs follow the style of the best Broadway musicals, even using some of the cast of the Lion King for some of its songs.
How to get tickets to see The Book Of Mormon on Broadway
Getting tickets to attend The Book of Mormon is very easy. My recommendation is to buy them online before you travel to New York, as it will save you a lot of time and money. You can choose between E-ticket (electronic tickets that you print out yourself) or Will call (pick them up at the box office on the day of the show with your credit card) and save on shipping costs.
Plus, this is a popular and best-selling Broadway musical. This means it's best to buy your tickets at least a month in advance if you're already planning your trip.
If you are purchasing your tickets directly from the box office, you can do so at the theatre's box office or at any of the box offices of the theatres on the Broadway circuit. However, I don't recommend this option because of the queues and the high probability that they will be sold out by the time you arrive. A ticket at the box office can cost around $100 or $150 (about 88.70 or 133.06 euros).
How much do tickets for The Book Of Mormon on Broadway cost?
Ticket prices for this musical range from approximately €135 to €239. The variety of prices is due to the location or seat where you buy your ticket. Also remember that in high season prices can go up, while in low season, you might even get them at a discount as there is usually a 2 for 1 offer to boost the purchase of tickets to the plays. Babies and children pay the same ticket price.
The Book of Mormon seats
When buying your ticket you may be faced with the difficult decision of where to buy your seat. I will explain the different sections of the theatre:
Mezzanine: located on the first floor of the theatre. Its seats are front facing and offer a good view of the stage. In general, you can find them at affordable prices.
Orchestra: This is the best section of the theatre, located on the ground floor. In some cases, tickets are sold for a premium area inside Orchestra.
Balcony: Only a few theatres have this section, located on the first floor of the theatre. As they are the seats furthest from the stage, they are the cheapest.
There are also side seats and seats at the back, which are a little more difficult to see the whole stage, so they will also be cheaper.
Plot of The Book Of Mormon on Broadway
This great musical called The Book Of Mormon tells the story of two young Mormon missionaries. Both boys are sent to Uganda, a poor country with a population that is 80% infected with AIDS, to preach their religion and convert the locals.
But they soon find out that things are not as easy as they expected, as the locals blaspheme about God and religion. In addition, the head of the district is a homosexual who has not come out of the wardrobe. Originally, these guys wanted to go to sunny Florida, but they end up in the difficult mission of Uganda.
It's a play full of spectacular dancing, beautifully written songs, and pitch-perfect performances. You'll see scenes you may have already experienced personally: when they come to your house ringing the doorbell to convince you to join their religion.
The Book Of Mormon Broadway Performance Schedule
Another recommendation is that, before you buy your tickets, make sure you know the timetable. This way you can attend on time and enjoy the play without rushing, as it lasts approximately 2 hours and 30 minutes.
As with most Broadway musicals, Mondays are the only day of the week when you can't attend the musical. Here is the schedule for the rest of the days:
Tuesday: 7:00 pm.
Wednesday: 7:00 pm.
Thursday: 7:00 pm.
Friday: 8:00 pm.
Saturday: 2:00 pm - 8:00 pm.
Sunday: 2:00 pm - 7:00 pm.
Which theatre is The Book Of Mormon on Broadway playing at and what is the address?
This Broadway play is performed at the Eugene O'Neill Theatre on Broadway. To get there, you can take the C or E underground lines to 50 Street Station or the 1 line to 50 St-Broadway. The following subway lines have routes to the theatre:
Bus: BXM2, M104, M20, M50, M7, QM1, QM10, QM18.
Train: Far Rockaway,Hudson, Mountauk, Path,port,Jefferson, Port Washington.
New York City Subway: 1, B, C, E, N, R, W.
If you are in midtown, the bus route can take about 65 minutes, the train about 62 minutes, and the underground route can take a little over half an hour.
Can I see The Book Of Mormon on Broadway with children and is this play suitable for children?
This play is not recommended for viewing with children, nor for children under the age of 17. So if you are visiting with your children, I invite you to read this article about what to do in New York with kids.
The Book Of Mormon is a pretty funny show, but it is full of profanity and deals with issues such as AIDS, genocide, genital mutilation, poverty and religion. It's not just about the Mormon religion as you might think from the title, it encompasses many Judeo-Christian religions. It makes fun of all of them in a very particular way, many might even be offended. However, if you take it with humour and try to understand its message, you will have a very nice time.
In general, the play tries to convey how people who are not part of the religion see their devotees. So it is not a play recommended for people who are very religious or sensitive, as it has a rather dark humour.
What level of English do I need to see The Book Of Mormon on Broadway?
This play is full of jokes and jokes in English, so if you don't have a good level of English or if you don't know any English at all, you will hardly be able to understand and, of course, laugh.
However, there is an audio-description system with headphones that you must book in advance. You can call 48 hours before the performance you wish to see, payment for the booking will be made by credit card and you will be asked for your passport as a guarantee. When you hand in the hearing aids at the end of the show, they will be returned to you.
What is the dress code for this Broadway musical?
There is no dress code or protocol to follow for attending, but
Going to the theatre is a special occasion. So you may choose to dress formally, i.e. an elegant dress in the case of ladies, and for gentlemen, a dinner jacket and tie.
But, taking into account that it is a play that has been going on for quite some time, most people don't dress as smart as if it were the premiere. So you can choose clothes that are comfortable and cool. It's all up to your personal taste.
Should I have dinner before or after the show? Will the restaurants be open in the surrounding area?
It all depends on the time you buy your ticket. There are tickets where the show starts between 7 and 8 PM, a time that coincides with the dinner hour in New York. However, in this city you can find places open later as the Broadway area is very busy with tourists.
Here are a few restaurants near The Eugene O'Neill Theatre where you can go:
Cielo at the Mayfair:. Located at 242 W 49th St, New York, NY 10019-7405, it is an Italian restaurant. It works from 12:00 PM to 12:00 AM.
Da Marino Restaurant. Located at 220 W 49th St, New York, NY 10019-7562. Open from 11:00 AM to 02:00 AM.
Lillie 's Victorian Establishment. Go to 249 W 49th St, New York, NY 10019-7404. Open from 11:00 AM to 4:00 AM. It's a BarBup.
Times Square Diner & Grill. It is at 087, 8th Ave. Between 48 & 49 ST, New York, NY 10019. Open 24h.
Why do I recommend this musical?
I recommend it because the laughs are guaranteed, as well as having great songs, choreography, and it might even bring a tear to your eye. It's a wonderfully written play where everything has a purpose and it's definitely one of the things to see and do in New York.
Although this musical is very profane, it has an important message about the importance of being positive. No matter what you believe, hope can help you be stronger. It's not for nothing that this musical is one of Broadway's top-grossing shows, but the best way to see if it's as good as it sounds is to see it for yourself.
The Book Of Mormon and its awards
This spectacular Broadway musical has won no less than 9 Tony Awards and even a Grammy Award. Since its premiere in 2011, it has attracted the attention of millions of audiences around the world.
And what about its cast? The actor, Andrew Ranells, received a Tony Award for Best Lead Actor. There is also actor Josh Gad, known for voicing Olaf in Frozen and for his performance in Modern Family. Then there's the brilliant Nikki M.James, who received her first Tony Award for her performance in Les Miserables, after leaving the musical The Book Of Mormon.
Other musicals similar to Book of Mormon that might interest you
Another famous musical I can tell you about is The Lion King. More than 60 million people from all over the world have come to Broadway to experience the thrill of discovering the splendour of this magical musical.
Another great one is The Phantom of the Opera, which combines horror and love to guarantee you an unforgettable experience.