Summit One Vanderbilt, the New Observatory in New York
Seeing the views from the SUMMIT observation deck is a must if you're travelling to New York. Here's how to get tickets, what you'll see from the top and the best time to visit.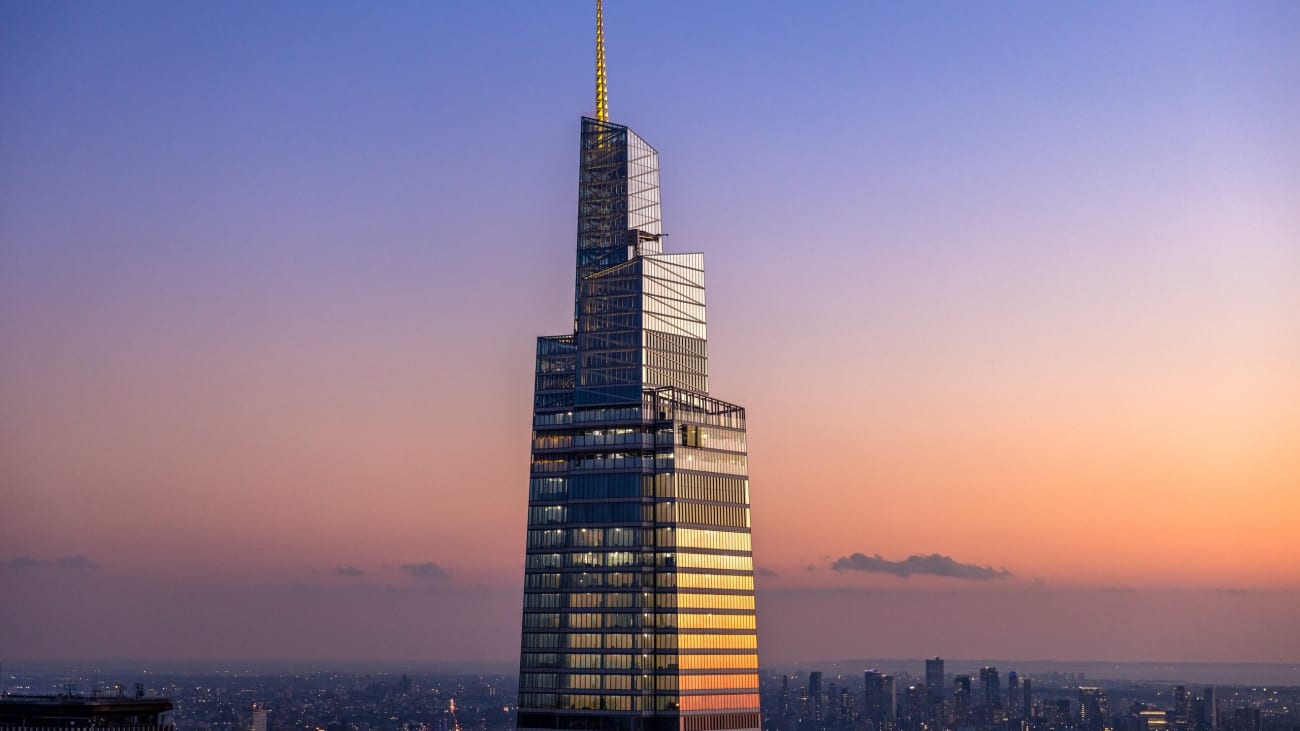 New York's newest observation deck, SUMMIT, is located at One Vanderbilt, a spectacular new state-of-the-art office skyscraper next to Grand Central Terminal in Midtown.
The building rises to a height of 427 metres. Located between 42nd and 43rd streets at Vanderbilt Avenue and Madison Avenue, this newly opened observatory, which occupies the 91st to 93rd floors, offers breathtaking views of the city that you can't miss. Ready to climb to the heights? Read on and I'll tell you how!
My favourite
Climb to the top of Manhattan with tickets to New York's SUMMIT One Vanderbilt observation deck.
See New York's best skyline and climb to the top of this building at more than 300 metres above sea level.
With tickets to SUMMIT One Vanderbilt you can climb to the most modern observation deck in New York City, located more than 300 metres above the ground, which you can reach in less than a minute thanks to its fast lifts. You can access all three floors of the skyscraper and admire the best views of the city from there.
Discover the hall of mirrors for an immersive experience with its multiple reflections or enter the Levitation platform where you can walk on cubes that protrude from the building and are more than 320 metres high. Make sure you get your tickets in advance to avoid the queues at the ticket office.
Recommended if... You like heights and want to take the most mythical view of New York as a souvenir of your trip. It is essential not to have vertigo.
How to buy tickets to SUMMIT One Vanderbilt
The most convenient way to buy tickets for SUMMIT One Vanderbilt is to buy them in advance(and taking into account the high demand due to the fact that it is the newest attraction in the city).
The tickets will be sent to your email and it will be enough to show them from your mobile phone. Now it's a matter of choosing the day and time you want to go up. Once at the top, you can stay as long as you want, so you can take it easy and enjoy the views.
At the moment, due to its recent opening, the SUMMIT tour is not included in any New York City sightseeing pass, but it will be available sooner rather than later. What is available are tours of Manhattan that include a ticket to SUMMIT.
How much do tickets to SUMMIT cost?
The price to go up to the new SUMMIT observation deck starts at 40 Euros (standard adult ticket) but depending on the extras or access you are looking for, it varies greatly.
In addition to a supplement of €9 ($10) for the hours around sunset, the official SUMMIT website offers various types of tickets with a different cost depending on what they include. Here are all the details:
SUMMIT Experience: General admission, with prices starting at €40 for adults and €28 for children between 6 and 12, with children under five free.
SUMMIT Ascent: General admission plus the 1,200-foot Ascent. Tickets cost from 50€ ($59) for adults and 45€ ($53) for children aged 6-12, children under five are free.
Ultimate SUMMIT: General admission, the Ascent and a cocktail at Danny Meyer, the restaurant's official bar. Prices range from 62€ ($73) for adults and 55€ ($67) for children between 6 and 12.
Group ticket prices
If you are in a group of 15 or more, SUMMIT offers a group booking section that includes a few preferences in the price.
Ticket prices for New York residents
If you are lucky enough to be a New York resident, SUMMIT offers preferential admission pricing when paying with a card associated with a New York City postcode.
SUMMIT Opening Hours
The SUMMIT One Vanderbilt observation deck is open every week from Thursday to Sunday at the following times:
Thursday, between 3:00 p.m. and 10:30 p.m.
Fridays and Saturdays from 9:00 a.m. to midnight.
Sundays, from 10:00 to 19:00 h.
Why you can't miss SUMMIT on your trip
New York has many skyscrapers and observation decks, from the classics (such as the Empire State Building and the Top of the Rock) to the most innovative, such as The Edge and SUMMIT itself. But if you're wondering why you should choose SUMMIT among the various observatories in the city, here are the main reasons why it's a must-see:
Firstly, both because of its recent opening and its various attractions, it is the trendy lookout.
It currently offers arguably the best views of Midtown: located next to Central Station, its height and its panoramic view of almost 360º will allow you to enjoy every corner of Manhattan in detail.
Its architecture and design is totally original and different from previous viewpoints in the city. All the angles, viewpoints, glass platforms suspended in the air and vertiginous glass windows designed so you won't miss a thing.
You'll take the best photos of the trip: SUMMIT is a skyscraper designed for the 21st century visitor. Designed by the New York artist Kenzo, it offers multiple visual attractions, interactive installations and mirrors that create incredible optical illusions that will make you the envy of all your Instagram followers.
With two indoor but glazed floors and an outdoor floor, SUMMIT is an ideal option for a year-round visit.
If it's not your first time in New York and you've been up other more classic skyscrapers before, this new view will blow your mind: the experience is unlike any other observation deck.
SUMMIT highlights
SUMMIT has a number of highlights that make a visit to SUMMIT expand the horizon of our imagination. Among the various installations that make our visit even more inspiring, the following stand out:
Ascent, a glass lift that takes visitors up to a height of 368 metres on the outside of the building and stops for a few minutes - it's sure to make your stomach turn!
Levitation, glass cubes that protrude from the building at a height of 324 metres and allow you to walk above New York streets such as Madison Avenue - be careful if you suffer from vertigo...!
How to get to SUMMIT
Getting to SUMMIT is very easy as access is through the main concourse of Grand Central Terminal, a central station with multiple connections and another interesting sight in New York because it was the location for the film The Avengers.
Once in the station and through an underground passageway, Vanderbilt Passage, you'll reach the One Vanderbilt skyscraper which houses the trendy observation deck.
By underground
The easiest way to get to this Manhattan station is by underground. The 4, 5, 6, 7 and S lines stop at Grand Central and the station is open from 5:30am to 2am. You can also take the Far Rockaway, Hudson, Montauk, Path, Port Jefferson and Port Washington trains.
By bus
For those who prefer to travel by bus, you have the option of taking the M1, M2, M3, M4, M5, M42, M98, M101, M102, M104 and Q32.
Walking
On the other hand, it is approximately 5 kilometres from Central Park, so those who prefer to walk can take advantage of the day to do both visits and enjoy the walk.
Best time to go up to the SUMMIT
Going up to SUMMIT is a perfect plan for any time of the year, because although the 93rd floor is an outdoor terrace, the 91st and 92nd floors are two closed floors with glass walls that allow visitors to enjoy this experience regardless of the time of year.
Regarding the best time to go up to SUMMIT, there is a clear answer, at sunset, in the hours close to sunset and, so much so, that going up in the hours around this time of day has a supplement in the cost of admission of 9 € ($10). In addition, if the sky is clear we can always admire the views better.
That's why one of the main recommendations when choosing a day or time to go up is to take into account the weather forecast: a sunny or cloudless day will make your vision expand far beyond the island of Manhattan and you'll see its buildings and streets in full definition. Spectacular!
What you'll see from SUMMIT
SUMMIT offers an almost 360º panoramic view of the city. From this observatory, you'll have a very broad perspective of the city where you'll see, in addition to an endless number of streets, avenues and buildings of Manhattan, other locations that I'll detail here so that you can go with your homework done and get the most out of your visit.
Central Park
You'll be able to see Central Park, one of the favourite views of all those who go up to SUMMIT, as you won't get such a clear view of the popular park from the other viewpoints in the city.
Statue of Liberty
To the south and if the weather is clear you can see the Statue of Liberty.
Bryant Park
Central Park isn't the only park you'll see on your visit to SUMMIT, many onlookers also lose their eyes in this wonderful tourist attraction, Bryant Park.
Key buildings
The Empire State Building or the Chrysler Building are some of the most popular buildings you can see from SUMMIT. But in addition to these, you can also see the skyscrapers of the Hudson Yards neighbourhood and a multitude of other buildings.
Bridges
Seeing the bridges from an observatory of this height is a sight not to be missed and from SUMMIT you can see bridges such as the George Washington Bridge, Brooklyn Bridge, Manhattan Bridge, Williamsburg Bridge and Queensboro Bridge.
Tips for getting on SUMMIT and making the most of the experience
Due to the particularities of the SUMMIT viewing platform, there are a series of recommendations that you should bear in mind if you want to get the most out of your visit. Take note!
Make sure you wear sunglasses, as the reflective materials used throughout the space create a bright atmosphere during the day.
Comfortable shoes are essential. Stiletto heels, steel-toed boots, sports heels and other footwear that may damage the floor are not permitted.
It is recommended to wear trousers, shorts or leggings whenever possible, since, due to the reflective installations, wearing a dress or skirt can show more than you want, you know what I mean!
Avoid crowds: the hours when SUMMIT has the largest number of visitors are close to sunset, and it is true that this observatory offers amazing views at that time, but I also recommend the possibility of going early in the morning when the sky is also spectacular and you will be alone.
Check the weather forecast: If you buy your ticket well in advance you run the risk of going up to SUMMIT on a cloudy day, and although we have said that it is always a good time for this viewpoint, we will enjoy the visit much more if we do it on a clear day when we will have better visibility. The ideal is to buy them a week in advance, when you will know approximately what kind of day it will be.
Take advantage of the gastronomic services and treat yourself at the SUMMIT restaurant. There is the option to buy the Ultimate SUMMIT ticket which includes, in addition to general admission and Ascent, a cocktail at Danny Meyer, the official bar of the restaurant. Prices start at 62€ ($73) for adults and 55€ ($67) for children aged 6-12.
Other recommended skyscrapers nearby in New York City
If you're still not convinced that SUMMIT is for you and want to consider other plans at heights, I recommend you take a look at the following options:
One World Observatory
The One World Observatory will offer you a superior experience, as well as a spectacular view of New York's financial district and beyond, as the view stretches more than 72 kilometres in any direction.
Rockefeller Center, Top of the Rock
The multi-block Rockefeller Center shopping and office complex, also in Midtown Manhattan, has an observation deck known as the Top of the Rock that offers an incredible close-up view of the Empire State Building.