11 Things to Do in New York City in Spring
If you're travelling to New York in spring, you're in luck: it's one of the best times to visit the city. Here's a list of the best things to do this time of year and enjoy the warm days.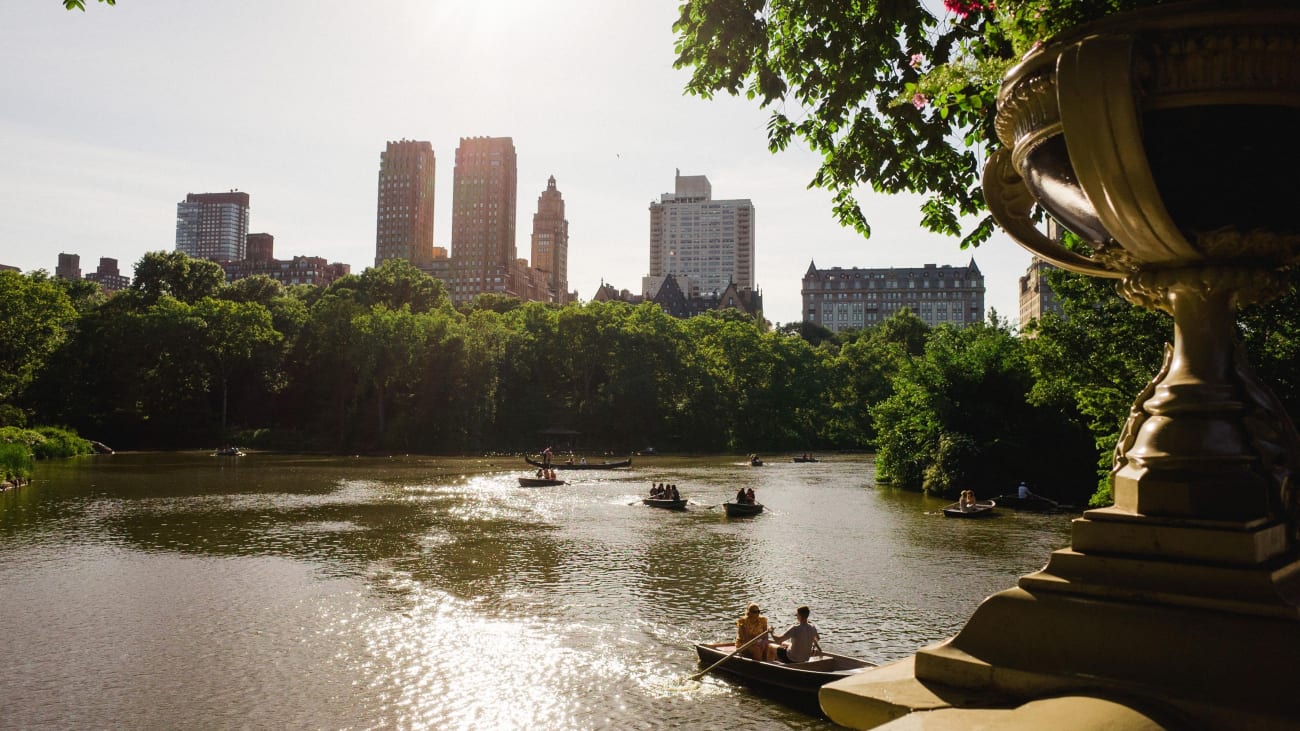 Spring is an ideal time to plan a trip to New York. The temperature is more moderate than in the winter and summer months and the days are getting longer. In addition, the outdoor calendar kicks off, so you'll be able to enjoy a full range of concerts, shows, films and street markets in parks and gardens.
On the other hand, practically all of spring is still considered low season and the city is not as crowded with tourists as it is at other times of the year, so you can move around comfortably without having to waste time queuing in long lines to get into museums and attractions.
This article includes the best things to see and do in New York, but don't miss out on the best that spring has in store for the city:
1. Stroll through the New York Botanical Garden
What better way to kick off spring than to enjoy the New York Botanical Garden, located in the Bronx and home to an ancient forest, the Bronx River and several gardens.
To visit the botanical garden in comfort, there is a free little train that runs through the park and you can get off at any point of interest where you want to make a stop.
What you'll see at the Botanical Garden
Enid A. Haupt Conservatory: A wrought-iron greenhouse that houses tropical plants and cacti, as well as temporary exhibits.
Mertz Library: Located north of the garden is one of the largest botanical libraries in the world.
Leon Levy Visitor Center: A centre where you can find seeds and plants, as well as botanical books and decorative accessories for your home.
Ponds: This botanical garden has several ponds on which water lilies, water lilies and lotuses float.
2. Enjoy the cinema at the Tribeca Film Festival
If you travel in April you can enjoy the Tribeca Film Festival, which organises a host of activities and special events for lovers of the seventh art.
The festival was promoted by actor Robert de Niro and producer Jane Rosenthal after the 9/11 attacks in order to boost activity in this part of the city.
3. Spend a dreamy day in Central Park
Spring is undoubtedly one of the best times of the year to enjoy all there is to see and do in Central Park: strolling, renting a bike or having a picnic are some of the favourite activities for New Yorkers at this time of year. The trees and plants are in bloom and the scent of the park delights all who visit.
If you go with the little ones at home, you can also visit the Central Park Zoo, where you can see penguins, grizzly bears, white leopards, lemurs, red pandas and sea lions; ride the carousel, which has been in operation since the late 19th century and is one of the most impressive merry-go-rounds in the USA due to its size; or look for the largest carousel in the world. Or look for the most famous statues in Central Park, such as Alice in Wonderland, William Shakespeare, Christopher Columbus, Simon Bolivar or the naturalist Alexander von Humboldt.
And in Central Park you can also enjoy Central Park's many lakes such as The Pond, Harlem Meer or Jacqueline Kennedy Onassis Reservoir. That it is one of the best parks in New York is clear, but if you have the chance, don't hesitate to visit Bryant Park or Battery Park as well.
4. Take advantage of sunny days to take a helicopter tour of New York City
Surely this is something you've never tried before and what better place than New York to try it for the first time. A totally different way to enjoy the skyscrapers and views of New York City along the Hudson River.
These flights offer spectacular views of the Statue of Liberty, Ellis Island, Ground Zero, and Manhattan's most popular skyscrapers such as the Empire State Building.
For more information on this experience, check out this article on helicopter rides in New York.
5. When the temperature rises, enjoy a cruise on the Hudson River
An ideal springtime activity is to enjoy a cruise on the Hudson River. These boats tend to have an open-air deck that at other times of the year is scary to approach, but in spring with the sunshine and light of these days you'll be able to take some dreamy photographs.
The best Hudson cruises cover different itineraries and depart at different times. There are some dinner cruises on the Hudson that are also a great plan if the temperatures are mild in the evening.
But you'll get a totally different, and unique, view of certain sites such as the Statue of Liberty, the Empire State Building, One World Trade Center, the Chrysler Building and the Brooklyn Bridge from the water. And if you do it after dark, you'll get a spectacular view of the New York skyline.
6. Be sure to check out the Museum Mile Festival
Since 1978, one of the most eagerly awaited cultural events of the year, the Museum Mile Festival, has been held in New York in June. It usually coincides with a Tuesday and from 18:00 h. admission is free to the museums on Fifth Avenue.
Which New York Museums participate in the Museum Film Festival? El Museo del Barrio, the Guggenheim Museum, the Metropolitan Museum of Art (MET), The Jewish Museum, the Museum of the City of New York, the Cooper-Hewitt National Design Museum, the Neue Galerie, the Museum of African Art, the National Academy of Design of the United States.
In addition, Museum Mile Festival also includes other parallel activities such as live music, face painting...
7. Fight at Pillow Fight Day
This is one of the most peculiar events in New York City, the Pillow Fight. Every year on the first Saturday in April, thousands of citizens and tourists gather in Washington Square Park and even dress up in costume for the occasion.
This massive pillow fight starts around 3 p.m. and lasts about a couple of hours until the participants are exhausted from beating their pillows and cushions against those around them. One rule: no one is allowed to attack a person who is not equipped with a pillow or cushion.
This event is also considered a charity event because the pillows can later be donated to homeless shelters.
8. Easter in the city: take part in Easter Parade and Bonnet Festival
Another special spring event is the Easter Parade and Bonnet Festival, the New York Easter Hat Parade, which takes place on Easter Sunday. Starting around 10:00 a.m. and ending around 4:00 p.m., participants parade their best headdresses and hats down Fifth Avenue from 49th Street to 57th Street.
This parade is a New York tradition that dates back to no less than 1870. Don't hesitate! Put on your hat and join the parade, or if not, stand next to St. Patrick's Cathedral and you'll have a prime viewing position.
9. When the sun shines, head up to the SUMMIT Observation Deck
And what better time of year to go up to SUMMIT than in spring. It's true that this observation deck is suitable for all seasons of the year, as it has two glassed-in interior floors, but there's nothing like being able to go outside on a clear, warm day to enjoy spectacular views of New York City in style.
What to see at SUMMIT
From this observation deck, which offers an almost 360º panoramic view, you can see some of New York's most famous landmarks such as Central Park, Bryant Park, the Empire State Building and even the Statue of Liberty.
The Ascent glass lift, which takes visitors up to a height of 368 metres on the outside of the building.
The Levitation glass cubes, which protrude to a height of 324 metres and allow visitors to walk above the streets of New York.
10. Browse the flea markets for curiosities
April and May mark the start of the flea market season in New York. If you have the opportunity, I recommend you to visit:
LIC Flea & Food: Located in Queens, you can enjoy this flea market every Saturday and Sunday from April. Craft beers, food and antiques are some of the things you will find at LIC Flea & Food.
Brooklyn Flea Williamsburg: Every Saturday starting in April, this craft and antique market opens on the ground floor of the Williamsburg Hotel.
Brooklyn Flea Dumbo: Every Sunday from April onwards, you can stroll through the various stalls at Brooklyn Flea Dumbo.
Smorgasburg in Prospect Park: Every Sunday from April onwards, you can also enjoy a variety of dishes at Smorgasburg.
Queens Night Market: Every Saturday from the end of April, you can enjoy live music while you browse food and craft stalls.
Smorgasburg in Williamsburg: Every Saturday from April onwards, you'll find a wide range of food at this market.
11. Visit Macy's Flower Show
Macy's Flower Show is a free exhibition that takes place in mid-April and early May to showcase the floral trends of the season.
In addition, this event includes parallel activities such as live music, lectures and activities to do in New York with children.
---
What's the temperature in spring in New York?
The temperature in New York City in spring is ideal. In April it's still cold, but if you're warm enough to walk around, and May and June are great months for outdoor activities. And the days are getting longer.
April: The thermometer registers temperatures between 5 and 15º C.
May: The temperatures are between 13 and 22ºC.
June: The thermometer rises, recording minimum temperatures of around 18-20º C and maximums of 25º C.
When does the sun rise and set in spring in New York?
Spring is characterised by longer days, more hours of sunshine and a fuller schedule than at other times of the year:
How to pack for a spring trip to New York?
When dressing for spring in New York you should wear several layers as some days can be warm enough to wear short sleeves, while others may require a jumper as well as a windbreaker.
And you should bear in mind that rain is very likely to surprise you.
What items should be in your suitcase?
Comfortable, waterproof footwear
Mackintosh or poncho
Umbrella
Foulard for colder days
Short-sleeved T-shirts or tank tops
Jumpers
Jackets
In this article you have read some interesting plans for your trip in spring, but in case you are travelling in summer, autumn or winter, here are the guides to the best things to do in New York in summer, what to see and do in New York in autumn and what to do in New York in winter.