10 best rooftops of New York
You come to New York to enjoy yourself, and after a long day of sightseeing, sightseeing and strolling, continuing to enjoy the sights and lights while sipping a cocktail is a must.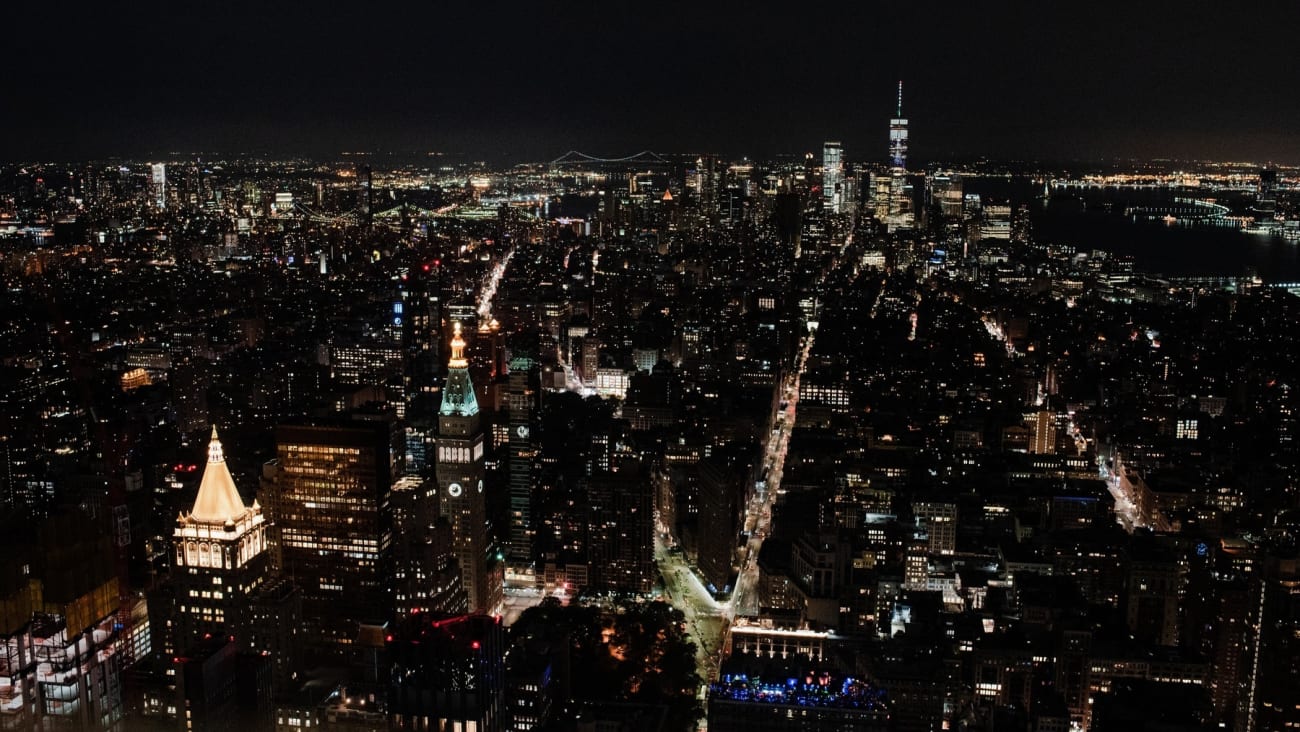 Watching the New York skyline at sunset, with a drink in hand and in good company is a moment you won't forget on your trip. Fancy the idea? Then don't miss the 10 best rooftops in New York where you'll feel the city at your feet. This is without a doubt one of the things you have to do in New York.
Also, check out our guide to the best places to eat in New York to complete your cocktail in the heights with a good menu to satisfy your appetite.
1. Rooftop 93
Watching the sun fade away as thousands of light bulbs slowly turn on to illuminate the New York night is one of the best experiences I have had at Rooftop 93, located at the Wyndham Garden Chinatown hotel in the heart of Manhattan.
This is one of my favourite rooftops in New York because it has almost 360º views of the city. It revolves around the top two floors of the building: the first floor is glassed in all year round, which is perfect if it's cool outside, and the dim lights inside create an intimate atmosphere. The first floor is open-air and has a rustic-chic style, ideal for the seemingly endless summer mornings.
During Rooftop 93's happy hour, between 5 PM and 8 PM, beers are $7 and cocktails are $12 Bogo 50%. In other words, if you order one cocktail you get another one at no extra cost (Bogo = buy one get one). If you fancy a bite to eat afterwards, check out this guide to the best places to eat in Chinatown.
Practical information
Where is it?: Wyndham Garden Chinatown, 93 Bowery - 18th floor, New York, NY 10002
Hours: Sunday to Thursday 5PM to 12 AM; Friday and Saturday 5 PM to 2 AM.
2. Berry Park
Williamsburg'shipster rooftop. If you're looking for a casual place to spend a pleasant evening with friends, whether you're watching a football game or enjoying spectacular views of the city, you'll love Berry Park.
It's located right next to McCarren Park in Brooklyn and despite being on the first floor of the building, the Manhattan skyline looks amazing. The huge rooftop is partially covered and air-conditioned, so it's open all year round. When the weather is nice, the open-air terrace is a great place to go for a drink and a dance or DJ set on Friday and Saturday nights.
I like Berry Park' s rooftop because the atmosphere here is lively and relaxed at the same time. It also has a good Belgian beer menu and the food has German and American influences. For snacks, the BLT sandwich or a Bratwurst & Fries is delicious, although they also have a special brunch menu on weekends from 12PM to 3PM, if you feel like doing something different. Here's a guide to the best places to eat in Brooklyn.
Practical info
Where is it located? 4 Berry St Brooklyn, NY 11249
Hours: Monday to Thursday 5 PM to 2 AM; Friday 4 PM to 4 AM; Saturday 12 PM to 4 AM; Sunday 12 PM to 2 AM.
3. 230 Fifth
Located right on Fifth Avenue, 230 Fifth is one of New York's most glamorous rooftops and is so named precisely because of its location at 230 5th Avenue. As soon as you enter, the panoramic terrace draws you in like a magnet to contemplate the most breathtaking views of the Big Apple.
It is a spectacular place. Outdoors it has the largest rooftop garden in the city, where you can have a refreshing cocktail surrounded by palm trees and candles in front of the Empire State Building and enjoy the typical modern New York atmosphere.
Inside, there is a large glassed-in lounge, perfect for when temperatures are still cool. However, if you don't want to give up the terrace, during the winter and until May you can book a place in one of the igloos to stay warmer and not miss the views of Manhattan. In addition, at night you can enjoy a beautiful light show that adds to the magic of the moment.
I recommend going to 230 Fifth at dusk to see the spectacular Empire State Building illuminated in front of you in all its splendour - it's a marvel! However, going in the morning also has its charm because the garden of this rooftop is a beautiful orchard. On weekends there is a brunch from 10am to 4pm, which is great if you're visiting New York with your family.
Practical Information
Where is it located?: 230 Fifth Avenue, New York, NY 10001
Hours: Monday to Thursday 2 PM to 2 AM; Friday 4 PM to 4 AM; Saturday and Sunday 10 AM to 2 AM.
4. Broken Shaker
Many New York rooftops look like nightclubs, but that's not the case with Broken Shaker, located on the terrace of the Freehand New York Hotel. With its tropical and relaxed vibe, this bar decorated with wicker furniture and potted plants has become one of my favourite places to have an aperitif accompanied by a delicious cocktail on New York evenings.
Broken Shaker is located on the 18th floor of this Flatiron District hotel. If you're looking for a drink on a quality terrace, this place is worth a visit. What makes this bar unique is that it doesn't so much feel like an upscale rooftop as the atmosphere is like that of a party at a friend's beach flat to which you've been invited.
Upon entering there is a large indoor space with plenty of tables as well as a large wraparound terrace where you can also sit and order something to eat while you watch the scenery, such as the tasty chicken empanada or shrimp taco. The cocktails are delicious and are made with fresh fruits, aromatic herbs and exotic ingredients, which gives them a unique touch.
To go to the Broken Shaker I advise you to arrive early because the place is very popular and sometimes queues form. The good thing is that the wait at this rooftop is worth it.
Practical Info
Where is it located?: 23 Lexington Avenue, New York, NY 10010
Hours: Open Wednesday to Sunday from 3 PM to 11 PM.
5. Westlight NYC
One of my latest discoveries is Westlight NYC: great background music, tasty cocktails and breathtaking panoramic views of Manhattan and the East River - you're on the highest rooftop in the area! To recover, there's nothing better than ordering something from the menu to nibble on - how about fries with chipotle aioli or crispy calamari? You'll enjoy yourself like a kid!
Speaking of kids, if you're travelling to New York with your family, you'll love this rooftop because the kids are allowed in every day until 6pm. It's a great place to drop in after a long walk exploring the Williamsburg neighbourhood.
It's located on the 22nd floor of the elegant The William Vale hotel in Brooklyn. If you want to skip the line at the entrance, I advise you to book a table as many New Yorkers come here after work to have a cocktail with friends while relaxing and watching the sunset over Manhattan.
Practical Info
Where is it located?: You'll find it at 111 N. 12th St / 22nd Floor
Hours: Monday - Friday 5 PM -10 PM; Saturday and Sunday 1 PM - 10 PM
6. The Lookup
What I like about this rooftop is its simplicity, as it reminds me of the common area of a flat block where you'd want to hang out over a glass of wine.
The Lookup is a place without artifice, frequented by locals and not so much by tourists. Perhaps that formula is where its charm lies. There and in its original cocktails in jugs, for which this bar is famous. It's a good option to share with friends if you're travelling to New York in a group and want to try different varieties. Accompany them with a few servings of their unique popcorn - it's delicious!
One of the advantages of The Lookup is its location: it's on the rooftop of the Kixby Hotel and nearby is Bryant Park, the Empire State Building, Macy's department store and Madison Square Garden. Stop by when the weather is nice and enjoy the stars on a summer night - you won't forget it!
Useful Info
Where is it located? At 45 w 35th steet, new york, NY 10001
Hours: Monday to Friday from 4 PM to 11 PM; weekends from 12 PM to 11 PM.
7. Harriet's Rooftop
Exuberant, modern and chic, that's Harriet's Rooftop, the terrace of the Brooklyn Bridge Hotel in the DUMBO neighbourhood. The atmosphere of this rooftop is one of the liveliest in New York and the views are simply unforgettable.
From its large open-air rooftop you can see Lower Manhattan, the Brooklyn Bridge, the river and even the Statue of Liberty, which from here looks like a small souvenir you might find in any gift shop in Times Square or Chinatown. The views from the interior lounge are also magnificent, especially for enjoying New York at night when temperatures are still cool.
Although the cocktails at Harriet's Rooftop are not cheap at around $18, they are worth a try as they are handcrafted and delicious. To take in the sights of New York City from a place as cool as this without a glass in your hand to toast with your companion would be to leave the experience incomplete. There's also a menu of tasty snacks.
Harriet's Rooftop is open every day but the magic hour is right at sunset, when the sun goes down and the city is transformed into a light show. This moment is something very special in advance so it's not surprising that this rooftop gets very crowded. If you can make a reservation, all the better - you'll save yourself the queues!
Practical Info
Where is it?: 60 Furman St, Brooklyn Heights, NY 11201, USA
Opening hours: Open Monday to Friday from 5 PM to 12 AM and on weekends from 2 PM to 12 AM.
8. Sky Room
I hope you're not afraid of heights because this is one of the rooftops that will test your vertigo - theSky Room is the highest rooftop in all of New York!
This bar is located on the 33rd and 34th floors of the Fairfield Inn and Suites Hotel, near Times Square in Midtown Manhattan. The views of Midtown from here are amazing with the Hudson River, Times Square and the Empire State Building as a backdrop.
The striking thing about Sky Room is that the rooftop has five distinct indoor and outdoor spaces: North Terrace, South Terrace, Balcony Cube, Times Square Lounge and Candlelight Lounge. It's fun to walk around the rooftop because the view is different from each level.
For example, on the 33rd floor is the North Terrace and it is open all year round as it is glassed in. On the other hand, on the 34th floor is the South Terrace and has many comfortable areas to relax and unwind.
If you get the chance, I recommend going to the Sky Room on a weekday from 5PM to 7PM when there is Happy Hour - cocktails and a glass of wine are only $7 and beers are only $5! It's a perfect way to enjoy New York evenings in a different way: great views, good company and late at night the party starts with a live DJ performance. Of course, to access this rooftop you need to be well dressed and carry your passport.
Practical Info
Where is it located? 330 W 40th St, New York, NY 10018
Hours: Thursdays 5 PM to 2 AM; Fridays and Saturdays 5 PM to 4 AM
9. Pod 39
One of the most beautiful New York rooftops I've ever seen is at the top of the Pod 39 hotel in Murray Hill. It's popular for its ivy-covered brick arches, glowing string lights and tiled tables that create a fantastic village square atmosphere on this little terrace with views of the Empire State Building and Chrysler Building.
With a Mexican-inspired restaurant open year-round in the hotel lobby called Empellón Al Pastor, the rooftop is open during the summer season. I recommend you head up to Pod 39 at sunset to enjoy the evening with a refreshing pitcher of Margarita, a delicious craft cocktail made with agave and some tacos to nibble on.
This rooftop has a vibrant and youthful atmosphere, especially in the afterwork, so if you can, I recommend you go a little before the offices in the area close so you don't have to wait in line to get a table.
Practical Information
Where is it located? 145 E 39th St, New York
Opening hours: Monday, Tuesday, Wednesday and Sunday from 12 PM to 11 PM; Thursday, Friday and Saturday from 12 PM to 1 AM.
10. Rooftop Reds
This is one of my biggest rooftop discoveries in New York. The perfect place to enjoy the views of the Brooklyn skyline and the pleasant New York temperatures amidst the vineyards.
A rooftop among vineyards? That's right, you read that right. Rooftop Reds has its own vineyard planted in large, tall, elongated planters. Not surprisingly, wine is the star drink here, although if you're not a fan of the nectar of the gods, they also have an excellent beer menu.
This rooftop is located in the Brooklyn Navy Yard, which was one of the most active shipyards in America during World War II. In 2014, this area was declared a historic district and since then many young entrepreneurs are locating here to give it a new lease of life.
Rooftop Reds is a place to meet friends and hang out over drinks. Whether sitting on the artificial grass, at the tables or lying on one of the very comfortable hammocks scattered throughout the terrace. An idyllic place to disconnect and enjoy the views of the Big Apple in an original way. Reservations are required.
Practical info
Where is it located? 299 Sands St, Building 275, Brooklyn, NY 11205
Hours: Friday 4 PM to 9 PM; Saturday and Sunday 12 PM to 8 PM
---
Tips for visiting New York rooftops
The essential thing is to arrive, sit at a table and order your favourite drink to enjoy the panoramic views from any of the rooftops in New York. But to make your experience as complete as possible, here are some tips for visiting them:
Bring your passport or ID with you as you will be asked for it when you enter, as you will not be allowed in if you are under 21.
However, there are some rooftops that do allow minors accompanied by an adult at certain times.
Almost all rooftops have Happy Hour. If you're planning to go to several, it's best to do so during happy hour to save a little money.
The minimum tip is 15% for good service. When the service was good, the average is 18%, while if the service was excellent, 20% or more is left. For cocktails, the custom is to ** tip $1 per drink**.
Try to visit different rooftops in completely different areas of New York: the perspectives will be more varied and you will be surprised by the different facets of the city.
There is no specific dresscode for visiting rooftops in New York, as each place has its own atmosphere. However, the most common etiquette is smart casual or casual. And generally more towards smart-casual as the night progresses. Avoid sportswear, flip-flops, shorts, hats and tank tops.
12. Other New York sights worth seeing
If you fancy seeing New York from above, as well as having a cocktail or brunch on the rooftops we've just seen, you can climb one of its many observatories to get the best views of the city. Among the most popular in Midtown are the Top of the Rock and the legendary Empire State Building. If you prefer views of southern Manhattan, I recommend the One World Observatory, and if you want to visit the city's newest attractions and you're not afraid of vertigo, try The Edge.