Price of a Cruise in New York
Cruising around Manhattan in New York is a unique experience. Depending on your budget, you can choose from a short ferry ride to dinner on a luxury yacht. There are options to suit all budgets.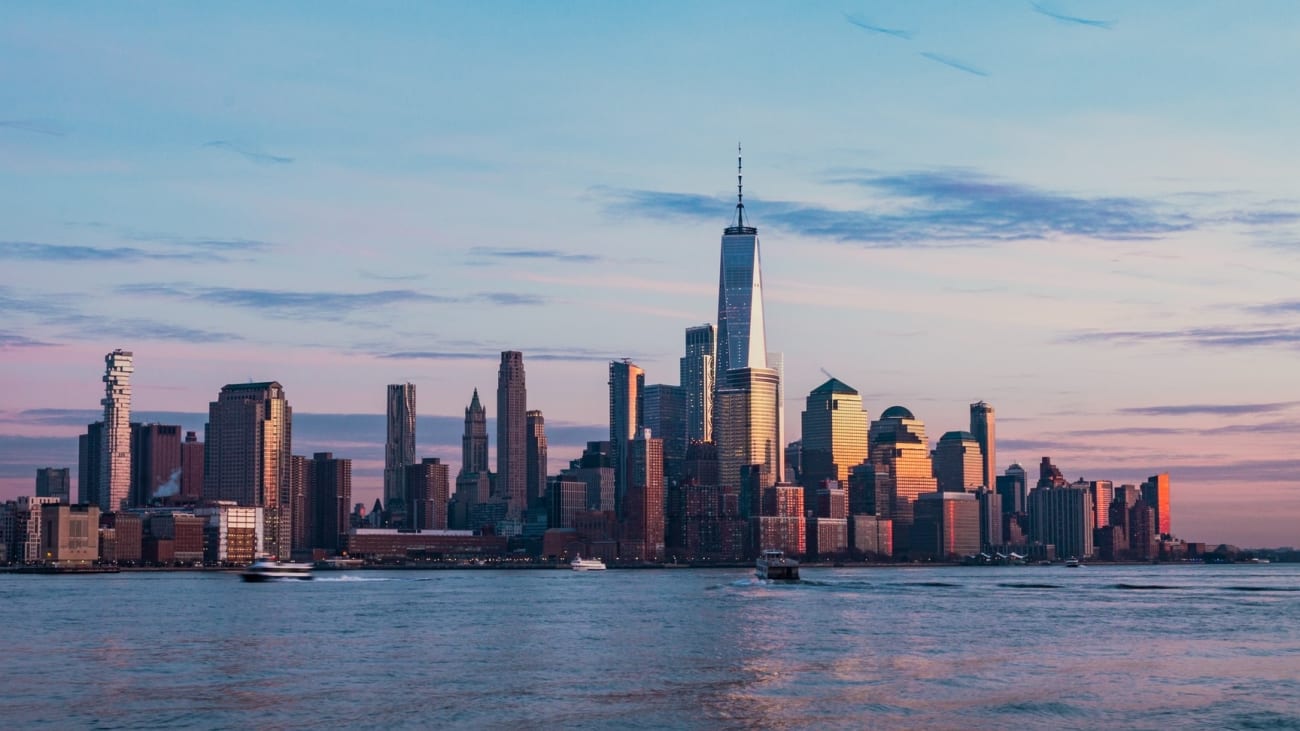 You're planning a trip to New York and you know that some of the best views of the city are to be had from the water. Embarking on a cruise around Manhattan is a dream, buthow much is it going to cost you?
Don't worry, below is a list of prices for all types of cruises in New York so you know exactly which option to choose based on your budget.
Hudson River Cruise Prices
The price of a cruise on the Hudson River ranges from 30 € to 180 € on Hellotickets, depending on the itinerary, the type of boat and the duration of the itinerary.
For example, the cheapest one lasts an hour and a half and for just over €30 will take you over the Brooklyn Bridge and into southern Manhattan and can go as far as Midtown, so you'll get a closer look at the Empire State Building.
The most expensive, which costs around €160, is a VIP experience aboard a fully glass-enclosed luxury boat that lasts two and a half hours and takes you around Manhattan and the Statue of Liberty, all while you're served a buffet-style dinner to live music and starlight. A celebrity's dream.
Price comparison table
How much does the cheapest New York cruise cost?
If you're on a budget but don't want to forgo a Manhattan cruise, the cheapest cruise costs just €32. Specifically, this itinerary lasts an hour and a half and is a great way to see the city's main highlights from the water.
Throughout the tour you'll listen to a recorded guide explaining the monuments and areas you'll pass through and covering the route between the Brooklyn Bridge and the Statue of Liberty, which gives you a pretty good perspective of the Financial District and of course, the best view you can get of the Statue.
This is a Circle Line cruise, which has been plying the waters of the Hudson for dozens of years and has several boats that cross the Hudson in various directions day after day.
If you'll allow me a tip, there is an option that for a little more money (39 €) adds an extra hour of sailing and I think it's better value for money: Circle Line's two and a half hour cruise that skirts Manhattan and also goes as far as the Statue of Liberty.
With an extra hour on board you'll get a much better and closer look at some legendary skyscrapers such as the Empire State Building. Plus, by extending the trip you'll have more time to relax on board, take more photos, etc.
Which cruise is the most expensive
New York has something for everyone's taste and budget: the most expensive cruise along the Manhattan waterfront costs €179 and will treat you to an evening at the movies. It features a three-course gourmet dinner, drinks, desserts and coffees are included and lasts for three hours.
This is a true VIP experience to be had at least once in a lifetime in New York, so if you want to celebrate a special occasion or say goodbye to Manhattan in style, this is a great way to do it.
The boat is a luxury vessel and during the tour you'll be accompanied by a band who will entertain you with soothing live music. The huge windows of the boat will allow you to enjoy your dinner without missing out on the starry sky and the lights of New York.
If you're looking for something similar but you're on a budget, another of the New York dinner cruises offers a buffet-style gastronomic service of the highest quality. You'll sail for three hours around Manhattan on a luxurious macro-yacht and it will cost you €139, allowing you to keep the cost of such a high quality experience a little more affordable.
Are there any good value night cruises?
Yes, if you prefer to take a sunset cruise without breaking the bank, there is a classic sailboat cruise for €44 which will take you to discover the lights of the city for two hours.
The boat usually departs at around 21:30 (although times can be adjusted to suit the time of day depending on the time of year) and you'll get to see the lights of Manhattan, the Brooklyn Bridge lit up and the Statue of Liberty glowing in the middle of the night.
Although this option doesn't include drinks or food on board, it's a great value considering you're sailing on board a classic sailboat, which makes the experience more authentic, intimate and cosy.
Are there free cruises and how can I save on a New York cruise?
Unfortunately there are no cruises or boats in New York that are free of charge. But as with everything else, there are several ways to save when taking a cruise. Here are a few tips to help you enjoy the experience without breaking the bank:
Always book online
Booking online allows you to compare prices, itineraries, companies and routes. This is the only way to get the best value at the lowest price. Otherwise you risk arriving at the pier and having to pay more for a similar or worse service.
Avoid public holidays
There are days like New Year's Eve or holidays like the Fourth of July, when Americans celebrate Independence Day, when cruises increase exponentially in price: there are fireworks displays that make boat rides more expensive (and places are so limited that it's almost impossible to find a spot).
If you're travelling with children, check for reduced fares
There are some cruises (such as some dinner cruises) that do not allow children under the age of 6 and do not offer discounts for children under the age of 6. Before you book, check to see if you can get a reduced price for younger children.
Take advantage of a visit to the Statue of Liberty
Ellis Island, the island where the famous Statue of Liberty is located, is only accessible by ferry. If you don't want to spend more than you have to, take advantage of the boat ride to enjoy the views and although the experience is not the same, you can still get great views from the water.
Take the ferry
Many New Yorkers use the New York ferry as a method of transport to get to Manhattan - after all, it saves them a lot of traffic jams - and you needn't be any different. If you can't afford to take a cruise, use the ferry to take to the river at the lowest possible price.
Make the most of the river from land. Yes, you can, and it's free!
Don't forget that the Hudson is a major New York attraction in its own right. You'll be able to cross the multitude of bridges that reach all the way to Manhattan and enjoy incredible views. From Brookyn, the views of the Manhattan skyline with the water in between are spectacular and there are even little beaches where you can sunbathe.
In recent years there has also been a proliferation of green spaces and parks where you can enjoy the river with your family - check out Hudson River Park and the free events held there.
Make the most of your sightseeing pass
If you have a card like the New York Pass, New York Explorer Pass or New York City Pass, you may have a discount or an included ticket for a cruise - make sure you take advantage of it! Read on to find out more.
Save by using the cruise included in the sightseeing cards
If it's your first time in New York or you're travelling to the city looking to explore as much as possible, you'll probably want to buy a sightseeing card.
With these cards you can either pay for the number of days of your trip and get access to all the main attractions (a sort of flat rate) or pay for the number of attractions you want to visit (and get a reduced price at each one).
In addition to saving time (by skipping the queues and buying tickets separately) and, of course, money, there are some that offer free access to the tour bus or a cruise on the Hudson. Some even offer access to a kind of cruise with free stops that works just like the sightseeing bus but on the water. A great way to get to know New York from the water without having to spend much more.
If you want to read more information, I recommend this comparative guide to New York City passes where you can see what each one includes and, of course, their prices.