10 Best Places to Eat Near to Rockefeller Center
As a business and leisure hub in the heart of Manhattan, eating well near Rockefeller Center and its Top of the Rock is a no-brainer. Take note of the best bars and restaurants in the area!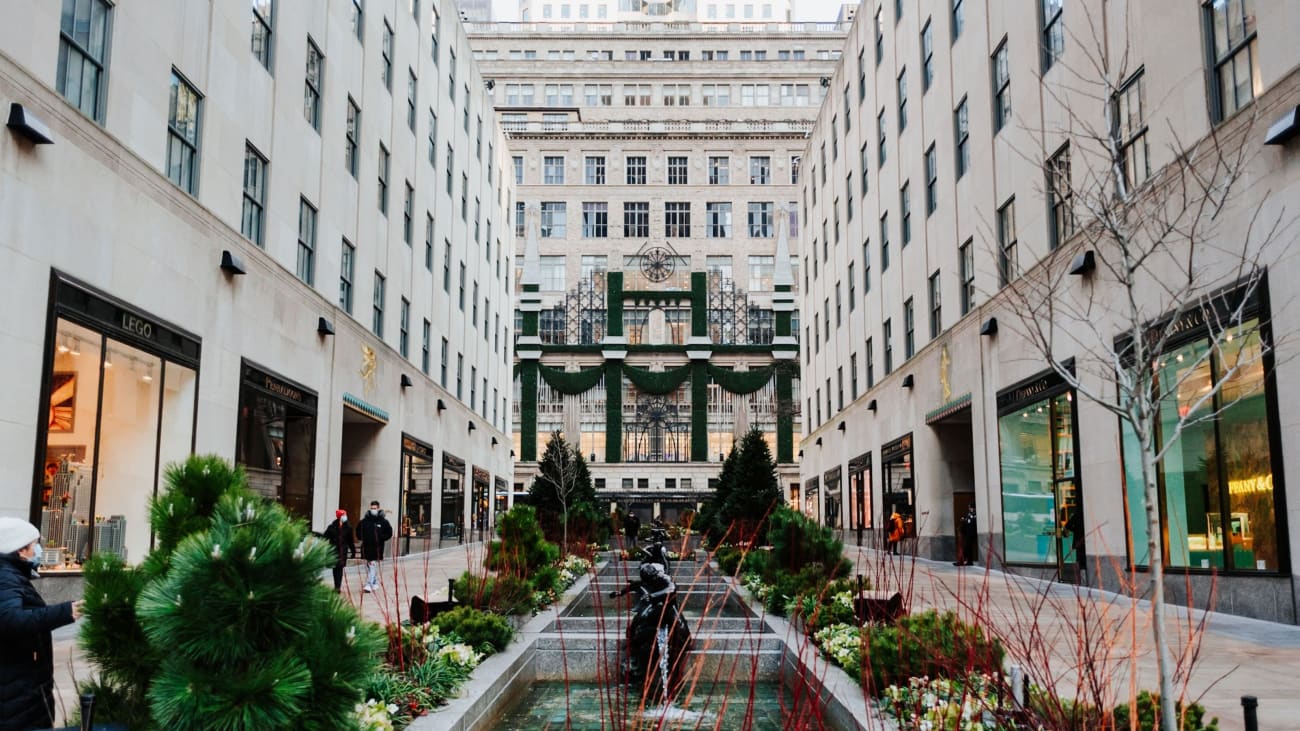 The Big Apple is all about diversity, entertainment and experiences. This is also true when it comes to eating out in New York. And so, all over the city you'll find everything from fast food, gourmet or the most sophisticated luxury, to fusions as traditional as they are unusual.
If your trip takes you to Rockefeller Center because you're going up to the Top of the Rock and you want to plan your gastronomic route around the area, here are some suggestions of places for all tastes and budgets.
By the way, if you're going to Rockefeller Center at Christmas, be aware that many of these restaurants will be very crowded, so consider making a reservation in advance.
1. Bill's Bar & Burger, one of the best burgers in Manhattan
At Bill's Bar & Burger you'll get a taste of good American food: incredible burgers, dreamy milkshakes for those with a sweet tooth, various fried foods and more than 80 types of beer. There's no better combination!
Bill's opened its doors in 2009 with a location in the Meatpacking District and was a hit with burger connoisseurs and New Yorkers in general. So a year later, they opened this restaurant in Rockefeller Center, which has already established itself as one of the best in the Big Apple.
The restaurant is very spacious, with a capacity for 400 diners, two floors, high and low tables and a very pleasant décor. The waiters are super friendly and efficient, so it's an ideal place to recover from your walk.
Useful info
Where: 16 West 51st Street / 5th Avenue (Rockefeller Center)
Hours: daily from 11:30 am to 9:00 pm
Average price per person: 25 € to 30 €.
Recommended dish: The Bill's Burger and Fat Cat (CNN top 10 burger award)
Ideal for: Families, travellers, couples and even large groups.
2. Best Bagels at Black Seed Bagels
There is no New York without bagels, so I couldn't help but recommend Black Seed Bagels. It's an excellent choice and suitable for every meal of the day. Sweet or savoury, this kind of bread, but in the shape of a doughnut, is filled with a myriad of ingredients that no palate can refuse.
At Black Seed Bagels, the bagels are artisanal and have been made by Chef Dianna Daoheung since 2014 when she opened her doors. They have a signature style that blends New York baking techniques with Montreal (another place where bagels are the star).
They have a tempting variety of bagels: sandwich-style, pizza-style and even offer gluten-free options. A quick and tasty proposition for when you finish your walk around Rockefeller Center and the Top of the Rock.
Useful info
Where: 30 Rockefeller Plaza Concourse Level
Hours: Monday to Friday 8:00 am - 3:00 pm / Saturday and Sunday 9:00 am - 3:00 pm
Average price per person: 10 € to 15 €.
Recommended dish: Salmon Classic / Pastrami Reuben
Ideal for: families, travellers, couples
3. Limani, Mediterranean flavours from Greece to Manhattan
If you feel like a break from fast food and want to treat yourself to something different, Limani is a great option.
This restaurant will make you feel like you're in the heart of the Mediterranean. Seafood, fish, first class olive oil, organic vegetables and even capers from Santorini. All quality products integrated in typical Greek dishes that will make you forget for a moment that you are in Rockefeller Center.
Chef M. J. Alam is in charge of ensuring that diners enjoy the most authentic Mediterranean flavour, thanks to the use of regional and seasonal products that make his dishes unique. With an elegant decoration, a quiet atmosphere and served by a team that stands out for its friendliness, Limani offers a different proposal in the area where you will surely eat very well.
Useful information
Where: 45 Rockefeller Plaza
Opening times: Monday to Thursday 12:00 - 23:00 h / Friday and Saturday 12:00 - 00:00 h /Sunday 15:00 - 22:00 h
Average price per person: 50 €
Recommended dish: Octopus / Fava Puree
Ideal for: couples, friends, business
4. Hama Japanese Cuisine, good sushi near the Top of the Rock
If what you're missing is good sushi, you can also find it in Rockefeller Center. Hama Japanese Cuisine is perhaps one of the best in the city. As soon as you enter you can see the chef preparing the sushi live and feel the Asian imprint that you will later taste in his dishes.
It is located in a basement and the decoration is sober, so it is not the most remarkable thing. But the quality of the food, the raw materials and the excellent service of the whole team will make you want to visit Hama Japanese Cuisine again.
Useful information
Where: 11 West 51st Street Lower Level
Opening hours: Monday to Friday: Lunch 11:45 - 14:45 h / Dinner: 17:00 - 21:00 h / Closed Saturday and Sunday
Average price per person: €40
Recommended dish: Sushi / Vegetable Tempura
Ideal for: Couples, friends
5. Beatnic, the vegan and vegetarian option at Rockefeller Center
Avoiding a burger in New York is a challenge. If you are vegetarian or vegan, or just fancy this type of food, and are looking for a good restaurant that can accommodate you, Beatnic is the place for you.
This restaurant took over from By Chloe after the pandemic and, changing its name but keeping its values, has managed to position itself strongly in the vegan sector. It offers a modern and relaxed atmosphere for a very creative menu based on burgers, sandwiches, salads and homemade baked goods.
Pureinnovation in a menu that has nothing to envy to carnivores. Affordable prices, vegan values and a New York-style approach put Beatnic on the list of recommendations without hesitation.
Useful information
Where: 1 Rockefeller Plaza
Hours: daily 11:00 am - 9:00 pm
Average price per person: €15
Recommended dish: Burgers
Ideal for: friends, travellers, couple, family
6. Del Frisco's Grille, where the meat is the main character
An excellent choice for meat lovers. Del Frisco's Grille has a modern menu that combines good food with an extensive range of cocktails and drinks for an enjoyable time. Eat with family, dine with friends or enjoy a happy hour after a hard day's work (or why not, sightseeing!)
The atmosphere is welcoming with large walls decorated with over 700 bottles of wine, modern artwork and a large outdoor patio. This gives Del Frisco's Grille that New York touch that makes it vibrate.
And its wood-fired oven is the one that makes the magic happen, the one that will leave you wanting to come back. Top-quality steaks, wood-fired bread, salads and fresh seafood complete the most tempting menu in Rockefeller Center.
Useful Info
Where: 50 Rockefeller Plaza
Hours: Sundays: 12:00 - 21:00 h / Mondays: 11:00 - 21:00 h / Tuesdays to Thursdays: 11:00 - 22:00 h / Fridays: 11:00 - 23:00 h / Saturday: 12:00 - 23:00 h
Average price per person: 60 €
Recommended dish: Filet Mignon
Ideal for: Couple, friends, family
7. Piccola Cucina, authentic Sicilian food with a New York flair
This restaurant with 100% Sicilian roots, thanks to its Chef Philip Guardione and all his staff, is creativity combined with the diverse flavours and typical products of the region. Piccola Cucina Uptown is one of the best options for Italian food in New York.
It's about a 10-minute walk from Rockefeller Center, but it's worth it if you're looking for the best quality homemade pasta. The atmosphere is authentic, fresh and the staff is attentive and professional with the charisma that characterises Italians.
Inside, the space is small but cosy, and there is also an outdoor terrace where you can spend a lovely evening with Italian flavours.
Useful information
Where: 106 East 60th Street
Opening hours: Sunday to Thursday: 11:30 - 23:00 h / Friday and Saturday: 11:30 - 00:00 h
Average price per person: €30
Recommended dish: Green tagliatelle with wild boar ragu /Tiramisu
Ideal for: Couple, friends
8. The Elgin, a pub with personality and delicious food
This bar, reminiscent of an authentic Irish pub, is everything that's right when it comes to enjoying a few beers after a long day of strolling around Rockefeller Center.
It is the dream come true of four friends who, since childhood and despite the fact that life took them down different paths, kept the idea of starting a pub together. And that effort, hard work and passion is reflected in The Elgin.
A pleasant, modern and spacious place inside and out. And with a very simple and tempting proposal: " low prices for wonderful food". At The Elgin you can try anything from a sausage pizza to a French burger or a fried chicken. All accompanied by a good craft beer, a fine wine, whisky or their signature lemonade. This is The Elgin, a place to relax, enjoy good atmosphere, good music and casual dining.
Useful Info
Where: 64 West 48th Street
Opening hours: Monday, Tuesday and Saturday 11:00 - 22:00 h / Wednesday and Thursday 11:00 - 00:00 h / Friday 11:00 - 23:00 h / Sunday 12:00 - 20:00 h
Average price per person: 25 €
Recommended dish: the French onion soup burger
Ideal for: friends, family
9. Sweetgreen, healthy and fast food
If you don't want to spend money on calories and what you're looking for is to eat healthy to renew your energy and continue your visit to Rockefeller Center, I recommend Sweetgreen, a place where you can eat well and cheaply, without forgetting that it can also be healthy and with sustainable values.
Sweetgreen was founded in 2007 as a start-up by three friends who saw the opportunity to launch an enterprise in which quality does not sacrifice price.
It is a place where you can quickly make your own salad bowls to your taste and with fresh seasonal ingredients, all of which come from organic farming and communities that support this project with the same passion.
Useful information
Where: 30 Rockefeller Plaza
Opening hours: Monday to Friday 10:30 - 16:00 h / Saturday and Sunday: closed
Average price per person: €10
Recommended dish: any salad of your choice
Ideal for: travellers, friends, family, couples
10. Magnolia Bakery, the famous cupcakes from Sex and the City
I couldn't leave Magnolia Bakery, one of the most famous bakeries in Manhattan (and the world!), out of this list.
Its popularity has been consolidated over time thanks to its desserts and baked goods, which have won a place in the hearts of New Yorkers, mainly cupcakes with buttercream, cheesecake, handmade decorated cakes and banana pudding.
Today you can find it in various parts of the city, but it retains the same seal and quality as the first day and that led them to be an icon of the city. 10 TV & movie locations in New York City. So much so that you can even buy a vanilla cupcake called "Carrie".
Useful information
Where: 1240 Sixth Avenue
Opening hours: daily from 09:00 - 21:00h
Average price per person: €5
Recommended dish: Banana pudding / Cupcakes
Ideal for: travellers, friends, family, couples, everyone!