Best Niagara Falls Bus Tours From NYC
Visiting Niagara will be an unforgettable adventure. I'll tell you all the details so you can choose the bus option that best suits your travel plans - you won't regret it!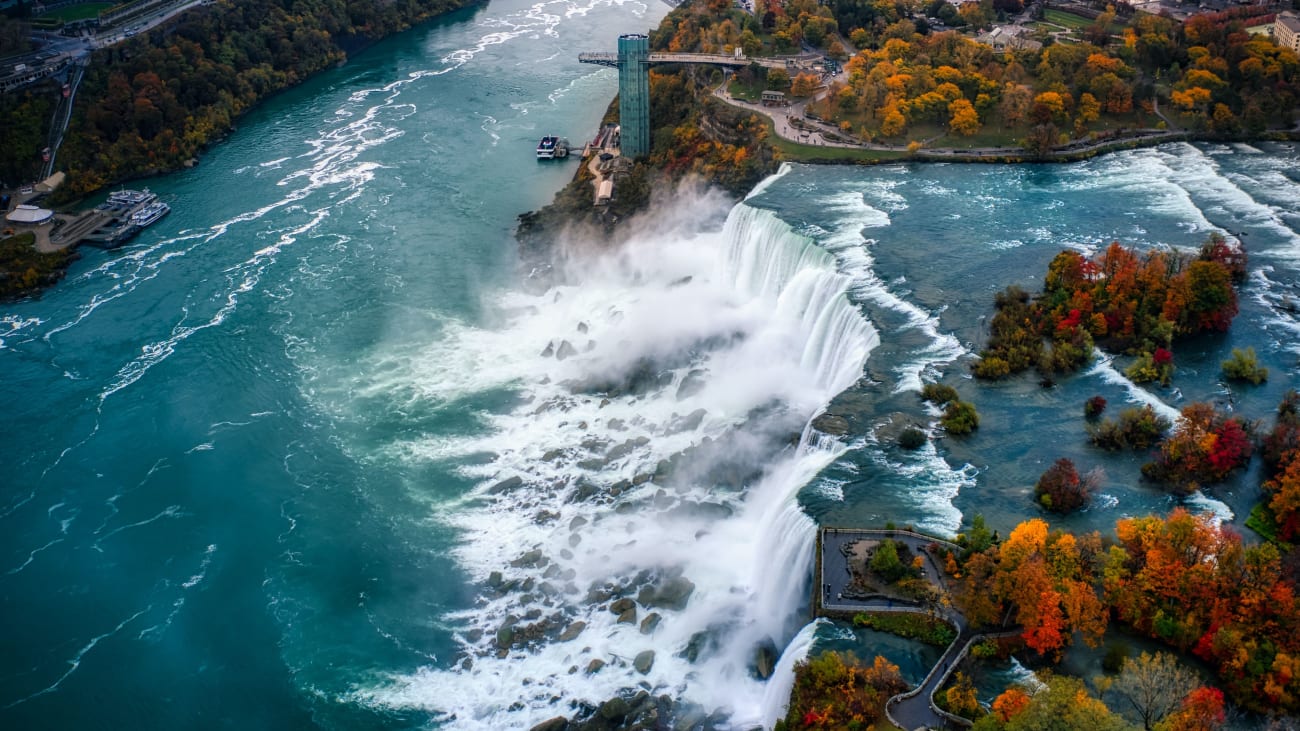 There are many reasons to travel to Niagara Falls but one of the most powerful is to contemplate the wild landscapes of one of the most famous waterfalls in the world. Of course, you have to take into account that they are quite far away from the Big Apple but fortunately the bus tours are quite comfortable.
The dream of many travellers with an adventurous spirit is to visit this wonder of the American continent. If you are one of them, keep reading about the best bus tours to see Niagara Falls from New York. I assure you that this tour will be a memorable one.
The shortest option
Escape for a day to see the wonderful Niagara Falls
Travel in comfort by bus from New York to the Falls in Canada. You can also take a cruise or explore the Cave of the Winds, if you want to complete the experience.
Enjoy this 19 hour tour to Niagara Falls. Choose the transfer option or the full tour which includes: transfer, bilingual guide and a Maid of the Mist boat cruise or a visit to the Cave of the Winds.
You will depart by bus in the early morning from midtown Manhattan and see the sunrise along the way. In about 7 - 8 hours you will be at Niagara Falls, admiring the 3,000 tons of water falling per second.
Recommended if... you don't want to miss the opportunity to see this natural wonder, but don't want to spend a lot of time and money on the tour.
---
Niagara Falls One Day Bus Tours
If you're already convinced to go to Niagara Falls but can't decide how to get there, the most popular and most convenient option for travellers is to go on an organised tour. This way, you don't have to waste your time organising anything, you can cancel if your plans change and you'll be sure to make the most of your time because you'll be accompanied by an expert guide who will show you the highlights.
Save a hotel night in New York City
With the day bus tour you'll make the overnight trip in about eight hours, which is less time than the bus you'd take on your own because the private tours are newer, so you'll save a night's stay in a hotel in New York. And considering the prices of accommodation in the Big Apple, believe me, it's not a bad idea!
You're probably thinking that sleeping on a bus isn't the best plan, but they're usually equipped with wifi and are high-class so you can get a good night's sleep. The trip flew by in no time at all for me!
After a leisurely breakfast, you'll arrive at the falls early in the morning, and spend about six hours touring the falls (with a guide included). You'll arrive back in New York around 11pm with plenty of stories and pictures to show.
What services do day trips usually include?
Private bus transportation with wifi on board.
Professional English-speaking guide. So that you don't miss anything, such as the stories about the rescues on the lake, some of which are very interesting!
Entrance to Niagara Falls National Park.
Access to the Cave of the Winds or Terrapin Point (November to April).
Useful information and pricing for day tours to the falls
Price: from €167 (various discounts available).
Total duration: approximately 22 hours.
Recommended if... you only have a few days in New York and want to make the most of your time.
Niagara Falls two day bus tours
If you prefer to take it easy and soak up nature and water (literally), I recommend the two-day tour. For me, this is the best way to get away from the hustle and bustle of New York City and enjoy the spectacular scenery of Mother Earth - I think, along with the Amazon, it's one of the most beautiful places I've ever seen!
Two-day tour itinerary
On this two-day tour you'll travel by bus at around 6:30am to make the most of the day, making stops at various points such as the impressive Watkins Glen Canyon (where you have to walk down over 800 stairs) and Seneca Lake. Afterwards, you'll visit both the American and Canadian sides of the falls, so don't forget to bring your passport!
Once there, you'll tour Niagara Falls National Park and get wet aboard the Maid of the Mist, the closest cruise to the waterfalls and only suitable for the most intrepid. On your return the next day, you'll have the opportunity to stop for a shopping spree at one of New York's best luxury outlets.
What do two-day tours usually include?
A professional guide who accompanies the group.
Private bus transportation.
One night's hotel accommodation, usually with continental breakfast included.
Sightseeing tour of Niagara Falls.
Entrance to Niagara Falls National Park on the American and Canadian side - a two-for-one!
And my favourite service: free cancellation, in case of any unforeseen event.
Useful information and price of the two-day tour
Price: from 318 €.
Total duration: 2 days.
Recommended if... you will be in New York for at least a week.
Four day bus tours to Niagara, Washington & Philadelphia
If you're a fan of travelling in a big way, you might be interested in this type of excursion: can you imagine touring Niagara Falls, Philadelphia, Washington and Amish country all in one tour? In this case, the road and the people you will meet will be part of the experience.
Visiting these three places can be a very economical option if you want to!
What do four-day tours usually include?
Professional English speaking guide so you don't miss a single detail!
Transport in a small 15-passenger van or bus.
Three nights' accommodation in a hotel including taxes and a hearty breakfast to keep you going.
Entrance to Niagara Falls National Park.
Useful information and pricing for four-day tours
Price: from £644.
Total duration: 4 days.
Recommended if... you want to make the most of your stay in the USA.
What is the bus trip to Niagara Falls like?
Niagara Falls is located on the border of the USA and Canada and although there are different ways to get to Niagara Falls from the Big Apple such as by train, plane or car, the most economical and practical option is to travel by bus. Here's why.
The best part? Unlike the plane, the bus is not subject to such rigid timetables or the need to book so far in advance. Moreover, with this means of transport you can take advantage of the whole day and make a tailor-made trip without having to depend on airports.
This trip, with most companies, usually takes 9 or 10 hours and leaves New York early in the morning, although there are some tours that travel at night and you'll save a lot of money in the hotel. I'll explain how later!
Fortunately, most of the buses are quite modern and include wifi and power sockets for your tablet, computer and mobile phone, and some even give you a bottle of water! There are also stops along the way so you can stretch your legs.
If you want to make the trip more enjoyable, I suggest you take a book or download a film beforehand. You'll be more entertained! However, with the desire and excitement you will have to see the waterfalls, it will feel like a short walk.
What services do the buses include?
Wifi
Electric plug
Water bottle (some only)
Seats with room to stretch your legs
How to go by bus on your own
There are two ways to travel by bus to Niagara's paradise : take a bus on your own or take an organised tour. If you decide to travel on your own to the waterfall it will take you a few hours. For example, if you use Greyhound buses, one of the most popular bus companies in the USA with the largest number of routes, it will take approximately 9.5 hours and you will have to change buses in Buffalo.
How much does the bus from New York to Niagara cost?
The difference in price between booking within the same week or one or two months in advance is abysmal. With Greyhound, if you buy it for the same week, it can cost around €150 each way, which is the cheapest ticket, even though it's not cheap at all! On the other hand, if you buy it in advance with the same company, one month in advance, you can pay 100 € the cheapest ticket for both journeys.
Choose between economy, superior or flexi class
Normally, you can also choose the class you want to travel in: economy, superior or flexible,** in the latter you will have more comforts such as priority boarding, the possibility of changing the date of travel and carrying two pieces of luggage (in economy class only one is allowed, as in low cost flights), among other services. However, in the best categories, the price is much higher.
Bus on my own or on an organised tour?
In my case, after weighing up the different options, I opted for the bus on an organised tour. The price difference was minimal and, frankly, comparing the different bus websites in English and in dollars was a hassle. So I opted for the convenience of forgetting everything and just... living life!
Companies operating:
Is air travel better or bus travel? Pros and cons
Pros of the plane
If you like to travel comfortably, don't waste a single second travelling and don't mind paying more, the plane is your option. However, if you don't buy it in advance, it's not cheap, unlike the bus (there can be a difference of more than 100 €).
The cheapest ticket we can find between New York airport (John F Kennedy) and Buffalo airport is 88 euros. A bargain! However, you will get this price if you buy it in January, which is the cheapest month in the low season to go to the Falls. The trip lasts an hour and a half. If you dare to go at this time of year, pack a good jacket, hat and gloves. Brave!
Aeroplane cons
However, from March onwards, things get more complicated and the ticket costs more than 200 euros, twice as much as the bus fare. On weekends, flights are even more expensive, and sometimes, unlike the bus or the excursions (where you sleep at night), the timetable combinations are very bad, as they can break up the day and you don't get a full day out. Watch out for that!
Another aspect I don't like is that you will also have to take care of the transfers from the airport to the falls and vice versa, which increases the price even more ** So, my advice is to travel by plane only if you get a good deal, the kind we like!
Tips to get the most out of your bus trip
Whenever I pack my suitcase I always have the feeling that I'm forgetting something. Do you feel the same? Grab a pen and paper and... take note! Here's a list of the essentials that you'll need to pack in your luggage and on the bus if you want your trip to be a success. Be careful! The first thing you should pack, as I've explained, is a sturdy mackintosh for the waterfalls, and plenty of hobbies for the road.
Get a small backpack for the trip: This will be the most comfortable way to carry your belongings.
Don't forget your earplugs and a bus mask.
Electronic devices: I recommend that you take a tablet or computer for the road, it will become your best ally in your 8 hours of travelling! Don't worry if you haven't had time to download your favourite films and games because in almost all the transports .... There's free wifi!
Books: as Cervantes, our most illustrious writer, used to say, "he who reads a lot and walks a lot, sees a lot and knows a lot". Following this wise advice, I suggest you take advantage of the bus to pick up your favourite novel, the one you never have time to read. You're on holiday!
Wear sporty and practical clothes: bear in mind that the day will be long and that you'll be sleeping on the bus. I recommend that, even if it's summer, you take a jacket for the air conditioning! It's also a good idea to bring a spare set of clothes in case you get wet at the falls.
And as for tips for visiting the Falls...
Wear waterproof shoes. Many sections run under the falls and are slippery, so choose good hiking boots!
Wear a mackintosh or a good waterproof coat: If it's winter, you can even wear a ski coat. Take it from me, being as dry as possible will make all the difference.
Buy water to drink on the bus and some snacks for the stops, because it's a long, long way.
Put your heart into it, talk to your fellow hikers and prepare your camera (if it can be GoPro or aquatic, all the better) to immortalise this wonder. Smile and say... Cheese!