New York Pass
If you want to save time and money while visiting all that New York has to offer, the New York Pass can be a good ally.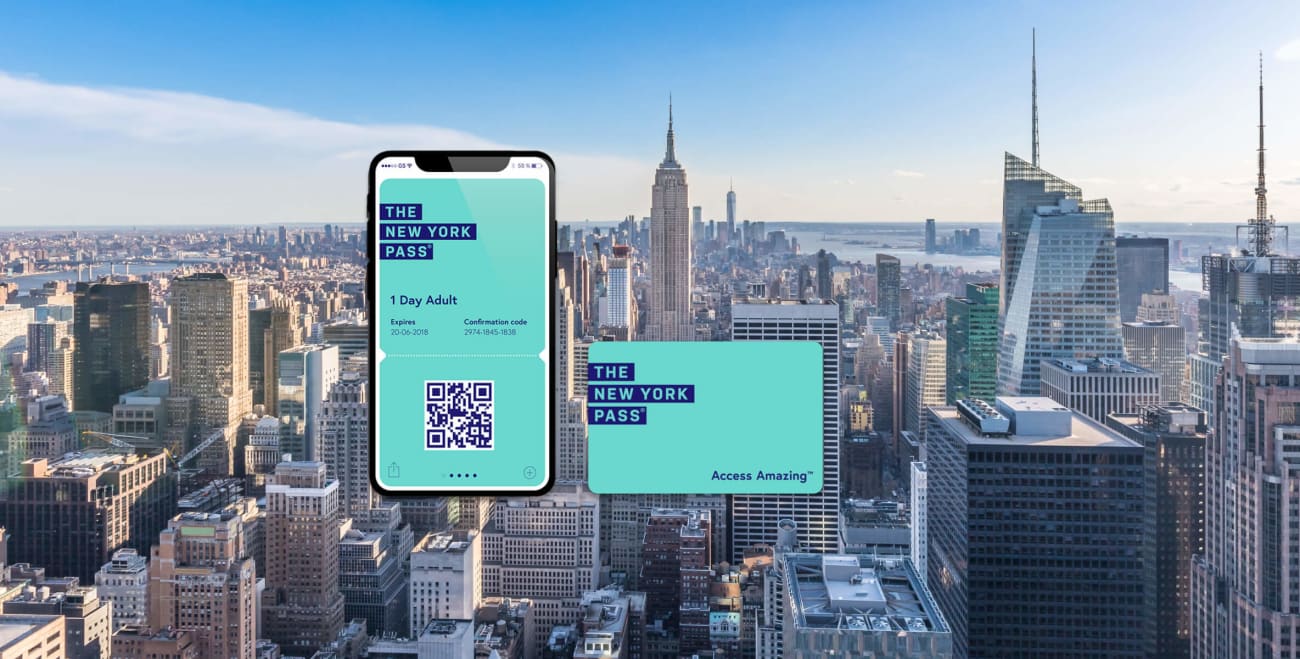 New York can be a chaotic city to visit and it's easy to get lost in the vastness of the Big Apple and end up not getting the most out of your trip. The New York Pass is a great way to save time and money on your trip.
New York is not a cheap city to travel to, especially the first time, when you want to make the most of it by visiting as many attractions as possible. Luckily, there are a few tricks to organise your trip in a simple way and save you a lot of money, which translates into doing more things and enjoying more, for less. One of those tricks has a name: it's called the New York Pass and you can get it From £123.
Tourist card
New York's best attractions, at the lowest price
If you want access to the best attractions in New York, get this day sightseeing pass to access the ones you like the most during your trip. You'll save time and money.
Buying a NY Pass has several advantages: you save money if you make the most of it, you save time as you don't have to buy tickets at the ticket office for each place you visit (and in some cases, you won't have to queue), and it's also very convenient to have all your tickets in one place.
The New York Pass is a day pass, and you pay according to the number of days of validity you choose. You can choose between 1 and 10 days. Be careful, because they are not 24-hour days, but from the moment you activate the pass you have until midnight before it counts as a full day.
When you buy the NY Pass, all you have to do is download the app and have access to the pass immediately. From then on, you can go to the first attraction on your list and scan your pass at the entrance. However, for some activities you will need to present your pass and get a ticket.
Note that all New York Passes let you into a particular attraction only once (with some exceptions).
Why I like this option: One of the big advantages of the New York Pass is that it gives you queue-free entry to a number of selected attractions. It doesn't save you from queuing at certain attractions, and it doesn't save you from going through security checks at the entrance, but at the end of your trip you will have saved a few hours of waiting time in total.
---
How to choose between the New York Pass and other passes
It is true that in addition to the New York Pass, there are other New York tourist cards that are similar. Before we get into whether the New York Pass is the best option for you, the first thing to know is that there are two main types of passes:
Day passes: these are passes whose price varies according to the number of days they are valid for. You can choose if you want to hire it for 2, 3, 4 days, etc. up to 10 days of validity. So if your trip to New York is up to 10 days, during that time you can visit any attraction included in the list, without limit and with a single pass. They are ideal if you want to go from one attraction to another and experience your trip to New York without missing a minute. The New York Pass is one of them, but if, for example, you are going to be in New York for 15 days, you can also combine several passes.
Attraction Passes: these are passes whose price varies depending on the number of attractions you want to visit. If you already know which places, museums, etc. you want to see, you will pay only for them and you will have more time to visit them. It is ideal if you want to enjoy New York at your leisure and get lost as you please.
Depending on the monuments you want to visit
The second thing to keep in mind is that there is so much to see and do in New York that the best way to decide on a sightseeing pass is to make a list of monuments and buildings you want to include in your itinerary. If this is your first visit to New York you may not be sure what the Big Apple has to offer, so below is a list of New York Pass highlights. You can use it as a basis to start planning your trip.
What's included in the New York Pass
The NY Pass includes skip-the-line access to some of New York's must-see experiences, and the app has an audio guide in English, a map with highlights and practical information about each site. To give you an idea, of the more than 100 attractions and activities you can access with the New York Pass, these are the highlights:
Top attractions included in the New York Pass
Empire State Building
The Empire State Building is one of the icons of the New York skyline; the views from its observatory are without doubt one of the most impressive ways to see the city.
Empire State Building ticket prices: There are two types of tickets, one that gives you double day and night access and a visit to the first floor museum (€57 adult/€48 child), and the single ticket with access to the observation deck and the first floor museum (€39 adult/€33 child).
How the pass works: Skip the queue to buy your tickets and go straight to the security checkpoint, where you can show your pass and be let through.
Top of the Rock
If you're passionate about photography, you'll be amazed at the photos you can take of this icon of New York architecture, especially if you go up to the Top of the Rock at sunset or on a foggy morning. As a bonus, you'll also get to see the One World Observatory and the Statue of Liberty as if it were a toy.
Ticket prices for Top of the Rock: Admission to the Top of the Rock is €35 (adults) and €30 (children). Children under 6 years old are free.
How the pass works: You can use your pass to get a timed online ticket, or present your pass at the ticket office to have your ticket validated.
Hop On Hop Off Sightseeing Bus Tour
The Big Bus is one of the best sightseeing buses in the city as it literally takes you all over Manhattan showing you all the sights.
The tour bus is open from 9am to 5pm, which is the first and last departure time respectively. However, if you're still hungry for more, here's an article about touring New York by night on a sightseeing bus.
Madame Tussauds
The world's most famous wax museum is based in New York. This museum is much more than just a place to take selfies with celebrities such as Barack Obama, the Kardashians or Hollywood's most famous actors and actresses. If you're going to New York with children, this is sure to be one of their favourite visits.
Statue of Liberty and Ellis Island Immigration Museum
To visit the Statue of Liberty, you'll have to take a ferry from Battery Park and with the New York Pass you don't have to worry about the ticket as it's included. It also includes the ferry to Ellis Island, where you can visit the Ellis Island Immigration Museum and explore an exhibition about the times when New York became a place of welcome for immigrants from all over the world in search of a better future.
MoMA (Museum of Modern Art)
MoMA is a must-see museum in New York if you want to see with your own eyes an extraordinary exhibition of artworks that have defined the last century. You can enjoy works of art such as Van Gogh's famous 'Starry Night', as well as paintings by Monet, Pollock, Mondrian, Hellen Frankenthaler and Andy Warhol among others.
MOMA prices: Admission for adults is 23€. Children 12 and under are free. Free admission to the museum is available on Fridays from 16:00.
How the pass works: Simply present your pass at the security queue and you can enter the museum.
9/11 Memorial and Museum
If you buy tickets to the 9/11 Memorial and Museum you will delve deeper into the history of the 9/11 Twin Towers attacks. This is a very interesting visit as it will add some historical depth to your trip to New York.
Price: The 9/11 Memorial is free and open to the public. A ticket with tour of the 9/11 Museum costs €42.50 per adult and between €32-37 per child, again depending on age.
How the pass works: Skip the ticket line, go directly to the security checkpoint and present your pass for direct access to the 9/11 Museum.
Other attractions included in the New York Pass
The Ride. The Ride is a 75-minute Manhattan sightseeing tour on a bus with an interactive experience and a panoramic window to experience the city in a different way, where comedy, dance and music accompany you throughout the ride.
Marvel & DC Superheroes Tour. A perfect tour for superhero fans, especially Marvel fans, as you can visit real-life locations that are relevant to the plots of Spiderman or Avengers.
Food On Foot Tours. This food tour will give you a taste of the diverse elements that make up New York cuisine, an amalgam of cuisines from around the world, in local restaurants and bars away from the tourist traps.
National Geographic Encounter: Ocean Odyssey. The New York Pass includes tickets to this virtual experience of the underwater world, comprised of videos and interactive displays produced by National Geographic photographers and cameramen, who tell their stories about the most breathtaking places on Earth.
Harlem Jazz Series. At the Harlem Jazz Series you can listen to jazz artists perform classics by Billie Holiday, Ella Fitzgerald or Miles Davis in a local Harlem church. If you like the experience, I invite you to do some research on the best places to hear music in Harlem and the best churches to go to gospel mass in Harlem.
What you should know before you buy
Now that you know what's included in the New York Pass and what the benefits are, here's the summary to help you make your decision. The New York Pass is for you if:
You want to get the most out of New York and spend all day sightseeing.
You will be in New York for up to 10 days
It's your first time in New York
New York's most expensive attractions are on your must-see list
You're going to do the Hop on Hop off bus tour if you must
You don't want to take time out of your trip to wait in line to get into places.
Recommendations on which New York Pass to choose
You can choose between one and ten days for this pass, but my recommendation is to avoid the single day pass as it will most likely not work out for you. It's best to choose three, five or seven days, which at a rate of 4 or 5 attractions per day will save you a lot of money.
Finally, a reminder of my most important recommendation: enjoy your visit to New York! It's easy to forget that you're in a city full of life and things to discover when you have a list of things to do and just focus on ticking them off, which can be the danger of buying a tourist pass.
New York Pass prices for children
Children under the age of 3 are likely to be free at most attractions in New York, so there is no need to buy a pass for them. However, children between the ages of 3 and 12 can purchase their New York Pass at a reduced price: between 35 and 140 euros cheaper than the adult pass (ages 12 and up) depending on the days you choose.
Other passes to discover New York
If you haven't yet decided on the New York Pass and would prefer to explore in detail what alternative tourist cards are available, here is a list with the practical guides I have prepared on each pass and the comparative article where you can see the advantages and disadvantages of each one: