10 Things to Do in New York in May
The splendour of spring makes New York in May even more attractive and lively, with beautiful flowers and warm days. This makes for a dazzling solstice, entertaining walking and cycling tours and amazing parades - there's so much to try!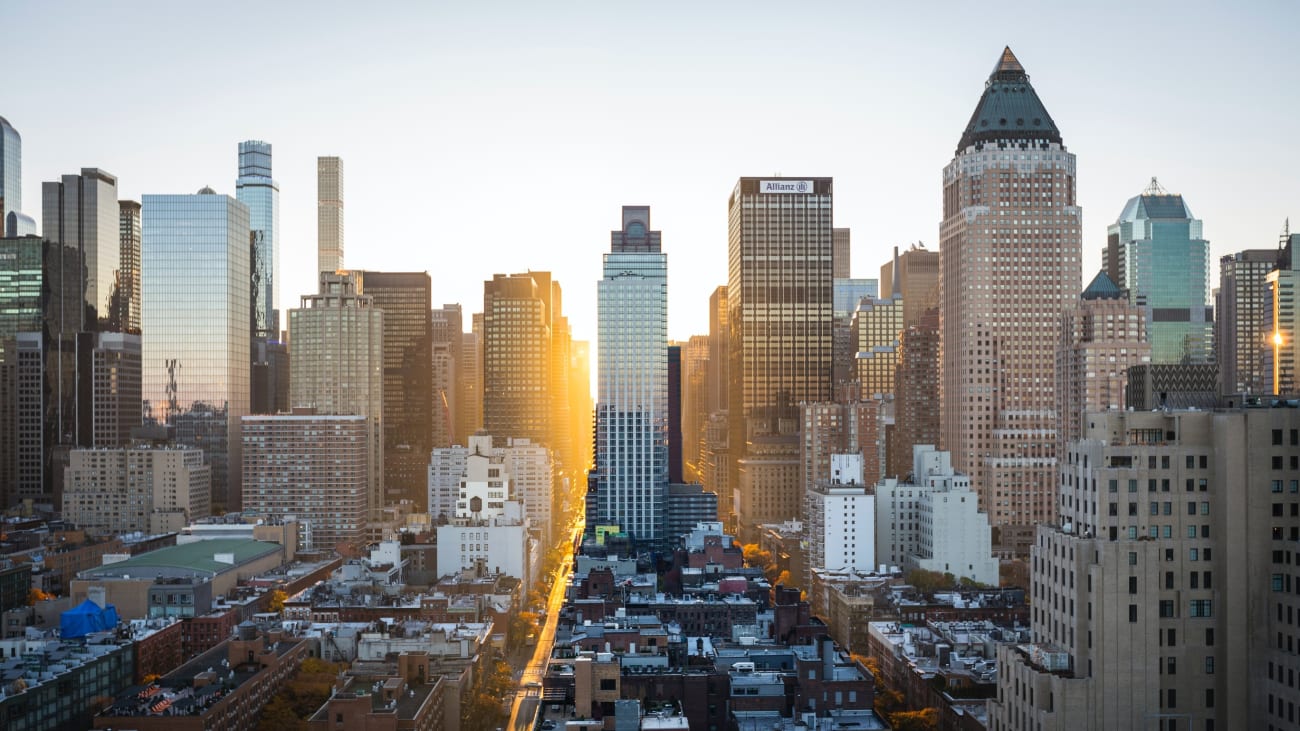 The days get longer and more pleasant in New York in spring, due to the nice weather that makes everyone feel at ease. So your list of things to do in New York in May can be longer and include many outdoor activities.
The peak season will not have reached its peak by this time, which will make you feel more comfortable in the tourist spots. In addition, you will be able to participate in the celebration of the various festivities or activities that take place during this month. Find out here which events you won't want to miss.
1. Enjoy Shakespeare's plays for free in the open air
Every year, with the arrival of May, Shakespeare's plays begin to be performed in New York. Seeing them is one of the things you can do during your visit to New York. During this festival, which is held in the huge Central Park and is completely free, 2 plays are presented.
Each year 2 different plays of the famous Shakespeare are chosen, such as Hamlet, Romeo and Juliet or Cymbeline. If you appreciate the value of these theatre classics, this event in this unique setting will be your favourite. You will be able to have an optimal view of the show because of the way the theatre has been set up.
The aim is to ensure that each and every spectator does not miss a single detail of the play being performed. These events usually start at the end of the month, from Tuesdays to Sundays. The start time is usually 8:00pm, so you'll get a taste of the night-time charm of the place.
2. Be dazzled by Manhattanhenge
To explain in words how wonderful Manhattanhenge is is quite difficult, but I'm going to try. It is based on a natural event that only happens twice a year, once in May. Of course, being a natural occurrence, the date of the month and the exact time of the solstice changes annually.
During the solstice, as the sun sets, it aligns itself with the main streets of Manhattan. Specifically in the direction of both the east and west streets of this borough of New York. If you've seen pictures of Manhattanhenge, you' ll want to see it in person with your own eyes.
You'll also want to take the best pictures, so be sure to bring your camera along for the ride. There's nothing better than being in the right place at the right time. That way, you'll have the chance to witness a magnificent phenomenon like this and capture it in pictures.
3. Cycle around the city
One of the many activities you can do in New York in May is to cycle through the streets and the best parks. As well as getting a great workout, you'll be able to ride around many iconic and well-known sites. Some of these include the great Central Park and the Brooklyn Bridge.
You can also add to this list the West Side Higway, near the Hudson River and Governors Island. By doing so at that time, you will share with the thousands of cyclists who are out and about during that time of the month of May.
You will have the opportunity to participate in an event such as the Five Boro Bike Tour, which takes place that month. You can ride through 5 boroughs of the city, a total of 64km, all the way to the centre of New York. The party atmosphere, along with the great weather, make this an ideal activity for this time of year.
4. Take a ride along the Hudson
Governor's Island, though not known to some, has a lot to offer in terms of sightseeing. You can enjoy a ride using the New York ferry that will take you from Lower Manhattan to this beautiful little island. Surrounded by greenery and sunshine, you'll have a great time.
is only open from the 1st of May, so make sure you go. The excellent views of Manhattan and the Statue of Liberty are spectacular. Without a doubt, a stroll around this island will allow you to discover another side of the city that you will love
Also, a trip to Governors Island can be fun. Whether you are young or old, it is worth visiting the island, alone or with your family and friends. This will give you the chance to experience an adventurous spirit that you deserve to discover.
And while you're thinking of cruising the Hudson, don't miss out on other options that will give you spectacular views of Manhattan such as the best cruises in New York or taking the ferry to the Statue of Liberty, another must especially when the weather is nice.
5. Don't miss the International Food Festival
Do you love food as much as I do? If that's the case, you'll agree that being at a food fair is ideal. In fact, this is one of the best things to do in New York in May. That's because it's a festival packed with culinary innovations from around the world.
The food stalls are set up on 9th Avenue in a Manhattan neighbourhood called Hells Kitchen. Your entrance to this kind of event will cost you nothing and you have the option to try different special flavours. Depending on the street you go to, you'll find one type of food or another, but they're all delicious.
You'll also find live musicians playing and/or singing to add to the lively atmosphere. Can you think of a better plan than food and music outdoors on a beautiful day? Hardly. So, if you're in the skyscraper capital, go and see what they have to offer.
In any case, if you want to eat well during your trip, don't miss this list of the best places to eat in New York.
6. Watch the parade through the respected Fleet Weeks
A holiday of great importance to New Yorkers is called Fleet Week. During this week, the families of those who make up the U.S. Navy and Marine Corps are celebrated with honour. It also includes the families of the Coast Guard and there are a number of activities to see.
It begins with military-style manoeuvres on the Hudson River. This week includes Memorial Day, a holiday commemorating veterans and a parade. If you go to Central Park, you'll probably see a lot of people picnicking on Memorial Day.
The same will be true of New York's best rooftops, where you can go to relax and enjoy the fresh air. Memorial Day is specifically celebrated on the last Monday of the month and indirectly marks the beginning of summer. In addition to the attractions being open, there will be various offers and sales.
7. Run a half marathon in Brooklyn
If you like to exercise and run, a popular event that will appeal to you is a half marathon in Brooklyn. But even if you don't have a passion for running such distances, being a spectator is also a special event. You are the one who chooses what to do in New York in May during this activity.
This event, which takes place in May, is one of the spectacular events in the city. It is well known and seen locally and is eagerly awaited by many people. It is so popular and eagerly awaited that registrations are taken in January and sell out within an hour.
Whether you participate directly by running, or by cheering on those who do, you should not miss this opportunity. Remember that the weather during this season is very favourable for joining the event. Go for it and be one of those who can say that you were, in some way, at the marathon.
8. Visit the beautiful botanical garden at its best
Spending a day in natural spaces and breathing an air of tranquillity is possible even in the big city. For this there is the beautiful botanical garden, which is among the top in the whole of the United States. You'll see vivid colours and smell the pleasant scents of magnolias, tulips, peonies and other pretty flowers.
If you want to get away from the tall buildings and noise, a visit to the botanical gardens is the thing to do in New York in May. May is the month to visit because the cherry blossoms bloom and fill the walkways with pink and white.
When you're in these meadows you choose what you're going to do, whether it's rest, paint, take pictures or take a leisurely stroll through the meadows. You won't even have to pay if you go on a Friday before 12:00pm. For the other days and times of the month you will have to buy a ticket, but for an affordable price.
9. Catch an exciting baseball game
The world's most important baseball season, MLB, is in full swing this month. This is an excellent opportunity for you to attend one of these big games in New York in May. The participation of famous baseball players adds a lot of excitement and action.
Whether you're a baseball fan or not, the eye-catching stadium structures, along with the shops and indoor attractions, are sure to please. You will experience thrilling moments with the extraordinary plays of these great professional ballplayers.
Likewise, you can enjoy a cold beer at the popular and famous Yankee Stadium. If your favourite team is the New York Yankees or the Mets, attend an exciting baseball game. You will share this unique and vivid experience with thousands of fans.
10. Feel the adrenaline of Luna Park's attractions
There are plenty of things to do in New York in May if you're out and about in Manhattan, but there's nothing like the adrenaline rush at Luna Park. This amusement park, located in Coney Island, offers endless fun. Its different and well-structured attractions will make you feel indescribable emotions.
There are from roller coasters for adults, with impressive heights and speeds, to children's rides for the little ones. In addition, the attractions that are related to the traditional fairground rides add some more excitement.
The adrenaline you will feel in this great amusement park will be a reason to rejoice. If you have already visited this park, you will surely want to come back, and if you have never been there, you have to go. Don't leave without checking out Luna Park' s attractions.
---
What is the weather like in New York during May?
Spring is in New York during the month of May, so the weather is warm. However, during the course of the night, the temperature tends to drop and you may experience some chill. Because of this, you should make sure to wear the right clothes for the moment.
Generally speaking, rainfall is no longer a problem, although the occasional drizzle is possible. Temperatures can more or less average between 12°C minimum and 22°C maximum. One of the advantages you will have is the many hours of daylight for fun.
You will generally see the sunrise from 6:00am and it will get darker at about 8:00pm. Therefore, May is one of the best months for various recreational activities because of the good weather.
How many tourists are there in New York in May?
Because it is low season rather than high season, the number of tourists is lower compared to the summer months. Therefore, the chances of finding crowds in restaurants, shops and other places are much less.
That, together with the ideal weather, will help you to have a smooth and trouble-free holiday and a great tour. You already know that there are plenty of things to do in New York in May.