10 Things to Do in New York in January
Start the year in New York with a busy schedule of incredible plans to enjoy the city: gastronomy, shows, monuments and much more!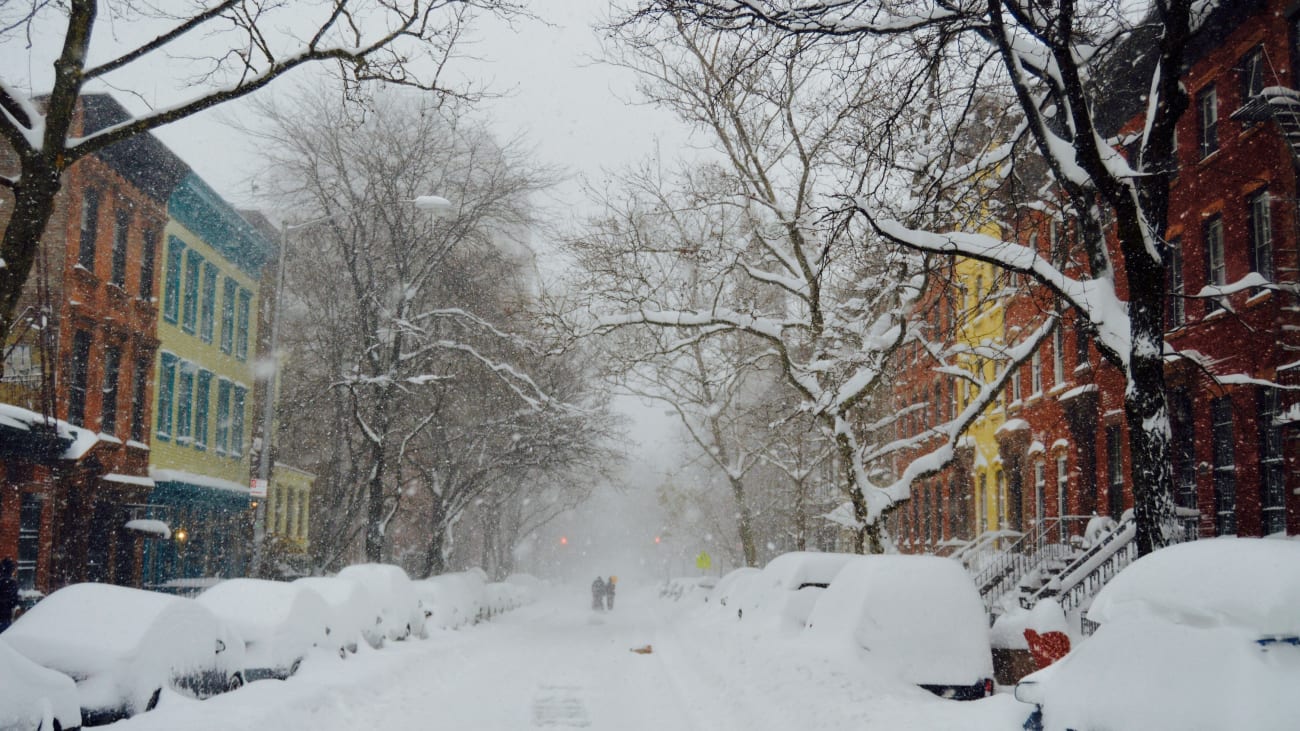 The beginning of the year is a good time to set goals. Like a blank notebook, we have the opportunity to fill the pages of our time with what makes us happy. And is there anything that makes you happier than travelling?
During the month of January in New York you can finish enjoying the Christmas season, celebrate the Chinese New Year, take advantage of the best sales and much more. Here's our list of resolutions in the form of the best plans for you to enjoy the city to the fullest.
1. Enjoy the offers on Broadway Week shows
While December is the most expensive month to visit New York, January is a time when you can definitely save more money than any other time of the year. Firstly, because it's no longer high season, and secondly, because it's a month full of bargains! And one of the most important ones are Broadway shows thanks to the BroadWay Week.
For a couple of weeks you can find promotions as sweet as paying half price 2x1 in the most famous musicals such as Wicked, The Lion King, Aladdin and many more. What are you waiting for? Don't forget to check in advance as tickets are likely to sell out.
2. Enjoy a jazz concert at the Winter Jazzfest
As you can see, in January you can enjoy some amazing offers, but that's not the only thing you can enjoy! Winter Jazzfest takes place during this month. If you love jazz, this festival invites you to enjoy dozens of concerts in the Village and other corners of New York. The star of the Jazzfest are the Friday and Saturday night concert marathons.
You can find jazz concerts as well as three jazz marathons at various venues around the city. Two of them are on consecutive days and are held in Manhattan. Brooklyn also hosts a marathon a week later. There is also a special children's concert during the day.
If you go to the Winter Jazzfest, you'll probably want to find out more about this style of music; the place to do it is Harlem and these are the best places to hear jazz in this neighbourhood.
3. Don't miss the last few days of the after Holidays Sales
New York never sleeps and proof of that are the sales that come after the big holiday of the year, Christmas. If you don't need an excuse to window shop in the Big Apple, imagine what it's like to go in the middle of the sales season.
Until 2 January you can take advantage of endless offers in New York, and in places where they already have regular sales such as Woodbury Common Premium Outlets, where there are discounts all year round on top brands, you can enjoy even more discounts! Museums and tourist attractions are all well and good, but make no mistake: the outlets are a must-visit when you go to New York. Make room in your suitcase because when your friends find out that you're in New York during the sales, they're going to be asking for more than a few things.
4. Walk through snow-covered Central Park
January is literally the coldest month of the year in New York. The freezing temperatures and the usual rainy days cause the water droplets to turn into snowflakes that will cover the city and with it Central Park.
The great park is transformed every season, but winter is undoubtedly the time when the makeover is most significant. The trees turn white, the paths fill with snow and the result is an endearing postcard picture - remember to come prepared with waterproof and warm clothing!
5. Skate at New York's most scenic skating rink
As I mentioned in the previous activity, ice rinks are still located all over the city, and luckily they're not as crowded as they were at the height of the holiday season. During the month of January there are still many ice rinks like the one in Central Park, Rockefeller Center, but I want to recommend you a very special one: the ice rink at the William Vale Rink Hotel. This ice rink is located on the 23rd floor of a skyscraper and offers spectacular views of the city's skyline.
And speaking of views... if you're lucky enough to have snow in New York in January (which is very likely) you can't miss the views from viewpoints such as Top of the Rock in Rockefeller Center.
6. Taste the best menus in New York at a bargain price during Restaurant Week
After you've devoured the best offerings of Broadway musicals, it's time to devour New York's delicious menus at rock-bottom prices thanks to Restaurant Week. For one week (which in reality is always a little longer) you'll have access to New York's best restaurants at a reduced price.
It's true that New York is an expensive city, but at this time of year you can eat very cheaply even in Michelin-starred restaurants. Some restaurants have fixed prices for lunch and dinner, so isn't this a great time to take a bite out of the Big Apple? Of course,don't forget to book, tables are flying!
7. Make the most of the last days of Christmas in New York!
Although December is the month to celebrate Christmas par excellence, January is no slouch when it comes to Christmas activities. Cold weather abounds in the city and there are still some of the Christmas trees and more activities such as skating rinks and model trains, along with the most emblematic trees and Christmas markets where you can find great prices due to the end of the Christmas season. Take advantage!
Chinese New Year, a Christmas with a difference
And you may already know that, while in the West the end of the year is part of Christmas, in China they have a slightly different calendar. They celebrate the Chinese New Year and can you guess? Yes, you're in luck because it's usually in January or February. Check the exact date before your trip and don't hesitate to pay a visit to Chinatown for this unique experience.
8. Take the underground during the "No Pants Subway Ride" day
The No Pants Subway Ride will leave you speechless... and pantless! One day a month in January, this curious event takes place in which the underground is filled with people without trousers. The origin of this story dates back to 2022 when seven people got on at different stations and rode seven stops without trousers. Each year that number has grown to become a phenomenon.
To find out when it is celebrated and more information about this curious day you can visit the official website and if you don't want to get lost on the underground, take a look at our Guide to the New York Subway. However, I am not responsible for any cold you might catch if you join this initiative which, in my opinion, would be more appropriate for a cooler month.
9. Visit New York's top attractions at the best price during Must See Week
In every holiday destination there is a "Must See" list, a list of places you can't miss if you're going to visit that place. Well, New York is no exception and if you're visiting the Big Apple in January you're in luck because this month you can enjoy Must See Week, a week in which many of the attractions and many of the best museums in New York City offer impressive discounts.
In total you have more than 70 unique experiences at bargain prices. One example is that you can get tickets to the Empire State Building, One World Observatory, the Whtney Museum and many more with 2-for-1 ticket offers. These days you'll be mingling with the locals as they are the first to take advantage of these discounts so buy your tickets in advance because these deals sell out fast!
10. Experience a city without the crowds on Martin Luther King's Day.
Martin Luther King is one of America's most iconic figures. He led a racial revolution that started the change that still endures today in terms of racial discrimination. The third Monday in January is a holiday in New York where businesses and schools close, although the main tourist attractions are still open.
It is a great day to see the city at a leisurely pace, without the hustle and bustle of people going to work and the stress of the rest of the year that settles in the Big Apple. However, if you get the chance, I recommend that you check the calendar to take part in some of the events that are organised around the figure of this American hero; it can be a very authentic experience.
The weather in NYC in January
As I mentioned, January is the coldest month of winter in New York. Temperatures range from around -5ºC to around 4ºC, but in addition, New York's characteristic cold is very damp and the wind chill is even lower. In addition to wearing warm clothes, buy warm socks and T-shirts because you're going to be cold.
That's why you should make the most of every hour of sunshine. This time of year the sun rises around 7am and the sun disappears over the horizon around 5pm, which leaves us with a day of about 10 hours to enjoy the Big Apple to the fullest. Because although the city never sleeps... the sun does!
Prices in NYC in January
The fact that the cold weather abounds at this time of year is an opportunity to travel to New York even for the chilly ones, as flights and hotels tend to have more affordable prices to keep tourists visiting the city. And if you add all the activities I've explained above... you have no excuse!
Although a trip to New York is never going to be cheap, if you plan it in advance and make all the "special weeks" that take place during this month coincide, you'll certainly get a much more profitable visit.