10 Things to Do in New York in December
Travelling to New York in December is synonymous with experiencing a Christmas movie. Here's a list of things to do this month to help you make the most of your visit during this time of year.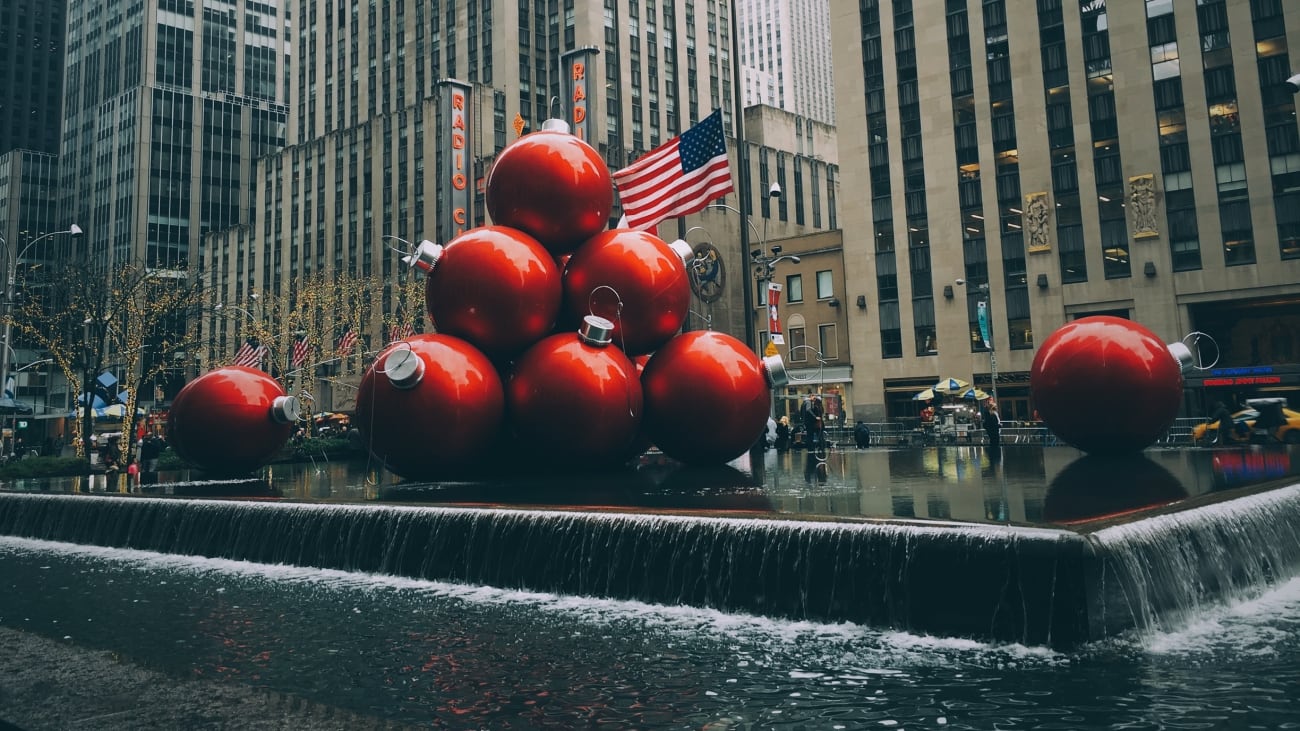 With New Year's Eve just around the corner, New York offers plenty to do and is gearing up for what is probably the most important time of the year for most New Yorkers. Christmas markets and colourful lights invade the city, creating the perfect atmosphere for all that shopping.
And even though the temperatures are low, it's never a bad time to grab a hot coffee to go while strolling through the ice rink-lined streets. Although it's a very touristy time of year, if you're a Christmas lover this is the best time of year to travel to the Big Apple. Here we go!
1. Dazzle yourself with the illuminated houses of the Dyker Heights neighbourhood.
If you want to experience Christmas in true American style, Dyker Heights is the neighbourhood not to miss. It's famous for its extravagant Christmas lights and at this time of year the locals fill their homes with lights, with all sorts of Christmas figures such as reindeer, Father Christmas and elves moving around and singing Christmas carols.
If you want to get to this Brooklyn neighbourhood you can do it on your own by underground, or if you're near the financial district, the bus is a great option. Alternatively, join one of New York's many Christmas lights tours.
2. Take a tour of the most spectacular window displays and do a bit of shopping
Shopping in New York is always a good option, but December is undoubtedly one of the most amazing times to visit the shops. This is the month when the shops have the most spectacular window displays of the year (and probably of the world).
Without a doubt, it leaves no one indifferent, and also, at the end of this month they hold the After Holiday Sales, a few days in which they take advantage of the sales and we can get many products at incredible prices. If you're looking for the best prices, don't hesitate to visit Woodbury Commons, the best outlet in New York.
You can also take the opportunity to buy Christmas gifts or the most original souvenirs. Here's a guide to the best things to buy in New York.
3. Watch the NBA Christmas Special
The NBA is considered one of the most special sporting events in the world. Without a doubt, watching a game is a plan you can't miss if you go to the United States. The fanaticism of the public and the rivalry between franchises will make you enjoy the stars of the parquet, who offer an extraordinary experience.
Can you imagine watching a game at a time as special as Christmas? They take care of every detail to the point of dressing up in special outfits for the occasion! It is undoubtedly one of the best things to do in December, whether it is visiting the famous Madison Square Garden or attending an NBA game (here I tell you how to buy NBA tickets at the best price).
4. Have a hot chocolate at Serendipity III
As you can imagine, cold weather is in abundance in New York at this time of year. That's why it's common to see people wrapped up warm with a cup of coffee to help warm their hands. We suggest something a little sweeter! Go for a hot chocolate at Serenipity III, an extraordinary place whose extravagant decoration will certainly not leave you indifferent. For the more indecisive, it's always a good idea to order their speciality, the Frozen Hot Chocolate.
And if you're generally a foodie when you travel, here's a list of the best places to eat in New York.
5. Visit the impressive tree at Rockefeller Center
Just a week after Thanksgiving, December 1st is the official opening day of Christmas. And it's tradition to attend Rockefeller Center's tree lighting ceremony, which is attended by musical stars who sing Christmas carols and spread the Christmas spirit to the public in the plaza.
You'll need a wide-angle lens on your camera to get the whole thing in your picture! You can visit it throughout the month and until the beginning of January. It is usually lit from dusk to midnight, except on 25 December when you can enjoy its illumination all day long. While you're here, you can't miss the Top of the Rock or the Top of the Rock at night. Don't miss the best Christmas trees in New York either!
6. Enjoy one of New York's most famous shows: The Rockettes.
If you're visiting New York in December, there's one show you can't miss: The Rockettes at Radio City Music Hall: Christmas Spectacular. It is the quintessential New York Christmas show, since it began in 1933. The show is set in the North Pole and is performed by more than 130 artists with impressive choreographies in which we can enjoy ice skating and more than 1300 costumes, including Father Christmas!
This is another activity to enjoy without fail. If you are travelling with children, don't miss out on a visit to Father Christmas, who will be waiting to take photos at the end of the show.
And if you're in the mood for a night at the movies, you can also check out the best Broadway musicals.
7. Skate at one of the skating rinks around the city
When the winter season arrives, New Yorkers are in for a treat as one of their favourite activities is ice skating, and the city fills up with rinks! The most famous, the first to be set up every year and the most emblematic is the one set up at Rockefeller Center at Christmas.
That's why, apart from a good scarf and warm gloves, you'll have to prepare yourself for a long queue. Skating between skyscrapers is quite an experience. Another typical and less crowded one is the ice rink in Central Park, where you can glide through the winter wonderland.
8. Get lost in the New York Public Library
Every year the New York Public Library takes on an intimate atmosphere. In addition to setting up one of the most visited trees in the city, the entire space is decorated with candles, lights and garlands. There are also activities such as face-painting workshops, arts and crafts, magic shows, Christmas storytelling and much more.
Highly recommended especially if you are visiting New York with children!
9. Discover the little train at the Botanical Gardens
One of the most popular traditions in New York is the Holiday Train Show*. It's a little train that runs through a miniature model of the city. It's a great way to see all the sights from a different point of view. A curiosity is that this model is created with sustainable materials, and most of them come from the Botanical Garden itself.
Seeing the little train surrounded by moss, branches, bark and many other natural elements is a tradition that you can only enjoy in December and has become a New York tradition.
It is definitely a highly recommended experience, especially if you are travelling with children.
10. Celebrate New Year's Eve in Times Square
Celebrating New Year's Eve in New York is something you have to do once in your life, whether it's in Times Square, the Empire State Building or Central Park. Since 1907, there has been a tradition of celebrating New Year's Eve in Times Square with its famous ball drop, where a huge crystal ball descends to usher in the new year, and where up to a million people gather! There are concerts with big name artists such as Lady Gaga and Justin Bieber.
Empire State
Another one of the most famous parties you can't miss is the one you'll witness if you go to the top of the Empire State Building, where the building is illuminated and there are spectacular fireworks displays.
Other interesting places to enjoy on New Year's Eve
If you want to get away from the crowds and welcome in the New Year with something a little quieter, you can always watch the fireworks in Central Park or on the Brooklyn Bridge.
---
New York weather in December
It's not uncommon to see images of New York City in winter covered in snow as winter officially begins on 21 December and you'll need to be prepared for the cold weather.
Make sure you pack warm clothes and a mackintosh to protect you from the cold, as temperatures range from a high of 7ºC to a low of 0ºC and we have an average of 8 days of rain per month.
It gets dark quite early, around 16:30, when the streets start to light up and the Christmas atmosphere can be discovered. You may like the cold more or less, but if you go prepared, it will be the perfect friend to help you experience New York in the most magical way possible.
New York City's December tourist crowds
December is probably the month when the Big Apple receives the most visitors. The Christmas tourist season is very busy, so I recommend you book your accommodation and activities in advance and assume that, as it is high season, prices will be quite high, both for accommodation, flights and even restaurant menus.
Even so, this should not stop you from visiting this wonderful city because at Christmas, you will see the city like no other time of the year and you will have a totally unforgettable experience to remember.