10 Things to Do in New York in April
April is one of the most eagerly awaited months in the Big Apple: the long-awaited spring and the good weather arrive. I'll tell you about the plans you can organise to make the most of your trip.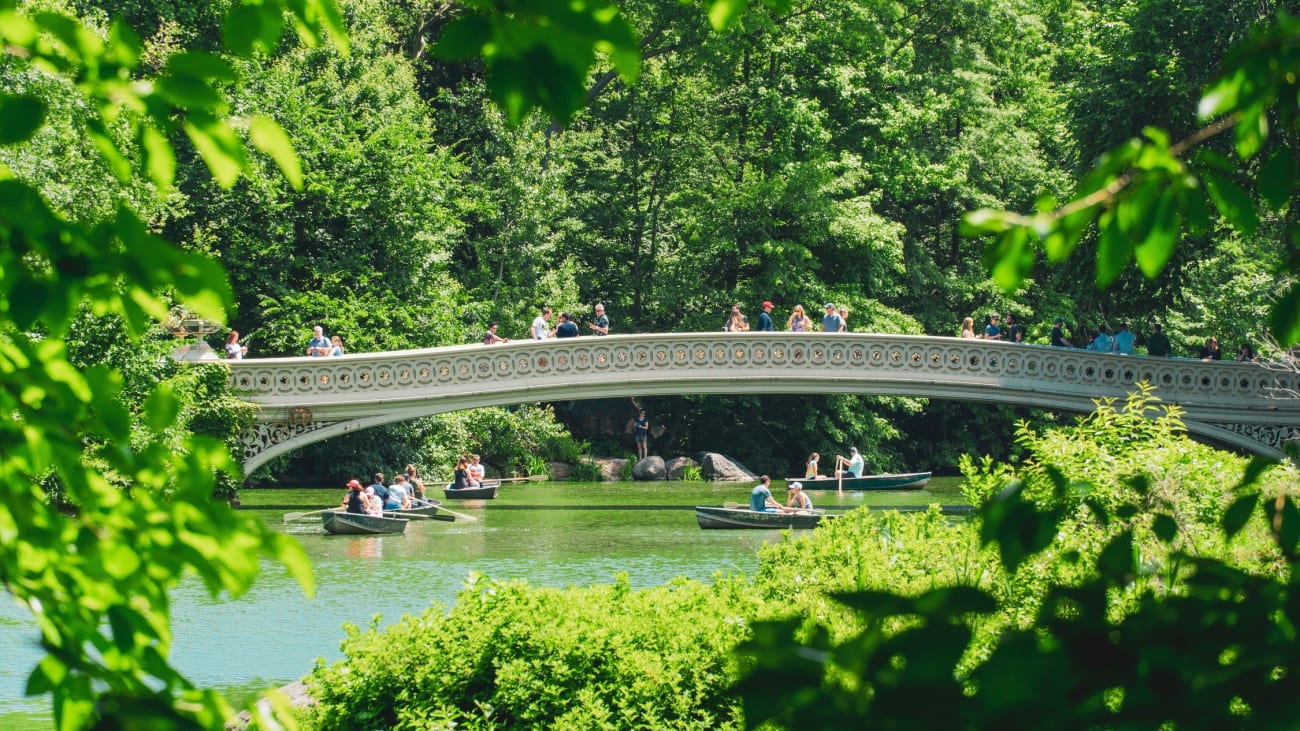 April in New York is one of the most special months of the year. Parks like the Botanical Gardens and Central Park are covered in flowers, the sun is here to stay (or at least it's trying to!) and the city is decked out to celebrate Easter, with its famous coloured eggs as the main attraction. It doesn't sound bad, does it?
Spring in New York is an ideal time to travel because the days are longer and the temperatures are milder, which invites you to explore the city of skyscrapers and make more outdoor plans. Plus, it's still low season and you can still find cheap flights. In this article I'll tell you the 10 best things to do in April in the Big Apple. Take note!
1. Experience the madness of a live baseball match
If you visit New York in April, you can't miss one of the quintessential American sports: baseball. One of the most fascinating experiences I had during my trip to the Big Apple was attending a live baseball game. What a great atmosphere!
April is the best month to enjoy this sport, as this is when the league kicks off and the atmosphere in the stadium is absolutely crazy. In this article I explain in detail how the baseball season works and how to get tickets to see it at a good price.
If I may give you a tip, the best thing to do is to go to a New York Yankees game , New York's most legendary and longest-running team. And a visit to Yankee Stadium is one of the city's main attractions. Tickets sell out fast, so don't think too much about it!
2. Have fun at the Easter hat parade... Pure fantasy!
The Bonnet Festival Easter Hat Parade is a tradition that began over a century ago, when the faithful dressed in their finery to attend Easter Mass. Over time, this curious event has evolved into one of New York's most original, colourful and creative festivals. It is held on Easter Sunday.
In this procession, New Yorkers give free rein to their imagination and build their own hats designed with flowers or original materials and create crazy shapes taken from films, inspired by animals, American culture... There's everything, even those made with carrots! Agatha Ruiz de la Prada is a beginner by their standards.
Decorate your own hat, the more original the better!
Don't forget to pack your hat! However, you don't need a hat to join the parade on Fifth Avenue, but if you want to enjoy the show like a true American, it's best to wear your most original hat and personalise it. But if you want to enjoy the show like a true American, the best thing to do is to wear your most original hat and personalise it - you'll cause a sensation!
3. Feel like a Scotsman at the Tartan Day Parade
If you want to see hundreds of men dressed in plaid skirts and enjoy a good concert with bagpipes, I recommend you go to the National Tartan Day parade, which celebrates the contributions made by the Scots to the USA and their Scottish heritage. For one day you'll feel like you've changed countries and you're in Scotland!
This event, which was born only 24 years ago, is usually held on the first Saturday in April. What I liked most was the festive atmosphere all day long on Sixth Avenue with thousands of marchers, sausage stalls, dancers and a large number of floats dedicated to Scotland. Sounds like fun, doesn't it?
4. Explore the streets of the Big Apple without cars
Can you imagine touring New York, one of the biggest cities in the world, without a car? If you travel in April, it's possible. Every year to commemorate Earth Day, Broadway Avenue cuts off traffic for a morning (from 9 am to 3 pm) along 30 streets, from Union Square to Times Square - a unique opportunity to discover downtown on foot!
Also on this Car Free Day, non-profit organisations set up information booths along the route to promote activism and education around climate change, sustainability and other environmental issues.
Experience the magic of Broadway
Then, in the evening, you can take advantage of being on Broadway to enjoy the musical The Lion King, which was an unforgettable experience for me! Here is a list of the 10 best Broadway shows. I'm sure you'll love one of them.
Nuria's Traveller Tip

One of the nicest and most recommended restaurants on Broadway is Bubba Gump, inspired by the movie Forrest Gump, and the dishes are named after the main characters in the film!
5. Grab a hot dog at the Smorgasburg flea market
If you love to sample the cuisine of other countries when you travel, you're in luck! Smorgasburg, one of New York's most popular food markets, opens its doors in April and is the largest open-air food market in the USA! It's almost nothing.
At this hipster market, which has over 100 stalls, you can find everything from typical American fare, such as burgers and hot dogs, to very modern and curious dishes. I was blown away by the spaghetti and tomato donuts (yes, spaghetti!) and the ramen burger, a burger with.... noodle bread!
Useful Smorgasburg Market information
Where: at 90 Kent Avenue and N. 7th St.
When: Saturdays from 11am to 6pm and Sundays in Prospect Park, from the first Saturday in April to the end of October.
How to get there: The nearest underground station to Smorgasburg Market is Bedford (L). You can also take the ferry, a highly recommended option as it leaves you just a few minutes from the fair.
Nuria's Traveller Tip

An unwritten law in New York is to leave a tip in restaurants, cafés, hotels... It's customary to leave between 15% and 20%.
6. Find bargains at vintage markets and flea markets
When you see how many hidden treasures there are in New York's flea markets, you won't want to go back to the department stores. With the arrival of the good weather in April, a large number of them open for the season. Here are my favourites:
Broooklyn Flea Market
It's a flea market that opens on Saturdays and Sundays in Brooklyn. You'll find vintage clothing, collectibles and antiques. You'll also find a selection of jewellery, arts and crafts and delicious fresh food. Personally, I fell in love with the collection of world balls - I would have taken them all! Too bad they didn't fit in my suitcase. By the way, I recommend you go here hungry to try the food at the different stalls.
LIC Flea & Food
Although it was born recently, in 2019, it has become one of the most fashionable flea markets in recent times. Here you will find curious objects, international food and craft beer. Located in Long Island City, Queens, it's a wonderful place to buy some food and enjoy it by the river, with the skyscrapers of Manhattan in the background. It's a perfect plan!
Queens International Night Market
If you want to get away from the crowds of tourists, the best thing to do is to go and dine at this market which opens on Saturday evenings (from the end of April). It's a large open-air night market with up to 100 independent vendors selling handicrafts and (mostly Asian) food. Here you can also enjoy a good show and live concerts.
Nuria's Traveller Tip

Leave some room in your suitcase for shopping. In New York there are lots of flea markets and outlet stores selling big brands at very, very discounted prices - you'll find some real bargains!
7. Welcome spring with a visit to a floral display
One of my favourite (and most colourful!) activities on my trip to New York was to visit the annual Macy's Flower Show in Herald Square to welcome spring in style. The two-week event includes a huge flower show, plus live music, seminars and children's activities.
The Macy's Flower Show each year is dedicated to a theme - in 2019, for example, the display recreated the cosmos with floral figures forming planets and stars. Every year the dates change, so I recommend you visit the official website, the little ones will love it! Here's a guide to other activities you can do in New York with the family.
8. Decorate Easter eggs or... trap them around town!
Another activity that will delight the youngest members of the family during your trip to New York is painting Easter eggs and decorating them with original drawings. The most popular workshop is the one organised by the Ukrainian Museum of New York, which uses materials such as wax and special dyes. Art in its purest form!
Also typical in the USA at this time of year is the "egg hunt", an activity that consists of children finding hidden Easter eggs around the city, like a game of Pokémon! This game of hide and seek is organised by different institutions, such as the Brooklyn Children's Museum and the Children's Museum of Manhattan, among others. For those with a sweet tooth, you can also enjoy the chocolate eggs sold in all the bakeries - they're delicious!
Where: Ukrainian Museum of New York, 222 East 6th Street.
How to get there: Take the F train to the Lower East Side-Second Avenue stop.
9. See New York's cherry blossom trees and marvel at their blooms
You don't have to travel to Japan to see the cherry blossoms. New York is one of the best destinations in the world to enjoy these trees, which bloom at the end of April.
My favourite place to see the beauty of this species is the Brooklyn Botanic Garden and its Japanese pond, which is one of the oldest Japanese gardens outside the country. It's breathtaking! It feels like you're in the land of the rising sun.
You can also see the magical cherry blossom at the New York Botanical Garden, on Roosevelt Island and in Central Park. Here's a list of the best parks in the Big Apple for you to enjoy the spring season.
10. Discover Japanese culture at Sakura Matsuri Festival
The Sakura Matsuri Festival is also held at the Brooklyn Botanic Garden at the end of April and features activities related to Japanese culture such as musical performances, plays, martial arts and Japanese costume exhibitions, tea ceremonies and many other events. Imagine enjoying this festival and the cherry blossoms - it was an experience like no other!
Finally, so that "nobody steals your April" like Joaquín Sabina, grab a pen and paper and... take note of these tips for New York in spring: a practical guide, what to see, itineraries..... I'm sure you won't find a better time to visit the city!
Nuria's Traveller Tip

April is the perfect month for enjoying a picnic in the open air in one of the parks or squares - don't forget your towel!