New York Helicopter Tours: Tickets and Prices
Flying over Manhattan and enjoying a bird's eye view of its buildings is a once in a lifetime experience.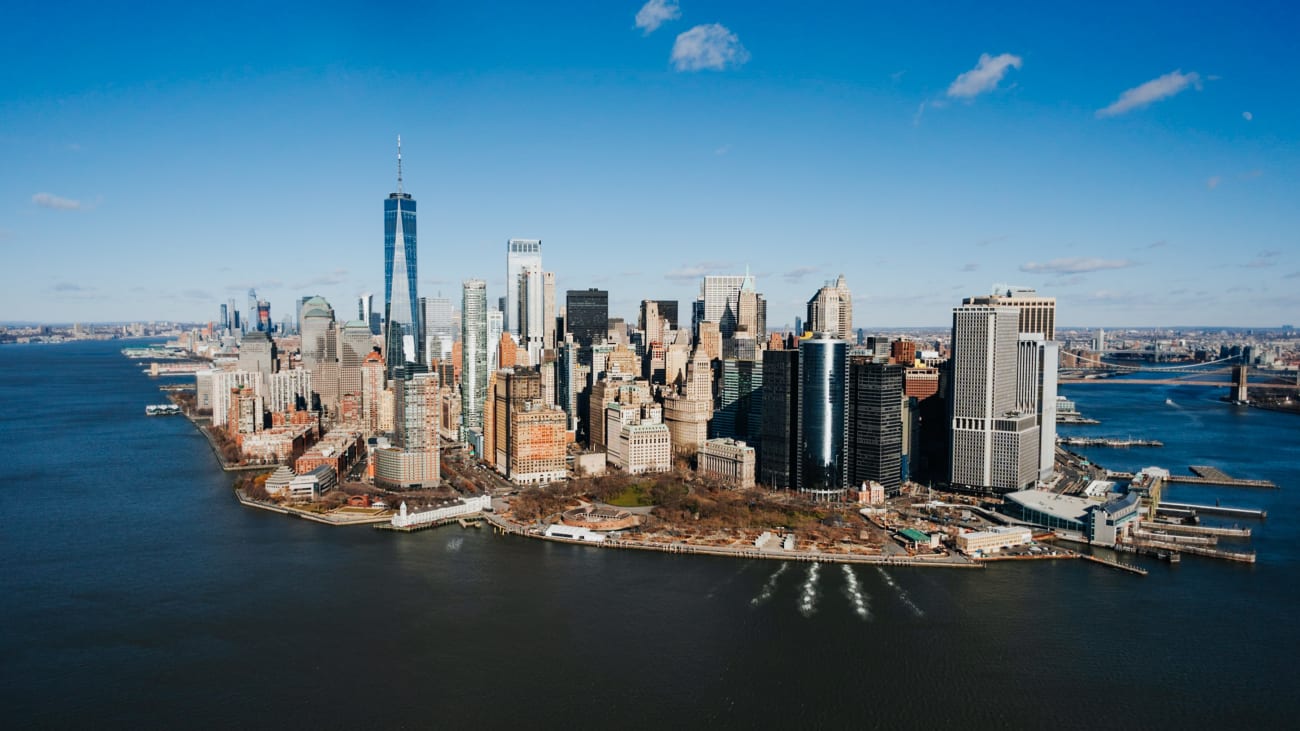 Taking a helicopter ride over New York is definitely the experience you need to talk about when you return from your trip to New York. Get ready to admire the city's majestic skyscrapers from their very height and fly over the Big Apple.
Most tours last around 15 minutes, but there are some differences between them. I'll tell you all about them to make it easier for you to choose the one that's right for you.
The cheapest flight
A bird's eye view of Manhattan, at the best price
Perfect if you want to enjoy the exclusive experience of flying over Manhattan in a helicopter without breaking the bank. You'll see the Brooklyn Bridge, the New York Skyline and the Statue of Liberty.
Duration: 15 minutes
This is the short option of the New York City helicopter tour, although it includes all the main sights of Manhattan. The flight departs from the Downtown Heliport and will take you to the Statue of Liberty and Ellis Island. You'll have spectacular views of Ground Zero, the One World Observatory and Manhattan's most popular skyscrapers, such as the Empire State Building.
You'll also get a close-up view of Brooklyn and the Brooklyn Bridge.
Why I like this tour: On this tour you'll see the essentials of Manhattan and although it may seem a little shorter, you won't miss anything.
Recommended if... you want to enjoy the experience without having to spend too much.
---
The complete flight
Extend your trip a little further to get into Manhattan.
The best option to enjoy a more complete tour in which you will fly over the Hudson up to the height of Times Square and the famous Madison Square Garden.
Duration: 20 minutes
If you don't mind spending a little more, this is the best value for money itinerary as you can enjoy the sights of New York at a more leisurely pace. In 20 minutes, you'll have time to make the round trip around Manhattan via Madison Square Garden. You'll reach the height of Times Square, which will give you a better view of Central Park, the Chrysler Building and other areas of Midtown.
Please note that for safety reasons, the helicopter cannot fly between Manhattan's buildings, so the route follows the Hudson River. Still, the views are breathtaking.
Why I like this tour: 20 minutes will give you more time to savour the experience and allow you to get closer to the most important sights of Midtown.
Recommended if... you want to enjoy the experience and don't mind spending a little more.
Other options for helicopter flights over New York City
In addition to the more classic helicopter tours of New York, there are more sophisticated options which, if you can afford them, will be unforgettable:
If flying over Manhattan is not enough for you, you can opt for a long helicopter tour, in which you will also fly over the five boroughs: Brooklyn, Queens, Bronx and Staten Island. You'll have approximately 30 minutes of flight time and you'll take home a much more complete souvenir of New York from the air.
And if you want an exclusive and VIP experience, you can book a private helicopter tour of New York. This flight is designed for you to share with your partner or travel companions (up to 5 passengers) and together with your pilot guide, you can spend about 30 minutes in the air while you enjoy the landmarks of New York and enjoy a complimentary glass of champagne.
We compare the options
---
Why is it worth taking a helicopter tour over New York?
The city's skyline is a spectacle in itself, even more so from a helicopter flight over New York. It's also a unique experience, where the amazing views come together with the adrenaline rush of flying over New York in a helicopter at over 200 kilometres per hour.
Information about helicopter flights in New York City
Helicopter model
The helicopter used by most operators for helicopter tours of New York is the Eurocopter/Airbus AS350B2, recognisable by its red colour. Extended duration and VIP flights use the Bell 206L4 and Bell 407GX.
Operators
Most tours work with two operators: Liberty Helicopters and Zip Aviation. Both companies have passed strict safety certifications and apply these to all their experiences, which vary only in duration and route. These are enclosed helicopter flights where you will not be able to lean out of the window or exit the aircraft at any time.
Security
All the helicopter tours I have recommended are perfectly safe, and I have made sure that they are organised by operators who have a series of safety certificates.
Tours
It is important to note that on a helicopter flight in New York, you will not fly over buildings. All routes follow the Hudson River and some follow the East River, giving you panoramic views of the city, but you will never see the skyscrapers up close.
Special Christmas flight
If you're spending Christmas in New York one of the things you'll want to do is see the Christmas lights, so how about doing it from the air? This time of year you can book a helicopter flight to see the Christmas lights from New Jersey for a unique experience.
Things to know before you book
How are seats distributed on the flight?
Seats are assigned according to the weight of the passengers, which should be evenly distributed throughout the helicopter. They will not be final until the moment of the flight, as each person's belongings must be taken into account. For this reason, you cannot choose your seat on the flight, although you can let the operator know your preference.
How many people can fit in a helicopter?
5 to 6 people, not including the pilot. Tour operators can organise groups of up to 9 people, and split into two groups at the time of the helicopter flight over New York.
How does the booking work?
When you book, you purchase a voucher which is valid for the duration of your stay in New York and has an indicative date and time. Once you are in New York, you will need to reconfirm with the operator by calling their US number (which will appear on your voucher).
Once you have purchased your voucher, you will be given instructions on how to set the date and time of your tour with the operator. If you have any problems or do not speak the language, Hellotickets can contact the operator and confirm for you.
How do I contact the operator?
You can do this from the hotel or contact Hellotickets to do it for you. Therefore, I recommend that you make the booking for the first day you arrive in New York, and then set the date that suits you best with the operator. This way, you will have a margin to do the tour in case of bad weather.
Can I choose my flight time?
For most flights, once you have booked, you confirm a day with the operator and they will suggest a time. If it doesn't suit you, you can talk to the operator about changing it if other options are available.
What is the best time for a helicopter flight in New York?
It depends on the view you want to get. If you want to see New York's buildings in all their splendour, and see the city expand to the horizon, try to get a time around midday. If you want to see the city covered in the light of dusk and the first lights of night, try to pick a time at the end of the day. Tours are not normally offered after 8pm.
Alex's Traveller Tip

For all helicopter experiences, without exception, you will need to pay an extra fee at the heliport, which is always $40 per person.
Arrange your helicopter flight in New York City
Where do helicopter flights depart from in New York?
Helicopter tours depart from the heliport located in Downtown Manhattan, at the southernmost point of Manhattan. You'll recognise the place by the constant noise of helicopters taking off and landing, and the helicopters you'll see flying around, plus it's pretty well signposted.
Nearest underground: Whitehall St
Located on the East River, south of the Brooklyn Bridge.
What time should I arrive at the heliport?
It's best to be there 15 minutes before your flight time, to get everything ready in advance, and most importantly to be feeling the nerves before you get on the helicopter!
What can I take with me on the tour?
All bags and backpacks are stored in lockers, so don't take anything too big or valuable. Take your passport, the $40 per person helipad fee, and about $5 for the locker. You can ride in the helicopter with your phone and camera.
What documentation do I need?
You will need to bring your passport and present it before boarding the helicopter. This is a must, so make sure you have it with you!
Can I ask for photographs of my tour?
Most operators offer a photo service with photos of what you will see from the helicopter and a photo at the helipad.
Where to eat after the flight
Since none of the tours include food and the Manhattan helicopter flight can make you a little hungry, here are a few recommended restaurants near the heliport:
Latest tips
You're probably thinking of taking photos to immortalise your helicopter ride, so to get the perfect shot bear in mind that you'll be in constant motion and the helicopter is not entirely stable, so you'll need a fast shutter speed on your camera (over 250/1).
Also, increase the aperture as much as you can and raise the ISO (from 400 to 3200) as the day goes on. You will have some noise in your photos, but in return, you will capture the New York buildings clearly.
If you don't want to complicate things, use the Sport mode on your camera or mobile phone to avoid taking blurry photos.
You know all the details about how to take a helicopter ride in New York... now, enjoy the experience!