6 Best New York City Neighborhoods
New York is much more than Manhattan, and to help you get the most out of the city, I'll tell you all about the neighbourhoods you can't miss.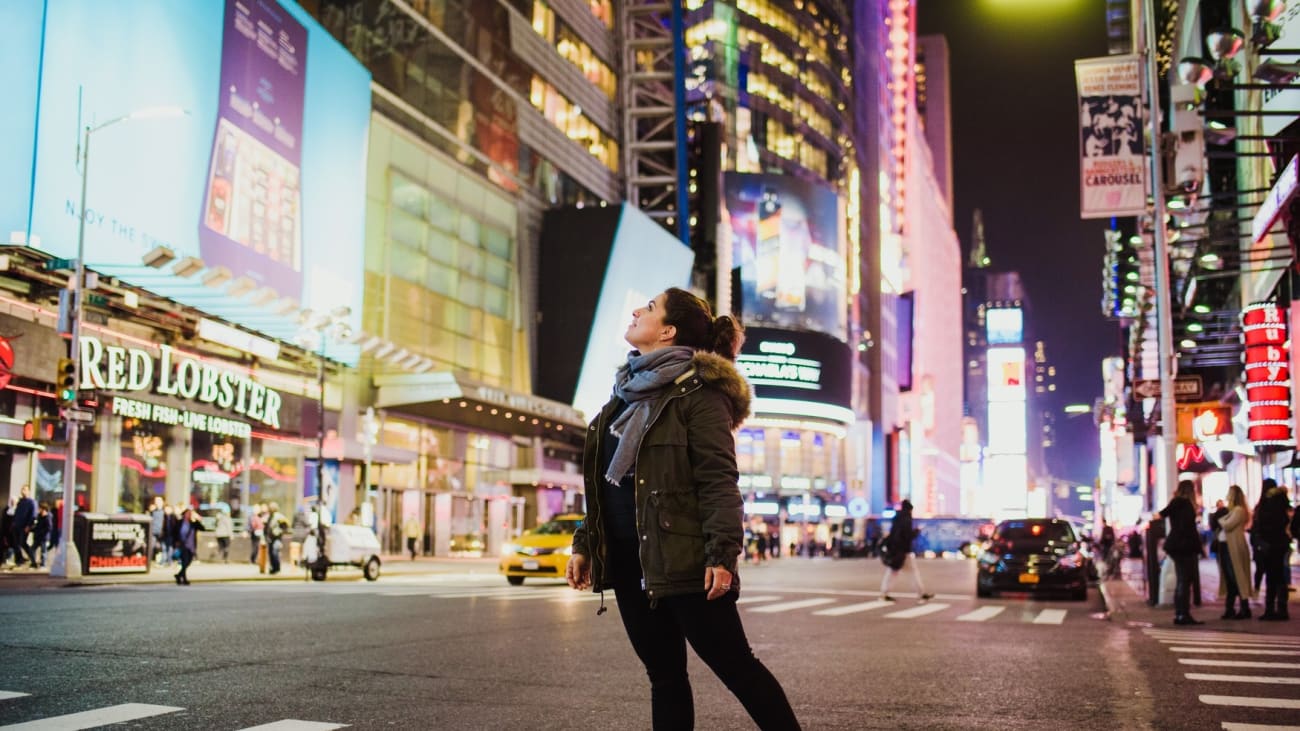 New York is a cosmopolitan city with a unique atmosphere. It is divided into five boroughs: Manhattan, Brooklyn, Queens, Queens, Bronx and Staten Island. If this is your first time in the city, we'll explain its geography and some places of interest so you can get to know it better before your trip.
1. Boroughs of New York
New York City is made up of five boroughs (or boroughs): Manhattan, Brooklyn, Queens, Bronx and Staten Island, which are in turn divided into neighbourhoods.
The easiest and most convenient way to explore the highlights of these boroughs is the Contrasts tour and the Upper and Lower Manhattan tour. Both are guided tours in which a specialised guide will tell you the most important details and anecdotes of each corner. Another easy way to get around the city is the sightseeing bus tour.
2. Manhattan
Manhattan is New York's most visited borough and an icon. It is so popular that many foreigners associate the borough with the city itself and believe it to be the same thing, as most of New York's tourist attractions are concentrated here.
Paradoxically, it is the smallest and most populous borough in New York and is home to the world's largest commercial, cultural and financial centres. With an area of 59.1 square kilometres, the island of Manhattan is immense and is divided into different neighbourhoods. Let's walk through them from south to north, from Downtown through Midtown to Uptown.
Financial District and Civic Center
I recommend visiting this area during the week. During the weekend, the Financial District is almost deserted, but from Monday to Friday, the streets of this neighbourhood are bustling with people, as it is home to Wall Street, the Federal Reserve, the New York Stock Exchange and some of the world's most powerful financial institutions.
On the west side is the renovated World Trade Center with the 9/11 Memorial, a memorial to the 9/11 attacks. You can also take advantage of your visit to go up to the observation deck of the One World Observatory.
Chinatown, Little Italy and Nolita
Chinatown is one of Manhattan's most popular neighbourhoods and a shopping paradise for tourists and New Yorkers alike, as its shops sell all kinds of goods at very cheap prices. Here you will also have the opportunity to visit the Chinese Museum in America, the Mahayana Buddhist temple or Columbus Park. Here I explain everything you can do in Chinatown.
Next to it is Little Italy, with some Italian-inspired restaurants and cafés (this neighbourhood was the largest settlement of Italian immigrants in the late 19th and early 20th centuries but has now been absorbed by Chinatown). If you want to learn more about its gastronomy, you can take a food tour of Little Italy with a local guide who will take you to taste the delicacies of Italian cuisine.
Next to it you will see a new neighbourhood called NoLIta (North of Little Italy) where you can find lots of cafes, restaurants and trendy shops.
SoHo and Tribeca
Another acronym, SoHo (South of Houston Street), is the name of one of New York's bohemian neighbourhoods. Take the opportunity to pop into its designer shops, art galleries and vintage bookstores. The area was created in the 1960s and 1970s, when artists and designers moved into the neighbourhood, attracted by the affordability of studios and lofts created in former factories.
Tribeca 's architecture is also very unique. This former industrial neighbourhood is now full of trendy shops, art galleries and exclusive restaurants. This neighbourhood has a strong connection to cinema. Robert de Niro created the famous Tribeca Film Festival, which focuses on independent films. You can also take a tour to see the locations of Friends, CSI, Breakfast at Tiffany's, Breakfast at Tiffany's, Gossip Girl and more.
West Village
The West Village is a quiet place to take a stroll away from the hustle and bustle of downtown. Take a stroll through Washington Square Park, one of the city's best gardens, and then stay for dinner in one of the many charming restaurants where you can end your day like a local.
Times Square, Broadway and Hell's Kitchen
Midtown is home to the largest number of skyscrapers and landmarks in New York: the Empire State Building, the Top of the Rock (in Rockefeller Center), the MoMA, Times Square and St. Patrick's Cathedral, among others.
The heart of New York is Times Square. With its lights and billboards, it has become the best known image of New York. However, it wasn't always like this because until the late 1990s, the area was synonymous with drugs and crime. My advice is to go there during the day, but also at night to see it illuminated.
Times Square converges with Broadway, the avenue that is the epicentre of theatre and musicals in New York. Every night the curtain opens to make its spectators dream with memorable shows such as The Phantom of the Opera, The Lion King, Aladdin or Frozen.
For food and drink, around Times Square you will only find fast food or very expensive food, so I advise you to go into the Hell's Kitchen neighbourhood, west of 8th Avenue, well known for its bars, restaurants and cafes.
Flatiron District
The Flatiron District is a bustling business district in Manhattan that is full of offices, restaurants and shops during the day. It's named after the famous Flatiron Building, a century-old triangular-shaped, Beaux Arts-style building from the Chicago school.
I recommend taking a stroll through the area and entering Madison Square Park, an oasis of calm where it's common to see office workers taking a break, eating and chatting. Grab a sandwich at the Pret À Manger across the street and eat it on the grass. The park also hosts events and activities, which you can find out about on its official website.
Chelsea
With its saffron-coloured brownstones and tree-lined streets, Chelsea is a walkable residential area full of shops, nightclubs and art galleries. In fact, it's the neighbourhood with the highest concentration of art galleries in New York, so if that's your passion, a visit to this neighbourhood is a must.
Also worth a visit is Chelsea Market, a former biscuit factory converted into a food market where the original high ceilings and exposed brick walls have been preserved to give it an industrial feel and a lot of personality. Here you can buy delicacies from all over the world, but did you know that Oreo biscuits were invented here?
Chelsea Market is next to the High Line, an urban park built on old elevated railway tracks that crosses the west side of Manhattan. If you fancy losing sight of the concrete for a while and immersing yourself in greenery, don't hesitate to wander around.
Hudson Yards
This is Midtown 's trendy new neighbourhood, built on what was once a dreary train depot along the Hudson River. It's a neighbourhood still under construction but it already has some interesting sites that will make it one of the must-see areas in New York, such as The Edge, The Vessel, The Shops shopping mall and the High Line elevated park.
Upper East Side
Manhattan's Uptown is the area least visited by tourists as it is predominantly residential. However, here you will find some of New York's iconic sites such as Central Park, which forms the border between the Upper East Side and the Upper West Side.
The Upper East Side is New York's affluent neighbourhood known for its imposing stately buildings and wide avenues. Although it's not the area with the most tourist attractions, it does have some very interesting places such as the Metropolitan Museum, the Neue Gallerie, Gracie Mansion and Central Park. If you liked the Sex and the City series, you probably don't need any further introduction.
Upper West Side
This is another residential neighbourhood with unique and striking architecture. Here you'll find New York's mile marker, Columbus Circle, a square dedicated to Christopher Columbus and the discovery of America. Columbia University, the Cathedral of St. John the Divine and the Museum of Natural History, which I recommend 100%.
Harlem
Ever since the African-American community settled in this area of Manhattan at the beginning of the 20th century, Harlem has been the neighbourhood that is automatically associated with black culture. Today, the neighbourhood is a safe place to enjoy gospel masses on Sundays. You'll also find great music at the Apollo Theatre, where artists such as Ella Fitzgerald, Michael Jackson, Aretha Franklin and James Brown began their careers, or stroll among the brownstones, beautiful little houses made of red sandstone.
3. Brooklyn
Behind Manhattan, New York's second best-known borough is probably Brooklyn. Before it was a borough, it was once the fourth largest city in the United States after New York, Chicago and Philadelphia.
DUMBO
What was once an industrial area full of factories and warehouses is now one of New York's coolest areas. The name comes from the acronym Down Under the Manhattan Bridge Overpass and refers to the neighbourhood's location, just under the Manhattan Bridge.
DUMBO was home to bohemians and artists who changed the neighbourhood. Today it is a combination of art and design movements with the old industrial architecture typical of the area. During your visit to this neighbourhood you can't miss Washington Street, the Dumbo Flea Market, Plymouth Street or Main Street Park. And don't forget to take the legendary photo with the Brooklyn Bridge behind you (even if more than one tourist sneaks in from behind while taking theirs).
Williamsburg
Williamsburg is a neighbourhood of contrasts where New York's hipsters and orthodox Jews mix. One of its attractions is the street art in the form of murals and graffiti all over the neighbourhood, including the Mona Lisa of Williamsburg and the Andy Warhol and Basquiat graffiti. Also East River State Park, where the Smorgasburg Market is held on Saturdays in April and October. Don't miss the Unorthodox series, based in this very neighbourhood.
Coney Island
Coney Island is where New Yorkers go when the weather is nice to relax outdoors and enjoy the beach, especially in the summer. During your visit to Coney Island you can walk along the Coney Island boardwalk and get close to the sea to feel the breeze.
A fantastic plan that can be complemented with an extra thrill when you enter Luna Park, a mixture of old fair and amusement park with its merry-go-rounds, roller coasters and the aroma of candyfloss and caramel that promises to give you an unforgettable time. Nearby is a freak show so typical of the 20s and 30s that you'll have the feeling of reliving times gone by. Another fun attraction to see in Coney Island is the New York Aquarium, located on the waterfront.
4. Queens
Queens is the largest borough in New York and home to over 150 different cultures. It is also the fastest changing and growing tourist attraction in its different neighbourhoods.
Long Island City
Very close to Manhattan is Long Island City, the most avant-garde neighbourhood in Queens, with a large number of museums, galleries and contemporary art studios such as MoMA PS1, the Isamu Noguchi Museum and Socrates Sculpture Park.
Astoria and Flushing
Astoria is the heart of the Greek community in New York and is home to the largest Greek community outside of Europe. There's plenty to do in this part of Queens, including visiting Orthodox churches, listening to European techno music, savouring Greek cuisine with an American twist or watching Manhattan at sunset from Astoria Park.
On the other hand, if you're a sports fan, you probably already know that the Flushing neighbourhood is home to the new New York Mets stadium and the US Open tennis tournament. Make the most of your trip to New York and buy tickets for baseball or tennis. Another of the most popular tourist attractions in this Queens neighbourhood is the home-museum of Louis Armstrong, the great jazz musician.
Jackson Heights, Rockaway Beach and Jamaica
If you like Indian cuisine during your visit to Queens, you must go to Jackson Heights, where there are plenty of buffets and restaurants specialising in Indian food at very good prices.
After a succulent feast, you might want to stretch your legs and take a stroll along Rockaway Beach, home to the longest urban beach in the United States. Finish the tour in Jamaica, the birthplace of hip-hop, where you can delve deeper into this musical genre by wandering the streets.
5. Bronx
During the 20th century, the Bronx was synonymous with crime and poverty, but don't let the bad reputation get to you. Nowadays, this New York City neighbourhood has changed a lot and tourist attractions such as the New York Zoo, Edgar Allan Poe's house and Fordham University Church are in safe areas.
If you're a baseball fan, a visit to the Bronx is a must if you want to see a New York Yankees game - the atmosphere is spectacular! And if you love nature, a stroll through the huge New York Botanical Garden will fill your senses with colours, aromas and peace.
6. Staten Island
Staten Island is the borough most unknown to tourists but there are several places of interest related to the origins of the United States here as there are more buildings from the colonial period than anywhere else in the city.
For example, two of the most amazing places to see in Staten Island are a restored Historic Richmond Town, where you can see houses dating back to the 17th century. Then there's Fort Wadsworth, a 17th-century defensive fort built by the Dutch.
But for many travellers, a visit to Staten Island is best spent on a ferry ride, an inexpensive way to see the Manhattan skyline from afar.