Moulin Rouge in Broadway NYC: all you need to know about this musical
Can you imagine anything better than the 2001 film Moulin Rouge? If you don't think that's possible, I recommend you attend the Broadway musical Moulin Rouge, its scenery and performances will leave you open-mouthed.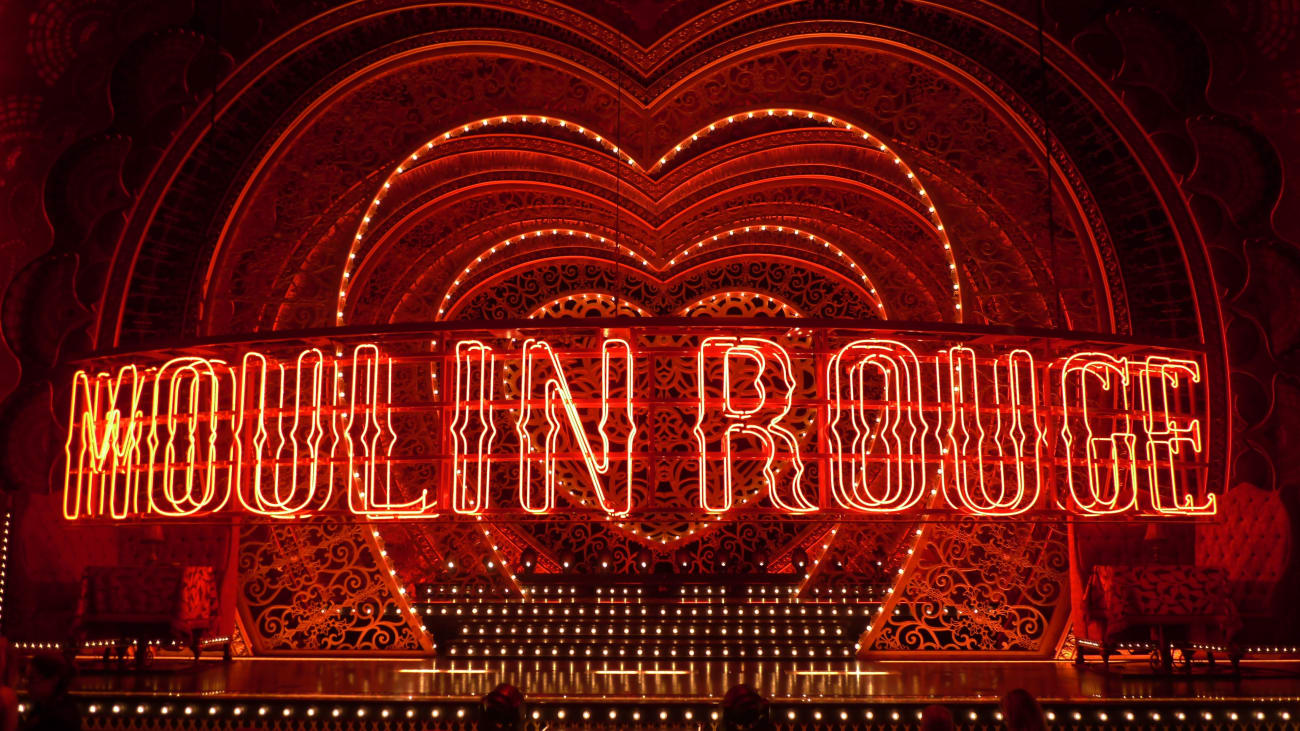 What do you need to know about the Broadway musical Moulin Rouge? Although, compared to other plays, this one has not been in a theatre for very long, it has managed to position itself as one of the best Broadway musicals. Moreover, it has been widely awarded at the Tony Awards (the Oscars of theatre).
The musical is inspired by the 2021 film of the same title, starring none other than Ewan McGregor and Nicole Kidman. Just as it enchanted audiences a couple of decades ago, the play is a favourite of thousands of people who have seen it in the Big Apple.
Don't miss your chance to get Moulin Rouge tickets on Broadway for this great show!
How to get tickets to see the musical Moulin Rouge on Broadway
If you want to attend a unique show, make sure you get a seat without any inconveniences. That's why I recommend that you buy your tickets in advance and from a secure website that gives you all the information you need about the show.
Make sure you buy your tickets in time!
There are several points to consider when deciding when to buy a ticket for a Broadway show. The first thing to consider is the popularity of the show, in this case, the musical Moulin Rouge is in high demand. This means it's best to buy your tickets a month in advance.
Of course, you also need to determine what season you're going to New York. If you want to see the musical in a peak season, it's best to get your tickets up to three months before the show.
When is peak season on Broadway?
The dates when the theatres are most visited are the dates when there are the most tourists in the city. So the peak season on Broadway is during:
Easter: between March and April
Christmas: mainly in the last 15 days of the year and the first weeks of the New Year.
July and August
How much do tickets for Moulin Rouge on Broadway cost?
Ticket prices for the musical Moulin Rouge range from approximately 150 euros to 250 euros. As you would expect, prices are not the same throughout the year, as they go up during peak seasons. They are also cheaper or more expensive depending on which area of the theatre you choose to sit in.
In the case of the theatre where Moulin Rouge is performed, its seats are divided into two sections:
Orchestra: this is considered the best section, so its seats are more expensive than the rest. Inside Orchestra you will find premium seats from where you can appreciate this wonderful musical to the fullest.
Mezzanine: although they are cheaper than Orchestra, they also offer a good view. One thing I would like to tell you about these seats is that the ones in the front areas are the best value for money.
Which seats to choose to see this musical?
Due to the strategic location of the scenography of this play, all the seats offer a good view, of course, some are better than others. That's why I can't tell you the exact seat where it's best to sit. One thing I will tell you about is what to take into account when buying your ticket:
Your budget.
The perspective from which you want to see the musical: although every seat in the theatre offers a detailed view, not all of them offer the same viewing angle. Determine where you prefer to watch the play from: right in the middle of the theatre or will you be comfortable in one of the side seats?
What to expect from the musical Moulin Rouge on Broadway
"It's a fabulous musical [...] from the moment you walk into the theatre." "It would be easy to believe that Moulin Rouge! The Musical could stay on for 50 years". That's just one thousandth of what the critics say, so what you can expect from the staging is an unparalleled experience.
Aaron Tveit and Karen Olivo give their all in every performance of Moulin Rouge, it will be impossible not to fall in love with their performances and voices. As in the 2001 film, you meet Christian, a poet who arrives in Montmartre, a Parisian neighbourhood. There he finds an emblematic and renowned cabaret (which, in case you didn't know, actually exists): Moulin Rouge.
About the plot of the play
Talking a bit more about the musical, the cabaret is in its moment of glory and its main performance is the one performed by Satine. As soon as Christian sees Satine he falls in love, so he makes her his muse. However, as in other true love stories, they will have to overcome obstacles.
Into Satine's life comes a duke who wants to marry her, but Christian is not willing to lose his great love. In the world of this musical, aristocrats and bohemians rub shoulders and enjoy grandeur, splendour and glory.
Set design
The stage is decorated in a cabaret style, making every audience member feel like they are in Paris in 1900. As you would expect, the set designers took care to represent the elements of the gardens of the famous Parisian cabaret.
In the theatre there is a giant elephant and the red windmill is a must. Every detail of this play is well cared for.
Choreography and songs
The dance scenes in the musical were created by Sonya Tayeh and she has been widely praised for the amazing work she has done, the choreography is incredible, bold, energetic and many of them are challenging. When you see the actors dance you'll want to do it too.
Now I'll focus on the most relevant thing in any musical: the songs, what can you expect from them? If you're a fan of the movie, I'm happy to inform you that many of the songs that appear in the movie are present in the staging.
Something interesting about Moulin Rouge is that they took care to give it a modern twist by incorporating current hits. Some of the ones you will hear are "Toxic" by Britney Spears and "Firework" by Katy Perry. Other main songs in the show include:
Roxanne's Tango - More More More! - Shut Up and Raise Your Glass - The Sparkling Diamond - Welcome to the Moulin Rouge - Your Song.
Moulin Rouge on Broadway performance schedule
Before you buy your tickets for Moulin Rouge on Broadway you need to consider the schedule. This way you can determine which day and time is best for you to go to the theatre. Moulin Rouge showtimes are as follows:
-Monday: No show -Tuesday: 7 PM -Wednesday: 8 PM -Thursday: 2 PM and 8 PM -Friday: 7 PM -Saturday: 2 PM and 8 PM -Sunday: 5 PM
Which theatre is Moulin Rouge on Broadway playing at and what is the address?
Among the most famous theatres where Broadway plays are performed is the Al Hirschfeld Theatre, the home of Moulin Rouge, located in Midtown Manhattan at 302 West 45th Street. Well-known productions have been staged there.
How do I get to the Al Hirschfeld Theatre? If you want to take the New York City Subway, ideally you can take (from anywhere) the A, C or E lines to 42nd Street. When you get out of the station, you only have to walk about 2 minutes to the theatre.
You can also take a taxi or uber. If you decide to take a taxi or uber, ask the driver to take you to the Al Hirschfeld Theatre.
What do you need to know about this theatre?
Are you one of those people who like to know the history of every place you visit? I'd be happy to tell you about the Al Hirschfeld! It was built in Byzantine style and opened in 1924, so it was necessary to restore its ornaments and ceilings. This work is very well done.
Many tourists and even New Yorkers consider this to be one of the most beautiful theatres in the Big Apple. As soon as you walk in you feel like you are in the 1920s. Although originally named the "Martin Beck Theatre", its name was changed in 2003 in honour of Albert Hirschfeld.
What time to get to the Al Hirschfeld Theatre?
Due to the health checks that are performed on the audience, patrons are encouraged to arrive 1 hour and 15 minutes prior to the show. This ensures that everyone enjoys the musical in the best possible conditions.
In order not to disturb the audience, the doors close 10 minutes before the show starts and those arriving later will not be allowed in. In this case, no refunds will be given.
What level of English do I need to see Moulin Rouge on Broadway?
With an intermediate level you will understand most of the play and the songs that are performed in it. Even those who don't speak much English have a chance to attend if they already know the context of the performance.
One of the purposes of my describing the play to you earlier is to give you an idea about it. That way, no matter how advanced your English is, you will know what it is about and why the characters act in certain ways.
What is the dress code for this Broadway musical?
Due to the plot, attendees are asked to wear clothing that is characteristically smart. Shorts, Bermuda shorts, clothing or trainers are not permitted.
Inside the theatre there is a paid cloakroom available for show attendees' bags and coats.
Can I see Moulin Rouge on Broadway with children and is it suitable for children?
Children from the age of 6 and up are welcome at the performance, but they must be accompanied by at least one adult. Before attending with a child you would do well to talk to them a little about the play to determine if they are willing to attend as it is not specifically aimed at them.
One thing I would like to point out about the Al Hirschfeld Theatre is that there is availability for disabled attendees. It has the means to provide an excellent experience for people who are hearing impaired, visually impaired or blind. In addition, wheelchair seating is available, as well as aisle seating with good vision.
If you decide not to bring your children to the Moulin Rouge, here is an article about other things to do in New York with children.
Should I have dinner before or after the show, and will the restaurants be open in the surrounding area?
It all depends on the time of the show you want to buy Moulin Rouge tickets for, remember that the musical runs for 2 hours and 35 minutes. So if the show starts at 8 PM you might want to go to dinner earlier.
Since Broadway theatres are located close to Times Square, you're bound to find a place to eat. If you want to know what restaurants you can find in this area, I encourage you to read my article describing places to eat in New York.
Are you allowed to take pictures during the show?
No, for copyright reasons, it is strictly forbidden for attendees to film part or all of the musical and to take photographs. Therefore, you will not find pictures and videos of the performances on the internet.
Is this musical worth seeing?
The answer is simple, you should get tickets to the musical Moulin Rouge on Broadway for the following reasons:
You will definitely want to sing along and feel the same thrill as seeing Nicole Kidman and Ewan McGregor on screen. Want a sneak preview of the great musical Moulin Rouge on Broadway? The show's YouTube channel features the song "Come What May" by Karen Olivo and Aaron Tveit.
Other similar musicals you may be interested in
Broadway is known for its amazing musicals, audiences leave the theatres enthralled and actors dream of being in one. Today, the shows on the billboards have attracted millions of audiences of all ages.
If you want to know which musical options offer you a similar experience to Moulin Rouge on Broadway, here are a few: