Madame Tussauds New York Tickets: how to buy and what to see
If you feel like having some fun, don't hesitate to stop by Madame Tussauds to visit the most famous wax figures of today and history.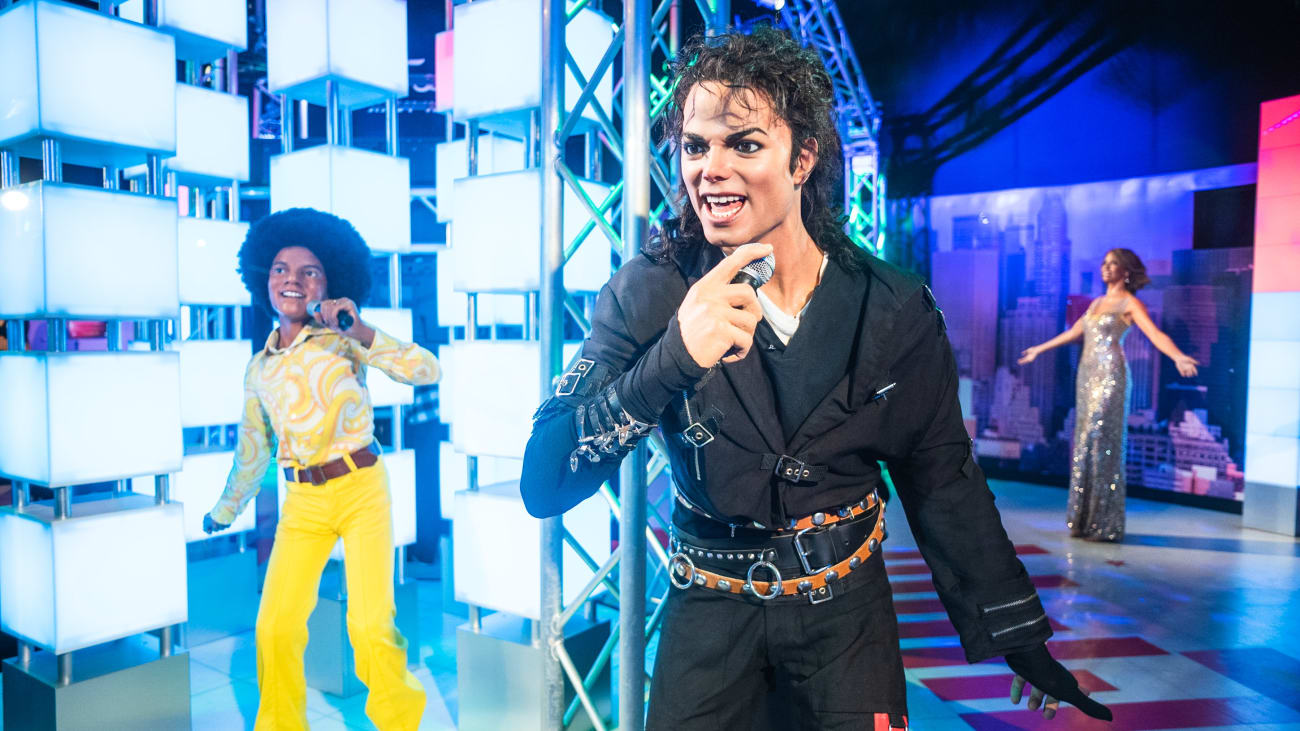 Is Madame Tussauds as spectacular as they say it is? It is! Since its opening in 2000, this New York museum has become one of the most visited attractions in Times Square and has deservedly earned its fame with its hyper-realistic wax figures.
At first glance, Madame Tussauds may not be the first museum you want to visit on your list of New York museums but I can assure you it will be one of the places where you'll have the best time. I did!
I tell you all about Madame Tussauds in this article!
The best option
Secure your skip-the-line tickets to Madame Tussauds Museum
Take a selfie with celebrities in this amazing wax museum and rub shoulders with Marvel characters.
With tickets to Madame Tussauds in New York you'll have full access to its more than five floors of exhibitions with all kinds of settings in which to take pictures with your favourite actors, musicians and sportsmen and women.
The most striking thing about the New York wax museum is that you'll find wax figures that are exclusive to this place, i.e. they are not repeated in the different Madame Tussauds venues around the world.
Why I like this option: if you buy your ticket to Madame Tussauds in advance online you'll save time, as you won't have to stand in the long queues that form at the door.
Recommended if... whether you're going to New York with your partner, family or friends, this museum guarantees you a fun time and hyper-realistic photos with the world's most famous celebrities!
---
What to see with a ticket to Madame Tussauds in New York City
With your ticket to Madame Tussauds you will have access to 5 floors, which are divided as follows:
First floor: Sportsmen, musicians and models.
Third floor: Politicians and historical personalities.
Fourth floor: Broadway film and theatre directors and actors.
Fifth floor: Celebrities.
The museum welcomes you with the Opening Night Party room, where you can rub shoulders with celebrities such as Angelina Jolie, Nicholas Cage and Woody Allen. The visit continues through other themed rooms such as Pop Culture or the Sports Zone where you can meet musicians, sportsmen and other popular personalities such as Muhammad Ali, Alicia Keys or Madonna.
Then the tour continues to the room where some of the most important personalities from the world of culture and politics are located, such as Albert Einstein, the Dalai Lama or the presidents of the United States. Here you can have your photo taken in the Oval Office of the White House! Here's a guide to what to see at Madame Tussauds in New York.
Practical information for your ticket to Madame Tussauds
Where is it located?
The New York Wax Museum is located at 232 West 42nd Street (in Times Square).
Opening hours
Madame Tussauds is open Sunday through Thursday from 10 AM to 8 PM. On Fridays and Saturdays you can visit from 10 AM to 10 PM.
How to get to Madame Tussauds
To get to Madame Tussauds New York by public transportation you can take:
Bus: M6, M7, M10, M20, M27, M42 and M104.
Underground: 42nd Street & 8th Avenue (A, C and E lines), 42nd Street & 6th Avenue (B, D, F and V lines) or 42nd Street-Times Square (1, 2, 3, 7, N, Q, R, W and S lines). Check here for a guide to using the New York Subway.
What are the opening hours of Madame Tussauds?
The New York wax museum is open Sunday through Thursday from 10 AM to 8 PM while on Fridays and Saturdays it is open from 10 AM to 10PM.
Madame Tussauds' opening hours are extensive so you can visit when it best fits your schedule. However, if you want to go when it's the least crowded , I recommend going in the morning on a weekday.
How long does it take to see Madame Tussauds?
90 minutes is enough to see the highlights of Madame Tussauds although it all depends on how much time you want to spend taking photos.
Is it advisable to go to Madame Tussauds with children?
If you are travelling to New York with children or even teenagers, buying tickets to Madame Tussauds is one of the best plans you can make, as it is one of the best museums in New York to visit as a family. They'll have a great time touring the museum from top to bottom, taking photos without fear of spoiling the wax figures (after all, they're all celebrities used to flashbulbs) and posing with King Kong, E.T. or Ghostbusters, among many other characters.
Tourist cards including admission to Madame Tussauds
The Madame Tussauds ticket to the New York Wax Museum is also included in the New York Pass, New York Explorer Pass, New York Sightseeing Pass and New York Sightseeing Flex Pass.
These sightseeing passes give access to the city's major museums, monuments and points of interest. There are several advantages to getting one of these passes, but the main one is that if you make the most of them you will save money and time by not having to buy individual tickets for each place you visit. Even in some cases, with a New York Pass you won't have to stand in the boring entrance queues and it's very convenient to have all your tickets in one place, don't you think?
If you want to know more about New York City Sightseeing Cards, I recommend you to take a look at the article about the best New York City Sightseeing Card where you will find out which are the best options, how they work and their respective prices.
What I liked best about the Madame Tussauds entrance ticket
One of the areas I was most excited about at the New York Wax Museum was the Star On Broadway exhibit, an interactive experience that you can enjoy with your ticket where you get to step into the role of a real Broadway star. I remember how much fun it was to play a tune on a giant floor piano, just like in the movie "Big"! And singing at the top of your lungs one of the songs from "Phantom of the Opera" along with the main characters. Sounds like fun, doesn't it?
If you like superheroes, the Marvel 4-D Cinema Experience is also highly recommended, especially if you visit Madame Tussauds with children. It's a 4-D movie that incorporates 3D movie technology with special effects including wind, water and even smell. It's as if the film puts you in the middle of the battle between good and evil. Truly a fantastic experience.
Isabel's Traveller Tip

The wax figures at Madame Tussauds change from time to time so there's always something new to see. Come and see what's the latest in the collection - there are over 200 of them!
Other interactive experiences
Ghostbusters Experience: Can you imagine stepping into the shoes of a ghost hunter to catch the spooks? In this experience you will have to save New York from a fearsome villain and to do so you will move through different scenes inspired by the film. Through electronic gadgets, sets and the use of new technologies, in Ghostbusters Experience you will believe that you are really part of the story.
The Newsroom: If you've always wondered how a newsreel works, at this Madame Tussaud's experience you can put yourself in the shoes of a journalist in a real television studio.
Skull Island: Are you ready to take on King Kong? Feel the roar of the legendary and terrifying giant ape in this experience where a robot over five metres tall will cross your path. Be warned... he's not in a good mood.
History Gallery: If you like history, you will enjoy this room because it has a very special exhibition of wax figures. Here you will see personalities such as George Washington or Abraham Lincoln.
Do you know the sinister origin of Madame Tussauds?
There is no doubt that Madame Tussauds is the most famous wax museum in the world and the story of its origins is both chilling and interesting. Its creator was the French artist Marie Grosholtz, who learned from the German doctor Philippe Curtius how to use wax to model the busts of the most popular figures of the 18th century, such as Voltaire, Benjamin Franklin and Jean-Jacques Rousseau.
With the outbreak of the French Revolution in 1789, the lives of the artist and her master were in danger as they were royalists, but to escape the guillotine they knew how to adapt to the new times by making busts of the new rulers and the people they ordered to be executed.
During the Terror Regime in Paris (1793-1794) the freshly decapitated heads were sent to Marie Grosholtz's workshop to quickly make their moulds. Thus, personalities who had been executed at the guillotine, such as King Louis XVI, his wife Marie Antoinette and Maximilien Robespierre, were added to her collection.
Madame Tussauds, the first exhibition
When the artist married, she moved to London where she exhibited her repertoire in Baker Street, which combined busts of the victims of the French Revolution with figures of famous assassins, attracting curious crowds. Madame Tussauds' popularity soared when Queen Victoria agreed to have her figure modelled in wax and dressed in an exact replica of her coronation robes in 1837.
Curiosities: How is a wax figure made?
Did you know that to recreate a character between six and eight kilos of wax are used in each sculpture? 80 kilos if it is a full body!
Normally, when the first mould is made, anthropometric measurements are taken of the character and a photo and video session is done from all angles. Afterwards, the character is shown and if he/she gives his/her approval, we move on to the second phase. If this is not possible, the measurements and other data are collected from different sources.
In the second phase, chemical wax is poured over the mould and the sculptors wait around six hours for it to cool completely. Then the eyes are placed, the hair, eyebrows and eyelashes are implanted hair by hair, which is always natural. Finally, the costume and make-up team does the rest. The cost of a wax figure can be between 35,000 and 50,000 euros.