Jersey Boys in Broadway NYC: all you need to know about this musical
Enjoy in New York the revival of one of the most acclaimed shows of all time - long live rock and roll and musicals!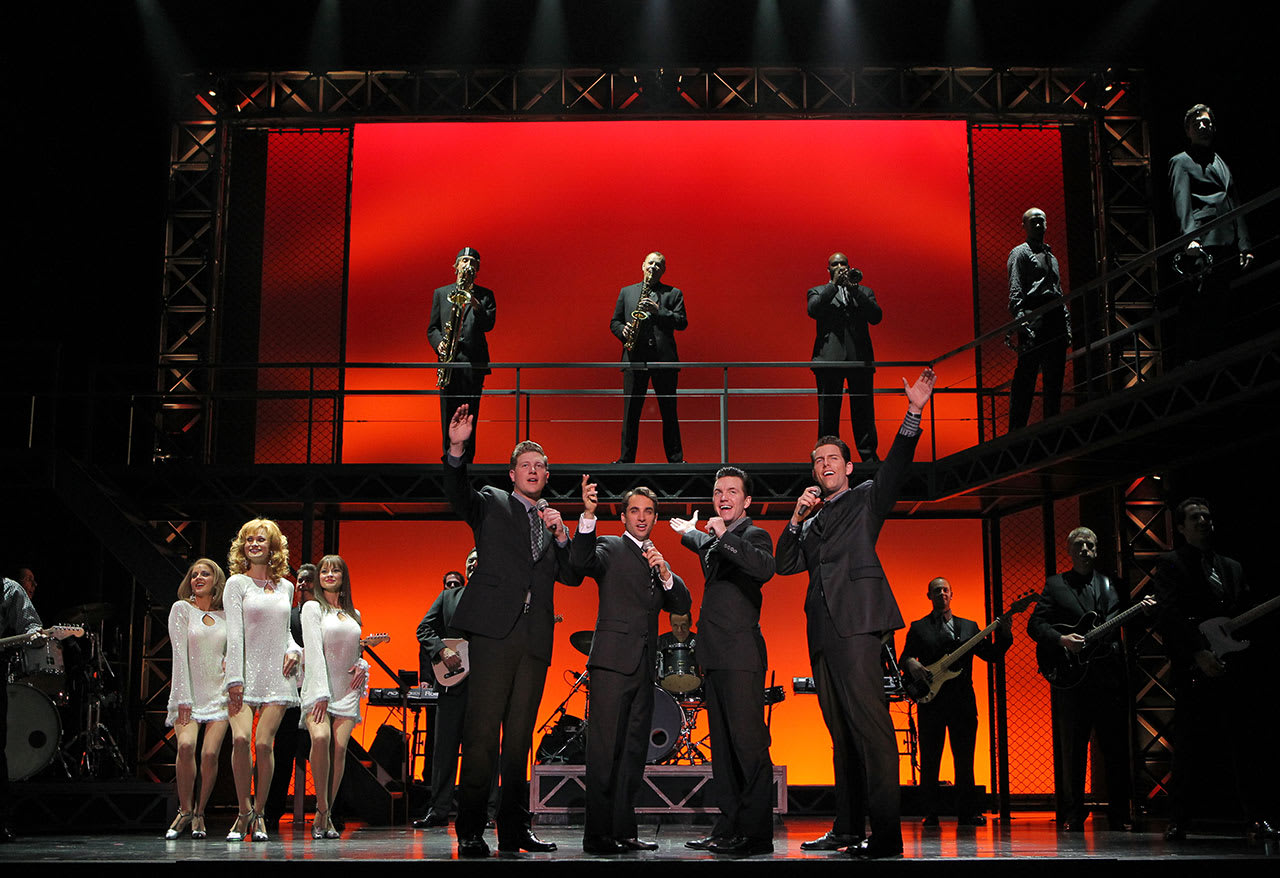 The story of the musical Jersey Boys has even conquered Clint Eastwood himself , who in 2014 dared to bring to the big screen the successes and misfortunes of the iconic group The Four Seasons, one of the most legendary rock bands of the 60's. Are you going to miss it?
Immerse yourself in one of the most famous theatres in the world to enjoy the memories of this group live will be an unforgettable experience. Whether you're travelling alone, as a couple or with friends, in this article I'll tell you how to get tickets to see the Jersey Boys musical in New York and make the most of it.
How much do tickets for the Jersey Boys musical in New York cost?
You're in luck because along with Aladdin, it's one of the cheapest musicals you can attend in the Big Apple. The cheapest tickets are around €43 and the most expensive €240.
Why is it so cheap compared to other musicals? The trick is that Jersey Boys is performed in Off-Broadway theatres , which are those that, unlike Broadway, have between 100 and 499 seats. In other words, they are smaller auditoriums, which means less expense and, therefore, lower ticket prices, but not lower quality. The good thing? You'll be able to enjoy the show in an intimate, family-friendly atmosphere.
Tips for buying tickets
Buy tickets online and in advance
In my experience, I suggest that you buy tickets online as far in advance as possible so that you can get tickets from as little as 43 euros and your wallet won't be hurt. Ideally, look two to three months in advance.
The advantage? Booking online allows you to choose the seat you like best and suits your budget. Also, it is usually cheaper than at the box office, as the theatre does not offer special discounts.
Are there cheaper Jersey Boys tickets?
Yes, New York theatres offer the possibility to get tickets for 27 euros in a virtual lottery that is held every day. However, I don't recommend this option because it is very unlikely that you will win, plus the price difference is minimal. You are more likely to win the Christmas 'Gordo' than these tickets!
The way it works is simple, you have to fill in a form on the official website of the musical and if you have been selected, you have 6 hours to pay for your tickets. This option is in high demand and, normally, the seats they offer are those that have not been sold in places with poor visibility. In my opinion, it's not worth it.
How do I choose the best seats to see Jersey Boys on Broadway?
Here are the two types of seats available, from the cheapest to the most exclusive centre stage:
Mezzanine (from €43): If you want a good view of the stage at a good price, this will be your preferred option. The cheapest tickets are on the side of the stage. However, as it is a small theatre, any seat is recommended. If you want to complete your trip to the Big Apple with more cultural activities, take note of the 12 best museums in New York.
Orchestra (from 122 €): if you are a demanding person and want to live an unforgettable experience in the front rows, this will be your favourite area. The best section is from the fourth row onwards , where you will have incredible views of the stage with a wide perspective and you won't miss a single detail.
Which theatre is Jersey Boys playing Off-Broadway?
This classic is performed at the New World Stages, a five-stage performing arts complex in the heart of the theatre district. In addition, this space has become Off-Broadway's largest auditorium. For me, what I liked best were the comfortable red velvet seats and all the space to stretch my legs, which after two hours is very much appreciated!
The quickest way to get to the theatre is to take the metro, which costs €2.60 for a single ticket. You can get a bit desperate at first because the New York underground is literally a city underneath the Big Apple. Here are the basic tips on how to use it without any problems.
Location: The New World Stages is located at 340 West 50th Street between 8th and 9th Avenues...
Nuria's Traveller Tip

If you are going to use public transport several times, it is best to buy the MetroCard, which is valid for the metro and buses.
Jersey Boys performance schedule in New York City
Monday: 7pm
Tuesday: closed
Wednesday: 7pm
Thursday: 7pm
Friday: 8pm
Saturday: 2pm and 8pm
Sunday: 2pm and 8pm
The Jersey Boys musical plays eight performances a week and runs for two and a half hours with a 15-minute intermission. Ideal for stretching your legs and hydrating a bit!
Nuria's Traveller Tip

"Where you go, do as you please". You might want to have dinner before the musical because you might find a lot of restaurants closed on the way out.
What to expect at the Jersey Boys musical in New York
The international musical Jersey Boys, which has won four Tony Awards, known as the 'Oscars of Broadway', including Best Musical, is an exuberant biopic of Frankie Valli and the 1960s musical group The Four Seasons. It is a very original show because it unites the documentary and musical parts, something unique on Broadway!
It narrates the rapid rise and success of the singer Frankie Valli and his group thanks to songs like 'Sherry', 'Big Girls Don't Cry', 'Can't Take My Eyes Off of You' and 'What A Night', among others, which eventually became some of the most covered songs in history. But jealousy, conflicts of interest and mismanagement by the group's guitarist Tommy DeVito caused the band to disband.
In this show, which is structured in four parts, each narrated by a different member of the band who gives their own perspective on the group's history, you'll see special effects, unique staging and plenty of rock and roll. It's Off-Broadway's most roguish musical!
Can I see Jersey Boys with kids?
Jersey Boys is recommended for ages 12 and up, as the actors use language inappropriate for children. However, there are other musicals such as The Lion King, which has captivated more than 100 million viewers worldwide, which is perfect to see as a family.
The Lion King is a fantastic theatrical adaptation of Disney' s 1994 Oscar-winning film. It's a unique, family-friendly show that will make your hair stand on end with music by Elton John- your kids will love it!
Should I have dinner before the musical?
My advice is that, as far as possible, you should adapt to the local customs and habits. In the US, dinner is very early, between 17:00 and 19:00 in the evening, and although it may be a little early for us, after a long and intense day of sightseeing, your stomach will be grateful. However, if you're not hungry yet, don't worry, there are plenty of restaurants on Broadway that close later.
However, there's something for everyone in the Big Apple. Here's a foodie guide to the 10 best places to eat in New York City. Enjoy!
List of the best Broadway musicals
If you're not sure if you're going to like Jersey Boys, take note of the 10 best Broadway musicals for the 2021-2022 season in New York- you'll love one of them!
My favourite musicals