How to Get to Washington from NYC
Washington DC is very well connected to New York, especially by road. If you're thinking of visiting during your trip, take note of the best ways to get there.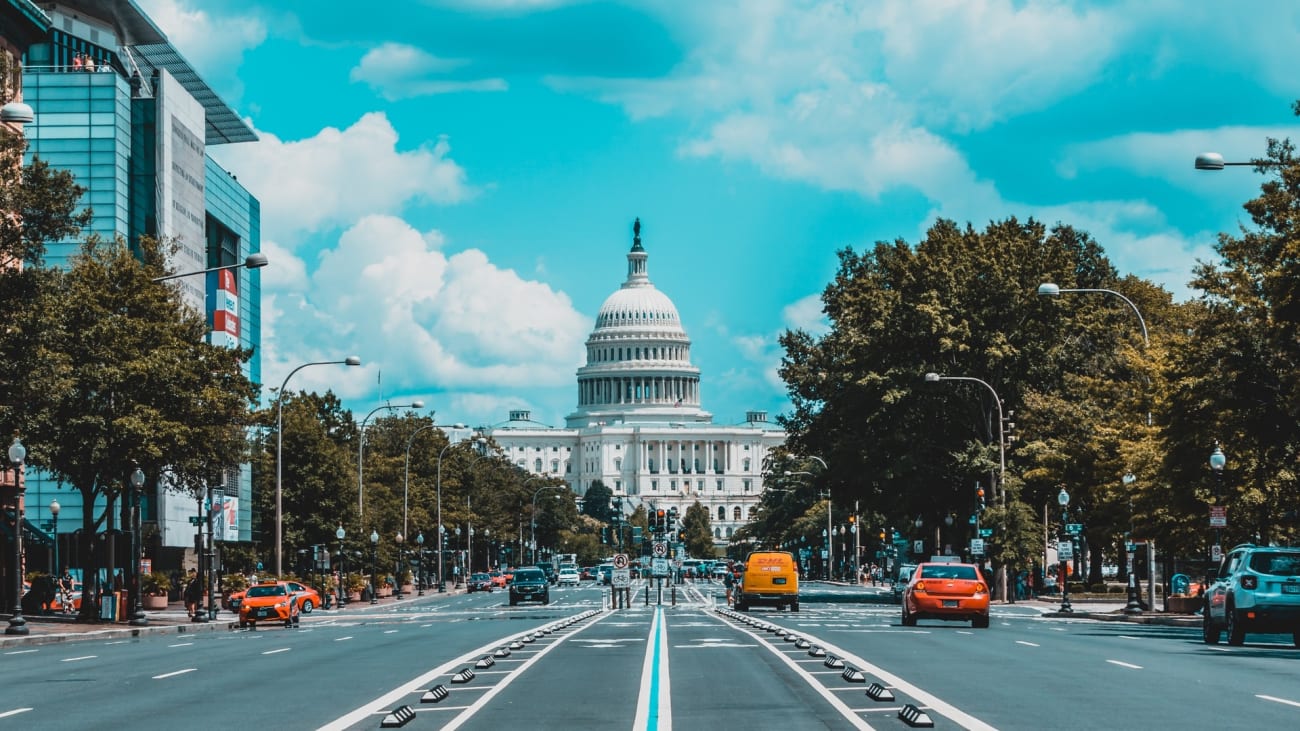 Washington DC is the capital of the United States and therefore a city that will complete your trip to New York perfectly. There you will find mythical and world-famous buildings such as the White House, the Pentagon and the Capitol, which are definitely worth a visit.
If you're in New York, it's a perfect getaway. Although it's almost 400 kilometres away, it's perfectly possible to visit by train, bus and plane.
But the option I recommend the most is to join one of the organised tours to Washington from New York, which can be one, two or even four days. This way you'll be sure to have the means of transport without having to worry about scheduling public transport.
The most comfortable option
Tour and guided tour of the US capital, Washington DC
On this day trip you will be able to tour the nation's capital with a professional guide, who will also accompany you on the bus ride from New York, which is also included.
With the Washington tour from New York, which lasts 15 hours, you'll visit the White House, the Capitol and the Senate, the Vietnam Veterans Memorial, Arlington National Cemetery, where the tomb of John F. Kennedy is located, or the impressive Lincoln Memorial. You can also take advantage of this tour to visit the National Air and Space Museum in your free time.
Why I like this option... you'll get to see many places you've previously seen in the movies like the Lincoln Memorial or the Library of Congress.
Recommended if... you're spending more than five days in New York.
Organised tours to Washington from New York: the most convenient way to get there
Spending one or more days in Washington DC is an ideal travel option if you're in New York. With an organised tour you'll have everything taken care of and all you'll have to worry about is enjoying yourself. The tour can be a round trip in one day, or you can choose a longer tour, which will also take you to other sites such as Philadelphia. And, of course, you'll be able to visit places of interest such as: the White House, the Capitol, Arlington Cemetery, the Air and Space Museum, the Lincoln Memorial, and the Vietnam and Korean Veterans Memorial, among others.
What transport is like on the organised tours
Transport between New York and Washington on organised tours is usually by private bus or minibus, depending on the number of travellers. The departure point is usually a central location in Manhattan, although many tour operators offer various pick-up points around the city so that getting there is not a problem. As for the time of day, they usually leave early in the morning to make the most of the day.
Prices of organised tours
For a little over 70 € in Hellotickets you have the cost of the tour covered, which includes not only private transport to and from New York but also a guided tour of the city with an expert guide. This is, without a doubt, the most efficient option if you want to get to know Washington in a short time and with a professional guide. Plus, you'll cover some distances on the same bus during the tour, so you won't have to organise different journeys on Washington's public transport.
Travel from New York to Washington by public bus if you're looking for the cheapest way
You can see the capital of the United States by bus from New York. It's the cheapest way to get to Washington, with tickets costing between €18 and €50*, depending on the company, the direct route and the departure and return times. Of course, the earlier you buy your tickets the better, as this will also reduce the price.
*Fares are estimates and vary according to timetable and type of ticket.
Bus companies operating this route
The most popular bus companies operating the New York - Washington route are:
Starting point: the bus station
All lines depart from around Penn Station or the Hudson Yards neighbourhood and run 24 hours a day. So you'll have no trouble getting there and back, even in the wee hours of the morning.
As you'd expect, buses in the US have plenty of amenities, including seating, WiFi, on-board food and more.
Arrival in Washington, DC
When you arrive in Washington, DC, buses will drop you off within a 15/20 minute walk of the Capitol. Megabus and Greyhound arrive at Union Station, while Flixbus stops on a busy downtown corner at 550 New York Avenue, very close to the station itself. So as soon as you arrive, it's easy to start your sightseeing tour.
To save time from New York to Washington, choose to travel by train
Travelling by train from New York to Washington DC will save you some time compared to the bus, between half an hour and an hour. However, the cost of the ticket is more expensive and ranges from 35 € to 173 €, depending on the timetable and the class of carriage you choose.
Starting point
It's easy to organise your journey, departing from Penn Station in New York and arriving at Union Station in Washington DC.
Train fares
You can check timetables and prices on the official website of Amtrak, the train company that runs this route, although as I said, the minimum is £35 per ticket each way.
The fastest way to get from New York to Washington is by plane
The plane is always (or usually is) the best option when it comes to saving time. If you choose to fly from NYC to Washington DC, you can do so in about an hour.
Be aware, however, that transfers to and from airports can be counterproductive and less cost-effective than taking a bus or train in such large cities.
Flight prices
In terms of price, an average return flight can cost around €130. As with all airline tickets, the earlier you buy the ticket the better. I recommend checking the price on search engines such as Skyscanner or on the American Airlines website, which has the most frequent flights on this route.
If you're travelling in a group, renting a car may be an option.
This is not the fastest option, nor perhaps the cheapest, but it may be the most convenient if you are travelling with family (especially children) or a group of friends. Because you can make the trip at your own pace.
##We compare the options
You should be aware that renting a car means dealing with city traffic, but once en route, getting to Washington from New York is very easy as it's all on the I-95S highway, just follow the signs.
To the price of the rental car, you'll have to add some tolls, around €30.
Organised tours
70 approximately
Departure point: Different pick-up points around the city
Early in the morning
Including transport and guided tour
Public bus
From €18 to €50
Starting point: Around Penn Station or Hudson Yards neighbourhood
Wide variety of schedules 24 hours a day
May include wifi and on-board food, among other services
Train
Ranges from £35 to £173.
Departure point: Penn Station
Different times throughout the day
A very fast option
Plane
The fare is around £130 return
Different times throughout the day
Airport transfers to and from the airport must be taken into account.
Hired car
Price of the rental car plus €30 toll
Free choice of timetables
City traffic to be taken into account