How to Get to the Empire State
The views of New York from the Empire State Building will be a memory of your trip that will be hard to forget. Here's how to get there from anywhere in the city.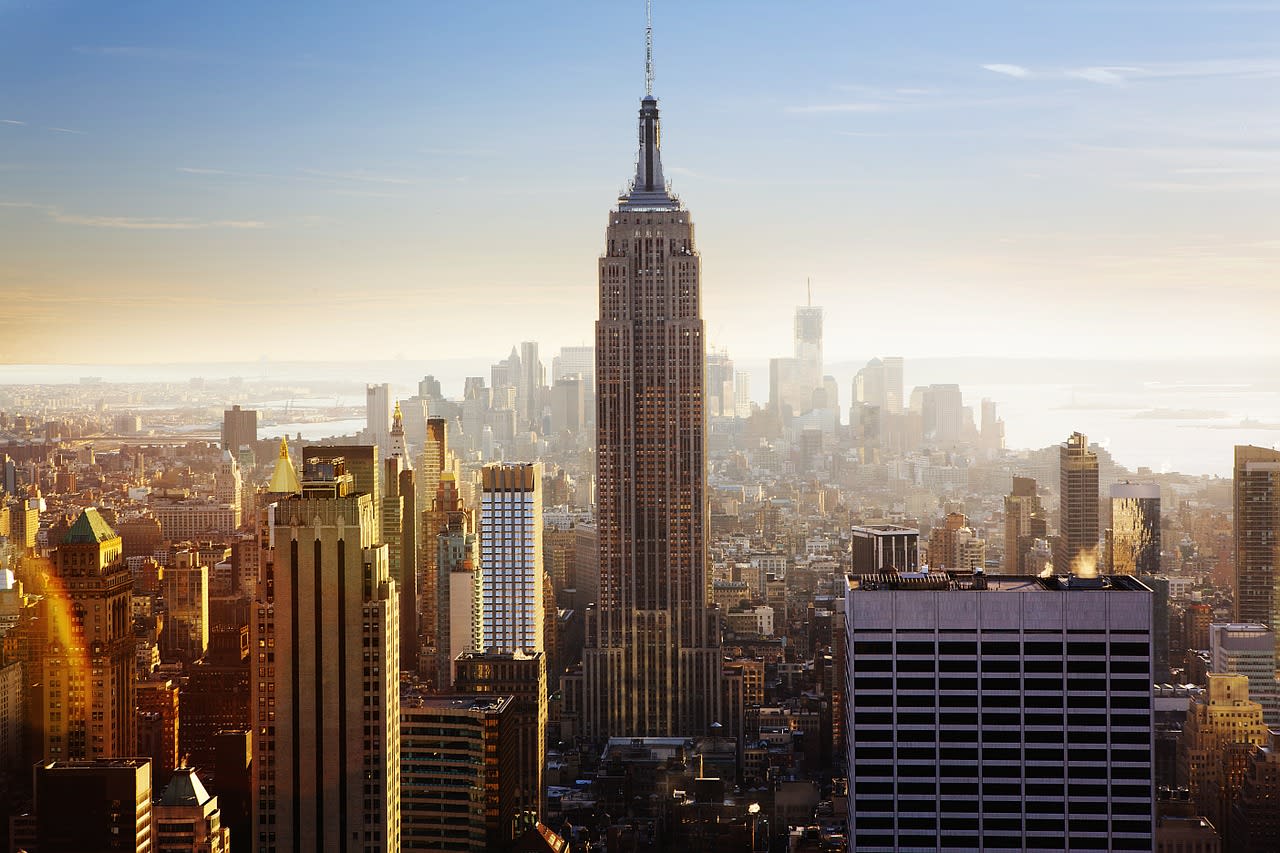 Located at the intersection of 5th Avenue and West 34th Street, the Empire State Building is one of New York's landmarks and an Art Deco jewel that has been featured in countless films. You can't miss it!
All sightseeing requires a little planning, so in this guide I'll tell you all the possibilities available to you so you can climb the Empire State Building wherever you are.
1. Take a stroll and marvel at the streets of New York City
Walking is the cheapest and most enjoyable way to get to the Empire State Building. Some people think that the distances in this city are too long to walk, but the truth is that if it's your first trip to New York you won't find the walk too tiring - on the contrary, you'll really enjoy it!
Downtown is full of tourist attractions that will keep you entertained on your way to the skyscraper and make the time fly by. In its streets there is always something to capture your attention: museums, shops, skyscrapers, monuments, parks... and walking around the Big Apple is very enjoyable!
So don't hesitate, if you like walking and you feel like taking a pleasant stroll to the Empire State Building, here's the distance to this iconic skyscraper from some of the most popular places in the city so you can get an idea of the time you'll need.
Walking distances from the city's major landmarks
2. By underground, to arrive quickly and on time
In case you want to skip the downtown walk or if you want to avoid traffic because you value speed and punctuality, then taking the New York underground to the Empire State Building is the best option for you.
The main underground lines to the Empire State are:
From 34th Street - Penn Station (1, 2, 3, A, C and E)
From 34th Street - Herald Square Station (N, Q, R, W, B, D, F, M)
From Grand Central Terminal (4, 5, 6 and 7)
How much does an underground ticket cost?
A single ticket to the Empire State Building costs $2.75, but if you plan to use public transport several times during your stay in New York, you may want to get a MetroCard, a rechargeable card that allows you to ride the bus, underground and Roosevelt cable car.
You can't buy the MetroCard before you go to New York, you'll have to buy it from a ticket machine at any subway station - it's easy! You can even share it with your companion if you choose to load it with credit instead of unlimited travel.
I recommend you read my guide to the New York underground, where I explain step-by-step how to buy a MetroCard, how to find your way around the underground and other tips that will help you get around the underground like a fish in water.
3. By sightseeing bus to the Empire State Building
If you've got a ticket for the New York sightseeing bus, riding on one of these vehicles to the Empire State Building is an option not to be missed, as not only will you be able to see some of the city's most important sights along the way, but you can also use it as another means of transport. It's super convenient!
How to go to the Empire State Building by tourist bus?
The Big Bus Red Route covers the centre of the Big Apple and places like the Empire State Building, so you will have it very easy to get to the skyscraper using the tourist bus.
In case you're interested in this alternative and want to know more details, I recommend you to read the article TheBest Sightseeing Buses in New York.
4. By city bus, cheap and comfortable
The bus is a good alternative for getting to the Empire State Building if you don't have a ticket for the sightseeing bus or don't want to take the underground because you're afraid of going to the wrong stop (there's a trick to getting the right one!) or if you're apprehensive about enclosed spaces.
It's also great if you prefer to take the opportunity to travel comfortably seated while contemplating the cityscape because it's quite entertaining. Plus, it's cheap, with a single ticket costing the same as the metro at $2.75.
Recommended bus lines
The lines that stop near the Empire State Building are the M2, M3, M4, M5, M16 and M34. You can check the timetables on the official New York public transport website.
If you do choose to take the bus to the Empire State Building, my advice is to leave a bit early in case there are any traffic jams along the way and to be patient as traffic in New York can sometimes be a mess.
5. By taxi or Uber, for those looking for a personalised service
For those who don't want to deal with the schedules, transfers or frequency of New York's public transport, an interesting option for getting to the Empire State Building is the door-to-door service offered by taxis, Lyft or Uber.
In New York there is no shortage of taxis, but in case you don't feel like taking to the streets in search of a free one, a very interesting and convenient alternative to get to the Empire State that leaves no loose ends are the Uber and Lyft apps.
How do they work?
If you haven't tried this service yet, I recommend it because it's very simple and can get you out of trouble on more than one occasion. To use this type of transport all you have to do is download the APP on your mobile and register an account.
Then you will have to indicate the address of origin and destination and the fare, the itinerary and the time it will take the driver to pick you up will be automatically calculated. Once you accept, so that you can recognise the car that will pick you up, the app will show you the number plate.
Plus, using apps like Uber or Lyft means you don't have to worry about carrying cash in your pocket or taking out your card to pay as the amount will be charged directly to your account. It's that convenient!
6. Get around quickly with New York's public bicycles
One of the most popular forms of transport used by New Yorkers to get around the city are the public bikes that you'll find scattered along many streets.
If you like cycling, as well as enjoying the ride, you can take the opportunity to explore the city and take in the scenery. You'll see New York from a different point of view, as a local who rides a bike to work or home. And if you're committed to the environment, there's no doubt that this is a great way to get to the Empire State Building.
Citi Bike is one of the companies that provides this service in the Big Apple and is available for tourists and New Yorkers alike - check out the app! It's very simple and intuitive to use.
How to use Citi Bike?
When you download Citi Bike to your mobile phone, the app will show you your location on a map of the city as well as the nearest bike stations and other features. This way you can rent one wherever you want and get to the Empire State Building in no time. These are the steps to follow from the app:
To register, fill in the required fields and indicate a credit card for payment.
Choose a voucher and pay for it.
To unlock your bike, you can now scan a QR code or use the bike key.
You have a few seconds until the bike locks again, so I advise you to take it out quickly to start pedalling.