The 10 Best Harlem Tours
Taking a tour of Harlem is the best way to explore this legendary New York neighbourhood in detail - check out some of the best!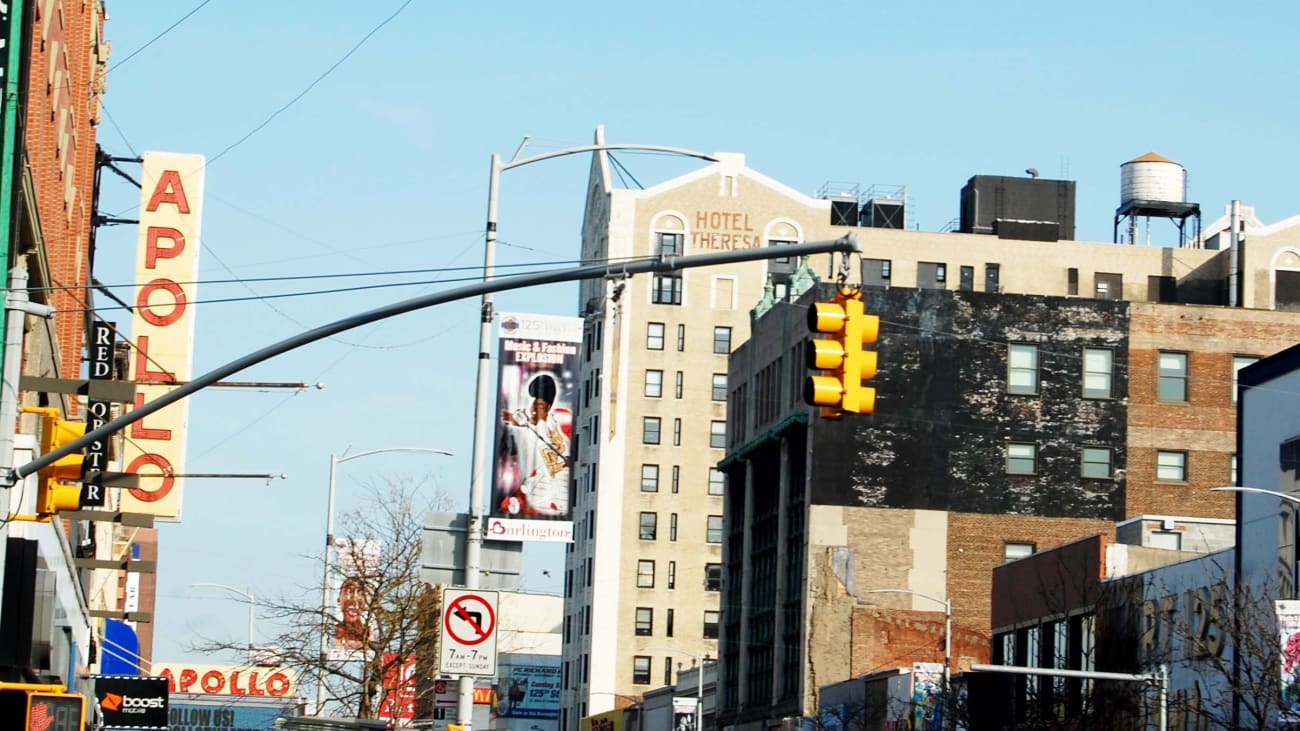 After the African-American community settled in Upper Manhattan in the early 20th century, Harlem became the epicentre of black culture in New York City.
To learn more about its history, culture and cuisine, there's nothing better than an entertaining tour of Harlem. Would you like to take part in one? Here are the best tours of Harlem, one of the must-do things to do in New York.
1. Attend a gospel mass and immerse yourself in Harlem
One of the most authentic experiences you can have during your visit to Harlem and that will allow you to spend a different day as if you were a local is to attend a gospel mass in a local church and go into the streets of the neighbour hood to immerse yourself in its culture.
This type of tour usually lasts several hours but is the best way to discover Harlem's African-American roots and soak up New York's cultural diversity.
What will you see on these tours?
On a gospel mass and Harlem tour, you and your guide will meet an original gospel congregation where you can enjoy this famous spiritual music while listening to a live service.
You'll also visit iconic neighbourhood landmarks such as the Apollo Theatre (where music celebrities like The Jackson 5, Ella Fitzgerald, Diana Ross and James Brown performed), the Morris-Jumel Mansion (the oldest mansion in Manhattan), Sylvan Terrace (a cobblestone street of identical little houses) and the Cotton Club (a popular nightclub that opened during Prohibition and hosted historic concerts), among other places.
2. Ride a bike for a tour of Harlem
If you have a busy schedule in New York but don't want to miss out on Harlem, my advice is to take a bike tour of the neighbourhood with a guide who will show you the highlights while explaining the interesting history of the African-American community in New York.
What will you see on these tours?
It's a fun way to take a tour! It will also allow you to see many interesting sites in a short time such as the Apollo Theatre (one of the most historic theatres in the neighbourhood where artists such as Diana Ross, Ella Fitzgerald or The Jackson 5 performed), the Cathedral of St. John the Divine, Columbia University, Schomburg Center for Research in Black Culture (a library and institution focused on African-American culture), Strivers' Row (a treasure of the city's architecture) or the Old Croton Aqueduct State Historic Park, among other places.
This is one of the tours you can access with the New York Pass, one of the best sightseeing passes in New York.
3. Experience the best music tours in Harlem
Thanks to the enormous talent of its neighbours (mostly African American and Latin American), the Harlem neighbourhood has played a prominent role in jazz and hip hop music, making countless contributions to these genres by artists such as Ella Fitzgerald, Mario Bauza, Puff Daddy, ASAP Rocky and Azealia Banks, among others.
If you're interested in the history and culture surrounding jazz and hip hop, you'll have a great time on one of Harlem's music tours.
What will you do on these tours?
A stroll through the neighbourhood with a guide will teach you a lot about African-American music culture, the artists who marked an era, the most important stages they played on, Harlem's oldest record shops and clubs, as well as about the murals on the subject that line the streets.
These tours offer you a different, fast-paced look at Harlem, and some of these tours even include live musical performances! It's a perfect plan to do with family or friends and suitable for fans of all ages. So... get ready to shake your booty!
4. Discover the neighbourhood's gastronomy with food tours in Harlem.
If you consider yourself a foodie and you love to take time out of your travels to have new culinary experiences, there is no doubt that a food tour in Harlem is one of the experiences you can't miss.
These types of tours will serve as your first taste of the local cuisine. If Harlem's gastronomy manages to make a place in your heart, you can later return to the neighbourhood to go on your own gastronomic tour and continue enjoying the best African-inspired food. In the post Where to eat in Harlem you'll find several proposals to get you started.
What will you do on these tours?
With a guide you'll learn about the characteristics of Soul Food style (associated with the African-American community in the south) as well as traditional dishes from West African countries (very popular in the Little Senegal area of Harlem).
And best of all, during the food tours in Harlem there will be food tastings! Will you be able to resist this great plan?
5. Join the Contrasts Tour to explore Harlem and other areas of New York
One of the most popular things to do in New York is the famous Contrasts Tour, which takes you to explore the five major boroughs of the city: Manhattan, Harlem, the Bronx, Queens and Brooklyn.
These types of tours are perfect for avoiding the main mistake that many first-time travellers make when visiting the Big Apple, which is to stay in Manhattan. In fact, it's advisable to take a Contrasts Tour shortly after landing in the city, as it will give you a complete overview of New York. You can then return to the neighbourhood you like best to explore it in detail on your own.
What will you see on these tours?
You'll see many of Harlem's landmarks with a guide, such as the Apollo Theatre and the Cotton Club (two very important venues for the neighbourhood's art scene), stroll among the brownstones (quirky little houses made of red sandstone), learn about the history of some of the neighbourhood's illustrious residents by walking the streets, and if you visit Harlem on a Wednesday or Sunday, you can even see a live gospel service at a local congregation.
6. Discover the cinematic side of Harlem with a film and series tour.
Do you feel like you know the streets of New York without ever having set foot on them before? That's what travellers who visit the city for the first time often say. A feeling of "déjà vu", the result of film and television. Hollywood has made the most of the city in its films like no other. And so has the Harlem neighbourhood, which has been the backdrop for many productions.
What will you see on these tours?
If you're a film buff, you'll definitely want to take part in one of **Harlem'**s film and series tours. A guide will take you through the streets to get to know the most cinematographic side of Harlem and its main filming locations for titles such as "Luke Cage", "Law and Order", "Malcolm X" and "American Gangster", among many others.
The film and series tours of New York are a fun way to discover this area of Manhattan Island because they are off the beaten tourist track. Seeing the sets of some of your favourite films in person is a blast, and you'll have a blast. You'll have a great time - a highly recommended plan!
7. Take advantage of a visit to Harlem to also get to know the surrounding areas on a tour
In many cases, sightseeing tours by bike allow you to explore some of the less touristy parts of the city while enjoying a little adventure on wheels.
It's a fun way to explore Harlem and the surrounding area (e.g. Central Park or the Bronx) without having to take (sometimes crowded) public transport or take long walks that put your feet to the test at the end of the day.
What will you see on these tours?
These tours of Harlem and the surrounding area are accompanied by a guide who will show you the most emblematic places in New York's historic African-American neighbourhood and other nearby areas of interest, combining art, culture, music and sport. A highly entertaining alternative to the typical sightseeing tour, from which you'll take away a whole new view of Harlem.
8. Learn about African-American heritage or civil rights with a tour of Harlem
Harlem may not be a neighbourhood full of tourist attractions compared to others in New York, but it does have a long and interesting history that you can learn about by taking a tour about African American heritage or civil rights- there's a lot to discover!
What will you see on these tours?
In just a few hours you will learn with a guide what life was like for Africans in colonial New York City under British and Dutch rule from the 17th century onwards. You will visit sites such as Wall Street (a former slave market in the city), Greenwich Village (the first settlement of free African-Americans in the city), Central Park (where the African-American community of Seneca Village lived before the park was built) and the African Burial Ground National Monument (the largest colonial-era cemetery for African-Americans), among other sites.
On the other hand, you will also tour the Harlem neighbourhood to discover with a guide the roots of the African-American community in this part of New York and its role in the Harlem Renaissance in the 1920s and 1930s and the Civil Rights Movement in the 1950s and 1960s, following in the footsteps of figures from the neighbourhood such as Adam Clayton Powell Jr. and Malcolm X.
9. Discover the renaissance of African-American culture with a tour of Harlem
In the early 20th century, this neighbourhood was the epicentre of a cultural, artistic and social boom within the African-American community known as the "Harlem Renaissance" that laid the groundwork for the civil rights movement of the 1950s and 1960s.
A tour of Harlem and the African-American cultural renaissance will give you an insight into what this golden age meant for the neighbourhood and the community, the echoes of which still resonate today.
What will you see on these tours?
With a local guide you will learn about the history of many of Harlem's landmarks such as the Apollo Theater, Speaker's Corner, the Brownstones, the Hotel Teresa, the Mount Morris Historic District and much more.
In addition, you'll learn about African-American culture in Harlem, the evolution of the neighbourhood over time, and get an up-close and authentic perspective on the day-to-day life of the neighbourhood.
10. Experience an exclusive Harlem experience with a private tour
And if you prefer an exclusive experience on your holiday in New York where you can tour Harlem at your own pace, without the rush and crowds of the big tours, a good option is to take a private tour of the neighbourhood.
What will you see on these tours?
You'll see some of Harlem's most important sites with a guide who will teach you about the history of the neighbourhood and its role and importance in the development of New York City. From its cultural, political and social aspects.
And best of all, it will be a personalised experience where you will have a private guide at your disposal who will answer all your questions, make recommendations tailored to your needs and show you the most interesting places on the tour of Harlem just for you.