Guide to the High Line in New York City
Of all the parks in New York, one of the most original is the High Line: a new urban garden built on an old elevated railway line full of greenery, art and rest areas - a gem!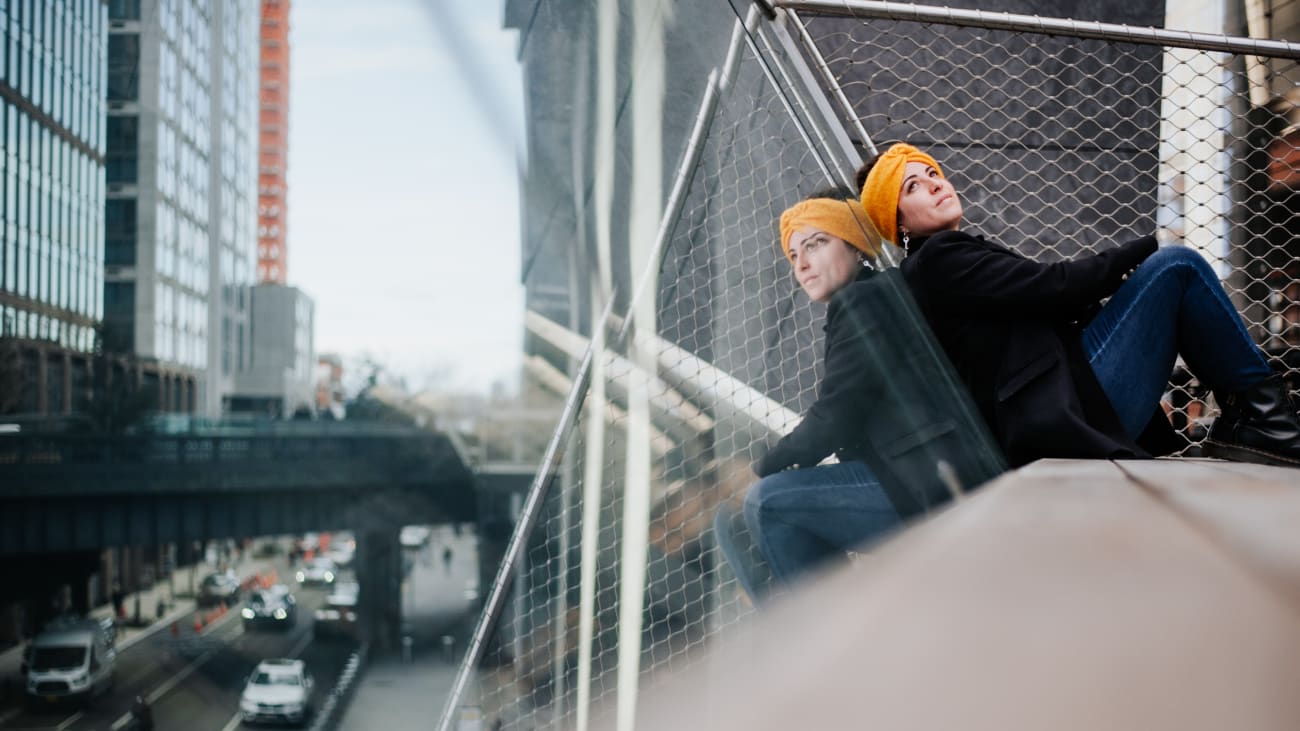 After Central Park, the High Line has become the park most visited by tourists and New Yorkers alike to escape the concrete and enjoy a green space and the best views of the city. It is located on an old railway line that was abandoned until a few years ago and leads to Hudson Yards, Manhattan's trendiest neighbourhood.
Its quirky design blends art and nature, and at the same time you'll follow a cool route through Chelsea and into the Meatpacking District from Hudson Yards (or the other way around). Afraid of getting lost? Book a guided tour of the High Line, Chelsea and Meatpacking. This is the High Line route I recommend:
1. Start with the first section: Hudson Yards
I suggest you start your visit at 34th Street in Hudson Yards. Before heading into the High Line park, take advantage of the fact that you're in Manhattan's hippest up-and-coming neighbourhood, full of shops, luxury skyscrapers and trendy restaurants. Entrance to the High Line from this area is via a ramp, which is an advantage for people in wheelchairs or pushing a baby pram.
See the skyscrapers at Hudson Yards
On the site of what was once a dreary train depot along the Hudson River, a modern residential and entertainment neighbourhood known as Hudson Yards is now being built, the hippest part of Midtown in the Big Apple.
An area with a lot of potential that already has some recently opened tourist attractions such as The Edge observatory, The Vessel, the Little Spain food market and The Shed cultural centre. It's really worth a visit because you're going to have a great time. Check out my guide to Hudson Yards for the must-sees, and book your guided tour.
2. Continue to The Spur
During this part of the tour you will walk among skyscrapers and designer buildings. The contrast between the different shapes, decorative elements and heights of the buildings is striking, although to be honest, being in New York, you'll always feel like an ant among these huge constructions. The ones at the 28th Street entrance are amazing, so don't forget to take some pictures of them.
There are also some very beautiful sculptures at this height, such as the Love & Love sculptures, and at certain points the vegetation grows so lushly that it invades the path and for a moment it seems as if you are in the middle of a forest. However, the car sirens in the background remind you that you're still inside New York's High Line park.
3. Take a break to enjoy some street art
In addition to the art you'll see along the High Line Park, if you pause your tour to exit at the 23rd Street entrance, you can take a stroll around the area to see some of Brazilian artist Eduardo Kobra's graffiti.
Mount Rushmore, on the facade of the Empire Diner, as a tribute to artists such as Andy Warhol, Frida Hahlo, Keith Haring and Jean-Michel Basquiat.
Tolerance, which pays tribute to Mother Teresa of Calcutta and Gandhi.
We love NY², featuring Einstein as the protagonist who expresses his love squared for New York.
Take a photo opportunity
With some great souvenir photos, head back to High Line Park to continue the tour. Don't put your camera away because a little further along 21 Street, on the left, there is a very peculiar sculpture under whose arch you can take some more photos.
4. Cross Chelsea
We've reached the last stretch! At 10th Avenue is the High Line Observation Deck, a grandstand where you can rest for a while and take in the views before heading into a small area where they sell High Line Park souvenirs and food (ice cream, empanadas, German currywurst, etc.) from small stands.
The sights of Chelsea Market
On this third stretch of the High Line Park, I suggest you make another stop along the way, as at the level of 10th Avenue and 15th Street you will see a sort of bridge that connects two buildings in Chelsea, which nowadays correspond to Chelsea Market.
This is one of New York's most famous food markets, which used to be the Nabisco biscuit factory - the one that invented Oreo biscuits! In fact, if you look closely, the walls of the market are full of references to them. If you decide to buy something to eat in this area, you'll see that there are some little tables where you can eat in peace and quiet. In any case, I'll tell you where to eat near the High Line later on.
5. Relax on the last stretch, the quietest one
Then if you continue walking a little further along the High Line park you can enjoy one of my favourite spaces: the wooden deckchairs. Here you can not only relax in the sun or in the shade of a tree, but you can also take your shoes off and cool your feet in the water flowing from the tracks, which comes in handy during the summer - it's like a little oasis in the middle of the High Line!
The good thing about this area of High Line Park, on the south side of the route, is that it's not as crowded as previous sections and there's plenty of shade, which is especially welcome on hot days. Next on the route, straight ahead, is The Standard Hotel, whose rooftop bar has great views of the city.
On the left is the Gansevoort Street entrance, which means the walk through High Line Park is over. But not the fun! If you like modern art I suggest you go downstairs and then go to the Whitney Museum, which specialises in 20th century American art.
6. Breathe culture in the Meatpacking District
The Meatpacking District is a small area of Greenwich Village known for its bars, hotels, art studios and sophisticated boutiques. Its industrial-looking buildings and cobblestone streets still remind us of its early 20th century working-class past, when it was the largest butcher shop in New York (hence the name), and if you look closely you'll see a stark contrast to the avant-garde skyscrapers of Hudson Yards.
In the 1980s it went through a difficult period when the neighbourhood fell into marginalisation, but there's no trace of that era left and today it's a very popular place with a glamorous air that breathes an alternative culture.
Climbing to the rooftop of The Standard hotel is an alternative to other New York viewpoints. There is no entrance fee but I recommend buying a drink at the bar if you want to see the skyline.
7. Eat like a king on the High Line
When it comes to food, few cities in the world can boast as varied a gastronomic offering as New York. The advantage of working up an appetite during your visit to High Line Park is that you can choose from a number of delicious places to grab a bite to eat that will leave a great taste in your mouth.
Chelsea Market
I recommend a visit to Chelsea Market, where you can sample delicious dishes such as sushi, tacos, noodles, pasta and seafood (the market's speciality) at its fast-food stalls. It also has sections dedicated to wine, coffee and sweets, so if you have a foodie friend, they'll be thrilled if you bring back a tasty souvenir from New York.
Old Homestead Steakhouse
Next to Chelsea Market is Old Homestead Steakhouse, a temple for beef lovers and a Meatpacking District icon that has been open since 1868. Although its menu also includes fish, the most popular dish for which it is so well known is its steaks. The portions are high quality, delicious and quite generous, which is reflected in the price, by the way. However, I can assure you that you will walk out the door satisfied and with a smile from ear to ear.
Little Spain Market
In Hudson Yards you can't miss Little Spain Market, a gastronomic space dedicated to the flavours of traditional Spanish cuisine by chef José Andrés and brothers Ferrán and Albert Adriá. Here you can unleash your gluttony and order tapas, sandwiches, cocas, cheeses, Spanish wines, churros and much more - the best of Spanish cuisine outside Spain!
The Shops and Restaurants at Hudson Yards
Drop into this modern mall for a bite to eat and a bit of shopping. There are plenty of restaurants to get your fill, such as Shake Shack's famous hot dogs and burgers, Kawi' s clams with hot sauce or **Peach Mart'**s breaded pork katsu sandwiches. Yummy!
8. Tour it any time of year, any time of day
Since the High Line Park is open all year round, any time is a good time to come and take a pleasant walk in the open air in this area of New York City. However, being a park, it is true that the scenery changes with the seasons.
When, in my opinion, High Park's vegetation is at its most beautiful is during New York's spring and summer. The trees are lusher and the sun shines through the leaves, creating a beautiful play of light along the path. The path is also filled with colourful plants and flowers. In general, this is the best time to visit New York's best parks.
During autumn and winter, the days are shorter and the temperatures are cooler. The vegetation is sparser and the landscape changes completely, although the snow gives it a special charm. In addition, there are always new art exhibitions to see which is also an incentive to visit the High Line park in the colder months of the year.
And the best time of day?
My recommendation is to set aside some time in the early morning to explore the High Line Park at your leisure, as the track is narrow and the High Line Park is a very popular place that tends to get crowded easily (especially in the evenings and on weekends) and in some sections you may feel like you're dodging people rather than walking.
However, another option is to visit the High Line Park in the late afternoon when it starts to get dark. The track is illuminated from bottom to top and you can appreciate the contrast between it and the surrounding buildings. It's an interesting sight to see, especially if you're a photography enthusiast.
9. Check its calendar of events and visit it with children
In addition to enjoying nature, outdoor art and a nice walk, High Line Park also organises astronomy events, pilates and free guided tours given by volunteers. You can see the calendar of activities and all the park's news on the official High Line website.
Is it worth going with children?
Of course it is! They'll love their play time and the High Line also hosts special events for the little ones.
10. Plan your visit: practical information
Start: 34th St (underground: 34th St - Hudson Yards)
End: Gansevoort St (underground: 14th St - 8th Ave)
Hours: Monday to Friday from 7AM to 7PM. Weekends from 10AM to 6PM.
Price: Free
Where is High Line Park?
High Line Park is located between Gansevoort Street and 34th Street. Its two-and-a-half kilometre straight line route starts (or ends depending on which direction you take) to the north near Hudson Yards. It then runs through Chelsea and finally ends in the south in the Meatpacking District next to the Whitney Museum.
The great thing about the High Line Park is that along its route there are intermediate access points to get out and explore or re-engage with the walk via lifts and stairs, so you can explore the area at your own pace, making as many stops as you like.
Access to the High Line
Gansevoort St (lift, public toilets and stairs)
14th St (lift and stairs)
16th St (lift, public toilets and stairs)
20th St (stairs)
23rd St (lift and stairs)
26th St (stairs)
28th St (stairs)
30th St (lift and stairs)
34th St (stairs)
How long does it take to complete the walk?
It takes about an hour to complete the High Line Park tour, although it will take a little longer if you stop to take photos, enjoy the views, have a snack or rest on one of the benches or loungers.
But how did High Line Park come to be?
The history of High Line Park dates back to the 1930s, when the city's West Side used to run goods trains supplying New York with meat. Later, when the highway began to be used to transport the goods, the tracks fell into disuse and weeds began to sprout on them, giving them a neglected appearance.
In the 1990s, there were plans to dismantle the railroad tracks to make way for new construction, but a keen Chelsea neighbourhood association called Friends of the High Line saved them from being dismantled in order to preserve this piece of Big Apple history.
It was finally decided to restore the tracks and transform them into an elevated urban garden, the first section of which opened in 2009. The second and third sections opened in 2011 and 2014 respectively, and The Spur, the latest addition, opened in June 2019.