Guggenheim Museum New York Guide
This sculptural building, as well as being an architectural symbol of New York, houses some of the world's most important works of art, including those of Van Gogh, Monet and Picasso. Welcome!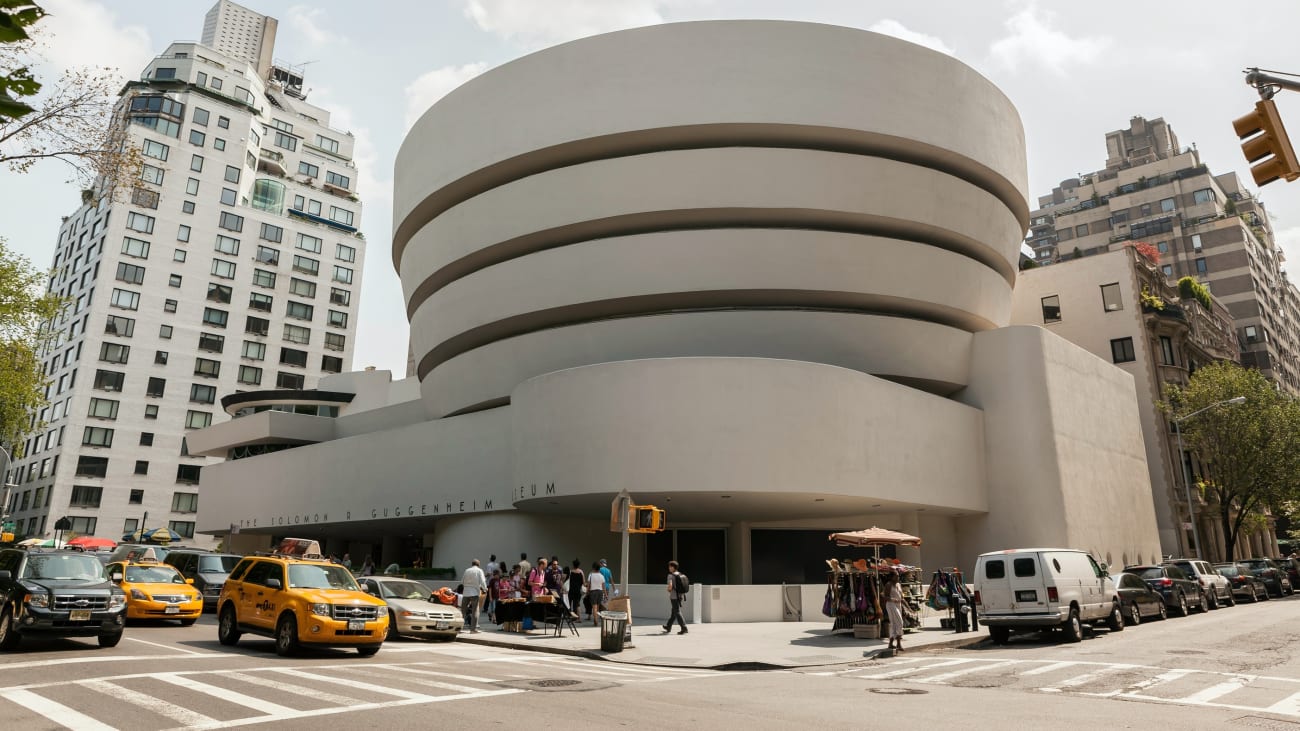 If you dare to walk the spiral ramp of the Guggenheim Museum in New York, you'll discover one of the architectural highlights of the 20th century. This institution, which has become an obligatory stop in front of Central Park, is capable of uniting art, design, architecture and gastronomy. Yes, gastronomy too!
If you're already convinced to get on board this icon of design and contemporary art, and you want to be dazzled by the impressive works of Van Gogh, Kandinski and Picasso, among others, I recommend you buy your tickets online and in advance to save time and money. Take note!
The best option
Skip the queues for priority entry to the Guggenheim Museum
Don't waste a minute and enjoy a more intimate experience by visiting the museum with a guide every day at 2PM.
With this option you will be paying for your priority access to the Guggenheim Museum, where you will be able to contemplate thousands of works of modern art without wasting a second.
What's the advantage? You save yourself endless queues at the museum door and just enjoy the Big Apple. If you don't know where to spend the rest of your time in the city of skyscrapers, here's the definitive guide to the 33 things to do in New York.
Admission includes:
Direct access to temporary exhibitions (no queues or waiting).
Guided tours led by educators every day at 2pm. A tour of the museum that will help you contextualise the galleries through the eyes of an expert.
Attendance at lectures by artists and art critics from around the world.
Art classes for teenagers and adults.
Also, if you enjoy strolling outdoors, this priority ticket includes a 20-minute guided tour of the Museum Mile on Fifth Avenue, an area that is packed with cultural institutions and museum gems packed into just over a mile.
Recommended if... you don't have much time to visit New York or you don't want to waste time in the insufferable queues that form every day to visit the iconic Guggenheim.
Nuria's Traveller Tip

It's best to visit this museum in the morning so you don't miss the interesting guided tour at 2pm, which is included in the price.
How much do tickets to the Guggenheim Museum cost?
The best thing to do, as I said, is to buy the priority ticket from €23. The good thing? Your booking will be confirmed immediately and, should you have any problems, you can cancel it free of charge so you can book without risk or worry.
Avoid this trip turning into your worst nightmare if you get here without tickets and have to go to the ticket office. It's one of the most popular museums in the Big Apple, so the queue is usually quite long, so long that it can wrap around the building, especially in high season(June, July, August and the Christmas months) and early in the morning (it opens at 11am).
A curiosity! When the Guggenheim Museum opened its doors in 1959, 62 years ago, the entrance fee was only 50 cents, which is less than one euro.
Discounts for senior citizens and students
However, if in your case, you are one of those who prefer to go on your own and you don't mind wasting the morning or afternoon in a queue because you have enough time, take a look below at the groups that have access to a reduced fare:
Over 65s,
Disabled persons
Students, who must show their university card.
Children under 12 years of age can get in free of charge. Yes, you read that right: free! Therefore, this plan is very economical if you want to travel as a family and with small children.
How to get free admission to the Guggenheim Museum in New York City
Thrifty savers are in luck too! One Saturday a month, the foundation allows visitors free admission to the Guggenheim Museum in New York, an initiative sponsored by Macallan. However, due to capacity restrictions and the high demand for these passes, this option is quite uncertain. For this reason, and so that you don't miss out on your ticket, I suggest you buy it in advance at Hellotickets.
The good thing about New York is that the cultural offer is immense and there are options for all budgets. Some of them are very, very cheap. Don't miss this article on the best museums in New York. Also remember that on Saturdays from 4pm to 6pm, the Guggenheim Museum allows visitors to enter for a donation, so you can decide how much you want to pay.
If you're worried about your budget when visiting New York's museums, you should know that some, such as the MoMA, also offer free slots at certain times of the week and that tourist passes (see here for the best tourist card in New York) are also a good way to save money.
Nuria's Traveller Tip

I recommend that you buy your ticket well in advance as there tends to be a high demand - don't miss out on this temple of art!
Are tickets to the Guggenheim Museum included in any of the city's tourist passes?
Yes, being such a touristy city with so many cultural wonders to visit, if you don't want to miss out on any of them, you can opt to buy the New York City Pass, which will get you into the Guggenheim Museum because admission is included in the price.
In my opinion, it's a very good idea to buy this pass when you have several days (at least 9) because you'll forget about the crowds and queues. All you have to worry about is enjoying yourself. You won't even need a guidebook because the main attractions are included in the price and you'll save money and time.
I recommend it if you 're going to be in New York for at least a week and want to visit the main sights without having to queue for ages or spend too much money.
Where the Guggenheim Museum is and how to get there:
The Guggenheim New York is located on 5th Avenue in New York, between 88th and 89th Streets.
Despite being one of the largest cities in the world, New York City is well connected by public transport. To get to the Guggenheim Museum you can take the New York underground lines 4, 5 or 6. You can also use the M1, M2, M3 or M4 bus lines.
By the way, you should know that the museum is accessible to people with disabilities: it has a lift and is wheelchair accessible, except in the High Gallery.
Hours to visit the Guggenheim Museum:
The Guggenheim Museum is open from Thursday to Tuesday from 11am to 6pm. My advice is to check the opening hours on the official website before you go, as they are subject to change. Be careful, because on Tuesdays and Wednesdays the museum is closed all day and some holidays (such as December 25th) as well.
Monday: from 11:00 to 18:00 h.
Tuesday and Wednesday: closed
Thursday to Sunday: from 11:00 to 18:00 h.
Top works you can't miss at the Guggenheim Museum: What is the Guggenheim Museum?
Here is a list of the most iconic works of this museum:
'Dining Room in the Garden', by Pierre Bonnard.
Mountains of Saint-Remy', by van Gogh.
The mural 'Painting', by Joan Miró.
Woman before the Mirror', by Édouard Manet.
Composition 8' and 'Black Lines', by Wassily Kandinsky.
Red Lily Pads', by Alexander Calder.
The main focus of the Guggenheim Museum, which also has branches in Venice, Bilbao and soon in the city of Abu Dhabi, is on Impressionist and Expressionist art by great figures such as Van Gogh and Kandinsky, as well as modern and contemporary art.
In terms of major paintings, its collections are as varied and spectacular as they come. Get ready for a visual journey through the works of Toulouse-Lautrec, Magritte, Chagall and Miró, among others.
As we have seen, there are works to suit all tastes. The museum combines permanent exhibitions with temporary exhibitions and a collection of photographs by Robert Mapplethorpe, famous for his large black and white images, especially of flowers and male nudes.
Exchange of works between the Guggenheim Museums
One of the characteristics of the Guggenheim Foundation's museums, which makes them unique and different, is that their exhibitions are changing, due to the exchange of paintings between their institutions. The foundation itself argues that this dynamism contributes to enriching the public's artistic perception and that you can visit more than once, so you don't get bored!
The Picasso collection at the Guggenheim Museum
Are you a lover of Spanish painting? Then pay attention because the Guggenheim in New York has one of the largest collections of Pablo Picasso, considered the most influential painter of the 20th century.
Among them is the work "Woman with Yellow Hair", inspired by Marie-Thérèse, whom Picasso met when she was 17 and he was 45. The two began a very intense sentimental relationship, but hid it from those around them for years, as she was very young and the Malaga-born artist was married. Later, the genius made her his muse and bequeathed us portraits of great beauty such as this one.
How much time you need to visit the Guggenheim Museum
You'll need at least 2 hours to visit and walk around the six winding floors that rise up to the imposing glass dome where natural light floods in. The best time to visit is usually, as is common with all tourist attractions, early or late in the day to avoid large crowds and full capacity.
Therefore, it is best to arrive early and plan your trip in advance. I personally prefer to spend two or three hours on a leisurely tour of the museum, rather than seeing the whole thing in an hour's time. However, this decision will depend on how much time you have available.
Take advantage of the workshops for children
The museum runs a number of activities for younger visitors. For example, on the second Sunday of every month, the museum runs an interactive tour for families, including creative and hands-on activities in the galleries.
Nuria's Traveller Tip

The views from the top of the building are incredible. Don't forget to take a selfie on the sixth floor before you leave - you'll be the envy of your social networks!
When is the best time to visit the Guggenheim Museum?
Any time of year is the perfect time to be seduced by the Guggenheim Museum in New York. However, visiting this enclave in winter is an ideal activity to take refuge from the cold and soak up its culture.
Christmas in New York is magical. Who hasn't dreamed of saying goodbye to the year here? A perfect plan is to visit the museum in the morning and in the afternoon get lost in Central Park or in the streets of the Big Apple watching the Christmas lights.
We can't forget the wonderful autumn and the dreamy postcards of Central Park with the colourful leaves on the trees. A beautiful picture that we can take as soon as we leave the Guggenheim Museum.
On the other hand, the Guggenheim Museum is ideal in summer to take shelter from the sun and get a bit of shade while enjoying the art. In conclusion, any month is a good time to visit the Guggenheim Museum in New York.
Nuria's Traveller Tip

In winter in New York it's very cold, but in the museums it's very warm. My advice is to dress in layers, as if you were an onion. You'll be grateful for it!
A brief history of the Guggenheim Museum in New York City
This cylindrical building was designed by Frank Lloyd Wright and conceived as a "temple of the spirit" and of art. Unfortunately, Lloyd was unable to see the completion of his work, which was inaugurated in 1959, months after his death.
On this tour, you will immerse yourself in 20th century avant-garde architecture and see some of the most beautiful works of contemporary art. The Guggenheim building is made of 700 tons of steel and 198 square metres of concrete - almost nothing!
In 2019, the monumental building was declared a UNESCO World Heritage Site. Did you know that it took this architectural genius almost 15 years and 700 sketches to create this marvel?
Where to eat near the Guggenheim Museum in New York City
Of course, if after a long morning strolling around the exhibition, in which you've burned a lot of calories, you get hungry, I recommend you take a break to indulge in the quintessential American fast food: hot dogs and hamburgers to replenish your energy. I'll tell you all about it here: the 10 best places to eat in New York.
Enjoy your gastronomic and cultural experience!