7 Best Greenwich Village NYC Tours
Greenwich Village is a New York City neighbourhood located on the tip of Manhattan Island, more precisely in Lower Manhattan. It is a place to visit through various guided tours and live a different tourist experience.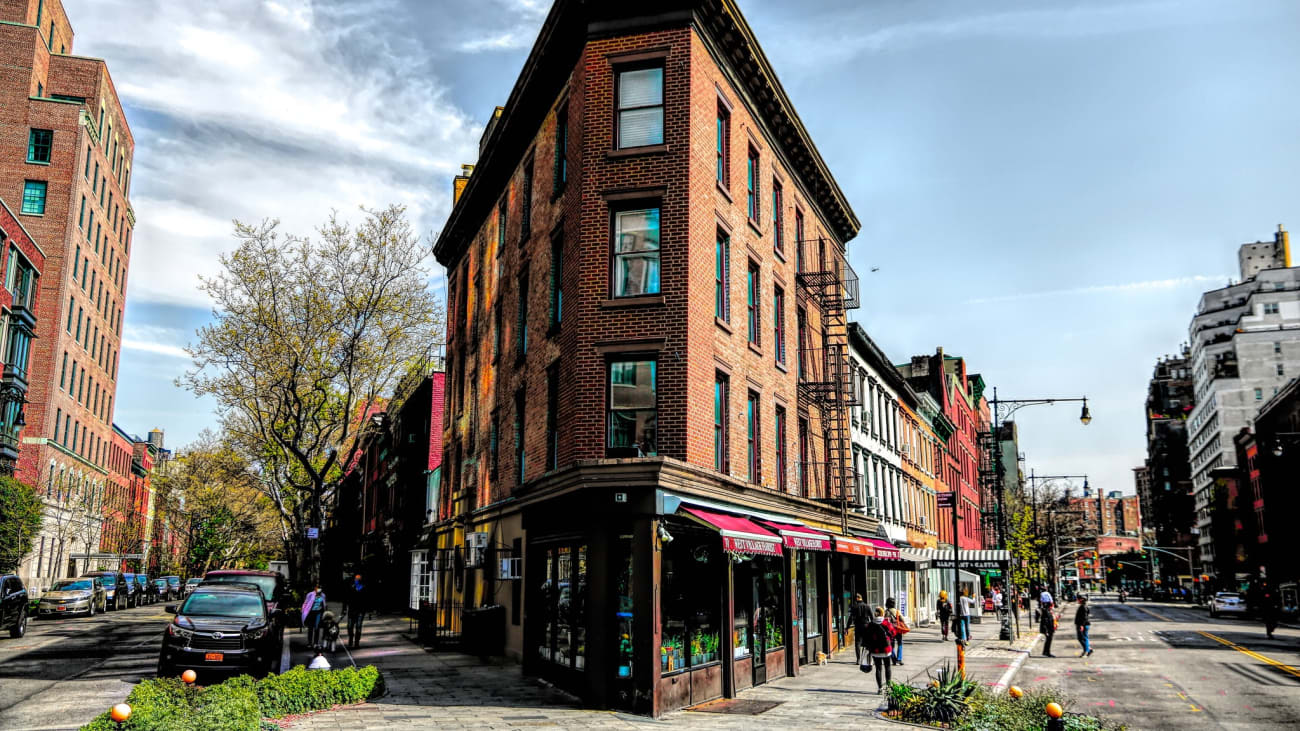 Greenwich Village' s tree-lined streets with bourgeois-style houses, restaurants, bars, alternative shops and parks invite you to take tours to get to know this area of New York City in more depth. Strolling through this neighbourhood is one of the most recommended activities when deciding what to do in New York.
Youwon't be bored for a minute if you choose to let yourself be carried away by the gastronomic tours and walking tours with a professional guide through the different places of interest in the area. Without a doubt, Greenwich Village opens up a wealth of sightseeing options for you to discover when you visit New York.
1. Greenwich Village Walking Tour
Greenwich Village is certainly not an area of the city for seeing museums and monuments, but it is perfect for experiencing its history and the beauty of its streets and buildings first-hand.
Therefore, the first tour you should take in Greenwich Village (one of New York's oldest neighbourhoods) is the walking tour to experience it for yourself.
There are several reasons to choose this tour, but the most important ones are the possibility to walk through the leafy tree-lined streets, the houses that recall the bourgeoisie of the early 20th century (some were inhabited by important cultural figures) and the bohemian style that is still present today.
Walking tours through the streets of Greenwich Village are led by a local guide, which makes the walk all the more interesting. This guide will tell you real stories about important events that happened in the neighbourhood and anecdotes and stories of famous people connected to the Village.
In addition, there are several stops at iconic sites, such as Washington Square Park, the Stonewall Inn bar where the gay rights movement began in 1969 and several of the houses where writers, musicians and members of the movements that emerged in this neighbourhood lived, among others.
This tour may surprise you more than you imagine.
Interesting details
Price: from 35 €.
Duration: approximately 2 hours.
Means of transport: the tour is on foot.
Advantages of this option: you will get to know the most beautiful places in the neighbourhood and the most interesting stories thanks to a guide who lives in Greenwich Village.
Disadvantages of this option: the time of the tour may seem too short due to the interesting nature of the tour.
2. Taste the best Italian dishes on a delicious tour
The history and development of Italian cuisine began many years ago. Some of the dishes that compose it such as pastas, pizzas, chocolates, ice creams, wines, liqueurs, risotto and many other specialities are very popular all over the world.
Greenwich Village has its own area that will remind you of Italy and has been chosen as the place for a walking tour to get to know and taste the best of Italian cuisine.
This type of tour is one of the most interactive tours available in the tourist market, as is the case with all gastronomic tours. However, this one is very special since, if you like Italian food and drinks, you will feel at ease every minute of the tour.
Some of the food stops that are always included on the tour are Caffe Reggio, Raffetto's Pasta Store, Unico Taste of Sicily (ice cream and cannolis) and Faicco's Italian Specialties(Italian special tiesfor in-store purchase or delivery), among others.
The role of the guides on these tours is vital to make the participants feel comfortable, ready to enjoy the gastronomic experience, as well as providing them with expert information about each place.
Details of interest
Price: from 69 €.
Duration: 2 to 3 hours.
Means of transport: the tour is on foot.
Advantages of this option: Italian cuisine is one of the best ways to experience the culture of Greenwich Village.
Disadvantages of this option: You'll want to do the tour again as soon as possible.
3. There are ghosts in Greenwich Village, do you want to meet them?
The Greenwich Village area is described in different ways. The most popular is as a bohemian, activist and bourgeois neighbourhood par excellence.
However, its streets are also said to harbour ghost stories which, of course, have been turned into tours involving small groups of people.
The mystery and ghost tours take place after dark (of course) and last approximately two hours on foot.
The tour takes you along different sites, streets and buildings (e.g. Washington Square and the Brown Building belonging to New York University) where ghost stories and unsolved mysteries took place.
Must-sees include the Emma Lazarus House, the famous Elm Tree at Hangman's, the House of Death( isMark Twain's ghost there?) and the Brown Building fire story, among others. Don't let these names scare you off and be brave enough to take this fun tour!
The whole experience on these tours is very entertaining. A good part of that fun is due to the guides who tell the ghost stories in the best possible way and give an additional attraction to the tour.
Interesting details
Price: from €32.
Duration: around 2 hours.
Means of transport: the tour is on foot.
Advantages of this option: A tour that includes ghost stories you didn't know about, plenty of historical details and a lot of fun.
Disadvantages of this option: You might feel a bit scared at some point during the tour.
4. Different food tours between High Line and Greenwich Village
Greenwich Village offers a heterogeneous cultural richness that can be seen through the music and other art forms that began to take shape within its boundaries. This cultural diversity is also reflected in the food, which is why there is a wide variety of food tours available in this area of the city. Without a doubt, several of its restaurants are among the best places to eat in New York.
The usual recommendation, which any expert in New York tourism would give you, would be to do as many food tours as possible in Greenwich Village because you will have the opportunity to delight yourself with traditional dishes, cakes and incredible cupcakes. You'll also learn a lot more about the history and culture of the people who live there.
Some tours combine dining in Greenwich with a stroll through the amazing park that the High Line has become. This means that you may have to do two different tours on the same tour but I assure you it will be well worth the effort of the walk.
The stops to sample the various culinary offerings are very different and range from pizzas and pastas, to sweets and ice cream, not to mention the best sandwiches in town.
Interesting details
Price: from 120 €.
Duration: about 3 hours and a half.
Means of transport: the tour is on foot.
Advantages of this option: Two tours in one tour, each with its own attractions.
Disadvantages of this option: The tour can be quite long, but it's worth enjoying both.
5. Beers and literature in a different tour
Perhaps you never imagined that a tourist activity could combine history, literature and beers. However, it is possible. There are guided tours on offer that focus on a scheduled tour of various bars and pubs favoured by famous writers who lived in Greenwich Village.
This tour brings together the best local beers, the history of various strategic locations in the neighbourhood and interesting information about those renowned writers who once spent time there drinking and writing. Tour members can purchase drinks at each stop if they wish (over 21), but they are generally not included in the tour price.
Some of the pubs frequently visited on these tours include the White Horse and Marie's Crisis Café, among others. The neighbourhood has a strong craft beer tradition, so you'll probably have the opportunity to sample several of them during the pub crawl.
Obviously, if you're looking for things to do in New York with kids you're better off choosing any other tour.
Interesting details
Price: from €45.
Duration: about 2 hours.
Means of transport: the tour is on foot.
Advantages of this option: The fun of this tour is generated by the excellent stories shared by the guides, the beer tasting for those who wish to try it and the decoration of the pubs and bars.
Disadvantages of this option: It is not advisable to buy beer at each historic stop.
6. The untold story of rock 'n' roll is in Greenwich Village
Music is part of global history, and rock 'n' roll has a prominent place in world culture.
So you shouldn't be surprised to learn that among all the things to see in Manhattan are tours that take in sites that are iconic to New York counterculture (e.g. Café Wha?) and American music.
On these tours, guides tell stories about musicians such as the Velvet Underground, Jimi Hendrix and Bob Dylan who created their music and first played it in Greenwich Village.
Each site visited on these tours is linked to music and great stories of musical art. The guides are the key to making these tours as entertaining as rock 'n' roll history deserves.
Interesting details
Price: from 50 €.
Duration: about 2 hours.
Means of transport: the tour is on foot.
Advantages of this option: The musical stories on this tour will surprise you.
Disadvantages of this option: You may want to stay longer listening to music in Greenwich Village.
7. Gourmet Specialty Tour of Greenwich Village
While Greenwich Village is home to a wide range of culinary varieties from the cuisines of different countries, there are also restaurants that offer anauthentic New York menu.
As a result, gourmet tours have been created to showcase the most important exponents of burgers, cupcakes and donuts, among other local delicacies.
The guides are specialists in the city's gastronomy, its origins and its long history. This is also part of the culture of the city and the Greenwich Village neighbourhood. You can't miss this walking tour that combines historical information about the area with the chance to taste those dishes you've always dreamed of.
Price: from €90.
Duration: between 2 to 3 hours.
Means of transport: the tour is on foot.
Advantages of this option: An interesting tour in terms of culture and exciting for the delicacies you will taste.
Disadvantages of this option: After this tour you might not want to eat anything else for the rest of the day.
How to book a Greenwich Village tour
Booking a tour of Greenwich Village is as easy as buying a ticket for any other activity in New York (e.g. buying tickets for Madison Square Garden).
The first decision is related to the type of tour you prefer to take and the details related to the purpose of each visit. After this, it is time to make the booking.
Nowadays, tourist bookings are much simpler and faster than in the past. You just need to find a reliable and well-reviewed platform offering tickets and sightseeing tours in Greenwich Village.
Online booking only takes a few minutes and you can pay with a variety of payment methods. In addition, it is important to check what are the conditions for cancellations and in which cases the tour can be cancelled.
How much does a Greenwich Village tour cost?
There is a wide range of prices, but they can be grouped into several basic categories. For example, walking tours whose services include only a professional guide, gastronomic walking tours which are generally more expensive, and various bus tours, among others.
Prices range from approximately €29 to €130. It all depends on the services included in the tour. There are also sightseeing services in Greenwich Village that are not tours, but ticketsto shows and bike rentals.
Another factor that defines the price of a tour is what is generally called the added value. Each of these additional details makes a tour without luxuries or, on the contrary, with all the luxuries.
What are the advantages of taking a guided tour vs. visiting Greenwich Village on your own?
On many occasions, you have probably wondered whether it is worth touring a tourist site on your own or it is more convenient to do it with a tour that offers the service of a specialised guide, among other services. In the case of your visit to Greenwich Village in New York City, it could be said that guided tours will be an advantage for you.
It is natural that you think it might be more comfortable and faster not to have to be aware of a guide and to have to share the different excursions with other people. However, it is likely that you will get much more out of each tour if it is guided.
The most obvious reasons are that you will be able to learn and enjoy the expert information from the guides, the tour will be much more fun and there will be other people to share each experience with. You will also be able to organise your budget to invest in excursions in advance.
Although any tour of Greenwich Village involves an additional expense that needs to be taken into consideration when organising your New York City holiday, on the balance sheet it offers more benefits than disadvantages, so it is important to consider guided tour alternatives.