How to visit Dyker Heights Christmas lights in NYC
If you're lucky enough to visit New York at Christmas time, you can't miss the most beautifully decorated neighbourhood in the city - it's like a movie!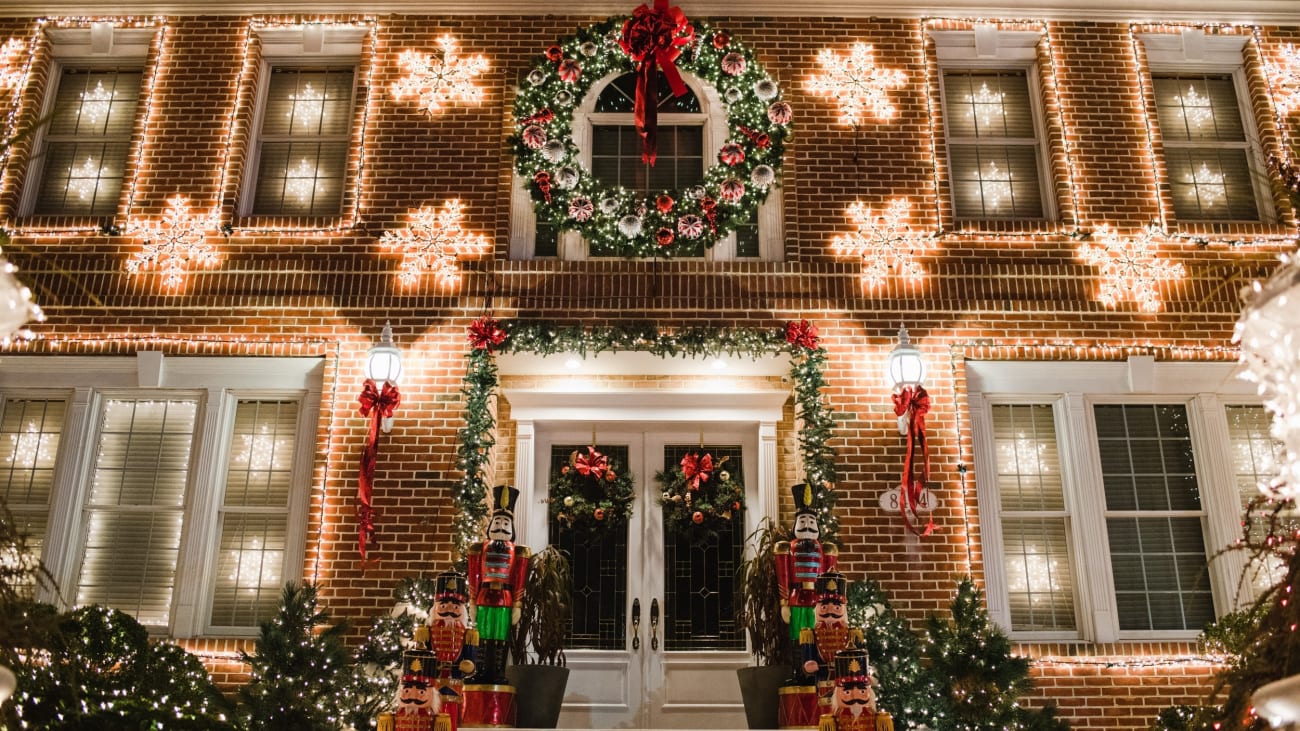 New York at Christmas time offers many things to do: illuminated shop windows, decorated streets and avenues, skating rinks.... But if there's one thing you can't miss, it's the decorations in Dyker Heights.
With a lot of imagination and creativity, the people of Dyker Heights in Brooklyn have turned their neighbourhood into a must-see New York Christmas destination. You've never seen anything like it except in the movies, so get ready for a display of colour and lights and discover one of New York's best neighbourhoods!
The best option
Discover Dyker Heights on a tour of Boorklyn and marvel at the neighbourhood's Christmas lights.
The best way to get around this amazing place is to take a guided bus tour to see the spectacular Christmas decorations put up by the locals themselves.
The Dyker Heights Christmas tour is a great idea for those looking for a way to enjoy Christmas in New York. The bus tour through the streets of Brooklyn to see the Christmas decorations will leave you speechless and will be one of the best memories you'll have of your time in the city during this magical season.
You'll see the extravagant lights, snowmen and impressive Father Christmas figures that decorate the houses in this residential area whose residents have made this a very popular destination at this time of year. Your local guide will tell you how this original idea for Dyker Heights came about and you'll be able to take the best snapshots along the way.
Recommended if... you want to discover this corner of New York where you'll be dazzled by the Christmas light show put on by the locals and you'll enjoy it twice as much when you take a comfortable bus from Manhattan.
What is Dyker Heights like?
Dyker Heights is actually a residential neighbourhood in Brooklyn that would be nothing special if it weren't for the fact that every Christmas its residents get into the Christmas spirit and transform their private homes into a place that looks like something out of an American movie, thanks to a huge display of holiday decorations and lighting.
Some choose discreet and sophisticated lights to decorate their homes, while others go overboard and fill them to the brim with all kinds of garlands, balls, inflatables and Christmas carol singing figurines. To walk the streets and enjoy this spectacle in comfort I recommend you sign up for the Dyker Heights Christmas tour.
Why go to Dyker Heights for Christmas?
If you like Christmas decorations and lights, I highly recommend it because it's quite a sight to see an American-themed neighbourhood for Christmas. The locals go to great lengths to impress visitors every year and visitors have a blast taking pictures of Father Christmas, reindeer, snowmen, elves and more - you'll be hard pressed to find a dark house at dusk!
How to get to Dyker Heights?
Dyker Heights is located in southwest Brooklyn, between the neighbourhoods of Bensonhurst and Bay Ridge. You can go on your own by public transport or take a Christmas tour of Brooklyn in a comfortable vehicle that will take you on a round trip from downtown Manhattan.
By public transport
Dyker Heights is about an hour's underground ride from Manhattan. It does not have a subway station but the surrounding neighbourhoods do. There are several options for getting there by public transport (see our guide to using the New York underground here).
Take the R underground line and get off in the Bay Ridge neighbourhood at the 86th St. stop. There are cafes and shops around this underground stop, so if you need to use the restroom or want to get something to warm you up, you'll need to do so here. Remember that Dyker Heights is a residential neighbourhood and there are hardly any shops. It's only a 15-20 minute walk from the underground to get there.
Take the D underground line and get off at the Bensonhurst stop at 79th St. Although there is some shopping in this area, the atmosphere is not like Bay Ridge and a 20-minute walk from the underground station will take you to Dyker Heights.
You can also take the bus from Wall Street on the X28 line, an alternative that drops you off at 86th St. and 12th Ave, a five-minute walk from the decorated houses. To return by bus to Manhattan you can take the B1 bus.
What is the Dyker Heights Christmas lights tour like?
Christmas is a magical time of year in New York and there are many ways to enjoy it. If you love Christmas decorations, I recommend you take the Dyker Heights Christmas lights tour so you don't miss out on any of this tradition as there are details that you might miss out on if you do it on your own.
Not only will you get to see the lights in this quaint neighbourhood, but you'll get to explore it by listening in Spanish to the guide's anecdotes about this fun event and you might even get to meet some of the owners of the brand new homes. Plus, you won't be so cold in the middle of winter in New York as you'll be riding in the comfort of a vehicle with the group instead of transferring on public transport.
To top it all off, on the way back to Midtown you'll stop on the Brooklyn Bridge to take in the spectacular Manhattan skyline. All in all, it's a great way to get into the New York Christmas spirit and you're sure to leave Dyker Heights with a smile on your face. If you're also a Christmas lover, you can't miss the best Christmas trees in New York.
What are the most famous houses in Dyker Heights?
The most spectacular decorations in Dyker Heights are located between 83rd and 86th Streets and 10th and 12th Avenues. Because it's a neighbourhood initiative, not every year the same houses in the neighbourhood are decorated, but there are always surprises. Here are the most popular ones:
Lucy Spata's house
The house of the forerunner of this tradition attracts crowds of tourists. It's like the jewel in the crown of Dyker Heights. You'll recognise it by the army of dazzling figurines in her garden of snowmen, toy soldiers and dozens of angels that she placed in honour of her mother who died in 1986. It is located at 1152 84th Street.
Polizzoto Family Home
On the same street but at 1145 is the Polizzoto family home, which is notable for its giant Father Christmas at the entrance to the house, the spectacular merry-go-round in the garden and toy soldiers almost 9 metres tall.
James Bonavito's house
The Christmas decorations at his home are considered the most elegant in Dyker Heights, and James Bonavito knows his stuff as he is the owner of the Christmas decorations company B&R. Gold, white, green and red lights decorate the facade and the garden along with life-size figures.
House of Sam the Greek
A three-storey home on 71st St. & 14th Avenue is decorated from top to bottom with 260,000 lights and no detail is missing. Sam himself turns them on when Christmas arrives.
Blue Christmas House
The outdoor decorations are all blue. Inside, half of the house is decorated for Christmas and the other half for Hanukkah as the family who live there are half Christian - half Jewish.
When do the lights go on in Dyker Heights?
There is no exact date for the Dyker Heights Christmas lights switch-on although some locals do it on Thanksgiving weekend. However, the best way to make sure all the decorations are up is from mid-December through Christmas Day. Some neighbours even leave them up past New Year's Eve.
What is the best time to visit the neighbourhood?
In December the sun goes down around 4:30 PM in New York. I advise you to go to Dyker Heights a little before it gets dark so you can attend the lights switch-on but if you can't, don't go too late as at 9 PM many houses turn off their lights.
The most Christmas decorations are on during the weekend but this is also when the most visitors are in the neighbourhood and some houses get very crowded.
Dyker Heights Christmas lights fun facts
When did the tradition of Christmas lights begin in Dyker Heights?
It all started in the 1980s, when neighbour Lucy Sparta decided to decorate her house with Christmas lights in honour of her late mother. Gradually, other neighbours joined in and it has now become an annual event and an undeclared neighbourhood competition for the best-decorated house at Christmas. In fact, some families even pay professional decorators to create a personalised, unique design.
This tradition attracts thousands of people to the Dyker Heights neighbourhood each year and is so popular that guided tours have sprung up to show them every little detail of the neighbourhood.
Where do neighbours store the ornaments for the rest of the year?
Many neighbours store ornaments in their own homes, either in storage rooms or garages. The size of these homes is quite large so with a little organisation it is not surprising that they have a specific space to store them.
Other residents store them with decorating companies because they are the ones who provide the lights and decorations when families hire their services.
How much do decorations cost?
It depends on the decorations and the size of the house, but the figures range from $5,000 to $20,000 between electricity bills and the services of specialist decorating companies. That's a lot of money!
Other tours to see the Christmas lights in New York City
If you're a Christmas light lover and love to see Christmas lights, you've chosen the best city to soak up the Christmas spirit that fills the streets of New York. Here are some of the best Christmas light tours other than the one in Dyker Heights, so you can book the one you like best:
What else to do in New York at Christmas?
Christmas is one of the most magical times to be in New York. The city is filled with Christmas trees, lights, carolers, decorated avenues and shops... It's definitely the time to travel to the city because it's beautiful and there's so much to see. As Andy Williams said in his popular song: It's the Most Wonderful Time of the Year!
In the heart of Midtown Manhattan, don't miss Rockefeller Center at Christmas time, where you can see the historic tree and skate on the ice rink. And if you feel like exploring the city beyond Manhattan, the Christmas lights at the Bronx Zoo will leave you speechless.
And while you're in Brooklyn, I recommend you visit the neighbourhood (if possible, get to know it in daylight, before reaching Dyker Heights to enjoy its markets, its architecture, its parks...). If you're up for it, here's a guide I've put together on what to see and do in Brooklyn and what to see and do in Williamsburg, New York's Jewish neighbourhood.