Duration of the New York Cruises
Seeing the New York skyline from the water is wonderful, and touring the city while sitting back on a boat is wonderful too. But how long do these cruises last and how much time do you need to make the most of it?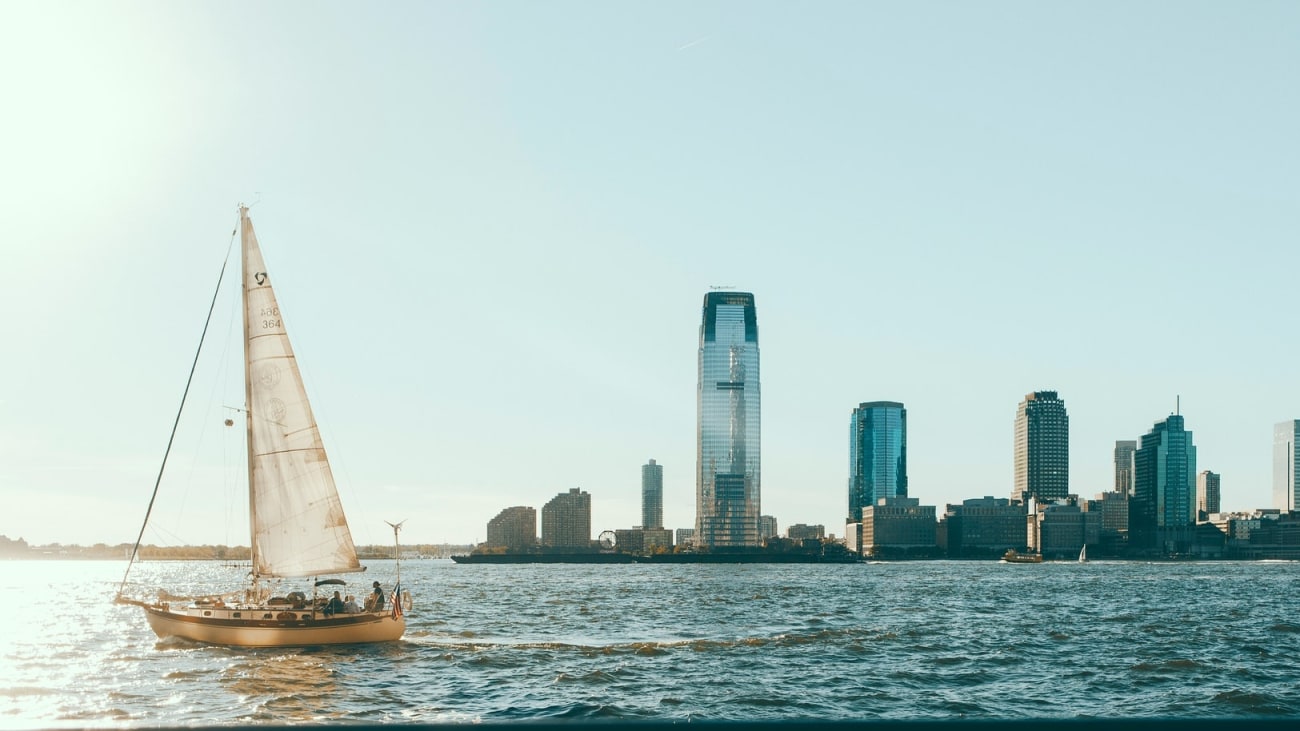 New York is incredible by land, air and also by sea (and river!). In this case we're all about getting to know Manhattan from the water, but when it comes to booking a cruise on the Hudson it's normal to have doubts. There are a multitude of itineraries, prices and durations and choosing can be overwhelming.
But don't worry, because I've prepared this guide so that you know how long each cruise lasts and what differences there are in the itinerary of each one, so choosing will be much easier. Read on!
Duration of Manhattan cruises
Cruises that ply the waters of Manhattan can last from an hour and a half for the shortest cruises to three hours for the longest cruises. Depending on how much time you have available, you can take an express cruise from southern Manhattan to the Statue of Liberty or you can spend a relaxing evening cruising around New York on a boat as you leisurely take in the New York skyline.
There are also intermediate options that will take you around Manhattan in about two to two and a half hours and you can choose to do it during the day, when the light hits the skyscrapers and the chaos of the city, or at night, when New York vibrates more than ever with its lights under the starlight.
Comparison chart of cruises by duration
NYC Manhattan Circle Line Cruise around Statue of Liberty by day
From

£27

1h 30 min
Daytime
Standard Boat
Brooklyn Bridge to Statue of Liberty
New York Buffet Dinner Cruise
From

£136

3h
Night Tour
Luxury Boat
Full Manhattan and Statue of Liberty
How long are New York dinner cruises?
Dinner cruises in New York are, of course, the longest and last three hours. During the tour, they circle almost all of Manhattan and take you as close as the Statue of Liberty. This gives you the best views of Brooklyn, Manhattan and its illuminated skyline.
The boat is much larger and more luxurious than the day or standard cruises and is slower p aced so that the evening runs smoothly and relaxed and diners can enjoy a nice dinner, get up during the tour.... There is even live music!
On these longer, slower cruises, you hardly notice the rocking of the boat on the water and the feeling is very pleasant. It is an experience to relax and spend an unforgettable night on board, without rushing.
How long is the shortest Manhattan cruise?
The shortest cruise along the Manhattan waterfront lasts an hour and a half and will take you from southern Manhattan to the Statue of Liberty, around Ellis Island and back to the starting time.
If you don't have a lot of time in the city or just want to experience sailing in New York without having to spend a whole morning or afternoon on the boat, this is a great option. You'll get a great view of the Financial District and Brooklyn, with the famous Brooklyn Bridge in a new perspective - from the water!
The cruise takes place aboard a fairly large boat with indoor and outdoor seating, allowing you to enjoy great views whatever the weather. Plus, the fact that it goes all the way to Ellis Island will give you a more distant perspective of Manhattan Island which will help you take in the sheer size of its skyscrapers.
Don't expect the most premium experience aboard this boat, but the atmosphere is very good, it's not usually too crowded (unless you happen to be on a holiday or special date) and you'll really enjoy it.
Will I have enough time to see everything on a short cruise and is it worth it?
If you're short on time and it's the only option you can book, go ahead, it's worth it! After all, you'll see from the water the most important skyscrapers of the Financial District (starring the One World Trade Center), the Brooklyn Bridge, a true marvel of architecture and of course, the Statue of Liberty up close.
However, if you can take advantage and dedicate a little more time to the experience, there are two intermediate options that, by adding just 30 minutes or an hour more of navigation, will bring you closer to Midtown, so in two hours or two and a half hours you will be able to see the Empire State Building or Rockefeller Center much more closely.
Also, if you open the range to cruises of this length, you can choose to do it by day or night, to see southern Manhattan, the Statue of Liberty and Midtown with all its illuminated buildings and bridges. For me, it's the best value for money and will allow you to see a large part of the city.
How far in advance do you need to be on board?
Fortunately, boarding doesn't take too long, as it doesn't require as strict security checks as helicopter rides, for example. Still, it's best to be at the pier at least 30 minutes in advance, especially for night cruises which have a large capacity and diners enter the ship slowly.
Note that there are some piers that are closer to underground stops, but they usually require a walk from the underground station to the pier. To avoid any setbacks, it is best to go with plenty of time to spare and take the opportunity to get to know the area before boarding, take photos... A cruise is a relaxing experience and you don't want to be late or rushed.
Duration of other boat trips in Manhattan
In addition to the scenic cruises along the Manhattan waterfront, there are ferry and water taxi services or even free-stop boat trips (where you can hop on and off wherever you like) that get you from one place to another between Brooklyn and Manhattan but give you equally good views of the city from the water.
Trips can be as short as 10-15 minutes from one side of the river to the other.
Check out this article on the New York ferry where I give you some tips on how to use this mode of transport. You should also know that to get to the Statue of Liberty you'll have to take a ferry from Baterry Park which takes about 30 minutes and is also very cheap. It's a great way to get out on the water without wasting too much time and to make the most of both experiences in one.