The 6 Best New York City Christmas Light Tours
New York is a magical city at Christmas. Its decorations, lights and trees will make you enjoy an unforgettable holiday. Don't let the cold weather stop you and go out and explore its streets and avenues with the help of an expert.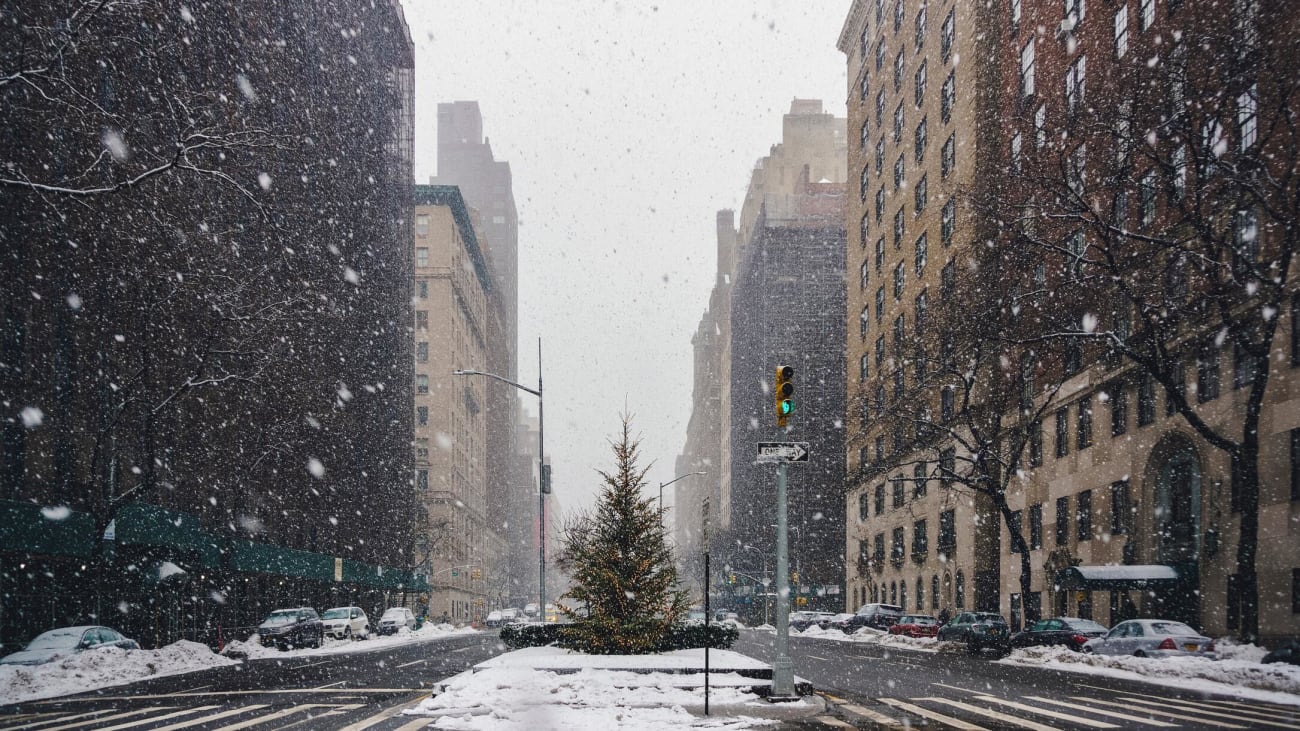 The beauty of New York is indisputable, but if you have the opportunity to visit it at Christmas time you will fall in love for life. Christmas in New York is internationally known for the spectacular lighting of neighbourhoods such as Dyker Heights or Manhattan or its famous Christmas trees that fill the city with magic.
In such a big city, a good option is to join a guided tour that shows you the best lighting of its streets, squares, buildings, etc. Here are some options. If you don't know what to see and do in New York at Christmas, start by taking note of the following tours:
1. Guided tours to discover the lights of Dyker Heights, Brooklyn
Dyker Heights is a Brooklyn neighbourhood full of single-family homes with gardens. And, on this special day in the calendar, the neighbourhood takes the opportunity to decorate its homes with a multitude of lights, Christmas decorations, giant Father Christmases, reindeer, toy soldiers, candy and much more - a real competition between neighbouring families!
To visit Dyker Heights I recommend a guided tour to get to know in depth all the history and curiosities of this neighbourhood. In this article on how to visit the lights of Dyker Heights you will find all the details of this neighbourhood that leaves no visitor indifferent.
Which famous houses in Dyker Heights will you see on your tour?
The most famous houses are located on 83rd and 86th Streets at 10th and 12th Avenues, and although the itinerary may vary a bit from year to year, tours usually take you to see:
Lucy Spata: The most famous house is that of Lucy Spata, located at 1152 84th Street. This Dyker Heights neighbour is the one who started the tradition of decorating her house with numerous figures and Christmas lights. She was joined by the rest of the neighbourhood.
Polizzotto: Another home known for its Christmas decorations is that of the Polizzotto family at 1145 84th Street. This house is easily recognisable because it has a merry-go-round and a large Father Christmas in the yard.
Sam the Greek: Next to Lucy Spata and the Polizzotto family, another of the most characteristic houses in the neighbourhood is Sam the Greek, located between 71st and 72nd Streets on 14th Avenue. This house is decorated with lights all along the facade and in the garden.
Interesting details
Price of guided tours: There are different categories of guided tours of Dyker Heights. This tour can be done either on foot or by bus and the approximate price from which you can do this tour is from 40€ by bus or from 20€ on foot.
The duration of the tours: The duration of the walking tour of Dyker Heights is usually one and a half hours, while by bus is three and a half to four hours and can be complemented with other places in the city.
How to get to Dyker Heights on your own: The neighbourhood is located between Bay Ridge and Bensonhurst, southwest of Brooklyn ( 45 minutes-1 hour from Manhattan). To get there you can take the D or R underground line or you can also take the bus from Wall Street.
Best time to see Dyker Heights: from mid-December (they usually start lighting up around Thanksgiving, but there are always a few stragglers) and just before dusk, so you'll have a chance to see all the lights come on. It is also advisable not to go after 9pm, as many houses start turning off their lights after that time.
2. Christmas lights from the tour bus
One of the most popular ways to enjoy New York's Christmas lights is with a tour bus tour. It's more comfortable and you'll escape the dreaded New York City cold this time of year to some extent.
What you'll see on your Christmas sightseeing bus tour
The bus will take you through the Dyker Heights neighbourhood and will also take in other iconic areas of the city such as Rockefeller Center, where you can admire the most spectacular tree in New York City with over 50,000 lights, Fifth Avenue and the Brooklyn Bridge.
Interesting details
The duration of a guided bus tour can range from three and a half to four hours and includes walking tours of the Dyker Heights neighbourhood.
The price of the bus tour varies depending on the length of the tour, but can be found from around £40 per person.
3. Christmas Cruise to see the city lights from the Hudson River
If you are looking for an original alternative to see the Christmas lights I recommend you to take a cruise on the Hudson. From a yacht or sailboat you will have the chance to enjoy, in a different way, the beauty of the illumination of neighbourhoods like Manhattan or Brooklyn. These cruises depart at different times of the day, but the best time to enjoy the lights is at dusk.
In fact, there's also the option of taking a dinner cruise on the Hudson while you're protected from the cold of New York City in December. Sounds good, doesn't it?
What you'll see on your Hudson cruise at Christmas time
With a cruise you'll get to see the New York City skyline, as well as the spectacular Christmas decorations of Manhattan and Brooklyn. In addition, you will have the opportunity to see, among other places, the Empire State Building, the Chrysler Building, One World Trade Center, the Brooklyn Bridge, the Statue of Liberty, Brooklyn Bridge, Manhattan Bridge and Williamsburg Bridge.
If you have doubts about whether to do this cruise, here you have this post on How much does a Hudson River cruise in New York cost and you will see different alternatives.
Interesting details
The price: the price of the Hudson River cruise starts at 35€
The duration: between one and a half and two hours. The duration of the Hudson River cruise is between one and a half and two hours.
4. Enjoy the magic of Christmas on a very special form of transport
If flying over New York is already a spectacle in itself, imagine what it's like to see the Christmas lights from the sky with a helicopter flight from New Jersey. With a 30-minute flight, you'll be able to see the city's main monuments lit up.
Don't rule out a treat either, and since travelling to New York at Christmas is a unique moment, how about taking a limousine ride to see the Christmas lights? A luxury that lasts about three and a half hours and that you won't forget.
And if you want to feel like you're the star of a vintage Christmas movie, this is your option: Christmas lights tour in a horse-drawn carriage.
5. Manhattan's Christmas lights walking tour
Most guided walking tours of Manhattan's Christmas lights start at Rockefeller Center for Christmas, where you'll see New York's most famous tree, which stands at no less than 20 metres tall, has almost 50,000 LED lights and is topped by a nearly 400-kilogram Swarovski star.
After seeing America's most famous tree, and the skating rink at its foot, the tour continues along Fifth Avenue, whose shop windows are carefully designed for this time of year. From there, the guide will head to the MeatPacking and Greenwich Village neighbourhoods and stop at the High Line to enjoy the wonderful views.
Details of interest
Duration: The duration of this Manhattan Christmas lights walking tour can vary, but is usually approximately four hours.
Price: The price of the Manhattan Christmas lights tour starts at £38.
6. Tour the Christmas lights on a self-drive tour
And if you decide to take a tour on your own, I recommend you get a map and choose the time of day when night falls to start your tour.
Rockefeller Center
Start at Rockefeller Center, one of the most emblematic places and one that will make you aware of the magic and meaning of Christmas. Since 1931, this square has been home to New York's most famous Christmas tree, which is 20 metres high, has almost 50,000 LED lights and is crowned by a Swarovski star weighing almost 400 kilos.
Fifth Avenue
After Rockefeller Center, I recommend you go to Fifth Avenue, the heart of Manhattan, where the Christmas decorations are also like a movie. The lights of the city are joined by the shop windows, which are elaborately decorated at this time of year. In fact, some of them feature the collaboration of renowned artists. And speaking of films, this is the best tour for film and Christmas lovers: Manhattan's Christmas lights and film locations tour.
Bryant Park
Another place you can't miss is Bryant Park where there is also a spectacular Christmas tree and the park is beautifully lit. It is also home to one of the most popular skating rinks in New York City.
Madison Square Park
Also, don't forget to visit Madison Square Park where the Tree of Light is held, an event that consists of decorating the different trees in the area with gold and silver lights. Afterwards, don't miss the Christmas tree under the Arc de Triomphe where the popular carol concert is held every year.
Dyker Heights
But without a doubt, the most outstanding place to see the Christmas lights is Dyker Heights, a residential neighbourhood where locals decorate their homes and gardens with millions of Christmas lights and decorations.
Traveller's tip

I recommend you travel to New York between mid-December and before the end of the year to soak up the city's Christmas culture.
---
Recommendations for a tour to discover Christmas lights
Bundle up: It is essential that when you go on a Christmas lights tour you dress warmly and wear boots with thick, non-slip soles.
Bring water and snacks: The Christmas lights tour takes you through some residential neighbourhoods such as Dyker Heights where it is difficult to find a café or a place to have a drink. So I recommend you bring water and some snacks.
Hot drinks: As the tour is completely outdoors, we recommend that you buy some tea, coffee or chocolate to take with you from time to time to escape from the cold.
Best time to go out to discover the city lights
The best time to discover New York City's Christmas lights is just before nightfall to get a chance to see the lights come on and avoid the cooler temperatures of the evening or early morning.
Given the time of nightfall in New York City in December and January, it's best to head out around 4:30pm.
If after this tour you still want to know more about all the possible plans that New York has to offer at Christmas, don't hesitate to visit the post What to do and see at Christmas in New York.
By the way, if you feel inspired and feel like leaving Manhattan, you can always go and see the Christmas lights at the Bronx Zoo. Quite a spectacle!
Other recommended tours: visit Manhattan's Christmas markets
Strolling through the Christmas markets is another of the city's great attractions when the winter season arrives. Here are the ones you can't miss:
Skating rinks in Manhattan that you can't miss
And of course, when Christmas comes around, one of the most popular things to do is to get together with your friends or partner and go ice skating. Some of the most popular ice rinks are located in New York's best parks:
Manhattan's Christmas windows that you will see on guided tours or on your own
Take the opportunity to ask your guide about other iconic locations where you can enjoy the Christmas lights and window displays. The legendary Macy's department store, for example, always has animated window displays to the beat of the music in its huge windows (you'll see hundreds of tourists and curious New Yorkers peering in).
New York's big-box stores also get into the Christmas spirit and carefully decorate their windows. You can see them all on this tour of New York's Christmas windows. Here are my favourites:
Manhattan Christmas Trees that you will walk through on the tour or on your own
As mentioned above, New York 's best Christmas trees are true works of art, and another attraction for New Yorkers and tourists alike. This Limousine Christmas lights tour will take you to see them all, but the trees you can't miss on your New York Christmas tour are:
The Rockefeller Center Christmas tree: This Christmas tree is 20 metres tall, has more than 50,000 LED bulbs and is crowned by a Swarovski star weighing more than 400 kilos.
The Madison Square Park Christmas tree: This is the oldest Christmas tree in New York City. It was first put up in 1912.
The American Museum of Natural History Christmas tree: The American Museum of Natural History Christmas tree is characterised by its origami decorations.
The Bryant Park Christmas tree: This tree, next to the one in Rockefeller Center, stands out for its lighting, with more than 30,000 lights.
The Wall Street Christmas tree: This Christmas tree has a history. Specifically, it was the first in New York City to have electric lights.
The Christmas tree at the MET Museum: This museum 's Christmas tree is the most traditional. At its base there is a nativity scene with more than 200 figures and it is decorated with angels and cherubs dating from the 18th century.