5 things to do in the New York Chelsea Market
New York is a city where you can eat very well. Take a stroll through Chelsea Market for a bite to eat, a few drinks or a bit of shopping at the authentic stalls.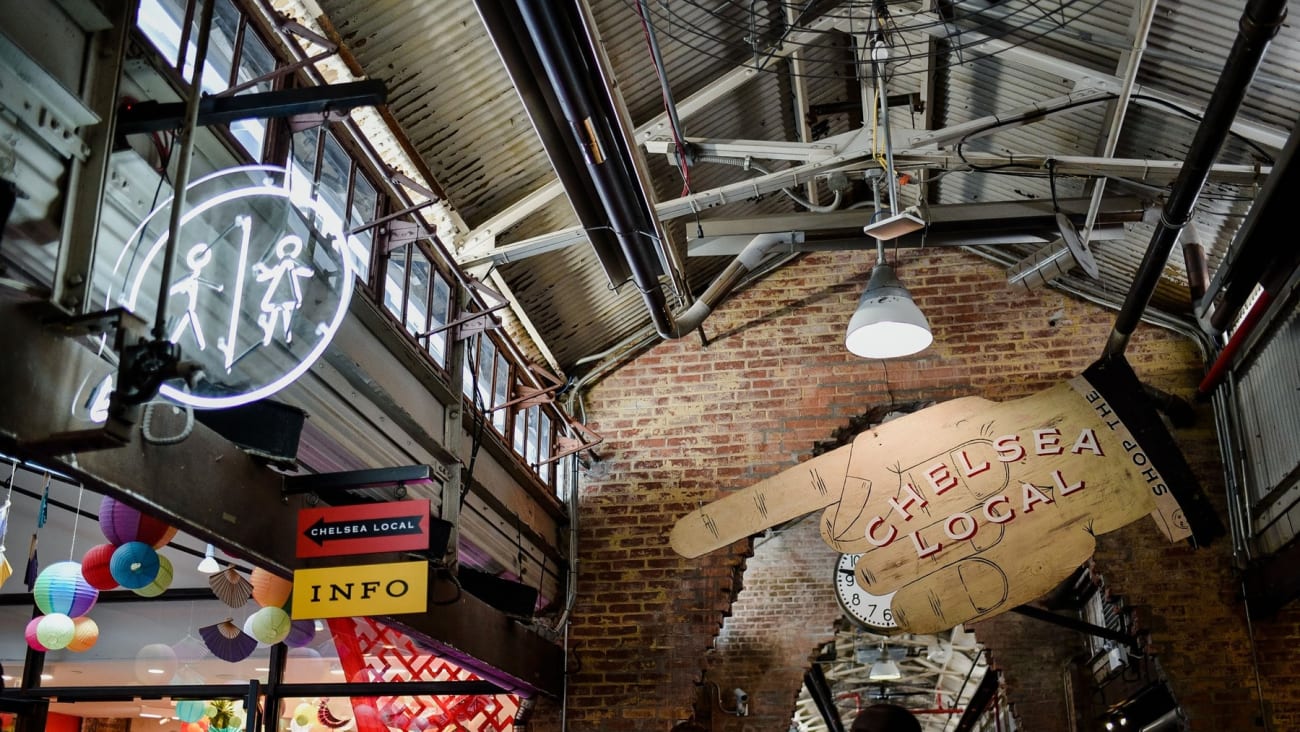 Chelsea Market is one of New York's most famous food markets. It is a former biscuit factory converted into a market, beautifully decorated and full of personality.
Chelsea Market is a piece of American culinary history - did you know that Oreo biscuits were invented here? If you've come here, it's because you're looking for the best places to eat in New York: delicacies from all over the world, wine bars, bakeries... But that's not all, because Chelsea Market is also home to some of the best things to buy in New York. What are you waiting for to explore its quaint shops and rich restaurants?
1. Learn the secrets of Chelsea Market on a tour
How would you like to tour Chelsea in a relaxed and comfortable way, just taking pictures, grabbing a bite to eat and enjoying yourself? This former industrial neighbourhood, now converted into one of the trendiest areas of New York, is home to art, designer shops and restaurants.
To get to know in detail one of the coolest neighbourhoods in the world and not miss any of its attractions, I recommend you enjoy a guided tour of the neighbourhood which, of course, also includes the famous Chelsea Market.
Nothing better than a stop at this former biscuit factory to recharge your batteries with a tasty bite!
2. Discover the delicious food stalls
Filaga Pizzeria
Founded by Sicilians, the secret of Filaga Pizzeria 's pizza is in the dough. The classic Margherita is joined by the Diavola, the San Gennaro, the Bufalina or the Vegan. They are all delicious.
Dickson's Farmstand
This is a butcher's shop where you can also eat. Two highly recommended dishes at Dickson's Farmstand are brussels sprouts with bacon and roast chicken with potatoes.
Lobster Place
If you like seafood, you'll love this restaurant where oysters, steamed lobster and sushi rolls are the specialties. Check out Lobster Place for a treat after a morning of sightseeing.
Amy's Bread
It's no exaggeration to say that the bread at Amy's Bread is one of the best in town and when you try it you'll understand. The sultana and fennel is my favourite, although they sell other delicious products such as sandwiches, salads, cakes, biscuits and muffins.
Doughnuttery
Doughnut heaven is in New York and it's called Doughnuttery. They come in many flavours and with different toppings. Try the cinnamon sugar, lemon pop, coco loco or bam berry ones - they're delicious with coffee!
L'Arte del Gelato
Whether it's summer or winter, you always want a good ice cream for dessert, especially if it's homemade and served at L'Arte del Gelato. The cannella and Stracciatella are to die for.
Chelsea Wine Vault
This super-cool wine bar is a great place to sample different wines and toast to your trip to New York, so grab a drink at the Chelsea Wine Vault when you're feeling a little weak.
3. Browse the best shops in Chelsea Market
As well as satisfying your appetite, I suggest you take a stroll around Chelsea Market to check out some of the other cool shops. Here are some of them:
Posman Books
A charming bookshop that sells original postcards and New York souvenirs as well as books. Stop by Posman Books when you visit Chelsea Market and you're sure to find something to take home.
Bowery Kitchen Supplies
Whether you're a budding chef or just want to browse through some of the more curious kitchen gadgets, you're sure to find it here because they sell all sorts of gadgets.
Chelsea Market Baskets
If you have a foodie friend, they'll be thrilled if you bring them back a tasty souvenir from Chelsea Market Baskets. They've got a collection of locally made delicacies that you'll love.
Artists & Fleas
Artists & Fleas brings together young designers, artisans, local artists and collectors. Here you can find costume jewellery, clothes, accessories, paintings and much more. It is located next to the 10th Avenue entrance.
4. Party at Chelsea Market
One of my favourite spaces in Chelsea Market is Chelsea Music Hall, in the basement of the market. A place where you can enjoy the New York night with good music, delicious cocktails and a great atmosphere.
Although it is not an excessively large space, this club hosts parties of all kinds, private events and live music concerts by up-and-coming bands. Although there is no set dress-code, I recommend that you check the official Chelsea Music Hall website to check the calendar and what type of party or event is being held each day so you don't get caught by surprise.
5. Discover the surrounding area: the Meatpacking District
Before its resurrection as a trendy neighbourhood, the Meatpacking District was an industrial area filled with slaughterhouses and packing plants that supplied meat to the city by train. That's where it gets its name, which in English means "Meatpacking District".
What I love about New York is that it's a city that is constantly reinventing itself, it's in its DNA. That's why a group of artists, writers and entrepreneurs saw the enormous potential of this neighbourhood and joined forces to revive and revive it. Today, everything from West 14th Street to Gansvoort Street is worth seeing.
Right now you'll find new fashion boutiques, art, nightclubs, bars and restaurants, while you can still see the more industrial side that once reigned in the area: the trolley rails, twisted iron and hooks that make up the structure of the buildings.
Enjoy the best art and luxury shopping in the Meatpacking District
Contemporary art galleries: both renowned and emerging painters and sculptors exhibit their works to the delight of the New York public. In their spaces you can even enjoy film screenings, concerts and readings.
Museums: the Whitney Museum, a space specialising in 20th century American art, which since its opening in 2015 has become the neighbourhood's treasure.
Fashion shops: walking through the Meatpacking District you can see the shops of young talents or established brands such as Christian Louboutin (59 Horatio St.), Alexander McQueen (419 West 14th St.), Carlos Miele (408 West 14th St.) or Charles Nolan (30 Gansevoort St.) or Jean Shop (435 West 14th St.).
Decoration shops: There is always a boutique that catches the eye in the Meatpacking District, also when it comes to decoration and furniture. One of the most interesting shops is Hudson Furniture Inc. (419 West 14th St.), which is handmade with great attention to detail.
Electronics: It's been a decade since the popular Apple Store (401 West 14th St.) took the place of what was once the biggest butcher shop in the Big Apple, where you could buy the best steaks in Manhattan.
6. Take the opportunity to discover the High Line Park and Hudson Yards, Manhattan's newest attractions
Next to Chelsea Market you'll also find the High Line, an elevated park that runs between Manhattan' s skyscrapers without losing sight of the Hudson River. Sounds good, doesn't it? Well, I recommend you visit it because of all the parks in New York, this is one of the most original and least known to tourists.
The route is about 2.5 kilometres long, so you can easily walk it in a couple of hours and you'll reach Hudson Yards, New York's trendiest neighbourhood.
So what's so interesting about Hudson Yards? In addition to the most spectacular skyscrapers that have recently been built in the city, you'll be able to go shopping in a luxury mall, admire the new sculpture The Vessel and climb up to one of the highest observation decks in the world (with a glass floor!): The Edge.
Where is Chelsea Market and how to get there?
Chelsea Market is located in the Meatpacking District next to ::link|text=High Line Park |element=pa-86::::, an urban park built on former elevated railway tracks, which crosses the west side of Manhattan. If you want to visit Chelsea Market you should go to this address: 75 9th Ave, NY 10011.
The nearest underground stations are 14th Street and 8th Avenue (lines A, C, E, L).
Chelsea Market opening hours
This market is open Monday through Saturday from 7AM to 10PM and Sunday from 8AM to 9PM.
Did you know?
Chelsea Market is not only home to a food market, bookshops, greengrocers, a club, clothes and art shops, but also to the offices of YouTube and Google on the upper floors of the building, but you can't get in except with a badge.
Its employees use the lifts in this old 1890's building to go up and down. More than one of us would like to be able to take a lunch break in a place like this, wouldn't you?