Central Park Zoo Tickets: how to buy and prices
If you visit Central Park, you can't miss one of its jewels. I'll tell you everything you need to know to get your tickets to the Central Park Zoo, where you'll find the most varied and exotic species and live unique experiences.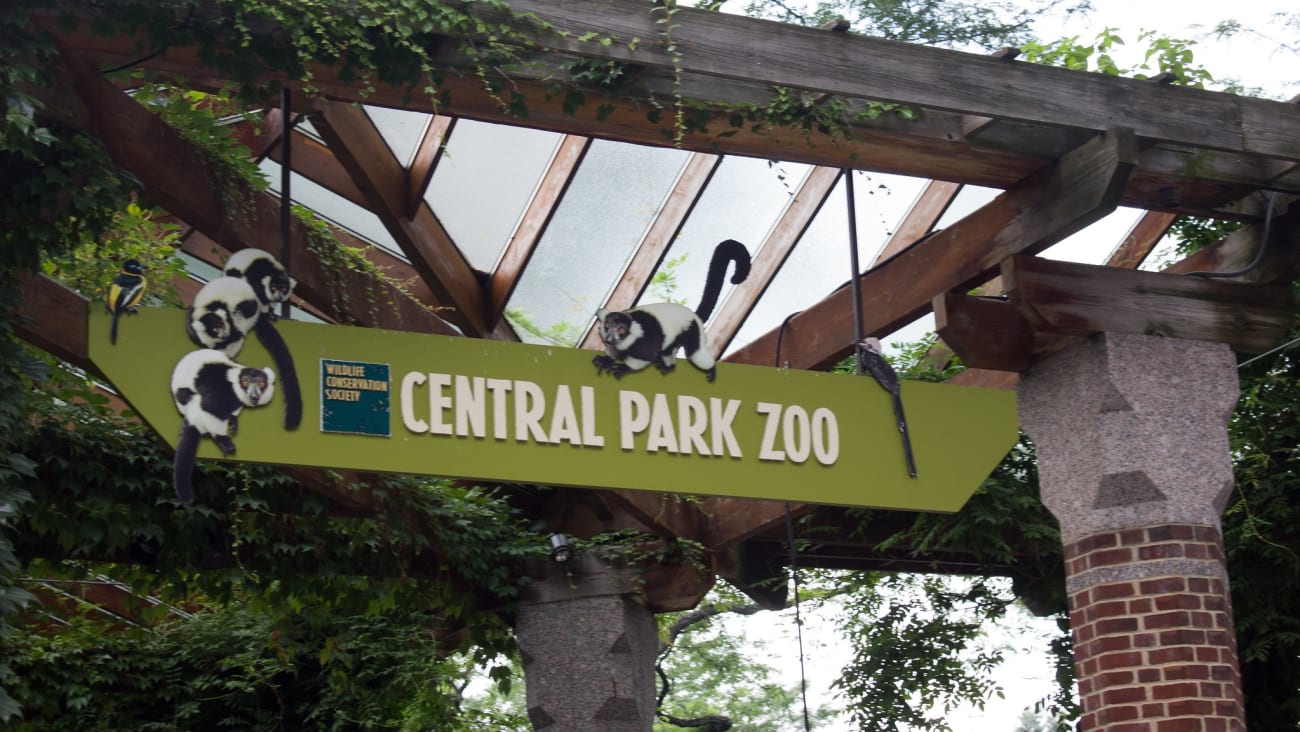 During your trip you'll find a lot of things to see and do in New York and without a doubt, visiting Central Park Zoo is one of them. It was the city's first zoo and opened in 1860 as a reserve for wild animals. Today it specialises in certain exclusive species such as grizzly bears, penguins, white leopards, monkeys, red pandas and sea lions.
To enter the zoo you need to buy tickets in advance. I will tell you what types of tickets are available. You can also get a guided tour of the New York Zoo with your ticket.
The basic option
Secure your early bird ticket for Central Park Zoo
You will tour one of New York's most exclusive zoos and meet unique species.
Imagine being able to see snow leopards, sea lions or red pandas in the heart of New York City. Thanks to this small zoo located in the city's green lung, it's possible. With tickets to the Central Park Zoo you can see how they feed the penguins or learn about the breeding programme for endangered species. All for a very reasonable price.
The unlimited general admission ticket includes access to the main zoo, the Tisch Children's Zoo and a visit to the 4-D theatre. In other words, for only 19 euros you have access to the entire zoo, and you'll see the animals up close!
Recommended if... you want to visit the Central Park Zoo in the easiest and most direct way possible and at the best price.
---
The most complete option
Take advantage of a New York City tour to also visit the Central Park Zoo.
In addition to a tour of the city's main tourist attractions, you can enjoy a wild experience at the Central Park Zoo.
With this option you will be buying a tour of New York that includes admission in advance to gain access without inconvenience, as the Central Park Zoo requires that all visitors have tickets for specific dates and times to gain access.
You'll be in the right place to enjoy a day of strolling through Central Park, appreciating the wildlife that inhabits the heart of Manhattan. Not only will you have the opportunity to discover a wide variety of species, but you can also enjoy the most exclusive animal exhibits, see the best shows or visit the children's zoo.
Recommended if... you want to take advantage of a tour of New York that will take you to enjoy the full experience that only Central Park Zoo has to offer, securing the day and time of your visit.
How much do tickets to Central Park Zoo cost?
It's best to buy the most comprehensive ticket, which includes an unlimited pass, as in addition to admission to the main zoo, you'll have access to the Tisch Children's Zoo and the 4-D theatre. This option will cost you around $19.95.
If you prefer a cheaper option, you can buy the limited tickets which do not have access to the 4-D theatre and cost around $13.95 for adults and $8.95 for children.
Take advantage of these discounts
Please note that children under 2 years old can enter the zoo for free, so you don't have to buy a ticket for them.
Similarly, adults over 65 have a special rate and will be able to purchase their unlimited tickets for around $16.95 and the limited pass for $10.95.
Can tickets be purchased at the box office?
It is currently not possible to buy tickets to the zoo at any ticket office, so the only option is to buy them online. The zoo itself warns that no one should arrive without having their timed ticket ready.
Save on your Central Park Zoo tickets with the city's tourist card.
In New York City you will have so many things to see and do that you can save by purchasing your New York Sightseeing Pass where you will not only get admission to the Central Park Zoo, but to many more attractions to enjoy the city to the fullest.
I especially recommend you to buy this tourist pass if you plan to go to New York with your family and you have planned activities to do with the kids, because the New York Sightseeing pass includes all kinds of attractions and will also allow you to visit places like the New York Aquarium, the New York Botanical Garden, Brooklyn Botanic Garden and meet the animals at the Bronx Zoo with your family.
Plus, with this pass you'll get all sorts of discounts at New York's best attractions, iconic buildings, museums and exclusive viewpoints and you'll get the most out of the city at a great value price.
Please note that with this pass you will have limited entry to the Central Park Zoo, with admission to the main zoo and the Tisch Children's Zoo only.
How to get to Central Park Zoo
Like most of New York's attractions, you can easily get there by public transport. The Central Park Zoo is in one of the most touristy areas of Manhattan, so I recommend this option to get here quickly and easily without spending too much money.
The zoo is located near the southeast corner of Central Park, on 64th Street and 5th Avenue. Here's how to get there from different parts of the city.
Underground
If you choose to take the underground, you will need to take the N, R or W trains to the Fifth Avenue station at 59th Street in Manhattan. From there, you will have to walk about four blocks to the zoo.
As a second option, you can take the Lexington Avenue train to the 68th St - Hunter College Station and from there you will have to walk about ten minutes to get to your destination.
Bus
You will find a variety of buses that will drop you off near the Central Park Zoo. It is best to take one of the buses that stop on Fifth Avenue between 59th and 65th Streets: M1, M2, M3, M4, M5, M66 and Q32.
Parking
Central Park Zoo does not have its own car park. But this is not an impediment for you to go in your vehicle if you want to, as there are many car parks available in the area just a few streets away.
You can even reserve your parking space in the vicinity of the zoo from this app.
Is it advisable to visit Central Park Zoo with children?
The answer is definitely yes. The Central Park Zoo is great for kids and without a doubt one of the best activities to do with them.
It is designed as a great experience for both children and adults to learn more about the exotic species and enjoy all the activities on offer.
Kids will love the feeding and play sessions with the penguins and sea lions, have a unique experience in the 4-D theatre and can crawl, jump and climb in the Tisch Children's Zoo among the sheep, goats and zebu.
New York is a very versatile city and has a great variety of activities to do with the little ones. Here's a guide to the best things to do with kids.
What not to miss at Central Park Zoo
Touring this zoo is a fantastic experience. You'll enjoy animal exhibits ranging from the Arctic Circle to the tropical zone and unique experiences such as feeding the animals and the sensory world of the 4-D theatre.
Not only will you have the chance to get up close and personal with various animal species, but you will also get to know their habitat, learn a lot more about them and even awaken your inner child in the Tisch Children's Zoo.
Animal exhibits
Among the variety of exhibits at the Central Park Zoo, you can enjoy the Arctic Circle and meet the five species of penguins that live there: the tufted penguin, Gentoo penguin, king penguin, chinstrap penguin and macaroni penguin.
Although you're in the heart of Manhattan, where skyscrapers abound, this zoo is a tropical zone. Here you'll see a wide range of tropical birds and groups of black and white rufous lemurs, white-faced saki monkeys, white-headed marmosets and more.
At the heart of the zoo is the central garden and pool where you'll find sea lions sunbathing or swimming.
You can also take advantage of the panda and monkey exhibits in the temperate territory. You'll enjoy the exotic snow leopards and meet the panda bears, the newest addition from the Bronx Zoo.
Tisch Children's Zoo
You'll find this zoo just across 65th Street from the Central Park Zoo, with unlimited and limited admission included. You'll be amazed by goats, pigs, zebu, ducks, sheep, waterfowl and more.
In the Tisch Children's Zoo you will see bronze statues next to the pens, which were put there to educate and entertain the little ones, who can touch them to reproduce the sound of each animal.
Feeding the animals
One of the most attractive moments is when the gentoo, chinstrap and king penguins come out to feed and swing in search of fish. This spectacle can be seen every day at 10:30 and 14:30.
The same is true for the sea lions. You can watch the training and feeding sessions of these animals every day at 11.30am, 1.30pm and 3.30pm.
4-D Theatre
Experience the incredible experience of a 3D film with a variety of sensory effects included. Children and adults alike enjoy this experience to the fullest and are amazed by the number of sensations that the 4-D theatre can make them feel.
The 4-D theatre is included in your unlimited general admission ticket. In case you have a limited ticket and you want to access it, you can do so by paying $7 per person.
The legendary Delacorte musical clock
At one of the entrances to the Central Park Zoo you will be amazed by this incredible clock that brightens up the days in the park with its little animals and sounds. Not only does it tell the time, but every half hour between 8 am and 6 pm it entertains all visitors, from the youngest to the oldest, with its tunes.
The cute little animals are activated to mark the passing of the hours. The most prominent are the elephant, the bear, the penguins and the pair of monkeys ringing the bell. The clock's musical repertoire varies according to the time of year; at Christmas time you can listen to Christmas carols.
How long does it take to tour the entire Central Park Zoo?
If you are planning to visit the Central Park Zoo with your family and children, you will need about two hours to make the most of the experience.
Keep in mind that children will probably want to spend more time with their favourite animals, enjoy feeding times and interact with and learn from the keepers.
In this case, you will be able to explore the zoo in an hour if you keep a very good and constant pace, without major interruptions.
You should take into account when planning the time of your visit, that you can take more or less time if you make stops to take pictures or to eat something at the zoo.
What are the opening and closing times of Central Park Zoo?
You can visit this exotic zoo every day from 10am. Closing times depend on the time of year, from April to October, it closes at 5 pm and from November to March at 4:30 pm. On weekends and holidays, it closes at 5:30 pm.
Before visiting Central Park Zoo, you should note that last admission is one hour before closing time and you can enjoy the animal exhibits up to 30 minutes before closing time.
Tips for visiting Central Park Zoo without missing a thing
Here are a few things to keep in mind when visiting the zoo so you don't miss anything and can make the most of your experience at Central Park Zoo.
Don't forget to book your tickets online in advance, as all visitors must have a ticket for a specific date and time.
Keep the zoo map handy so you can find your way around the zoo and make sure you don't miss anything.
Check before you go the schedules of the exhibits and feeding sessions of the animals so you don't miss the best moments of your visit.
Check before you go what you can see that day in the 4-D Theatre at the time of your visit.
Remember that you are not allowed to feed the animals or throw things into the exhibits. And remember to always keep walking on the public paths.
You must keep the zoo's plants and trees intact, avoiding touching, stepping on or damaging them in any way.
It is not forbidden to bring food or snacks to eat there.
Although there are water fountains in the zoo, I recommend you to bring a bottle of water because it never hurts.
Wear comfortable clothes according to the temperature of the time of year you are visiting the zoo. Remember to protect yourself from the extreme summer temperatures and freezing winters.
Don't forget to wear the right footwear for the hours it will take you to walk around the zoo. Also, if you want to continue walking around Central Park afterwards, you don't want your feet to hurt.
I recommend that you read the Central Park Zoo rules carefully to avoid any problems during your visit.
Where to eat at Central Park Zoo
When you visit this legendary zoo I recommend that you stop for a bite to eat and recharge your batteries at the Dancing Crane Café at Central Park Zoo.
This place is ideal for you to sit down and rest your legs and then you can continue with the tour.
Here you can enjoy a wide variety of snacks, meals, drinks and delicious desserts of very good quality. You can accompany your coffee with a variety of fresh and healthy food options.
If you want to eat while you stroll through the zoo, without wasting too much time, you will find food and drink vendors located throughout the zoo to buy a quick snack or something to drink. In case you're bringing some food from home, you'll have the benches outside Central Park Zoo which are ideal for a picnic and a little rest.