Best Central Park Carriage Rides
A carriage ride to contemplate the charm of New York's iconic park from an even more pleasant and romantic perspective is a great plan.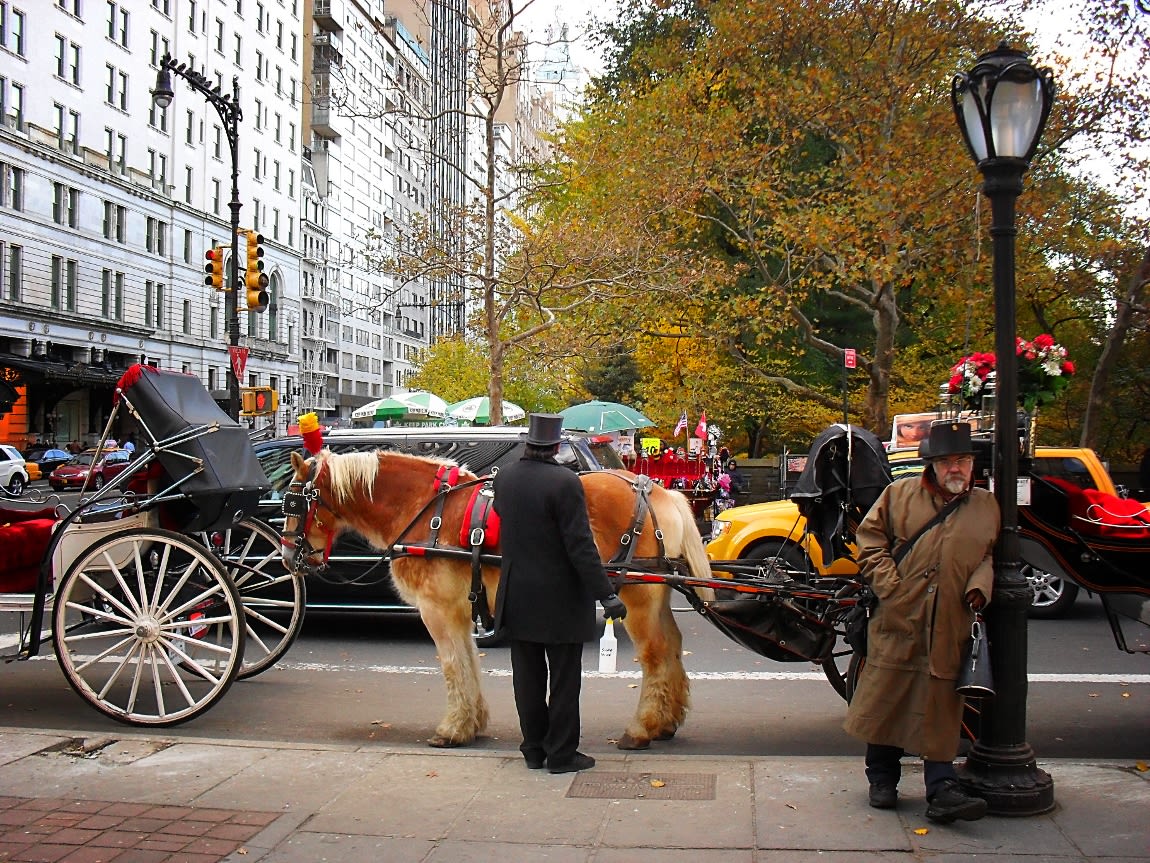 Central Park is one of the many places you must visit if you're travelling to New York. It is full of history and dreamy corners that you can reach in a picturesque carriage. As you listen to the sound of galloping horses and wheels, the driver will be your guide, telling you about the history of the park, its main sites and stopping to take pictures at the established photo stops.
This experience is planned to show you the must-see sites of the park from the comfort of the carriage and you can choose the tour that best suits your needs. There is a longer tour option that will allow you to see various parts of the park and the city, a shorter option that will show you the main attractions and you can also take the opportunity to celebrate special dates with a more romantic option and even ask to get married!
A carriage tour of Central Park and the main sights of the city
New York is full of places that will make you fall in love with the city and many of them, you'll be able to see them with a panoramic view from the carriage.
Over the course of just under an hour, you'll stroll through the park and discover many historic landmarks towards the Rockefeller area.
Following the lights you'll come to be dazzled by Times Square, with its unstoppable festive atmosphere at all hours of the day.
You can choose this option to tour the city during the day or at night and both are truly amazing. Central Park has no timetables, it's amazing all day long, and at night it takes on an absolutely magical feel. The choice is yours.
Plus, the carriage makes the whole experience seem timeless and contrasts with the chaos of the city.
Interesting details
Price: You can enjoy this tour from 263 € per carriage, not per person.
Duration: 50 minutes.
Maximum number of passengers: This carriage has a capacity of up to 4 people.
Highlights of this tour: Not only will you tour the iconic Central Park, the experience also includes epic places in the city that you will fall in love with.
A short ride through Central Park
This carriage tour is the perfect way to get to know the park and its most emblematic sites.
Central Park will undoubtedly dazzle you and from the carriage you will be able to appreciate its magic to the rhythm of the galloping horses, as if you were immersed in the New York scenery of a film, but knowing all kinds of curious facts about the history of the park.
Throughout the tour you will have the chance to take pictures to take home the best memories of Central Park and its beautiful views of the skyline, where the skyscrapers of the city blend with the greenery of the park.
This experience is ideal to escape the crowds that fill the city at all hours and immerse yourself in the tranquillity of the park. It's a short, relaxing and fun excursion, a great plan!
Details of interest
Price: You can enjoy this tour for a price from 87 € per carriage, not per person.
Duration: 20 minutes.
Maximum number of passengers: This carriage has a capacity for up to 4 people.
Advantages of this tour: In a short time you will get to know the most emblematic places in the park, immersed in an atmosphere of tranquillity, accompanied by an expert guide.
A romantic proposal for a carriage ride through Central Park.
Central Park is a place to fall in love with on its own, but if you add the carriage, a glass of champagne and a bouquet of roses, the experience will be unparalleled romantic and perfect for a couple's stroll or to celebrate a special date and get to know the park in depth.
In addition to its longer duration of around 50 minutes, this tour usually includes a bottle of champagne, a bouquet of roses and the chance to have your picture taken so you'll never forget the ride.
Many couples choose Central Park to consecrate their love and make a movie proposal. This walk is the ideal opportunity.
If you are thinking of making that marriage proposal, you will have many places to do it, but I want to recommend you two that are the most traditional and appropriate for the occasion:
Bow Bridge: It is the most romantic bridge in New York, chosen by New Yorkers in 2010. It is undoubtedly one of the best places to take pictures in Central Park and the perfect place to make the best marriage proposal in your carriage.
Bethesda Fontaine: It is one of the most visited and well-known places in Central Park, and it is located in Bethesda Terrace. The mythical Bethesda Fountain is one of the most famous fountains in the world and another ideal place for your proposal.
Details of interest
Price: You can enjoy this tour for a price from 349 € per carriage, not per person.
Duration: 50 minutes.
Maximum number of passengers: This carriage has a capacity for up to 4 people.
The experience is very complete, including a bottle of champagne and a bucket of roses, creating a very special moment.
Duration of Central Park Carriage Rides
The length of the ride depends on the type of ride you choose. However, please note that the shortest ride lasts approximately 20 minutes and the longer rides last approximately 50 minutes.
As this tour will last no more than an hour, you can complement this horseback ride with many other activities you can do and see in Central Park.
How much does a carriage ride in Central Park cost?
Please note that all prices are per carriage, with a maximum capacity of 4 people. Having clarified this, I can tell you that this type of ride has an approximate price of between 87 and 350 euros, but it will depend mainly on the experiences and attractions included. The duration will also be a determining factor.
Why is it advisable to take a carriage ride through Central Park and when is it not?
Touring the park is one of the must-do activities if you're in New York, but it's so vast that you may not know where to start, you may not be able to optimise your time and you may miss out on many of the key attractions.
That's why carriage rides are perfect for touring the most emblematic sites, learning a little more about their history thanks to the guide who will accompany you and enjoying a unique, different and original experience.
It is also a plan that adapts to several situations, as it is ideal for touring the park if you are with your family (in fact, it is perfect to include it in the activities to do with children in New York), with friends or to share a special moment with your partner.
When NOT to take a carriage ride in Central Park?
If you plan to visit the city alone and want to see Central Park, a carriage ride may not be your best option for two reasons.
First of all, the price is stipulated per carriage and it can be up to 4 people, I don't think it makes much sense to pay it if you go alone. On the other hand, you may not be able to get enough out of it, as it is a fun activity for groups or couples and is designed for that purpose.
Tips for touring Central Park on a carriage ride
It will be very important to pay attention to the weather for this tour. New York City mandates that carriage rides are suspended on days with temperatures below -7°C, temperatures above 32°C or in the event of heavy snowfall or rain.
In addition, I recommend that you wear clothing appropriate to the weather for the time of year you will be taking this tour. Keep in mind that temperatures in New York are usually very high in summer and in winter you will need extra warm clothes, as temperatures can drop below freezing.
Finally, remember to always bring sunscreen and insect repellent, as this is an outdoor excursion and you will definitely need these two allies.
Best time to take a carriage ride in Central Park
While it is almost impossible to guess the weather conditions on any particular day, I can tell you the best months to visit New York and, therefore, Central Park.
Generally, the best weather for sightseeing is in May, June, September and October. At these times of the year, temperatures are pleasant and not too extreme.
I recommend that if you can, schedule your trip to New York for May or October when the late spring and early autumn temperatures are very pleasant for sightseeing and sightseeing.
Here's a guide to what to do in New York during these months: New York in October: the best of the city and New York in May.
Advantages of taking a carriage tour of Central Park vs. touring it on your own.
Central Park is huge. To give you a sense of its size, it measures 320 hectares, twice the size of Monaco and eight times the size of Vatican City.
That's why taking a guided tour will allow you not only to walk through the main and most emblematic points of the park, but also to get valuable information from the guide*.
Due to its size, it's very easy to get lost and end up wasting the day because you can't organise yourself to see the essential places and learn about the history behind many of them. Besides, you will get a bonus for not having to walk, live a special moment and enjoy the unique experience that these picturesque carriages offer.*
Anyway, it is also a good option to walk it on your own, I even recommend you to do it if you plan to visit Central Park alone or as a couple, without any special date in between.
But there is something you should take into consideration: you would be missing out on a fundamental spice, which is precisely what lies behind each of its corners and almost everything you see as you pass through.
That is why I recommend that if you choose to walk through Central Park on your own, you should make a list of all the places you want to see beforehand and organise your tour so that you can optimise your time and not miss anything.
Some places you can see on a carriage ride through Central Park
Central Park offers a variety of dreamy landscapes and places full of history and many of them will be included in your carriage ride. Of course, it all depends on the route you choose and the type of ride you want to do. Here is a guide to the most emblematic places you will see:
Literary Walk: it is the only straight line walk in the whole park and there you will find several statues of English poets and writers escorting the path such as Fitz-Greene Halleck, Walter Scott, Robert Burns and, of course, William Shakespeare. If you can, be sure to read the plaques and be prepared to take the best photographs of these sculptures.
The Children's District: in this part of the walk, you will be able to see historic places such as Dairy, a cottage that was originally the place where children and their caregivers enjoyed fresh milk and food, Chess and Checkers House, a charming house surrounded by a rustic pergola and chess tables, Heckscher Playground, the largest and oldest playground in Central Park and the Carousel, with its 57 magnificent horses, which were once real horses.
Cherry Hill: is a natural wonderland, a hill full of pink and white cherry blossoms that paint the landscape in spring and one of the best views of the lake. At the top of the hill is the Cherry Hill Fountain which used to be a drinking fountain for horses, located in a place designed for riders to stop, rest and enjoy the view of the lake.
The lake: is the second largest lake in the park and the first landscape in Central Park to open to the public, in the winter of 1858. It has an imposing presence, surrounded by colourful trees and the impressive Manhattan skyline.
Strawberry Fields: This monument was built to commemorate the musician John Lennon and is named after The Beatles' song Strawberry Fields Forever. It is a very popular tourist attraction and you may even find an artist singing songs by Lennon or The Beatles around it.
Sheep Meadow: it is one of the most famous and imposing landscapes of Central Park, with an amazing contrast between the green of its vegetation and the Manhattan skyline full of huge skyscrapers. An interesting curiosity about this park is the origin of its name: it is due to the fact that a flock of sheep used to graze there, maintaining the park's country aesthetics and well-kept lawns.
Dakota Building: a few metres from John Lennon's memorial, you will find this building where he lived the last years of his life and where Yoko Ono still lives. It is a truly impressive building, surrounded by history and myths that the driver will surely tell you when you pass by.
The Plaza: this is New York's most iconic hotel, the setting for films such as Home Alone 2, Bride Wars and The Great Gatsby, among others that were filmed in this legendary hotel. The Plaza was founded in 1907, has a total of 19 floors, is one of the most recognised skyscrapers in the city and is considered one of the most elegant hotels in the world.
Columbus Circle: this emblematic roundabout is recognisable by the Christopher Columbus monument in its centre, which gave rise to its name.
Now you have all the information you need about this novel option for touring the emblematic Central Park in a different way, from the comfort of the carriage, touring its main attractions and getting to know its history in depth.