Cats Musical in Broadway NYC: everything you need to know about the show
Since its debut 40 years ago, Cats has generated over 3 billion sales, making it one of the most popular musicals of all time. Here's everything you need to know to enjoy it in its entirety.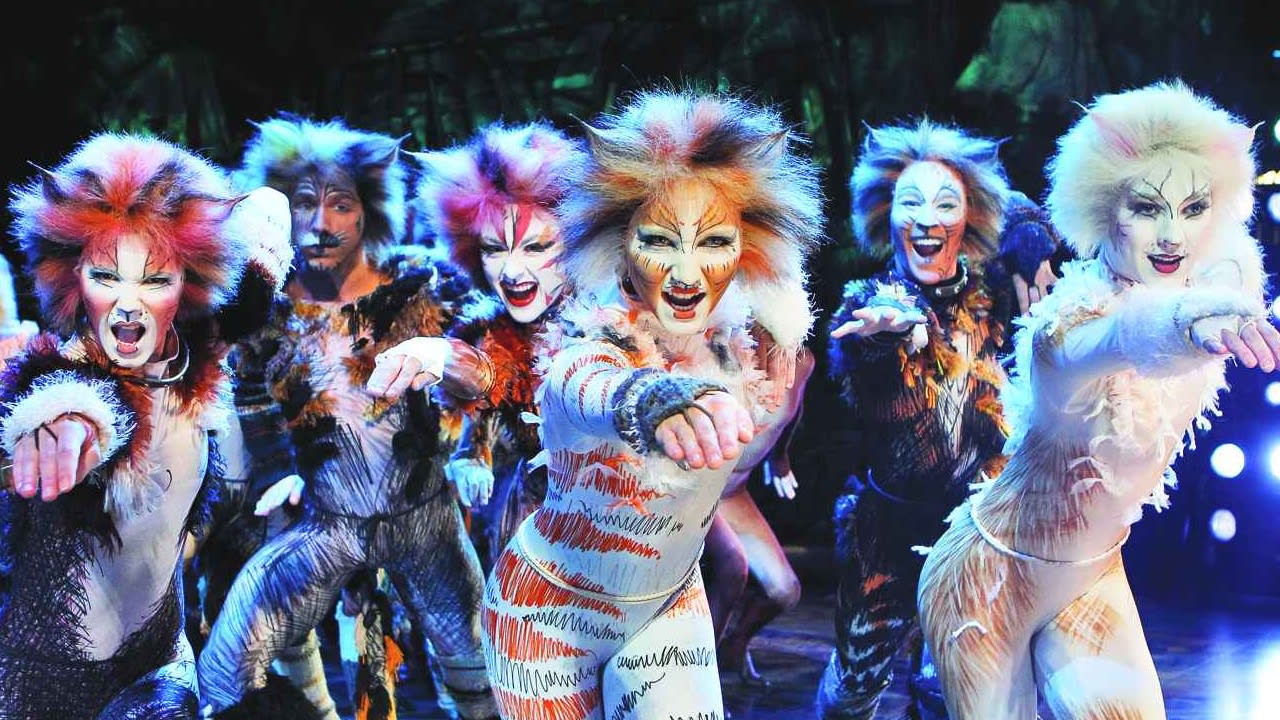 Combining your trip to New York with a ticket to one of Broadway's most iconic shows is a great idea. Cats is a musical that grabs the audience from minute one, a classic for all ages and profiles.
It is one of the most famous plays in recent history and is often credited with being the world's first mega-musical. Sounds interesting, doesn't it? Its songs have been translated into 19 languages and although it is a cat-centred play, its story has become a hit because of the human situations it depicts.
If you are one of those people who enjoy unique staging and good dancing, Cats is for you.
How to get tickets to see Cats on Broadway
A good option to consider in terms of price and convenience is to get your Cats tickets online. Broadway shows in New York attract thousands of tourists every day, so buying your tickets in advance is crucial, not only to ensure you get a good seat, but also to get a good price. Currently this event is not available on Hellotickets but many other Broadway in New York events are.
Tickets can also be obtained physically at the theatre box office or from authorised sales offices, but you run the risk of missing out or missing out on the location you wanted. I'll let you in on a secret: if you buy in advance, you can save money and a little bit of aggravation.
In my opinion, going to a Broadway show is one of the must-do experiences in New York. I remember the first time I went to one, I enjoyed it like a little girl. The actors, the staging, the costumes, the sensations... every penny of the ticket is worth it.
How much do tickets for Cats on Broadway cost?
Speaking of prices, if this is your first time in New York, you might have a small heart attack when you see the prices. Tickets range in price from 60 to 380 euros. As always, it all depends on the location, day of the week and time of purchase:
In the back rows and side balconies of the theatre: around 60 euros.
In the upper box: around 75 euros.
In the mezzanine: between 100 and 138 euros.
In the stalls and orchestra: from 138 euros.
Finding cheap Broadway tickets is no easy task, but it's true that there are situations in which you can take advantage of; such as going during the week.
In the months when New York receives high doses of tourism such as Christmas, New Year's Eve or summer, ticket prices can skyrocket. But if you get them early enough (2 or 3 months in advance) it shouldn't be a problem.
On the other hand, twice a year there is **Broadway Week **, a week in which, in order to fill the seats due to the low season, they offer 2 for 1 discounts and tickets at a very reduced price.
My tips for getting the best tickets
If you have a big budget, don't hesitate to get a central location close to the stage, you won't regret it.
If you go between January and February or August and September, take advantage of the Broadway Week discounts.
Buy your tickets in advance, you'll avoid queues and you'll be free to choose your seat.
If you're interested in seeing more than one musical, check out this guide to the top 10 Broadway musicals.
The Story of Cats
Cats is based on Old Possum's Book of Practical Cats, a childhood favourite of Andrew Lloyd Webber, who would bring this play to the stage for the first time in London's West End in 1981. The book is a wide-ranging collection of poems that chronicles the antics of various kittens. Lloyd turned these poems into lyrics, and subsequently into music.
The musical begins in an elaborate junkyard and focuses on the Jellicle Cats, a group of very peculiar felines. The show takes place on the night of the Jellicle Choice, an event where once a year the Jellicles have to choose which of them is most worthy of ascending to the Heaviside Cape. For the election, each feline must present his or her own story to the other cats and to Old Deuteronomy, the great leader.
What happens during the Jellicle Choice?
Each cat tells its story through song and dance, who will be the most deserving to ascend to the Heaviside Cape? This is nothing more and nothing less than a metaphor for heaven, the cat who makes it to the top gets to be born with a new life. The decision becomes more difficult as the play progresses, and viewers become embroiled in an array of conflicts and characters that may prevent that choice from being made.
What to expect from Cats on Broadway
Cats is fantasy, Cats is a world that will leave you highly fascinated. For me, to go to see Cats, is not only to become one of the lucky ones to see the play in all its glory, but to enjoy a musical that will thrill you and make the time literally fly by.
When the felines arrive on stage, they introduce themselves as the Jellicle tribe and sing "Jellicle Songs for Jellicle Cats", often breaking the fourth wall between audience and performer (which they will continue to do throughout the show).
There is no dialogue between the musical acts and the dance is arguably the most important aspect of the work. Each feline has a distinct personality, each bringing a different genre from hip-hop, tap, jazz and contemporary dance to ballet. This is especially apparent during the Jellicle Ball, a 10-minute dance sequence!
Which theatre is Cats performed in and what is the address?
Cats is performed at the Winter Garden Theatre, which is located at 1634 Broadway between 50th and 51st Streets in Midtown Manhattan, New York. The location is excellent for two reasons: it is easy to get there by public transport and you can also take advantage of the opportunity to visit other nearby points of interest.
The best way to get there by public transport is by underground. Lines 2, 3, 7, 7X, A, E, R and W are all within a 5-7 minute walk. It is also the best option if you have the metrocard, which I highly recommend.
If you don't know what I'm talking about or you're not yet an expert on the underground, don't worry. In this New York City Subway Guide. You'll find everything you need, not only to get to Cats, but to get to every corner of New York. The underground in the Big Apple is an experience!
The best time to go
My big tip is to get there well before the show starts, the performances are usually in the afternoon/evening, with the first one starting at 7pm and the last one at 9:30pm. If you go an hour before your performance, you can afford to stroll around Times Square, take pictures in front of the majestic Broadway illuminated signs or grab a snack to get your strength back.
Is Cats a play recommended for minors and can I go with my children?
Going to a musical as a family is probably an experience you'll never forget, especially if you do it in New York. Cats is one of those shows where you won't have any problem going with children. Its main features make it an ideal musical for even the youngest members of the family.
Reasons why Cats is a good show for children
The main characters are pets.
It is not too long (we know that sometimes the little ones can't sit still for long hours).
The scenography will leave them speechless.
They will enjoy the music and the dances.
There is no obscene dialogue or situations.
Do you need any more ideas to do with your children during these days? It could be the perfect occasion to take a cruise with children in New York.
What level of English do I need to see Cats on Broadway?
As I said before, Cats is a play that has no dialogue between the different musical acts. It is one of those activities that you will enjoy whatever your level of English. But if you're really curious and want to know more about the play, you can always check its origins online.
Did you know that Cats was one of the longest-running musicals on Broadway? Its first successful run, from 1982 to 2000, broke records as the longest running show of all time and won numerous awards including Best Musical at the Laurence Olivier and Tony Awards.
Belinda's Traveller Tip

Let the magic of the show surprise you, English is not necessary, so don't watch the acts before you go via youtube or similar.
What to wear on Broadway, is there a dress code for this musical?
There is a very simple answer to this question: you can wear whatever you want. Most Broadway theatres nowadays no longer have dress codes. As long as you have a purchased ticket, you can attend in casual or formal wear.
From a tracksuit, to a cocktail dress. I'd say anything is acceptable and you'll see people in all sorts of outfits. However, if your visit coincides with a special event, whether it's an opening or a gala evening, it might be worth wearing that outfit you love so much and look effortlessly "smart casual".
Here are my top secrets on how to dress for a Broadway musical.
My most practical tips for dressing for a musical
Dress respectfully.
Wear comfortable clothes.
If you wear jeans, try not to wear jeans with holes in them.
Don't wear hats or hairstyles that can ruin the view of the person behind you.
Avoid wearing too much perfume (some people are allergic).
Wear an extra layer to combat aggressive air conditioning.
Dine before or after a Broadway show
I like to apply the famous phrase ''time is money'' when I'm on holiday. The reason is simple: every second you spend in New York is worth it, so my advice is to always try to have dinner after the show. But make sure you check the opening times of the restaurants or you might be in for a surprise.
As I mentioned in one of the previous sections, the location of Cats is unbeatable; it's just a few minutes from Times Square. Why do I focus so much on this information? Because I think a very good plan is to take a stroll through Times Square at sunset, while enjoying the lights and some snacks from the famous fast food street stalls. After that you can leisurely go to see the musical and finish the day with dinner in the surrounding area.
If you dine earlier, be aware that some shows start early (around 7pm), which will take time away from other things. It's better to visit an attraction after lunch than at 10pm, isn't it? But there are different tastes and that's why here's a list of the best restaurants near Broadway, either before or after the show.
Best restaurants near Cats on Broadway
Bubba Gump. Straight out of the movie Forrest Gump, this fun restaurant has a wide variety of seafood dishes. Prices are between 20 and 30 euros per person.

Hard Rock Café. One of the main attractions in Times Square, it is located in the middle of the Broadway theatres. You can enjoy delicious food while admiring exhibitions of your favourite artists. Prices are around 30 euros per person.

Sardi's. It has a relaxed and very social atmosphere. Secret! It's not uncommon to see artists having a drink after the show. If you've been particularly taken aback by one of the felines of the Jellicle tribe, this is your chance.

Joe Allen. The perfect restaurant for those who want to dine before the show. It has a totally New York look and a very affordable price.

Ortzi. An interesting option for those looking for something elegant. It offers special post-theatre food. Its best offer? The 20 euro combo of three tapas and a glass of house sangria.
Other Broadway musical options
Many people believe that Broadway theatre productions are the best in the world, which is why it's one of New York's top attractions. If you're still not 100 per cent sure that Cats is right for you, but seeing a Broadway musical is one of those little thorns in your heart, don't worry; there are more musicals that are also worth seeing.
I recommend you take a look at some other guides to musicals that might interest you. Firstly, there is the Lion King, a show that like Cats has always been famous for its sta ging and voice acting.
There is also the great Aladdin, which, despite being known thanks to Disney, will not leave you indifferent. Its dances will leave you speechless.