Where to Eat in Brooklyn NY: 11 best restaurants
Planning to visit Brooklyn during your trip to New York and would like to discover restaurants worth eating at? Read on!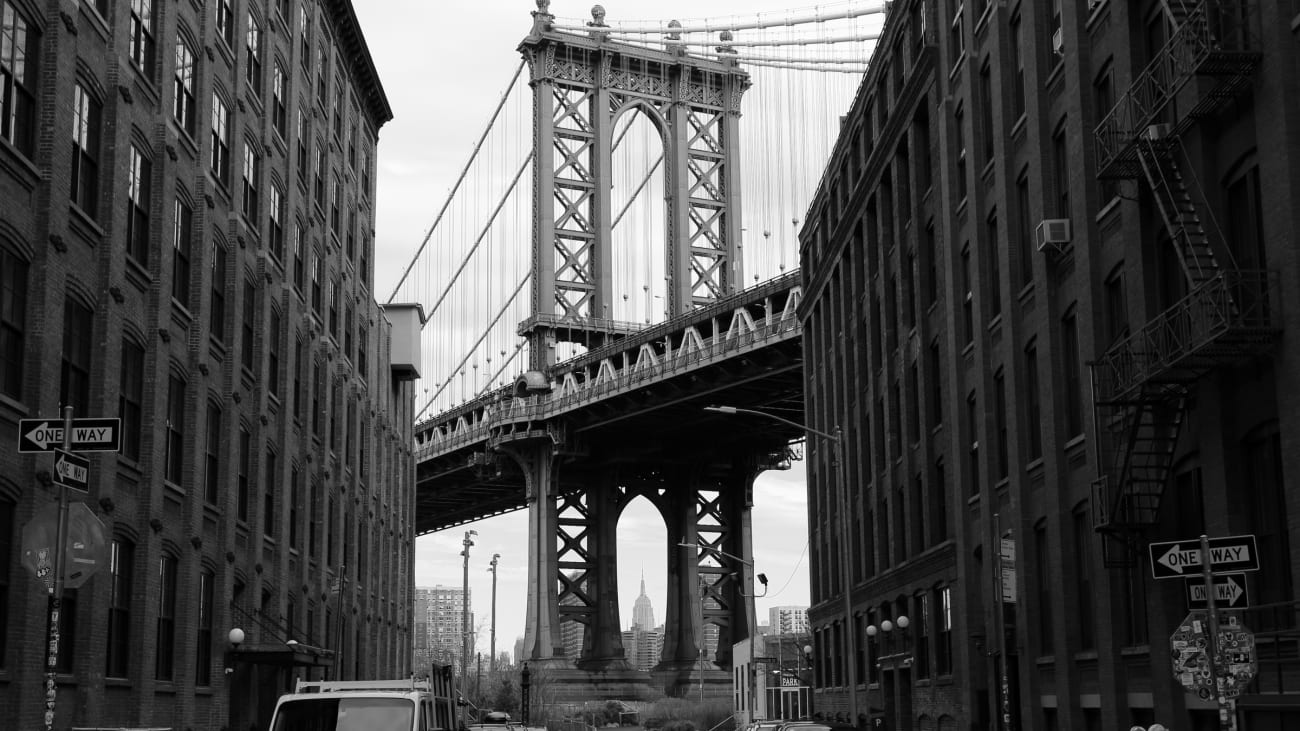 Where to eat in Brooklyn? The million-dollar question we all ask ourselves when we work up an appetite while sightseeing in one of the best neighbourhoods in New York.
In Brooklyn you'll find plenty of restaurants with something to suit every palate and budget, but where can you eat well and leave happy? In this post we take a look at 10 restaurants in Brooklyn where eating is a pleasure and, what's more, with fantastic views of the city. If you prefer, you can also book a food tour of Brooklyn so you won't miss out on any of its most typical local dishes. Let's get started!
1. The best pizza in Brooklyn at Grimaldi's
The pizzas at Grimaldi's are so good that they're almost a tourist attraction in Brooklyn. Hundreds of people make the pilgrimage to this restaurant located just under the Brooklyn Bridge for their delicious pepperoni pizza. Never mind the queue that often forms at the entrance - it's worth it!
Grimaldi's makes a great Neapolitan pizza whose secret lies in the dough and the charcoal-heated brick oven, which creates a crispy crust and unique flavour that is impossible to achieve in any other oven. Their unmistakable stamp has won them numerous awards in the United States, so you have to try these pizzas!
To accompany them, I recommend ordering a caprese salad or a bruschetta trio. And for dessert, there's nothing better than a chocolate cannoli - oh my, it's delicious!
Useful information
Address: 1 Front Street, Brooklyn.
Recommended dish: Pepperoni pizza
Ideal for: Family and friends
2. Time Out Market's gastronomic variety
There's no shortage of restaurants in the DUMBO area. That's why it's sometimes so difficult to agree on which one to go to, especially if you're travelling with a family or a large group of friends, and everyone wants something different. Fortunately, Time Out Market is located in this neighbourhood. A food hall that will be a lifesaver for many travellers who have this problem.
In Time Out Market you'll find more than twenty food stalls where you can try an infinite number of different styles of dishes (Japanese, Italian, Lebanese, Thai, vegetarian, etc.) without leaving Empire Stores, the building where this food hall is located and which bears witness to Brooklyn's industrial past in the 19th century.
To round off a delicious meal, how about a cocktail to toast to your trip to New York? There are three bars at Time Out Market where they make fantastic cocktails and the Time Out Market Bar has a fabulous panoramic view of the New York skyline.
Useful info
Address: 55 Water Street, Brooklyn.
Recommended dish: The mac and cheese at Jacob's Pickles.
Ideal for: Couples and friends
3. The artisan tequila and tacos of Aldama
If you love the flavours of Mexican cuisine and can't get enough of tacos, beans and guacamole, you've got to visit Aldama Restaurant in South Williamsburg, Brooklyn.
A place where you can eat Mexico in bites but with an original and different touch to what we are normally used to, as it delves into a menu of regional Mexican dishes.
Some of the dishes I recommend you try at Aldama are the grilled shrimp, the crispy tuna taco or the guacamole with bits of salsa macha. And to finish off, a few glasses of tequila or artisanal mezcal while you listen to live music from Thursday to Saturday at the cocktail bar.
Useful info
Address: 91 South 6th Street Williamsburg, New York 11249
Recommended dish: The crispy tuna taco.
Ideal for: Couples and friends
4. Nathan's Famous hot dogs, the most popular in New York City
If you're travelling to New York in the summer, one of the best things to do is to go to Coney Island, the Brooklyn neighbourhood where New Yorkers escape to when they want to enjoy a day at the beach or when they feel like eating Nathan's Famous, New York's most famous hot dogs.
Located on the Coney Island boardwalk, Nathan's hot dogs have been dazzling New Yorkers since the first stand opened here in 1906. The business has grown so much that today they have a large location here where they even hold competitions to see who can gobble Nathan's Famous hot dogs the fastest: the Nathan's Hot Dog Eating Contest.
And it's no wonder some people devour them because they're addictive and cost very little money. If you're passing through Coney Island and fancy a quick bite to eat in less than 10 minutes, these hot dogs are the best option. However, they also have other items on the menu such as burgers and fried chicken.
Useful Info
Address: 1205 Boardwalk W, Brooklyn, NY 11224,
Recommended dish: Hot dogs
Ideal for: Family and friends
5. Noodle Pudding's Italian Risotto
If you like pasta, at Noodle Pudding you'll enjoy it like a kid because they specialise in it. Rice, corn, buckwheat... all the options you can imagine!
But in this restaurant located in the Brooklyn Heights area you can not only eat the flagship dish of Italian cuisine but also many other proposals that will make your mouth water: mushroom risotto, ossobuco with rosemary, grilled chicken breast with vegetables and a long etcetera.
Noodle Pudding's service is good, as is its value for money. In fact, finding such a cheap bottle of wine to accompany your meal in Manhattan wouldn't be as easy as at this cute and cosy Brooklyn restaurant. Give it a try because you won't regret it!
Useful info
Address: 38 Henry St, New York, NY 11201
Recommended dish: Mushroom risotto.
Ideal for: Couples and friends
6. Alma's brunches overlooking Lower Manhattan
If after a long walk through the streets of Brooklyn, undoubtedly one of New York's best neighbourhoods, you're looking for a place with a nice view for dinner, Alma is the restaurant to go to. It has three floors and from its open-air rooftop it has wonderful panoramic views of the Lower Manhattan skyline that are highly coveted during spring and summer nights.
But that's not its only attraction - it's also the food! Mexican-inspired, Alma 's serves delicious tacos, fajitas, enchiladas, ceviche, nachos, guacamole and more. And if you pair them with a glass of ice-cold margarita... you won't be able to resist!
Also, on weekends they hold brunches so it's a good occasion to drop by Brooklyn and pay this restaurant a visit. The portions are generous and the value for money excellent - what more could you ask for?
Useful Info
Address: 187 Columbia Street, Brooklyn, NY 11231
Recommended dish: Enchiladas de pollo (chicken enchiladas)
Ideal for: Family, friends and couples
7. Turmeric gin and tonic and Celestine's hummus
If you're looking for a sophisticated place to dine after a stroll through Brooklyn during your trip to New York, Celestine restaurant will meet all your expectations.
Located on the DUMBO waterfront in Brooklyn, not only does it have beautiful views of the East River, the Brooklyn and Manhattan bridges and the city skyline, but the menu will transport you to the Mediterranean and Middle Eastern shores with its delicious dishes and cocktails inspired by the cultures of this part of the world. You will enjoy it with all your senses!
Celestine: the perfect place to go for a romantic dinner or brunch with friends. The atmosphere is very pleasant, the service is good and the menu has options for different occasions. I recommend you try the hummus, the crudités, the baby kale salad or the fried chicken sandwich with buttercream. And to round off a delicious and exotic dinner, a turmeric gin and tonic.
Useful information
Address: 1 John St. Brooklyn, NY 11201
Recommended dish: Hummus
Ideal for: Couples and friends
8. Pio Bagel's fresh bagels
Sometimes it's hard to take a break when you're having a great time exploring Brooklyn. However, it's always good to take a break to recharge your batteries and continue with more energy. Pio Bagel is a great option if you don't want a time-consuming meal - their bagels are so good they'll be eaten in no time!
The place is open daily for breakfast, lunch or dinner. The bagel is the star product of the house. You can eat them on their own, but if you add a filling, they'll be even tastier and you'll lick your fingers. I recommend the Mexican bagel (spicy) and the bagel delight (vegetarian).
As well as bagels you can also order salads, sandwiches, soups and sweets. There is quite a variety to choose from but all the products are fresh and delicious. The service at Pio Bagel is friendly and prompt, and the prices are reasonable - you'll be sure to come back!
Useful info
Address: 1 John St. Brooklyn, NY 11201
Recommended dish: Mexican Bagel
Ideal for: Friends and family
9. The oriental flavours of Yaso Tangbao
If you're looking for Far Eastern flavours in Brooklyn, Yaso Tangbao is the restaurant to go to for the best Shanghai street food without leaving New York.
A place frequented by locals who almost keep the existence of this place a secret so that it doesn't get too crowded. The Asian-inspired dishes are so good that they have nothing to envy to those prepared in the kitchens of Chinatown.
The menu at :::link|text=Yaso Tangbao|url=https://yaso.kitchen/:: is extensive and there are options for all tastes, even for vegans! I recommend ordering the curry fried rice, the spicy pork dumplings or the slow-cooked tofu. You'll leave with a full belly and a smile from ear to ear.
Useful info
Address: 148 Lawrence St., Brooklyn, NY, 11201
Recommended dish: Curry fried rice
Ideal for: Friends and family
10. Fornino's pizzas and calzones overlooking New York City
There are several reasons to drop by Brooklyn Bridge Park but there's no doubt that the views of the New York skyline and the pizzas at Fornino are two of the most powerful.
It's a restaurant I'd especially recommend in spring and summer, as the rooftop dining room offers spectacular sunset views over Manhattan while you enjoy a tasty, freshly baked pizza.
However, there are other options on the menu at Fornino if you're not in the mood for pizza, such as salads, meatballs, sandwiches or calzones prosciutto - make sure you go with a hearty appetite because you'll want to try as much as you can!
Some useful information
Address: Pier 6, Brooklyn, NY 11201
Recommended dish: Pizza Margherita
Ideal for: Friends, couples and family
11. Abracadabra Brooklyn's Turkish Meatballs
Abracadabra Brooklyn is a cute little café located in Williamsburg (near the bridge of the same name) where you can enjoy a healthy and tasty meal while you take a break during your tour of Brooklyn.
If there is something surprising about this little place it is that its size is inversely proportional to the portions served here, always abundant (not even the biggest eaters will leave with an empty stomach!), but there is enough space to eat inside. Another option is to order takeaway and have a picnic in a neighbourhood park on a fine day.
The dishes are made with organic and seasonal ingredients. The menu ranges from quinoa burritos and Turkish meatballs to vegan burgers with hummus. And for those with a sweet tooth, I recommend trying their chocolate cake with raspberries or the brownie, which are out of this world. Abracadabra Brooklyn also has vegan and gluten-free options.
Useful information
Address: 347 Bedford Ave, Brooklyn, NY 11211
Recommended dish: Turkish Meatballs
Ideal for: Friends, couples and family