Best Moment to Take a Cruise in NYC
Cruising in New York is always a good idea, but if you want to pick the right time for the perfect sailing, take note.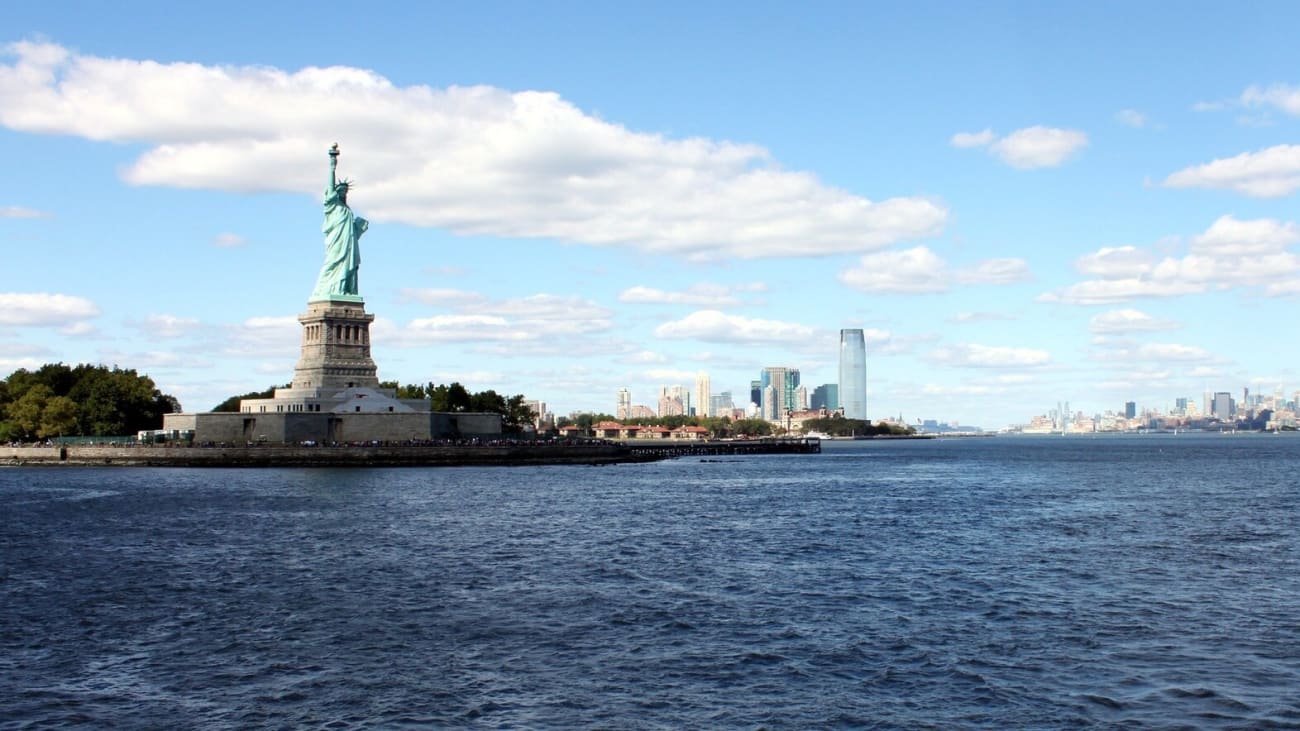 If you've decided to take a cruise in New York and enjoy the wonders of the Big Apple from the water, you won't regret it, no matter when you do it. However, the range of cruises in the city is so varied that it's worth giving it some thought before booking to decide when is the best time to embark.
Depending on when you go to the city, the weather during that time of year or the type of cruise you prefer, consider the following when booking:
What is the best time of day to take a New York cruise?
If it's your first time in New York and you're looking for detailed views of the city, it's best to choose a sunset cruise. This will allow you to see the city under the last rays of daylight, with an orange sky that changes colour at times giving way to the lighting of the city' s bridges and skyscrapers.
The atmosphere is very intimate, allowing you to rest and relax during the cruise after a long day of sightseeing in New York and you'll really have a 2 for 1: the city by day and the city by night. This is the best way to end an intense day of sightseeing in the city that never sleeps.
There are cruise options that offer dinner on board and are a truly premium experience. Check out this article on the best dinner cruises in New York to find out a little more about what they offer and what they are all about.
The best time to get on board if you want to take good photos
If you're concerned about taking photos but you're not an expert, the best time is probably during the morning, to catch the sunlight and capture the details of the Manhattan skyline, the views of the Hudson, the bridges below...
And the fact that there is natural light will make it easier for you to take pictures, as you won't have problems with blurred photos, artificial lights sneaking into the photo, etc. The photos will be perfect even with your mobile phone!
If you are an experienced photographer or have mastered your camera to take night photos, the images you will capture at night* are spectacular, worthy of a wallpaper!
The best time to take a cruise according to your travel plans
Something very important to consider is what other activities you are planning during your trip, if it's your first time in the city, if you are travelling in winter or summer... These are the main recommendations according to some assumptions:
If you are travelling to New York for the first time: at sunset.
To celebrate a special occasion or romantic date: night cruise (with or without dinner).
If you are travelling in summer: night cruise (during the day it can be too hot)
If you're travelling in winter: daytime cruise to take advantage of the midday heat
If you are an expert photographer: night cruise (set your camera's ISO and enjoy).
If you are an amateur photographer: daytime cruise (the photos will turn out well).
If you plan to go up to a skyscraper observation deck by day: night cruise
If you plan to go up to the observation deck of a skyscraper at night: day cruise
If you plan to take a helicopter ride during the day: night cruise
If your idea is to tour the area around the pier after the cruise: day cruise
If you want to take advantage of the ferry ride on your visit to the Statue of Liberty: daytime cruise
Is an evening cruise a good idea?
An evening cruise is an unforgettable experience. There are options including a buffet dinner or a gourmet dinner, live music... You'll feel like a VIP in New York's nightlife on board a real luxury boat.
Whether you're travelling in winter or summer, don't worry: the boats have part of the deck to protect you from the cold.
There is also a cruise that sets sail at night on board a classic sailing ship and will take you to see the highlights of the city lit up for a tighter budget than the evening dinner cruises. As you can see, there's an option for every budget!
Best time of the week to embark on a Hudson River cruise
Daytime cruises depart daily throughout the week and don't interrupt service over the weekend, so unless there's a public holiday during your travel dates, you can book any day of the week and the experience will be just as good.
Some night cruises sail only from Thursday to Saturday, so check online for availability and times of the cruise that suits you best to ensure you get a place on the ship and that nothing dampens your experience.
Best time of year to take a Manhattan cruise
Mild temperatures will be a good ally when it comes to cruising Manhattan, so spring, summer and autumn are the best times of year to embark. In fact, there are some companies that stop their service during January and February.
However, most companies continue to operate and will only cancel your trip in the event of extreme weather conditions (in which case you will be refunded or offered another date if you still want to take the cruise).
If you are travelling in summer and the temperature forecast is too high, you may want to choose a later time, between sunset and evening, so you can enjoy the views on deck without having to stand in the sun on a very hot day.
Even so, remember that the ships have a covered area where you can take shelter from the cold or heat if you need it.
Best dates to take a New York cruise
As we said, as long as the temperature is warm, the experience will be even better. However, if you're travelling on special dates or days, be aware that either there is no cruise service (such as Christmas, Thanksgiving or New Year's Day) or special cruises are offered at a much higher price.
This is the case on Independence Day (July 4th) and New Year's Eve (December 31st), when the Hudson River hosts a fireworks display and cruises have special departures so you can enjoy the show as you cruise the waters of New York.
If you're travelling on holidays or long weekends, it's best to check that the service is running smoothly and book well in advance- when the city's tourist crowds are high, some tours may sell out.