10 Things to Do in Battery Park New York
Battery Park is one of the coolest parks to see in New York. If you want to know everything you can do here... read on!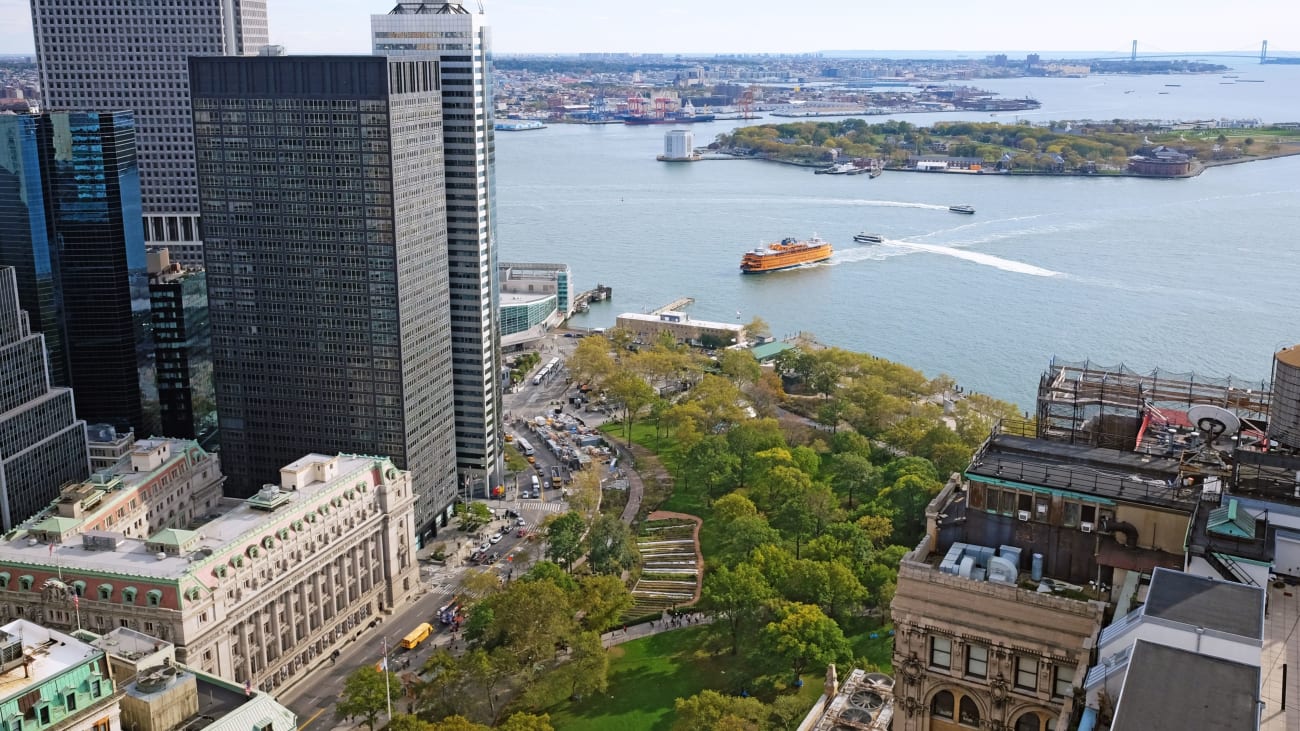 Located south of Lower Manhattan and bordering the Financial District, Battery Park is one of New York's most beautiful parks, famous for its spectacular views of the Statue of Liberty.
However, seeing "Lady Liberty" in the distance is not the only thing you can see and do. This park has a lot to offer! Don't miss these 10 ideas to get the most out of your Battery Park tour.
1. Enjoy the view of the Statue of Liberty from a bench
Sit on one of the benches in Battery Park for unobstructed views of the Statue of Liberty and New York Harbor.
It's a great place to take a break from the hustle and bustle of the streets of the Big Apple and relax and watch the ships pass by on the Hudson River.
In addition, in the distance you will be able to contemplate several places of interest such as Governor's Island, the Verrazano Bridge, Ellis Island or Brooklyn, among others.
2. Or take a ferry from Battery Park to see it up close
If you're not satisfied with just seeing "Lady Liberty" from afar, then it's best to join a guided tour of the Statue of Liberty to see this world-famous icon of the United States up close and personal.
To do this you'll need to take one of the ferries that depart from Battery Park, either by buying your tickets in advance or by using one of the tourist cards you can buy to visit New York that includes this visit.
Where do the ferries to the Statue of Liberty leave from?
Ferry from Manhattan
Leaves from Battery Park
Takes about 15 minutes
Goes directly to Liberty Island
Main pier
Largest tourist presence
Ferry from New Jersey
Departs from Liberty State Park
Takes about 30 minutes
Does not go directly to Liberty Island
Alternative pier
Less tourist presence
Whichever option you choose, my advice is to get to the Battery Park pier first thing in the morning because you will have to go through a thorough security check before you can get on the ferry and this can take a while due to the long queues. Before boarding, I advise you to book your tickets in advance and take a look at the ferry timetables to help you organise your visit.
3. Take a bike tour of Battery Park
One of the best ways to have a great time visiting a park like Battery Park (especially if you don't have a lot of time to explore it on foot) is to rent a bike and ride it quickly from end to end on a route that allows you to see the main sights while enjoying the nature and seascape.
In that sense, I recommend using Citi Bike, New York's public bike rental service, which is very cheap and easy to use! Around the park there are about 20 bike stations where you can take a bike, but first you'll have to download the app on your phone and register an account.
Other interesting options to consider if you're taking this tour with children under 16 (who can't use CitiBike) or if you prefer a traditional style guided tour on wheels are Blazing Saddles or Bike and Roll.
4. Climb Battery Park's SeaGlass Carousel
When travelling as a family it's always a good idea to spend some time doing activities for the kids to have fun too and in Battery Park as well as having outdoor space to run around and play they can ride the SeaGlass Carousel, a quirky fibreglass merry-go-round inspired by the ocean and its creatures.
It's located east of Battery Park (near the South Ferry Station where ferries depart for Staten Island) and admission for one ride is $5.
If you're planning a tour of Battery Park with the kids, this carousel might be a good place to take a break and let them have some fun riding giant fish in an atmosphere that evokes the underwater world thanks to the LED lighting while the music plays in the background. So you too can take a break from all that walking!
SeaGlass Carousel is open every day of the week from 11 AM to 9 PM in Battery Park.
5. Enter the Museum of Jewish Heritage
While booking your tour of Battery Park you can visit the west side of the park where the Museum of Jewish Heritage is located, a space dedicated both to paying tribute to the victims of the Holocaust and to keeping alive the history of the Jewish immigrants who came to the country in search of a better future.
New York's Jewish community is the largest Jewish community outside of Israel, which has had a great influence on the development of the city. At the museum you can put a face to and learn the stories of thousands of people (mostly from Central and Eastern Europe) who crossed the Atlantic to start a new life while preserving their traditions and customs.
This visit is the perfect complement to the Ellis Island Immigration Museum or the Tenement Museum (103 Orchard Street), both historical museums that allow you to learn more about the history of those immigrants who came to the United States from other corners of the planet. It can also serve as a little immersion into Jewish culture before visiting Williamsburg, New York's quintessential Jewish neighbourhood.
Museum of Jewish Heritage ticket prices
Adult: from €15
Senior: from €10
Children under 12: Free
6. Enjoy the sunset from Battery Park
Due to its excellent location just south of Manhattan and facing the New York harbour, Battery Park is a highly recommended place to go to watch the sunset out doors and surrounded by nature while enjoying unique views of the city.
Watching the sunset from one of the dizzying skyscrapers of the Big Apple is always an appealing plan but having the chance to observe this beautiful natural spectacle from such a privileged place as this at the tip of the island without spending a single cent is a great experience. It will be a very special memory of your trip!
So get your camera ready because you'll surely want to immortalise the moment from Battery Park with the Statue of Liberty in the background.
7. Have a picnic in Battery Park
If your stay in New York coincides with good weather, a great plan to do if you book a tour of Battery Park on a sunny day is to have a small picnic surrounded by trees, gardens and flowers.
If you love picnics and you're looking for a good place to sit down and have a picnic and connect with the relaxed atmosphere of the park, I recommend heading to the marina area where you'll find a picnic area overlooking the Hudson River.
Some shops near Battery Park where you can buy snacks and picnics to take with you are:
City Acres Market (70 Pine Street)
Battery Place Market (77 Battery Pl.)
Hudson Cafe & Grocery (50 West Street)
8. Find the sights scattered throughout Battery Park
Walking in a city like New York is a pleasure because there is always something interesting to see around every corner. For example, within the Battery Park grounds there are plenty of monuments and memorials that you can discover while taking a pleasant stroll through the park.
So if after visiting the Financial District or the Statue of Liberty you feel like exploring a bit of the underbelly of Battery Park, turn on your camera as some of the monuments you can see along the route are:
Netherland Memorial: This is a gift from the Dutch government to New York in 1926 to commemorate the Dutch colonisation of New Amsterdam.
Korean War Veteran's Memorial: This memorial pays tribute to the soldiers who fought in the Korean War between 1950 and 1953.
Immigrant Memorial: A sculptural ensemble erected in honour of the immigrants who came to the immigration centre in Castle Clinton in pursuit of their dreams in America.
World War II East Coast Memorial: This is a memorial to the missing American servicemen who perished during World War II in the Atlantic Ocean.
Giovanni da Verrazano Monument: In honour of this Italian navigator and explorer who was the first European to reach New York Bay.
9. Cool off at The Battery Fountain on hot days
Near Castle Clinton is The Battery Fountain, a curious fountain whose water jets emanate from the ground and to which many New Yorkers flock during a stroll through Battery Park to cool off when the heat gets too hot.
Summer in New York is sweltering, so spending some time in a park like Battery Park lying on the grass in the shade of the trees and cooling off in the water is a super-appealing plan and a great way to escape the high temperatures in the Big Apple.
If you're travelling to New York with your family, The Battery Fountain and The SeaGlass Carousel are sure to become your little ones' favourite places to have fun in Battery Park - don't miss out!
10. Visit Fort Castle Clinton
In the heart of Battery Park you'll find this former fort and national monument that was built in the early 19th century to protect New York (or New Amsterdam as it was then known) from British attack.
Throughout its history, Castle Clinton has had many different uses. It ranged from a military fortification, a theatre and an aquarium to an immigration centre that received foreigners here before the construction of the Ellis Island Centre.
Most tourists know it because it houses the ticket booths for the Statue of Liberty, but there are also 20-minute guided tours in English led by park rangers to see the inside of Castle Clinton.
If you're up for a visit, it's open every day (except Christmas) from 8:30 AM to 5 PM and the tour times are as follows:
At 10 AM
At 12 PM
At 2 PM