10-Day New York City Itinerary: a guide to discover New York
The city that never sleeps is ready to welcome you with open arms. If you want to live an unforgettable experience, in 10 days you can make the most of the liveliest city in the world.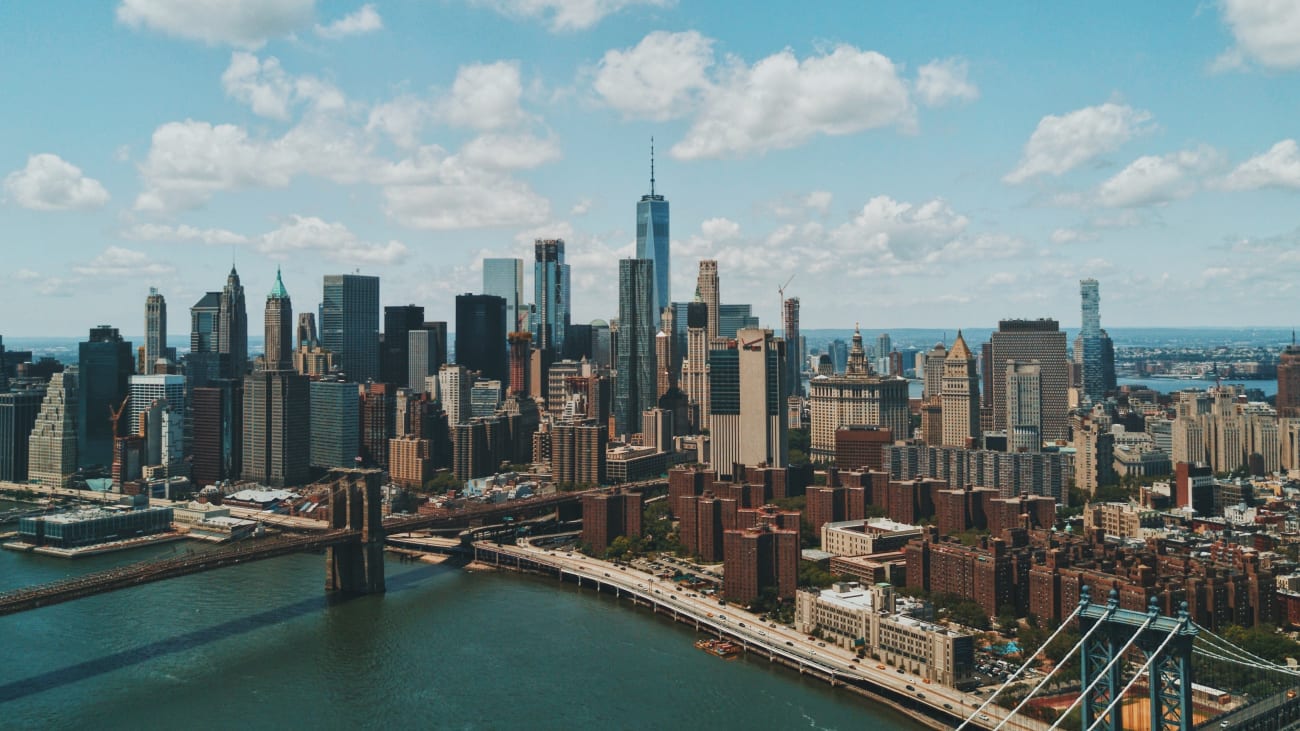 Strolling through film sets, gazing at New York from on high or enjoying a gastronomy of mixtures and contrasts are just some of the many activities you can do and see in New York.
Whether you've already visited the city, or you're a repeat visitor because you fell in love at first sight, you'll know you have to get organised, as the possibilities are endless if you only have two days.
But don't worry! You'll discover that, if you invest your time wisely, you'll come back from your trip with your dream come true. Let's get started!
1. Best of the Big Apple Day: From Times Square to 5th Avenue
Start your day with energy in Times Square
Start the morning, grab a coffee to go and take in one of the most vibrant sensory spectacles. In this legendary square, a nerve centre and a place where thousands of people pass through, you can enjoy the real New York atmosphere from one of the steps of its famous red staircase.
Let yourself be amazed by its dozens of LED screens or amused by some of the unique characters you'll find in costume. Times Square is the place for a thousand selfies and you won't want to leave without taking yours.
Climb the Empire State Building to get the best views
A pleasant stroll down Broadway will take you to one of New York's must-see attractions that forms part of the **city'**s skyline- the Empire State Building. Who doesn't have the image of this architectural icon in their head?
But without a doubt, what will leave you speechless will be to go up to the Empire State, specifically to its 86th floor. There is nothing like being able to contemplate the whole city in 360º and enjoy the American dream at your feet, with an endless number of skyscrapers that will make you feel like an ant. By the way, you should know that you can also go up the Empire State Building at night, so if it's a cloudy day, postpone this great plan for sunset.
A tip to avoid wasting time? Don't run out of tickets, book online and save yourself the queue to go up the Empire State Building.
Walk along Fifth Avenue
Just around the corner from the Empire you'll find the famous Fifth Avenue. A classic New York City crossing of this commercial artery will leave you speechless. Of course, it's not for everyone's budget, but a stroll down New York's most famous street is one of the first things you should do as soon as you set foot in the city.
Its cosmopolitan atmosphere and its connection to Manhattan's main points of interest such as St. Patrick's Cathedral and Rockefeller Center make Fifth Avenue a favourite place for visitors to explore Manhattan's must-see sights. It's up to you to indulge yourself, but remember it's only the first day.
A lunch stop in the trendy new neighbourhood
And just when you thought you knew everything about New York, along comes an entire neighbourhood on the west side of Manhattan, Hudson Yards.
Before we get to the sights, let's make a pit stop for a bite to eat at one of the most famous places for having the hallmark of award-winning Spanish chef Jose Andrés: Little Spain Market. You'll also find other interesting culinary options at The Shops and Restaurants at Hudson Yards.
Hudson Yards highlights
Hudson Yards is one of the best places to check out, whether you're new to the city or just visiting for the first time.
A neighbourhood scheduled to be completed in a few years, you can go inside to admire The Vessel, a beehive-shaped sculpture with criss-crossing staircases, or climb The Edge, the highest open observatory in the Western Hemisphere - a dizzying experience!
It's time for a great burger dinner
To talk about burgers is to talk about America. You can find multiple options to savour a delicious Cheeseburger.
At Burger Joint you will find a variety at a very affordable price. Another icon for burger lovers is the legendary Five Guys; although you may already know it, as it is a chain of restaurants that is already established in Spain, enjoying the original ones in a place like New York is an experience you can't miss. And if you want all the flavour in a cosier atmosphere, I invite you to visit Napkin-Burgers. Without a doubt, an experience you can repeat at any time during your trip.
Anyway, here's a list of the best places to eat in New York in case you want to explore other options.
2. Manhattan to Brooklyn Day
Start by boarding a ferry to the Statue of Liberty
If you were jet lagged yesterday, wake up early - what could be more exciting to start the day than a visit to the quintessential New York landmark! The lady originally greeted the immigrants who came to make a living on the new continent and today she is the standard that every visitor who wants to visit Liberty Island still admires.
There are several options for enjoying this unforgettable experience, although it is true that everyone wants to see her, so I recommend you get up early to take a ferry to Liberty Island from Battery Park.
If you feel like it, you can also visit nearby Ellis Island, but the best advice I can give you is to book your Statue of Liberty ticket in advance(some include transportation and a guided tour) so you don't miss out on seeing the majestic Statue up close...
Cross the Brooklyn Bridge
One of the most famous bridges in the world, and one that you've seen in movies hundreds of times, is the Brooklyn Bridge, which connects the borough to Manhattan. Any time of the day is a good time to take a stroll over this suspension bridge from where you can't stop taking pictures. The Manhattan skyline is breathtaking from this vantage point.
You'll feel like a real superhero like Spiderman, but without webs to climb with, just taking the time to enjoy the unforgettable scenery at the foot of the Big Apple.
Stop for lunch and a view of the Manhattan skyline from DUMBO
And after a morning full of experiences, I suggest you try the best pizza in New York in Brooklyn. Just under the Brooklyn Bridge, at 1 Front Street, you'll find Grimaldi's, and your mouth will be watering! Looking for other options? Take note of where to eat in Brooklyn.
After satisfying your palate, I suggest a leisurely stroll to see all that Brooklyn has to offer and visit DUMBO, a bohemian and artistic neighbourhood where you can enjoy the most modern design alongside the sober industrial architecture. To finish the tour, what better than taking a photo from Washington Street with the skyscrapers in the background of the Big Apple.
To end the day, enjoy a breathtaking evening of live NBA action
And to end the day, you're in for a real treat: an NBA game in New York. It's not just a basketball game, it's a real spectacle for young and old alike. It's pure excitement that will make you feel like an American supporting the team of your choice, even if you have no idea what's going on.
If you're still in Brooklyn, book tickets for the Brooklyn Nets, playing at the Barclays Center.
If you prefer to go back to Manhattan, then your game is at Madison Square Garden and you should book New York Knicks tickets. Are you ready to scream like a true fan?
3. Day A city of contrasts: Harlem, Bronx, Queens and Brooklyn
Discover, as the first option of the day, the surroundings of Manhattan with a Contrasts tour
A new day, a new experience. Today I recommend you get out of Manhattan again and experience the contrasts of New York with the famous contrasts tour that runs from Brooklyn to the Bronx, passing through Queens, and that will immerse you in the culture, history and architecture of New York.
Learn about the history of Harlem and its typical "Brownstone Houses".
Marvel at Yankee Stadium, New York's famous baseball team.
Photograph the **Bronx'**s most famous graffiti.
And see Queens County, the largest and most multicultural borough in all of New York City, among many other things...
Wlliamsburg, Brooklyn, is not just the Jewish Quarter
Speaking of contrasts, Williamsburg is also the hipster neighbourhood. This industrial neighbourhood is full of street art, young people, designer shops and boutique restaurants. If you were left wanting more on your stroll through Brooklyn yesterday, take advantage of the contrasts tour to discover Williamsburg, its cafés and vintage shops.
Fancy a brunch?
The cafés in Williamsburg are an essential stop for a delicious brunch and different types of international cuisine.
At Cafe Mogador you can sample delicious Moroccan and Mediterranean dishes in a cosy atmosphere.
You can also sample the flavours of French and New American cuisine at Cafe Colette. Or indulge in a mouth-watering brunch just steps from Bedford Avenue's many attractions at Marlow & Sons.
A leisurely tour of the Jewish Quarter
And from the hipster area I invite you to walk through New York's Jewish Quarter, an area where you can observe the customs of Orthodox Jews with humility and austerity.
Close the night with a cocktail on a rooftop with a view
You can't miss the opportunity to experience New York's nightlife in the city that never sleeps. Can you imagine being able to enter the city's top clubs and enjoy a delicious cocktail while listening to live music and enjoying the best views of the city?
Just choose your favourite from this list of the best rooftops in New York. Chin chin!
4. Harlem Day and Central Park
Start the day listening to gospel mass in Harlem
The best way to get a taste of Harlem culture is to attend a live gospel service at a local church in the district. There are different options to visit the neighbourhood away from the skyscrapers depending on your availability.
That's why I advise you to take the Harlem gospel mass tour and let yourself be carried away in unison by the dozens of voices of the congregation. A unique experience to remember.
An afternoon bike ride in Central Park
Today is the day to enjoy New York's largest urban park to the fullest and take advantage of all there is to see and do in Central Park.
Rent a bike, spread out the picnic tablecloth and take in the nature and colours of the season. More than 4 kilometres to enjoy at your leisure, breathe in the fresh air and, why not, do some sport. This is, without a doubt, one of the best parks in New York.
5. Culture Day: The best museums and art in abundance
A must-see to start the day: MoMA
The Museum of Modern Art in New York is home to some of the world's most iconic artists such as Picasso, Warhol, Van Gogh, Dalí and Miró. Get your tickets to the MoMA in advance to save time and money and immerse yourself in a colourful, designer universe.
Your visit can last as long as you are passionate about modern art - it's up to you!
Stroll along the Upper East Side and visit the Museum of Natural History
After your visit to the MoMa, you'll head to New York's most chic and expensive neighbourhood, with Madison Avenue and its designer shops or Barney's, a luxurious shopping mall divided half for men and half for women.
I recommend the Sfoglia restaurantfor lunch, among the many options you have in this neighbourhood. Of course, the classic style of the establishments predominates in this residential area of affluent neighbours.
And if you're still hungry for more, I invite you to visit one of the best natural science museums in the world, the American Museum of Natural History. Whether you're coming to New York with children or not, you'll have a blast, almost as much fun as the characters in the film "Night at the Museum".
To end the day, take a night cruise on the Hudson to see the lights of New York City
New York's nightlife has its charms on land, but when it comes to enjoying DJs and a delicious buffet while cruising the Hudson and East Rivers on a yacht... there's no better way to end the day! There are several options (and budgets to suit all budgets).
Some of the best Hudson River cruises include dinner and are more premium and require formal attire. Others are more casual and will still allow you to enjoy the views while enjoying a buffet dinner. The choice is yours!
6. New York Day at the Movies
Get ready to start your day with a movie and series tour of New York City
New York is a city of movies, but you already know that. You have hundreds of memories in your mind of scenes that have made you cry, laugh, get scared and above all dream.
This is the moment to stop time and let yourself be carried away by the city to discover the best locations of films and series shot in New York. You'll find hidden treasures and take some great photos!
In the afternoon visit Ground Zero and the Financial District
You'll recognise New York's Financial District as soon as you arrive because of the suits and suits walking the streets. Stop for a bite to eat at one of the many fast food joints lining the streets.
On your way to Ground Zero you can stop to watch the New York Stock Exchange or pet the famous buffalo for good luck.
If you want to get caught up in the excitement, don't miss a visit to the 9/11 Memorial and Museum, the site of the towering Twin Towers.
If you're in the area, don't miss the new Oculus, full of shops inside and where you can play with your camera for a while thanks to its incredible design.
End the day with your favourite Broadway musical
So why did you decide to travel to New York? Well, among many things you dream of seeing your favourite musical in the mecca of musicals, on Broadway.
The Lion King, Aladdin, Phantom of the Opera or Wicked are just a few of the examples that await you this season in New York. Not sure which one to choose? Check out this list of the best Broadway musicals.
7. Day Take a bite of the Big Apple
A delightful stroll along the High Line and Greenwich Village
What if I told you that there is an urban garden where you can walk along the old train tracks...? Yes, it's true, the High Line is real and it's a very pleasant walk.
A two and a half kilometre walk that mixes art and nature with ample rest areas until you reach the Meatpacking District in Greenwich Village.
Enjoy the flavours of Chelsea Market
There's nothing better to eat than a trip to Chelsea Market for a delicious bite of whatever takes your fancy. Don't miss the market's speciality, seafood.
Before you leave, take home a gastronomic souvenir, such as a good bottle of wine or a delicious sweet that makes this place a highly recommended place.
An entertaining afternoon in Chinatown
Getting lost in Chinatown is one of my favourite things to do in New York. The endless market stalls and bazaars will make you feel like you're far away from the city, but it's definitely an experience. If you feel like eating or buying something to eat, these are the best places to eat in Chinatown, although I recommend that you save room in your stomach for the evening.
In general, in Chinatown you can find all kinds of objects and accessories at very cheap prices. Don't miss the famous Canal Street knock-offs, hustle and bustle combined with the art of bargaining.
Mamma mia! The best of Little Italy awaits you for dinner
As soon as you start to see checkered tablecloths on the edge of Chinatown and start to feel the Italian vibe... Stop, you've arrived in Little Italy. Try the delicious cannelloni at Da Gennaro and, since no one's bitter for a sweet, you can't miss their famous Cannoli.
8. Day It's time for a shopping spree
A sweet start to the day at Magnolia Bakery
You woke up today with the inspiration of a Sex and the City star and you're in the mood for a cupcake at Magnolia Bakery with a strong cup of coffee to let everyone know it's your shopping day.
SOHO and the West Village: shopping paradise
Explore the designer shops of SOHO and visit New York's most exclusive rooftop with breathtaking views and a great atmosphere.
Stroll through the beautiful Washington Square Park with its symbolic triumphal arch and end up immersed in the magical streets of the West Village. Bleecker Street is home to a number of must-see sights including the Friends apartment building and the Friends Outlet.
Did you say Outlet? Run, we're leaving!
I recommend you to go straight to Woodbury Commons, the best outlet in New York. There, you can choose to eat at one of several typical American chain restaurants such as McDonald's, Starbucks, Shake Shack and Chipotle.
Another option is to pack a snack in your backpack so you don't waste time and have dinner there when you've finished shopping. Enjoy top brands and discounts of up to 50% and 70%.
9. Day A unique experience
Flying over the Big Apple
You woke up with so much energy that on your last day you want to do something special. Well, here's an idea that will give you as much excitement as adrenaline in your body.
A helicopter ride over New York City is a dream that you can make come true and that you will always remember and want to talk about when you get back. Different prices for all budgets and different itineraries await you.
Take the SUMMIT, another alternative to see New York from above
If helicopters aren't your thing, there's one skyscraper you can't miss. The recently opened SUMMIT One Vanderbilt has one of the most original views of the city. Why? Among other things because of its architecture, its design and its almost 360º panoramic view.
If you don't have vertigo, the glass floor will surprise you and I assure you that, as well as giving you some incredible photos, it will leave you with one of the most special memories of this trip. Just get your tickets in advance because there will be a waiting list.
Get off the beaten tourist track
A good plan for your last afternoon in New York is to visit one of the 10 secret places and other original plans that you can't miss before you leave. Did you know that you can enjoy authentic waterfalls without leaving the city by going to parks like Greenacre Park? Shhh... it's a secret!
10. Day The city you'll always want to go back to
It's time to say Bye and what better way than to shout it to the four winds from the heights of the Top of the Rock. It will be your moment, a magical moment, an image to remember. I recommend going up first thing in the morning to avoid queues. And then? Personally, I love going back to that special place I liked the most in the city on the last day of my trip, but if that's not your case, here are some other options.
Other museums that will win you over
I recommend you go back through Central Park when you come down from the Top of the Rock to get to the Museum of the City of New York. As well as enjoying its exhibitions, the fun shop inside is the ideal place to complete the last purchases you have pending before the end of your trip. And speaking of shopping, don't miss the article on the best things to buy in New York and go through the list before leaving the city.
And as you still have time left, another museum you'll love: Madame Tussaud's, better known as the New York Wax Museum. During your trip you've discovered the city and its customs, but with this visit you'll also have the chance to meet the personalities that make New York New York, as well as, of course, international celebrities.
A farewell in style
If the experience of seeing New York from above has been one of your favourites, I've got the last day plan you need. I've got just the last day plan you need: the Roosevelt Island cable car. Located in the Upper East Side neighbourhood, also near Central Park, it will offer you views that will stick in your memory and make you want to return to New York again and again.
Finally, here are the 10 best places to eat in New York, so you'll come back with the best possible taste in your mouth. The city that never sleeps will be waiting with open arms for you when you want to return.
---
Get the New York Pass to save on attraction entrance fees
Plan your trip by getting one of the following sightseeing passes and get a head start on two of the most important things when visiting a city - save money, but also save waiting time!
Use the New York Sightseeing Bus for more convenient travel
Over 30 stops so you can visit the most important sights of New York on an open top bus at your own pace. New York's best sightseeing buses make it easy for you so you don't waste time getting around.
Get a transit pass to save time and money
If you plan to travel by underground or bus, as there are many days in the city, you can buy a MetroCard at any New York underground station. I recommend using the 7-day card, as the 30-day card is overpriced. Check the map and timetables of the underground and bus network and follow my Guide to the New York Subway.
Consider getting out of the city if you have time to spare.
New York is amazing and we'd never finish seeing it all, but if at some point during your trip you feel you have the energy and time to take advantage of its privileged location in the country, don't hesitate to take an excursion from New York to complete your vision of the United States.
There are several day-trip options, including tours to Washington, tours to Niagara Falls and tours to Boston.