Pearl Harbor Day Trips from Maui
Pearl Harbor is an iconic destination in Hawaii. Discover it during your stay in Maui with a flight to the famous US naval base.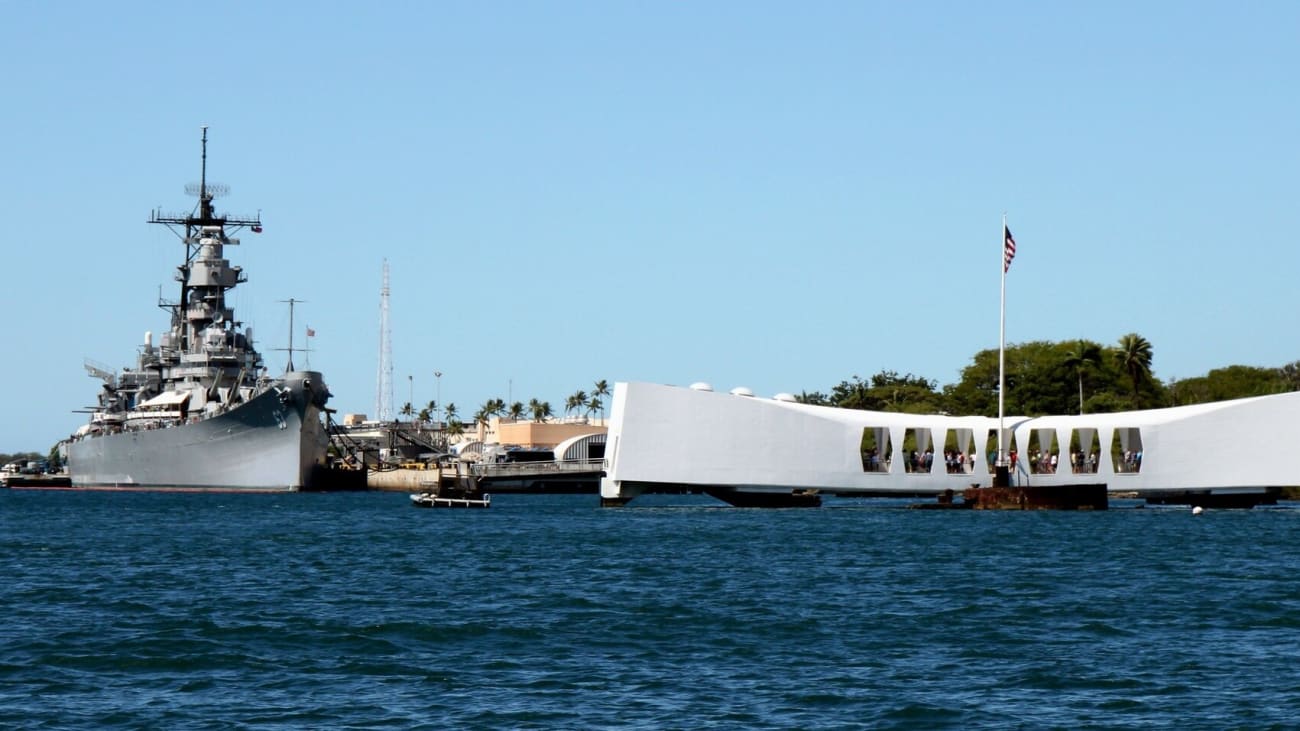 Because of its historical significance, Pearl Harbor is one of the most visited places on Oahu and a place you can't miss during your trip to Hawaii. Even if you are staying on the neighbouring island of Maui, there are tours to Pearl Harbor that will take you to see the most emblematic US naval base.
Air tours to Pearl Harbor base from Maui
The attack on Pearl Harbor marked a turning point in the course of World War II, bringing the United States fully into the conflict.
Several films have been made about this historic episode and many books have been written about it, but there is something moving and fascinating about seeing this naval base in person that cannot be described in words - you have to see it!
If you're passionate about history and want to get an in-depth look at the conflict on the Pacific front during your trip to Hawaii, my advice is to take a plane trip to Pearl Harbor from Maui.
There you'll learn more about this tragic event and see the highlights of the naval base such as the USS Arizona Memorial (the memorial to the victims on the wreckage of the ship sunk in the attack) and the USS Missouri (the ship that ended World War II with the signing of Japan's surrender).
After the guided tour of Pearl Harbor, the Oahu island tour continues with a tour of historic downtown Honolulu where you can see such popular sites as the Iolani Palace, Mission House Museum, Kawaihao Church, King Kamehameha Statue, Waikiki Beach, Punchbowl Crater, Nu'uanu Rainforest and more.
---
What is the best way to visit Pearl Harbor from Maui?
Although you can do the tour on your own, in my opinion the best option is to take a plane trip to Pearl Harbor from Maui as you won't have to worry about finding transportation to Oahu and the naval base, nor queuing at the ticket booths at the National Memorial to get your tickets.
Also, after the visit to Pearl Harbor, these types of organised tours usually include a tour of historic downtown Honolulu so you can spend the day on Oahu and see some of the most famous sights of this Hawaiian island. I think it's a very complete tour.
How much does a Pearl Harbor tour from Maui cost?
A full-day guided tour to Pearl Harbor from Maui that also includes the flight to and from the island as well as a tour of Honolulu can cost around 450 euros.
Is it worth visiting Pearl Harbor from Maui?
Absolutely. In addition to being a historically important site, the visit is quite emotional as the Pearl Harbor museums and memorials make you think about the fatal consequences of the war.
However, the site was intended to be a place to honour the victims and to reflect. That is why gardens were installed at the naval base to make it a quiet place to take a relaxing stroll in front of the waters of the bay.
How far is the Pearl Harbor base from Maui?
The distance between Kahului (the airport of the largest city on the island of Maui) and Pearl Harbor is 161 kilometres. A regular flight takes about 55 minutes but the fastest flights usually take 30 minutes.
Is it possible to go by ferry or boat to Pearl Harbor from Maui?
It is currently not possible to take a ferry from Maui to Oahu. Ferries only run between the islands of Maui and Lanai and between Maui and Molokai. To get from Maui to Oahu you must take a flight connecting the two islands. The fastest ones take about 30 minutes.
What to bring to Pearl Harbor?
Ford Island is an operational military base, so security personnel may ask visitors to Pearl Harbor to show a photo ID for identification for security reasons.
How to dress for Pearl Harbor?
As a memorial, the dress code for entering Pearl Harbor is smart casual as a sign of respect. For example, shirts and shoes are required to visit the USS Arizona Memorial and high heels are discouraged.
In addition, swimming costumes are not permitted. Neither are backpacks or bags, which can be left in a locker for $5 per bag outside the main entrance.