Best Helicopter Tours in Maui
Flying over Maui in a helicopter will be the best memory you'll keep of your holiday, forever. The adrenaline rush and incredible views are guaranteed.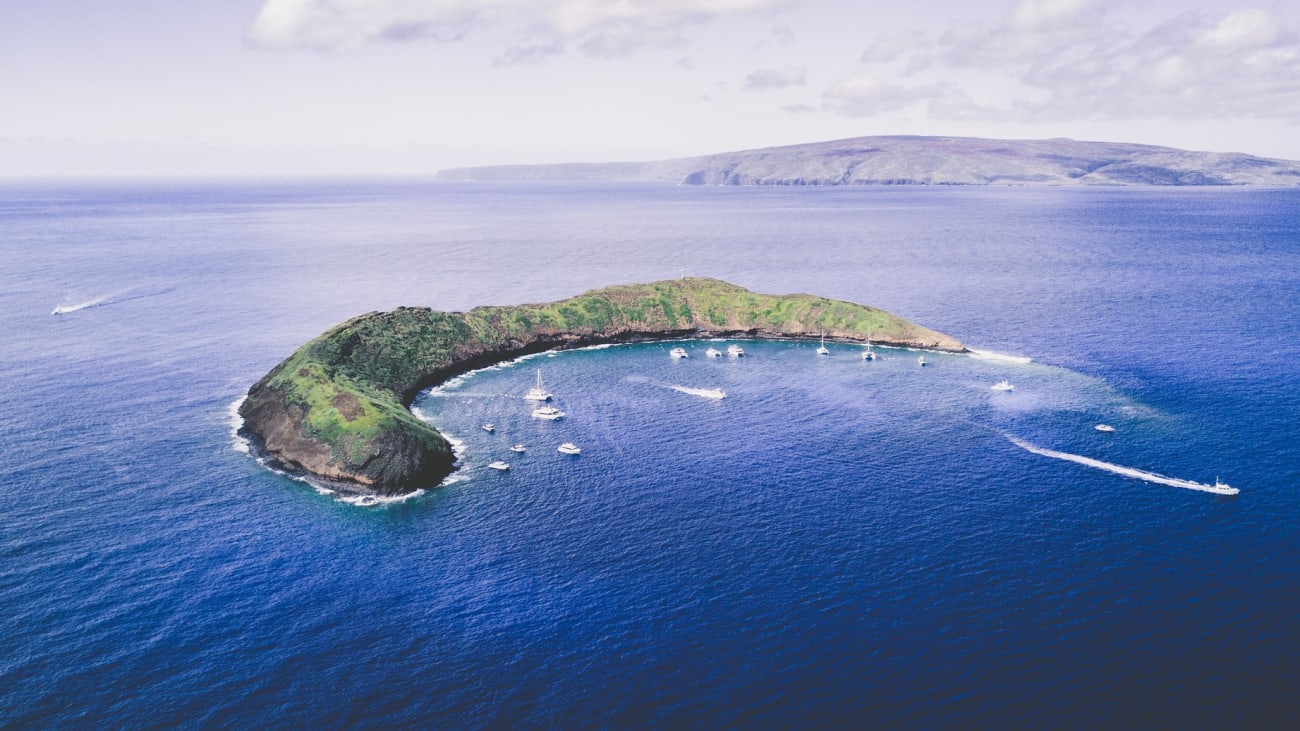 There's no vertigo when you can fly over Maui by helicopter and get a bird's eye view of this beautiful island known as "The Valley Isle" for its geography full of beautiful green valleys and impressive waterfalls. It will be one of the most unforgettable memories of your trip to Hawaii!
1. Helicopter tours to visit Hana
If you're a road trip enthusiast, Hawaii has one of the most beautiful roads in the world where it's not the destination that matters, but the journey itself: Road to Hana.
It's a spectacular 72-kilometre drive along the north coast of Maui with 620 hairpin bends and more than 50 bridges that will take you through gorgeous landscapes of virgin rainforest, rugged cliffs, beautiful waterfalls, palm groves and black sand beaches.
Given the twisty geography of the road to Hana, the best way to take this road trip and experience Maui's scenery is to join one of the Road to Hana tours, where local drivers and guides know the terrain like the back of their hands and will show you the most amazing sights without taking any risks behind the wheel.
For a comprehensive overview of Maui's beautiful scenery, there are tours to Hana that combine land and air travel. That is, part of the tour is done by car and part by helicopter, as many sites are only accessible by air due to the unique geography of the area.
In order to have a personalised experience, these tours are usually done in small groups and during the visit you will see incredible sites such as Wai'anapanapa State Park, Waikani Falls, Haleakala Crater, Hana Tropicals Gardens and the towns of Ke'anae and Hana.
So don't hesitate and get your camera ready for a memorable adventure on the Road to Hana!
2. Maui Helicopter Tours of various durations
With its beautiful green valleys and towering waterfalls, the island of Maui is a spectacle in itself and even more breathtaking when you see its beauty from the air during a helicopter flight.
It's certainly an experience to remember.
Add to the fascinating views of Maui that seem to be straight out of a lost world the adrenaline rush of flying at hundreds of miles per hour over Hawaii and the Pacific and you won't stop taking pictures!
During your holiday you can choose from a variety of Maui helicopter tours of varying lengths and routes. Some of the most beautiful sites covered by these tours include the north and west coast of the island, Molokai, Halawa Valley, Pailolo Channel, Iao Valley State Park, Honokohau Falls, Haleakala Volcano, Maui Rainforest and more.
These types of activities tend to be flexible so, depending on availability on the dates selected, you can choose times, prices and standard or premium options to tailor the experience to your tastes, budget or needs.
How to choose between tours
Your budget will probably determine which tour you choose, but even if you choose the shortest flight, the experience will still be just as beautiful and the pilot will make sure you enjoy the views to the fullest - you'll take away a magical memory of your visit to Maui!
3. Helicopter tour with open doors
If you're not only a nature lover but also a thrill seeker, how about a helicopter tour of Maui with the doors open?
The sensation of floating in the air and the adrenaline rush is even greater when there is no barrier between you and the scenery. If you're concerned about safety, these flights are completely safe as you'll be wearing an extra seat restraint, so don't worry about that.
Just be sure to pack your camera because the pictures you'll take will be dizzying! Many of the valleys, waterfalls and rainforests you'll see during your journey over Maui and Molokai can only be seen from the air, so don't miss out on this once-in-a-lifetime opportunity.
However, no cameras other than your mobile phone are allowed during the flight. The operator will provide you with a lanyard case so that you can safely use your camera during the flight.
---
How much does it cost to take a helicopter tour in Maui?
A helicopter tour in Maui can cost between 200 and 400 euros per person approximately.
This will depend on factors such as the length of the tour, whether it is a standard or premium tour, the number of attractions to be visited, the type of aircraft, whether lunch is included or not, and so on.
How long are helicopter tours in Maui?
Helicopter tours on Maui last between 40 and 55 minutes approximately. The great thing about flying in a helicopter on this island is that within minutes of taking off you'll be treated to some amazing views, so whichever tour you choose, you'll see some amazing Polynesian scenery.
For example, the Maui helicopter tour combined with the Road to Hana tour has the shortest flight but by blending a ground and air experience, it shows you all sides of the island.
However, if you're one of those travellers who believe that flying in a helicopter is a once in a lifetime experience, then I'd advise you to go for the longer tour because you'll still get a taste of the island.
The great thing about booking online is that you can compare itineraries, prices and tour lengths before you choose one, so it's hard to go wrong.
Can I take a helicopter tour with the doors open?
That's right! You may be a little apprehensive about riding in a helicopter without doors or with the doors open, but you have nothing to fear because they are very safe. You'll be strapped into your seat with harnesses and seat belts for added protection.
Specifically in Hellotickets is available a flight of 45 minutes in a helicopter with open doors with which you will have a panoramic view without barriers of the island of Maui.
Will I be able to see volcanoes from the helicopter?
Indeed, during the helicopter flight you will be able to see the Haleakala volcano, which towers over the island of Maui making up more than 75% of its surface and can be seen from almost any point. The writer Mark Twain described it as "the most sublime spectacle I have ever witnessed".
What else will I see from the helicopter?
Depending on the route taken by the pilot, you will normally visit the most emblematic places on the island by helicopter while you listen to him narrate the visit. Some of them are:
Maui's North and West Shore
Molokai
Haleakala National Park
Iao Valley State Park
Halawa Valley
Pailolo Channel
Honokohau Falls
Maui Rainforest
Kahiwa Falls
What are the best helicopter tours in Hawaii?
In reality, no helicopter tour is worse than any other. The main difference between them is the duration or whether the aircraft has its doors closed or open. I recommend booking online to compare prices, duration and itineraries.
What documentation is required to fly in a helicopter?
In accordance with FAA (Federal Aviation Administration) regulations, all passengers 18 years of age and older must show a valid photo ID (such as a passport or driving licence) at check-in.
How to take the best photos of helicopter sights?
A little tip for great pictures during the helicopter tour in Maui: wear dark clothing so that there is less glare on the windows of the aircraft when flying.