Best Tours and Activities in Maui
Discovering Maui is one of the most unforgettable adventures of your travels. Read about the best Maui tours to make sure you don't miss a thing!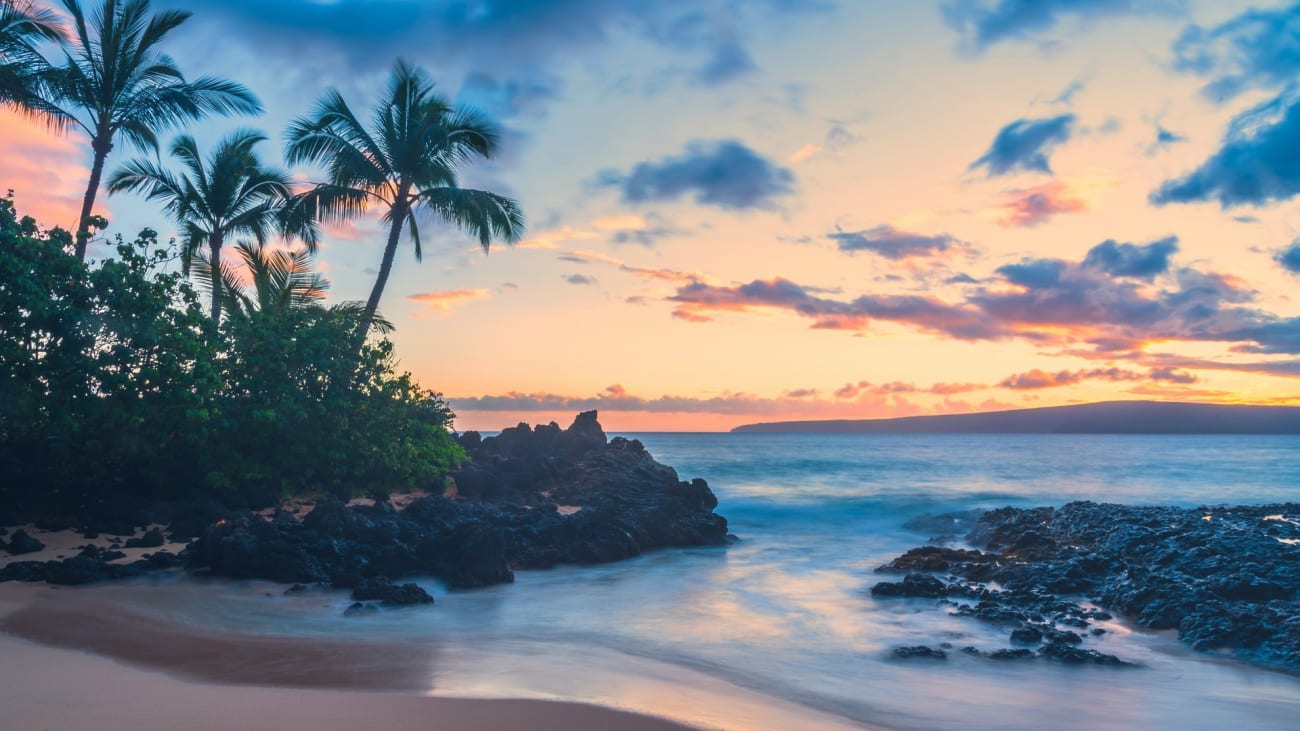 Maui is one of the most paradisiacal islands in Polynesia, full of beaches and dreamlike landscapes. A privileged place for surfing, snorkelling and photography lost in the middle of the Pacific.
If you are one of the lucky ones who are going to spend their holidays in Hawaii, I'll tell you all about what the "Magic Island" has to offer.
1. Trek around the volcano for the best views
One of the most memorable experiences you can have on Maui is to hike around the island to discover its captivating scenery.
Its unique geography is filled with lush jungle, rugged cliffs, green valleys, palm tree fields, turquoise beaches and long, seemingly endless waterfalls.
There's no doubt that joining a Maui hiking tour will make for some of the best photographs of your trip.
Some of the most interesting places to hike are Iao Valley State Park (low difficulty) or Pipiwai Trail (higher difficulty) but for the best views of the island, I recommend hiking to the top of Haleakala Volcano, the highest volcano on Maui at almost 10,000 feet above sea level.
Sunrise or sunset from the summit of Haleakala is magical! An absolutely mesmerising spectacle of colours tinting the sky and clouds that is not to be missed. Mark Twain himself described it as "the most sublime spectacle I have ever witnessed".
2. Join a snorkelling boat tour
Maui's warm, crystal clear waters are one of the best places to snorkel in Hawaii, holding a spectacular natural underwater treasure trove of miles of coral reefs that are home to tropical fish, sea urchins and starfish, manta rays, eels, green turtles and even dolphins.
Having the opportunity to dive in such a beautiful natural environment is one of the most fun things to do during your stay on the island.
One of the best areas to snorkel in Maui is Molokini Island, located offshore off the southwest coast. It's a large volcanic cone that is extinct but so full of life that the island was named a State Marine and Birdlife Conservation District.
It's a place I recommend you visit on your Hawaiian holiday but it's only accessible by boat, as is Turtle Town on Maluaka Beach, the best place to see green sea turtles on Maui. This beach is another hidden gem to admire while snorkelling.
If you are interested in scuba diving and would like to join an offshore excursion, there are many snorkelling boat tours available in Maui. Whether by catamaran, speedboat or kayak, you're sure to find the one that's right for you.
To learn more about snorkelling tours in Maui, take a look at the post Diving and Snorkelling in Maui where you will see some very interesting proposals to spend a great day snorkelling in Polynesia.
3. Relax on a cruise along Maui's coastline
During an activity-packed holiday, it is sometimes good to slow down a little and just relax for part of the day.
For those moments of relaxation, there's nothing better than cruising along the coast of Maui to enjoy the Pacific sunset while sipping delicious cocktails and listening to live music. Sounds good, doesn't it?
4. Take a helicopter tour to fly over Maui
Known as "The Valley Isle" for its unique geography of beautiful emerald valleys, grandiose waterfalls and sheer cliffs, the landscapes of the island of Maui are a fascinating natural spectacle that is even more astounding when its beauty is seen in all its glory from the very sky, flying in a helicopter.
This is one of the most breathtaking experiences you can take home from your trip to Hawaii. Add to the beautiful views of Maui that seem like something out of a lost world the adrenaline rush of flying at hundreds of miles per hour over the Pacific and you won't stop taking pictures!
Some of the most beautiful places to see during the activity are Iao Valley State Park, Halawa Valley, Molokai and Haleakala Volcano, among others.
Taking a helicopter tour in Maui is a great idea if you want to get an overview of the island by sea, land and air, so you won't miss any detail during your trip.
The good thing about this type of activity is that there is plenty of variety to choose from. I recommend you read the post The best helicopter tours in Maui to see some of the most popular options.
5. Dive in the Atlantis Submarine
Exploring the seabed of Hawaii aboard a submarine could be the great story you tell your friends when you return from your trip. Can you imagine stepping into the shoes of Captain Nemo himself to dive into the waters of Maui and observe an unknown universe beneath the earth's surface?
You won't be travelling in the mythical Nautilus from "Twenty Thousand Leagues Under the Sea", but you will be able to discover the depths of the ocean aboard the Atlantis Maui submarine, a state-of-the-art vessel that will show you all the secrets hidden underwater: coral reefs, tropical fish, sea urchins and starfish, eels, manta rays, green turtles, whales... and even a sunken ship!
If you've never ridden a submarine to the depths of the ocean before, this is a fun and unforgettable adventure to experience during your Maui holiday, and you'll see the excitement and adrenaline rush as the ship plunges into the depths of the Pacific!
Want to know more? Don't miss the post Atlantis Submarine Tours in Maui.
6. Visit Pearl Harbor Military Base from Maui
Pearl Harbor is one of Hawaii's most visited sites due to its international historical significance and a must-see even when you're not staying on Oahu but on Maui, as there are Pearl Harbor tours from here that will take you to the iconic US naval base whose attack by Japanese aircraft in December 1941 changed the course of World War II.
Although you can do the tour on your own, in my opinion, taking an aeroplane tour to Pearl Harbor from Maui is the best option as you won't have to worry about finding transportation to Oahu and then to the naval base, or queuing at the National Monument's ticket booths to get tickets on the day of the visit. This is quite complicated considering the long queues that form at the entrances.
So if you are going to spend your holidays in Maui but you would like to visit the neighbouring island of Oahu to see Pearl Harbor on an organised tour, I recommend you to read the post Pearl Harbor tours from Maui where you will find more details about it and what to bring during the excursion.
7. Attend a traditional Hawaiian Luau Show
During your trip to Hawaii I'm sure you'll want to go to a traditional luau party on the island - they're super fun!
You may have heard of them but don't know exactly what a luau party is. It's a Hawaiian celebration that revolves around music, dance and traditional Hawaiian food - all in the spirit of aloha!
They are also a curious expression of Polynesian culture that every traveller should experience, so dress up in your best clothes and get ready for a magical experience as the sun sets!
8. Meet the Ocean Center Maui
Maui's Ocean Center is considered one of the top 10 aquariums in the world.
The Hawaiian people's close relationship with the sea is well known, so taking a tour inside this aquarium is an excellent way to learn about the archipelago's marine life (with an ecosystem that is unique in the world) and its conservation, as well as Hawaiian culture and values.
During your visit to Maui's Ocean Center you can see native Hawaiian species such as tropical fish, moray eels, octopus, manta rays, sharks, jellyfish, seahorses and many more.
The aquarium is usually most crowded in the mornings, so if you want to visit the aquarium without the crowds I recommend visiting after 1pm. It will take you about 2 hours to walk around the whole aquarium. So it's a good plan to do at any time of the day.
9. Travel the scenic 'Road to Hana' on a tour
A road trip is a must on any trip, an exciting road adventure in which we discover unusual and beautiful landscapes. It so happens that Hawaii has one of the most beautiful roads in the world, Road to Hana, where the important thing is not the destination (the little town that gives it its name) but the road itself.
Road to Hana is a spectacular 72-kilometre drive along the north coast of Maui with 620 hairpin bends and more than 50 bridges that will take you through beautiful landscapes of virgin jungle, large waterfalls, palm groves, steep cliffs and paradisiacal beaches that will remain etched in your mind's eye.
While you can do this road trip on your own by renting a car in Maui, my advice is that if you want to experience the island's scenery, it's best to join one of the tours that explore the Road to Hana, as it's a twisty, winding road that you may not be familiar with.
To avoid driving risks during your holiday, it's best to put yourself in the hands of local guides who know the geography of the terrain inside out and will show you the most spectacular sights safely, so all you have to worry about is enjoying the views!
10. Make the most of your stay in Maui to go whale watching
Maui's shallow, warm waters make it an excellent place for whale watching. Every winter humpback whales leave the cold Alaskan waters for Hawaii to breed, give birth, care for and feed their young.
These animals have a reputation for being unpredictable and fierce but that doesn't stop thousands of people who dream of joining a cruise to observe these beautiful creatures up close in their natural habitat.
If you are one of them you are in luck because Maui is an ideal destination to observe them due to the good conditions of its waters. You can enjoy a very special experience by joining one of the island's many whale watching boat tours that take you out into the Pacific.
You'll also have a wonderful view of Maui's coastline and learn many interesting facts about these majestic creatures from the captain and crew of the boat.
If you want to know more about Hawaii's humpback whales and the boat tours, I recommend you read the post Whale watching in Maui.
11. Family-friendly Maui: the best things to do with kids
In Hawaiian culture, family (ohana) is very important, so children are always welcome on the islands and many activities are organised so that they too can enjoy a fantastic holiday in Hawaii.
In Maui you can do lots of family activities such as spending a day at the beach, whale watching at sea, visiting the Ocean Center aquarium, riding the Atlantis submarine, climbing to the top of Haleakala volcano, snorkelling at Molokini, visiting Pearl Harbor and much more. You'll have a great time!
Frequently asked questions
What is the best experience on the Hana coast?

Based on reviews and ratings, the best experience on the Hana Coast is the easy day trip, which includes pick-up from your hotel and stops at every point of interest so you can soak in the breathtaking views of the coast. You'll also enjoy unique sights such as black sand beaches, stunning waterfalls, and explore the area around the Haleakala volcano. If you're looking for a more adventurous and premium experience, we recommend the deluxe tour which includes a helicopter flight.

What are the best places on the Hana coast?

The Hana Coast has some unique sights not to be missed, including the spectacular Ohe'o Pools, the black sand beaches of Wai'anapanapa State Park, Keanae, Wailua Falls, and the rugged Haleakala Volcano area.

How much time do I need to see the Hana coast?

Most experiences last one day, or at least 5-6 hours. Deluxe experiences, or day trips that include additional activities, last up to 10 hours.